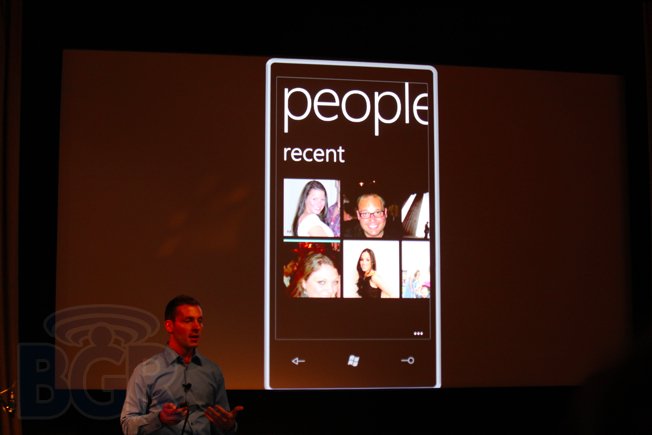 We're here live from Microsoft's Windows Phone 7 event in New York City where the company is set to detail the next major OS upgrade to the Windows Phone platform. Microsoft CEO Steve Ballmer hinted we could see over 500 new features, let's hope we get some big enhancements in addition to the practically confirmed multitasking, Twitter integration, remote email search stuff. Live coverage is after the break!
10:44AM:Looks like that's it for us folks, Microsoft has just stepped off of the stage.
10:44AM:"Mango is not just easier and faster, but it knows we're your going. The developer tools are available today. The update and new phones will be available from the fall. The fall will be the best yet for us and our partners. You've seen an awful lot int he past 7 months but you haven't seen anything yet."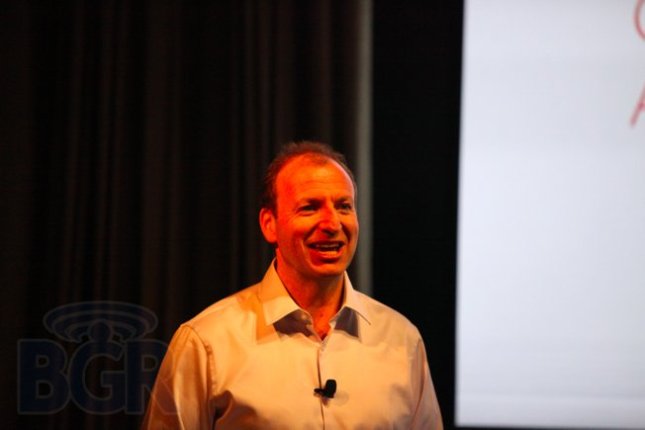 10:43AM:"In February we announced our partnership with Nokia, which goes beyond just handsets. I'm pleased to say that Windows Phone mango will be the released that's used for the first Nokia phones. We already have phones running Windows Phone Mango in our labs today."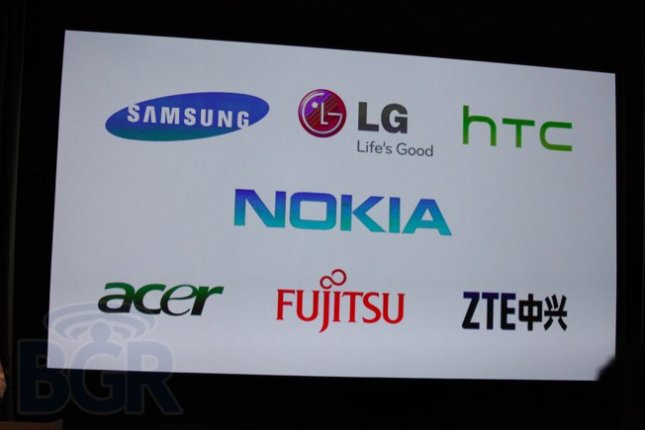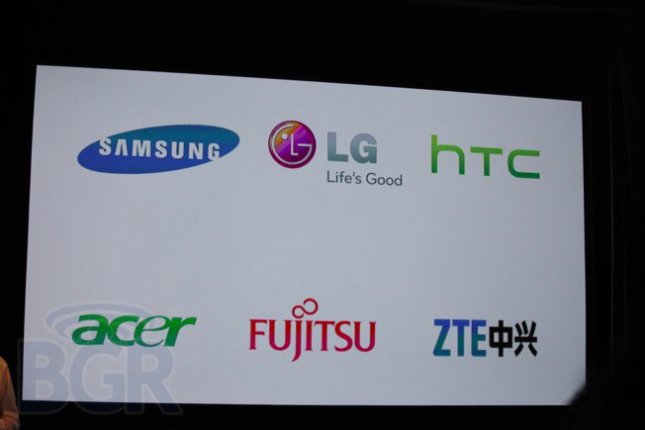 10:42AM:Skype will be designing an application for Skype for the first time.Operators do more than just light up the phone with connectivity. We're enabling operators to add significant value with software and services they'll supply with Mango. We'll have a lot of new operator partners, we're support more languages in more countries, and we'll have lower price phones to increase the addressable market. The Mango addressable market is 4 times larger than the original Windows Phone." Samsung, HTC, and LG will all announce new phones for Windows Mango, including 4G phones. Acer, Fujitsu, and ZTE will also provide Mango phones.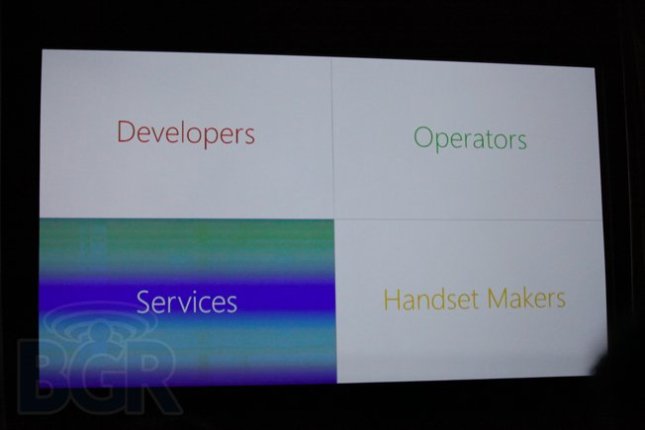 10:40AM:"We've had fantastic momentum since launch and with Mango we're expecting a significant acceleration. We started out 7 months ago with 0 applications, today we have over 18,000. Today we're making available Mango tools so developers can start creating their applications for when new phones are available in the fall."
10:39AM:"So far we have shown you have Mango makes it smarter and easier for you to access the internet and applications." App Connect, Groups, IE 9, Local Scout, Quick Cards, Enhanced Hubs, etc. There are more than 500 new features. We'll be taking these into more depth over the coming weeks including One Note, Music, Apps, and more. "This will be a good release and one worth waiting for. This release will be available in the fall as a free upgrade. All of these capabilities will come down."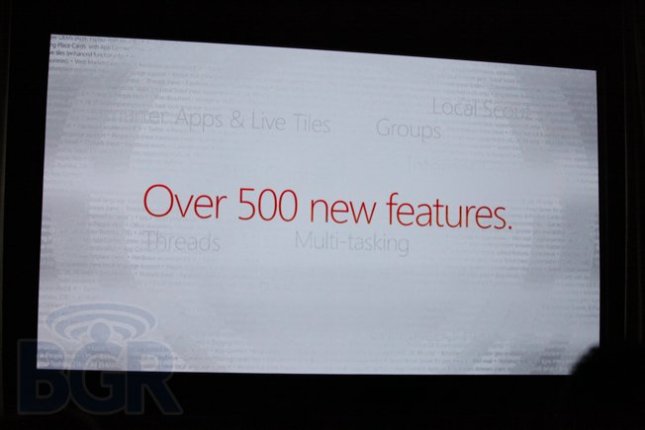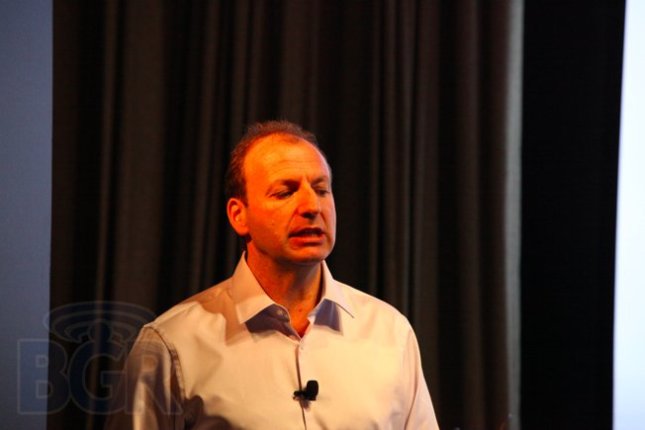 10:37AM:"I've gone from taking a picture with Bing Vision, handing it off to an application like Kindle, and then using reading the book."
10:36AM:Bing Vision will connect to applications that sell books, too. So if you search for one, you can go straight into the Kindle application and find the book inside the Kindle Store and purchase it and have it delivered to your phone.
10:36AM:Bing Vision is another new feature in Mango. It allows you to visual search with the phone's camera. It works with QR codes, bar codes, and more. It's just like Google Goggles.
10:35AM:Places, such as Madison Square Garden, have cards as well. It will provide information such as upcoming events. "We're weaving together the webs information, bringing it to you on these cards."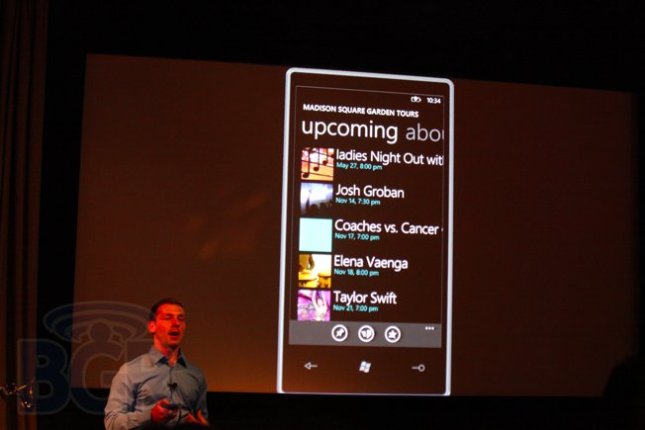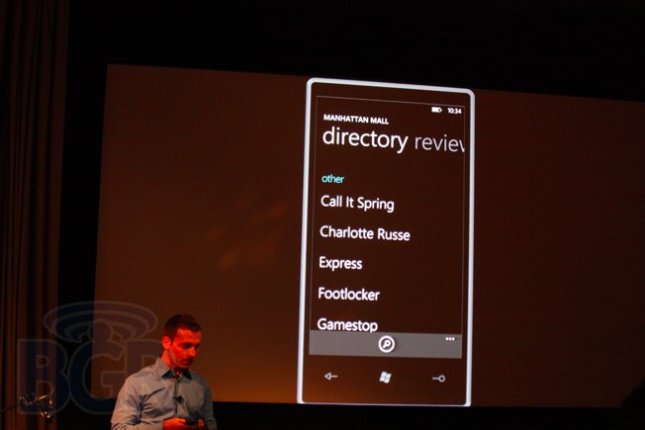 10:34AM:Indoor maps allows you to search a director of a place, such as a mall, to find stores. It even has maps for multiple levels.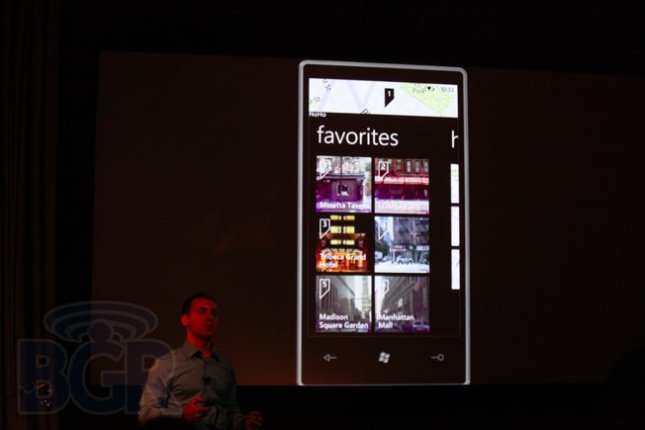 10:33AM:Bing now has indoor maps for malls and other public locations.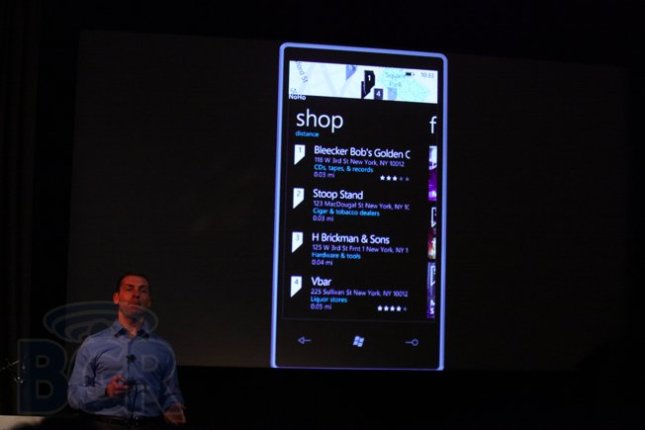 10:33AM:Searching for a restaurant now pulls reviews and ratings from Bing, Yelp, etc. Finally, with mango, it will bring together context called "Local Scout." This allows you to "live like a local" and explore a given neighborhood. You can find what to see, do, eat, drink, and more. It will provide nearby shopping, and you can keep track of favorites, too.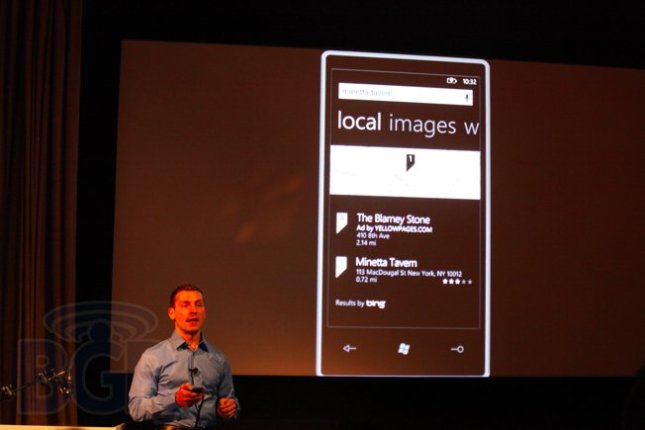 10:32AM:Bing has been upgraded for Windows Phone Mango. We're seeing a search for "Water for Elephants," and it uses the location and time of day to provide movie times. In Mango this will use a new "Quick Cards" feature that shows more information about the movie, such as genre, showtimes, and more. Using a new feature called "App Connect" you can hand off searches directly to other applications. Using App Shortcuts, Derek just handed off the search to the IMDB application.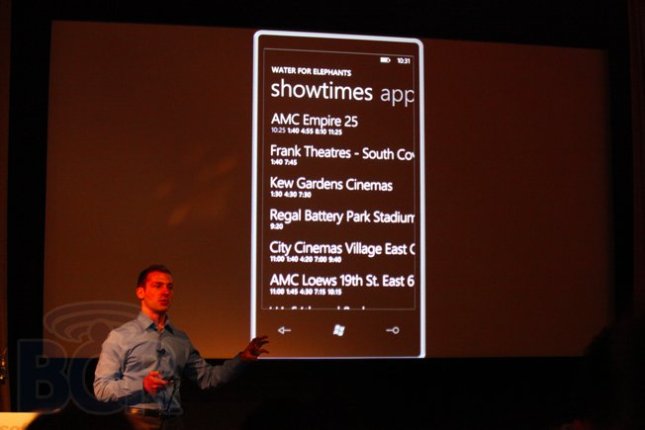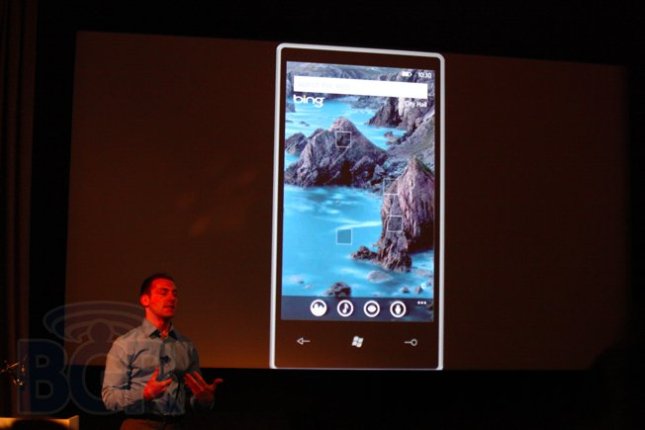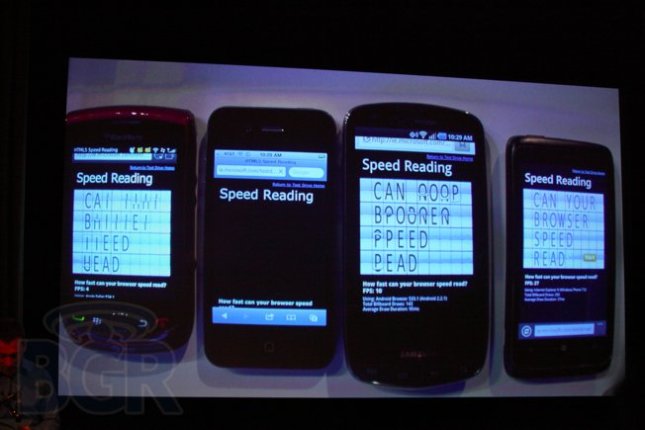 10:30AM:The BlackBerry 5 got a head start in the speed test. It's running at 4fps. iPhone hasn't started. Android is at 10fps. Mango is running along at 20/25 frames per second and it finished before the iPhone started. That '"proves" the hardware acceleration inside the phone.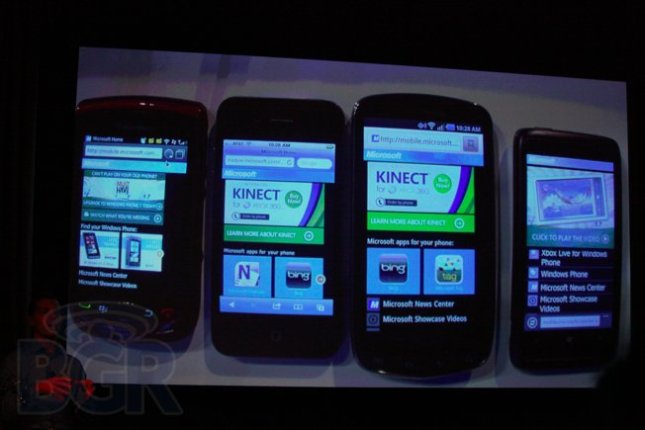 10:29AM:Derek is back out to show us the highlights of IE's new changes. We see a BlackBerry Torch, an iPhone 4, and a new DROID Charge from Samsung, as well as a Mango phone. Microsoft is about to run an HTML speed test.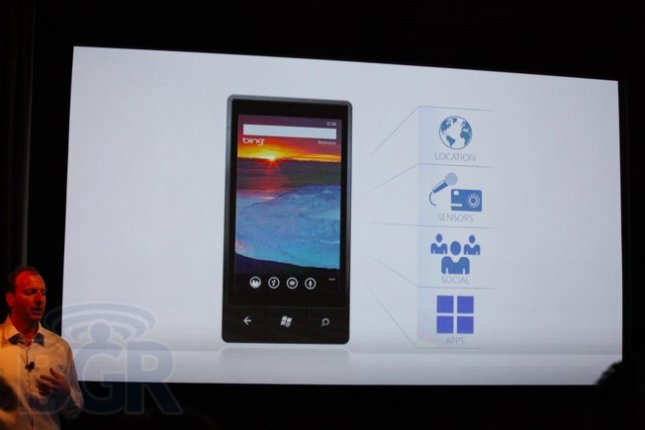 10:28AM:IE9 is now being discussed. "IE9 on Mango is not just similar to the PC browser, it's exactly the same. It's great for consumers who want to have the same experience for websites, and it's also great for web developers. We want to tailor the internet to the palm of your hand. With Windows Phone Mango we deeply integrate Bing to find, decide, and take action." This can be used with voice, typing, and vision.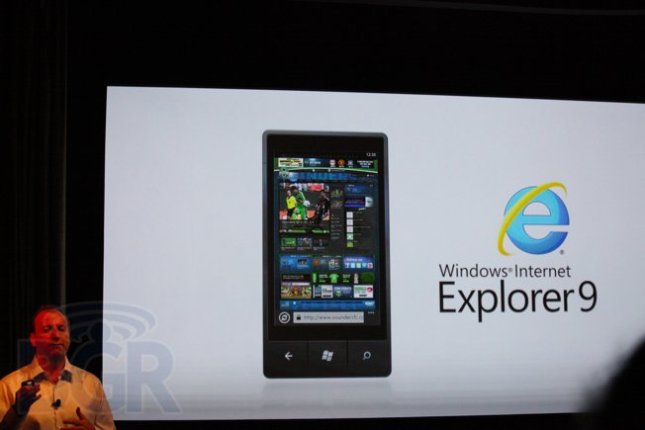 10:27AM:"Finally, third party applications have been freed from their silos with live tiles and application shortcuts. We've enhanced the Office Hub, we have a new Xbox Live Hub." "Think of your applications as musical instruments, with Mango they are an orchestra that finally has a conductor."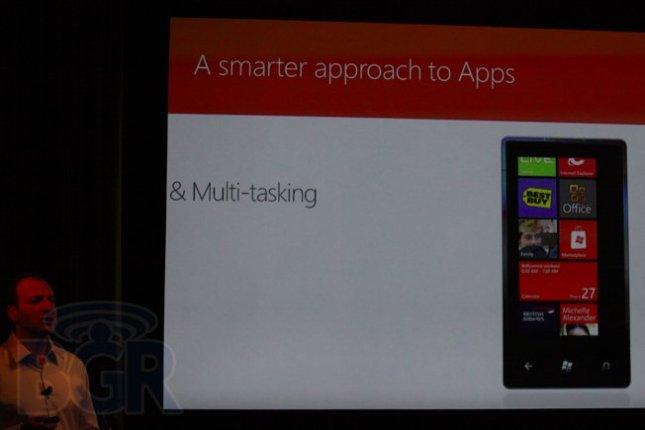 10:25AM:In the British Airways app, there's a 3D user interface for choosing seats, checking, in, and getting a boarding pass. You can also get information on the flight such as movies, see food menus, and see the captain's name, the plane, and all other information you'd expect. The boarding pass can be presented on a tile directly on the homescreen so that you don't have to print it separately.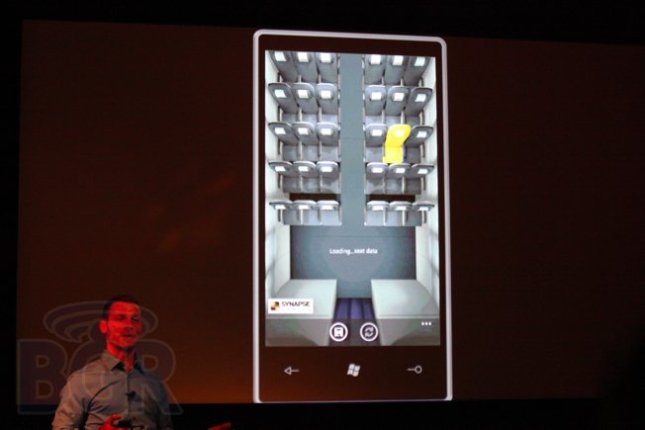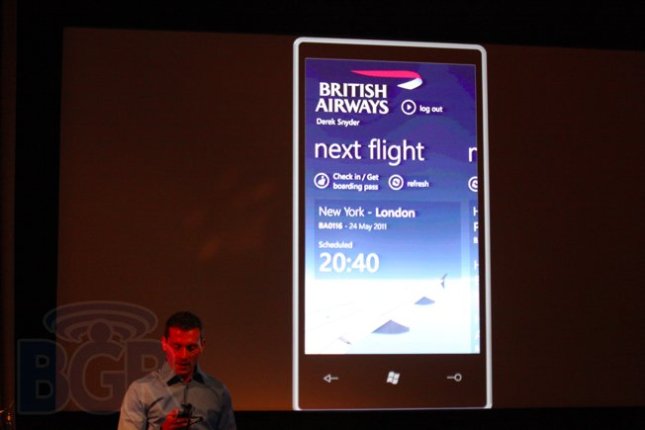 10:23AM:"we also wanted to have a platform that developers can build incredible experiences on top of." We're now seeing a new British Airways application that provides a live tile (live notifications and notifications are new in Mango). If you launch the application it will show upcoming flights, settings, a memebership card, miles, and more. There's even an option to choose your seat.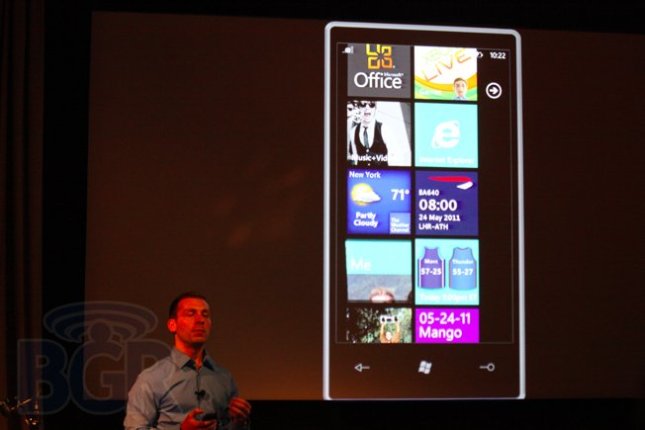 10:22AM:All the games participate in this larger social experience in the XBox live hub.
10:22AM:The 3D avatar inside Xbox Live can now have collectibles and add-ons, shirts, etc, is reflected just as it is on the Xbox 360 console or on a PC. There's also a new social experience to compare games with friends, see recent games, compare stats, etc.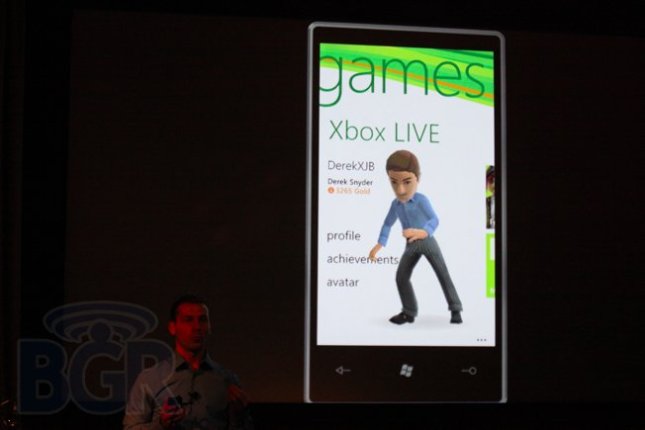 10:21AM:"People want to be able to get back into an app quickly. One of the things you want to be able to do is have a fast app resume." Microsoft has added instant app resume without consuming too much power. Similarly, users can switch between multiple applications by holding the back button. Multitasking!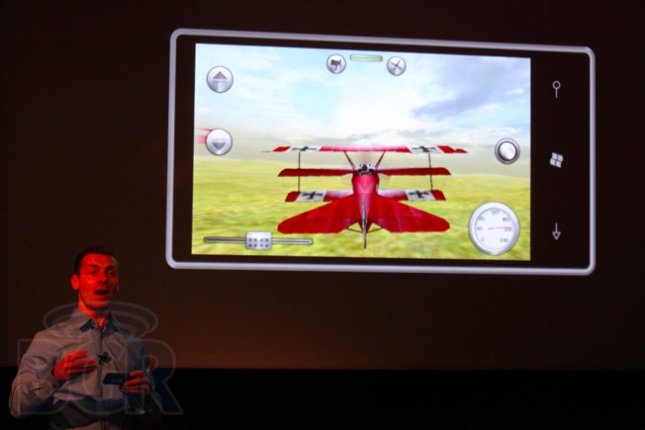 10:19AM:Microsoft has completely redesigned the Xbox Live Hub for Mango. We're seeing a demo of Rise of Glory, a game that's available now.
10:19AM:We're going to see demos of 'Pictures,' 'Office,' and 'Xbox.' With Pictures, there's new automatic face detection for sharing to social networks. In the Office Hub, Mango will allow users to share docs with Sky Drive and other online destinations. When you tap on a tile, it will bring down the latest version of any document from the server. There's the ability to view, edit, and save changes to documents. You can also highlight cells in Excel and do auto-sums, etc.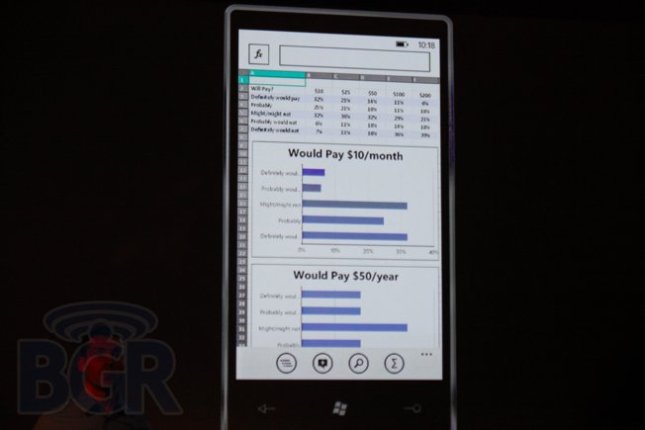 10:17AM:Derek is back out to show us how applications are being taken to the next level.
10:17AM:"With Windows Phone Mango, applications are alive as part of the total phone experience."
10:16AM:Now we're getting in to discussing applications in Mango. Microsoft will enable new types of applications and games. However, it's taking this "one step further" to avoid phones that show a grid of icons, and a sea of applications. "That doesn't integrate into a 'total phone experience."
10:15AM:People-centric pictures will allow users to recognize and tag people in photos automatically.
10:14AM:"People are at the center, not Applications," in Windows Phone Mango.
10:13AM:Another new feature: (Microsoft is moving fast here) – Users can have text messages read back to them, and they can respond using voice commands, while driving and listening to music, for example.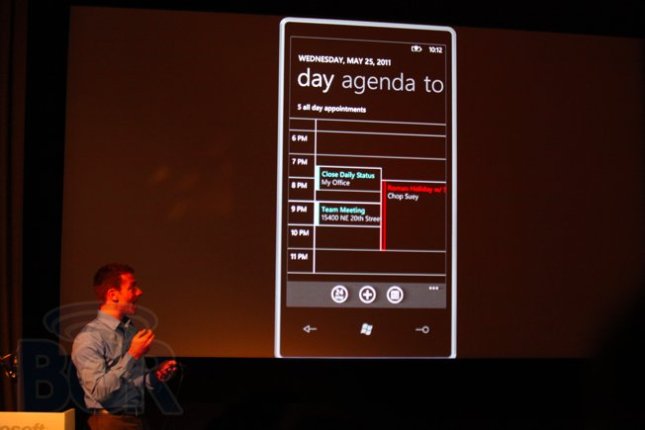 10:12AM:Microsoft has expanded Facebook events into the calendar on Windows Phone Mango. This will allow you to view all of the details, sign into and write on the event wall, and more.
10:11AM:Microsoft argues that, with new rich information tools, it will offer a more robust email platform than on any other phone platform.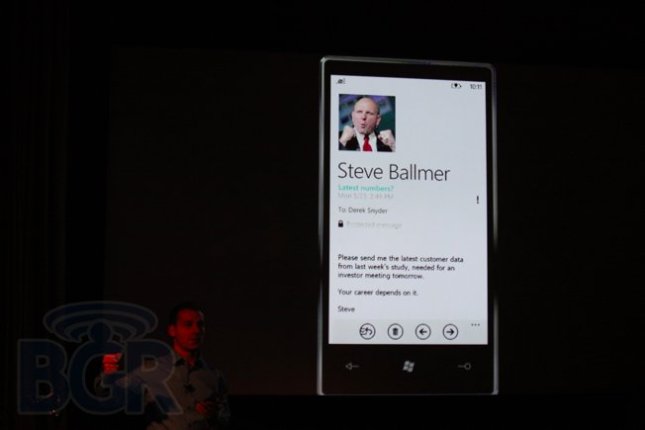 10:11AM:With Mango, users will be able to view "conversation view" which allows users to expand and contract messages. Microsoft says it thinks it has the best conversation view technology.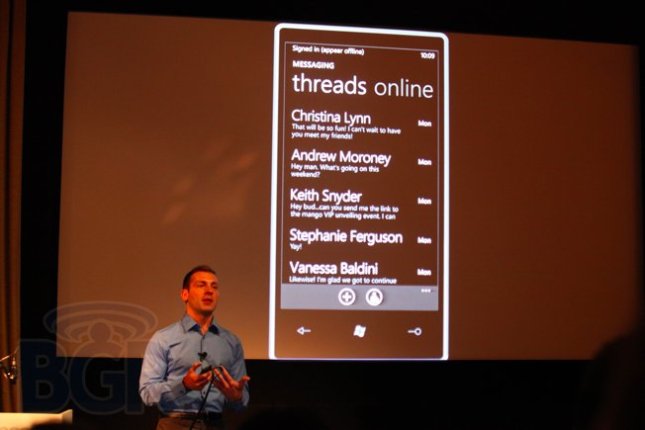 10:10AM:"We want to bring together all of the services people are using with a new feature called "Threads." Thrads brings a conversation, from Facebook for example, to your phone. If a friend signs offline from Facebook, you can switch to texting. This reminds us of Palm's "Synergy."
10:09AM:The keyboard has been updated to predict words as you type. For example, typing "Happy" is most often followed by "Birthday."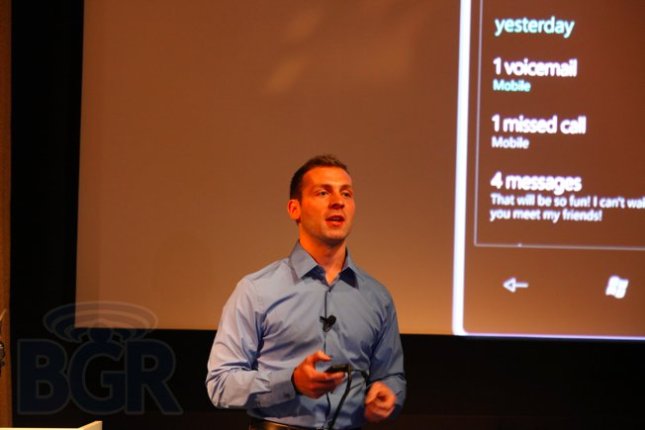 10:08AM:"We integrate the two largest social networking services – Windows Live Messenger and Facebook Chat – right out of the box."
10:07AM:"A new groups feature hopes you mirror your groups on your phone." Live tiles light up with new communication to help you cut through the clutter to see what;s going on. This will allow you to cut through "Farmville Facebook noise."
10:06AM:Mango will also add visual voicemail support.
10:06AM:Microsoft is on stage discussing Windows Phone Mango. Customers want three main things from their smartphone: to connect and share with family, friends, and colleagues. The second area is rich applications. Thirdly, users want to harness the power of the internet.
Derek Snyder, senior product manager for WIndows Phone division is on stage to give us a demo of a pre-release version of Mango. Microsoft has improved the homescreen experience inside of Mango. Notifications are pushed into smarter live tiles. With Mango, Microsoft has added Twitter and LinkedIn support to the live tiles as well.