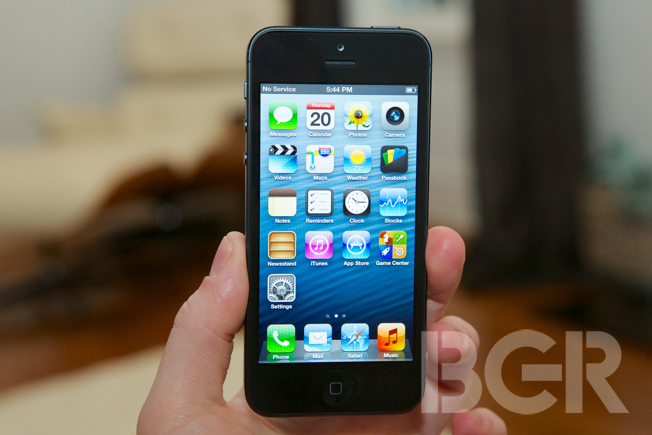 Apple's iPhone 5 officially becomes available tomorrow at 8:00 a.m. local time, but we were able to get one just a little bit early. If you're following along, you no doubt saw every review and article related to this phone (AAPL), so here's an honest bit of first impressions from someone who kind of likes his iPhones…
To start with, it really is light. Like light. It doesn't feel cheap at all, but between the increase in the device's footprint, and the fact that it's also 20% thinner, it feels like one quality smartphone. In fact, don't laugh, but for some reason this is reminiscent of a high-end wristwatch, just the fact that it feels so well made and there are so many little details — it's just precision.
The entire iPhone 5 feels fast, much faster than my iPad with Retina display, and a lot faster than the 4S. What about the larger display? Well, it's beautiful. It sits right under the glass panel, but it looks like its floating on top of it. As far as the new height, I'm still getting used to it. I'm not personally in love with this aspect ratio, but once I don't use my iPhone 4S for a couple days, I'm sure I'll get used to it. I've tried watching a few movies and TV shows and they look incredible.
Speaking of media, the one thing I noticed right from the start was the audio. It is possibly the best performing speaker I have ever heard on a mobile device. It's ridiculously loud and it's insanely clear. Someone in the other room literally thought I was watching something on TV in my house, even though I was watching something on the iPhone 5. The front camera takes great photos, it's so nice to be able to take high quality photos with the front and rear camera, and the rear camera takes photos in ridiculous speed. It's kind of wild. It also seems as if the LED flash performs just a bit better, or at least is dispersed a little more than before so it doesn't completely knock out your photos.
The vibrate of the device seems to be housed towards the top, and it feels a bit different than the iPhone 4S, almost a mix between the original iPhone 4 and 4S. The pentalobe screws Apple uses are ridiculously small now by the speaker and microphone cut outs, and the Lightning cable port is insanity small. It's about half the thickness of a microUSB cable and about the same width. Make sure to check out all of the photos in our gallery of the iPhone 5.