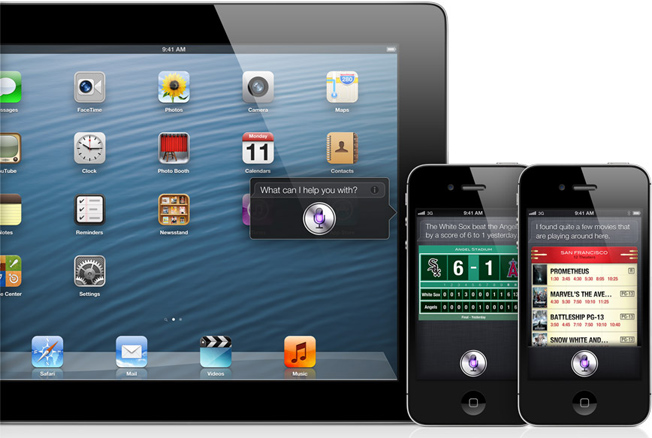 Just moments ago, VP of iOS Scott Forstall introduced us to iOS 6, the latest mobile operating system for iPhone, iPad, and iPod touch. Apple has sold 365 million iOS devices so far, and more than 80 are running iOS 5 right now. The company has delivered more than 1.5 trillion push notifications to iOS devices so far as well, and 140 iMessage users have sent more than 150 billion messages to date.
For more WWDC 2012 coverage, be sure to check out our WWDC page.
iOS 6 has more than 200 new features, and the first one Apple discussed is enhancements to Siri. Siri can now deliver sports scores, league standings and player stats. Siri can also find restaurants now, and Apple has partnered with Yelp for reviews and OpenTable to make reservations. More new functionality includes enhanced movie support — Siri can give users show times, play movie previews, show reviews and give information about actors. Finally, Siri is now able to launch apps. Apple also noted that it is working on a new "Eyes Free" feature that will allow car manufacturers to provide drivers with Siri integration, opening the Siri prompt using a button on the steering wheel, and a variety of new languages will be supported including Mandarin and Korean.
Siri is also coming to the iPad in iOS 6.
Next up, Apple announced Facebook integration at the OS level, which works much like its Twitter integration. Users can post to Facebook (and Twitter) right from within the Notification Center or using Siri, and Facebook is integrated with a number of Apple apps including the App Store and iTunes (users can "like" apps or songs from within each store). Facebook events and birthdays will be available in the calendar as well.
Apple also announced that it has added a number of new enhancements to the Phone app. Users screening calls will be able to automatically reply to an unanswered call or set a reminder to call the caller back without opening any apps. A new "Do Not Disturb" feature allows users to silence phone calls and push notifications during certain times, and it also supports a whitelist feature that will only allow called from certain contacts while Do Not Disturb is enabled.
FaceTime has been updated as well, and it now works over cellular data connections in addition to Wi-Fi. In addition, FaceTime calls made to an iPhone can be answered on an iPad or a Mac.
Mobile Safari is now compatible with iCloud tabs and offline reading lists, which will sync automatically across iOS and OS X 10.8+ devices. PhotoStream has been enhanced as well, allowing users to share photo streams with friends in just two steps. Mail now includes a VIP feature that will provide stand-out notification features and a separate mailbox view for special contacts the user designates.
Apple also announced a new iOS app called "Passbook." This app will serve as a central location for iPhone, iPad and iPod touch users to hold all of their tickets, store cards and passes (boarding passes and so on) as well as coupons and more. All of these cards and passes are stored virtually, and users don't even have to unlock the phone to access them — if you have a Starbucks card, it will appear on your lock screen as soon as you walk into a Starbucks.
In line with numerous reports, Apple also unveiled a new Maps application that will launch with iOS 6. Apple will no longer make use of Google Maps in iOS, instead making use of a new in-house solution. Apple's new Maps app features traffic integration, Yelp integration, free turn-by-turn voice-guided navigation and more. Maps also includes Siri integration, so users can navigate to a destination or search for points of interest using Siri.
Apple's mapping solution includes a terrific 3D feature as well, that uses vector-based graphics and images that Apple has captured and compiled using cars and helicopters.
Apple has added a variety of additional features in iOS 6, including new accessibility features, "lost mode" that enhances Apple's Find My iPhone features, Game Center challenges and more.
Apple's first iOS 6 beta will be made available on Monday for developers, and it will be released to the public this fall. iOS 6 will be available for the iPhone 3GS and later, the iPad 2 and later, and the fourth-generation iPod touch.