The HTC One (2498) smartphone comes at an important time. As good, thoughtful and purposeful as HTC's products are, the company hasn't been doing as well as it used to. Samsung's (005930) been on a roll, and Apple (AAPL) is Apple. The latest flagship smartphone from HTC is the One, and it is a complete reset. It features a beautiful aluminum case, much lighter HTC Sense interface, and a load of innovative features that aren't available on other smartphones. It's a bag of tricks in a magician's hat. So how does the HTC One stack up against the latest and greatest from the company's competitors? Read on to learn more.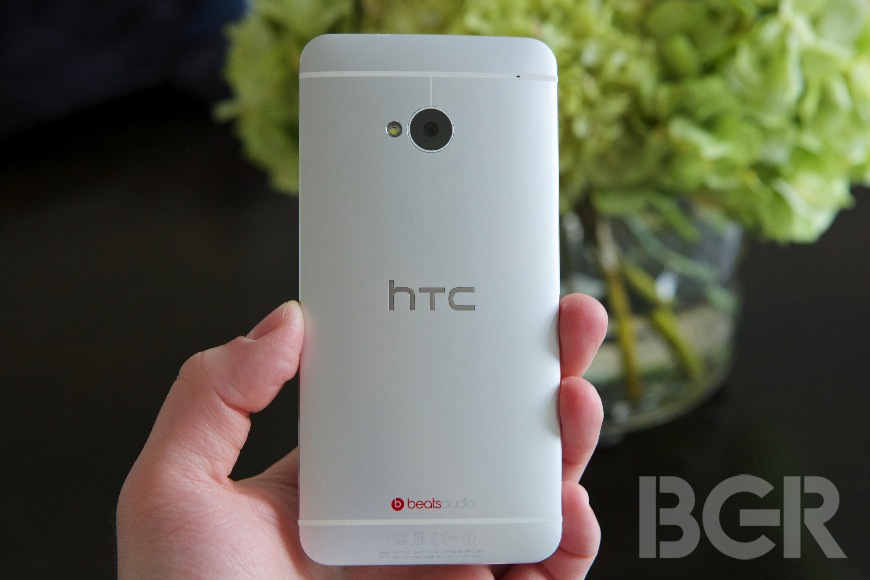 Let's start out with the phone in its physical form. There is only one phone that can rival this level of detail, precision, and materials, and that's the iPhone 5. That is most definitely the of best compliments HTC could ever ask for, and I'm sure it's something they were gunning for. The all-aluminum case if beautiful, light, feels great to hold and use, and smartly integrates the phone's wireless antennas into the case itself, similar to Apple's implementation but with a lot more surface area. While the phone is reasonably large, at least according to my standards, the beveled edge and tapered design of the One does its best to conceal the 4.7-inch 1080p display.
I love how HTC has the phone's screen literally sitting in a cut-out of the metal case, seamlessly blended like it's all one cohesive structure. And what a display it is. It's the best all around screen I have ever seen on a mobile device — bright, crisp, vibrant, and color-packed. While Apple's iPhone 5 screen has more accurate color reproduction, the HTC One's screen is by far superior.
This time around, there are only two buttons on the front of the phone, whereas traditionally there are three. A Home button on the right, and back button on the left, and HTC's logo right in the middle. At first it was a little jarring just because of how much time I've spent using Android phones, but for most people, I highly doubt it will be a problem, and a small problem at that.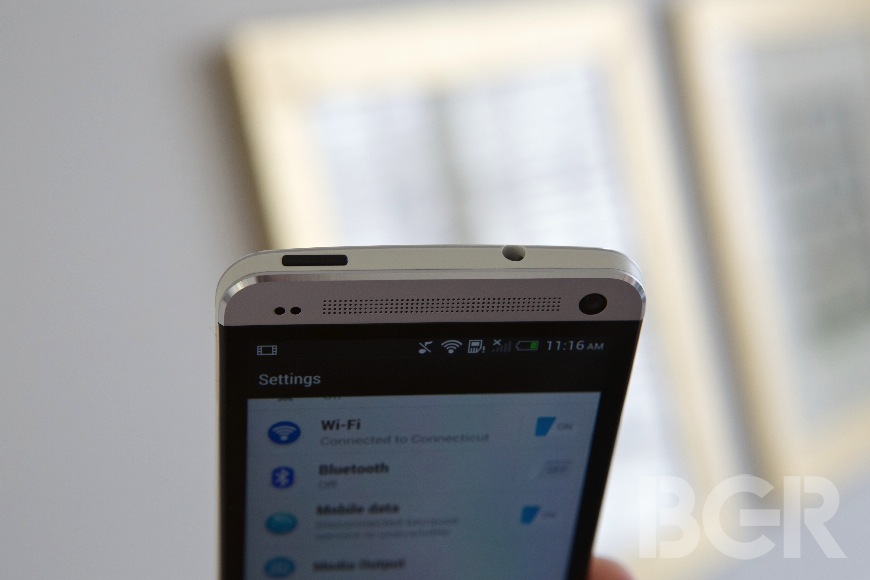 Surrounding the beautiful display are micro-drilled holes for the stereo speakers that HTC has developed just for the One. They are, without a doubt, the most amazing speakers I have ever listened to on a phone. Loud, clear, and they project. There is practically no low-end, but that's not too much a problem. While the speakers are unmatched by any other phone, I'm not exactly sure why this is a major selling point in HTC's marketing message. They're the best in the business, but I just don't listen to much of anything on my phone to warrant needing speakers that good. Obviously it's a great thing to include, but I'm not sure if the speakers warrant the extra thickness they require, or weight they add when looking at the full picture.
Speaking about weight, the phone is reasonably heavy. In fact, it's one of the heavier phones I have picked up as of late. There's a fine line between being so light that you get the feeling your phone cost just a couple dollars to manufacture, and being so heavy that you think the phone is crafted out of gold bullion. The HTC One feels like it fits somewhere in the middle. Just for a comparison, it's much, much heavier than my iPhone 5, and heavier than the BlackBerry (BBRY) Z10.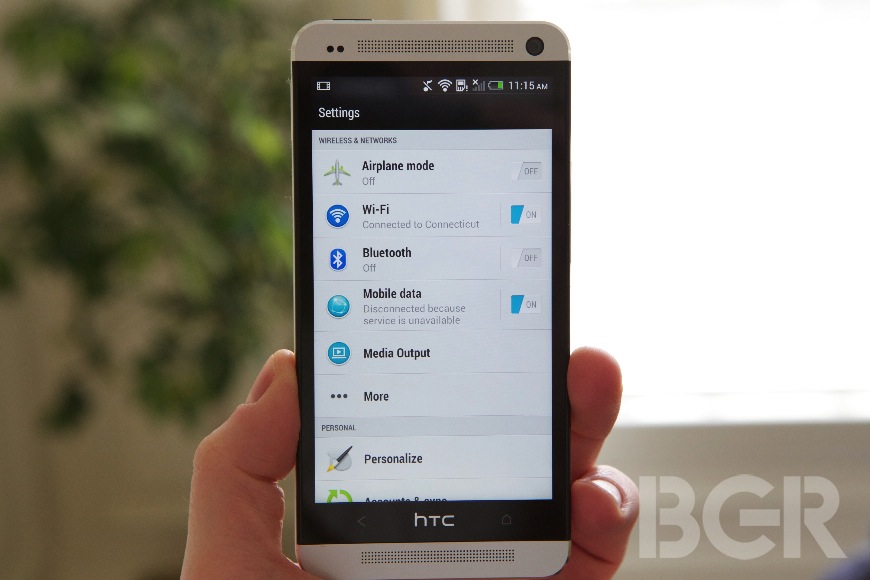 Switching to software, I absolutely love HTC's Sense 5 user interface. It's downright refreshing and instantly has become my favorite Android skin. It's airy, flat, and stirs HTC's charm together with some sophistication to offer up a great software experience. Not to mention that the entire phone seems to fly, and is responsive to the touch.
Another selling point of the One is HTC's UltraPixel camera that smartly stops the megapixel race and instead focuses on delivering better photos that are sharper, and incorporate more light. Technically, the camera sensor in the One outputs four megapixel-sized pictures, but again, that's with up to four times the amount of detail and light.
I found the camera to be ridiculously quick to take pictures, but I sometimes couldn't get beyond the complicated photo-taking interface for the most part. It's jam-packed with options and it's great to be able to control every aspect of the camera, but it's borderline overloaded with settings, and I believe that the average customer who wants to just take photos won't exactly know what to do. Compound that with additional video modes like HDR video, or low-light video, and a bunch of photo effects you can add on top of your picture, and it gets a bit complicated.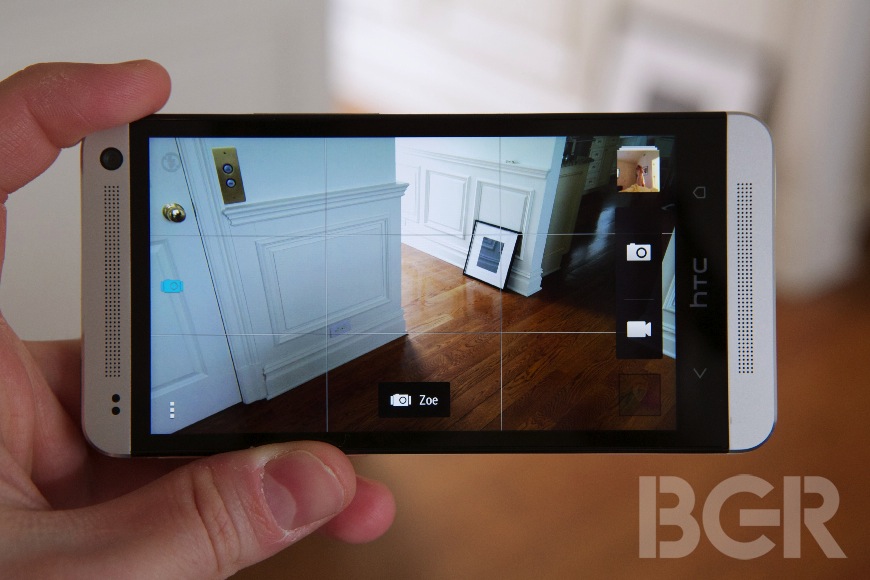 As far as camera quality, it depends. Low light performance was absolutely the best of any camera on any mobile device, easily. And while the pictures from the HTC One generally do look great, I don't see too much of a difference between HTC's ultrapixel camera and of a competitor's like the iPhone 5, especially when resizing an iPhone 5 image to the resolution of one of HTC's.
HTC Zoe is a special mode on the camera that's pretty brilliant. It lets you take short three-second videos at full resolution 1080p video, and what that enables you to do is pull frames from that video clip and turn them into photos. For instance, you want to capture a moving object, but that's normally difficult with a phone camera — it will be blurry, you'll miss the shot — and now you can create a couple still frames from that clip, and you will be able to select exactly the shot you want.
One of the absolutely best features of the One has to be the fact that the power button on top of the phone is actually an infrared port. What this means is that the phone has the ability to serve as a remote control for your TV and living room components like cable box. Combined with a great on-screen channel guide of what's showing on your local cable provider, this delivers an unparalleled multimedia experience. Not having to reach for a remote and instead being able to use your phone to turn your television on, change the volume, and change the channel is such an amazing feature. One thing I will add is that this works from a far distance, so you don't have to worry about being too far back from your components or television — it's that good.
The HTC One is the best Android smartphone in the world — period. It combines some of the best materials with the most incredible screen I've seen, and is the fastest and most responsive Android phone I have used. It has started to become available across the globe in different markets, and is set to launch in the United States later this month. The One will be launching around the same time as Samsung's Galaxy S4, its arch nemesis, though Samsung's phone is set to debut at a higher price point of $250 compared to $199 for the HTC One. We'll need to see how the Galaxy S4 performs, but it's going to be tough to be the best.