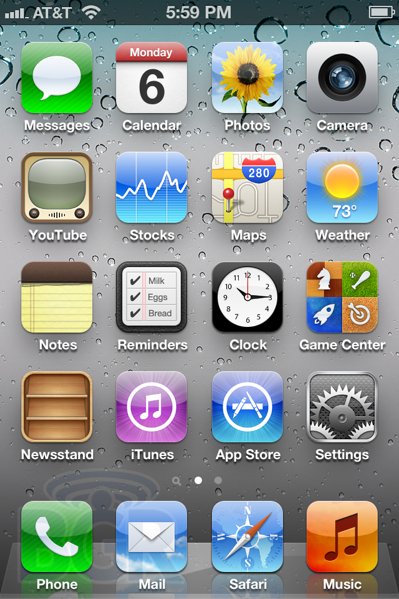 We just loaded up Apple's brand new iOS 5 on our iPhone and iPad 2, and man… we've been waiting a while for this stuff. For starters, notifications with Notification Center are so, so necessary, and while we haven't lived with it for a while, we can already see how much of a difference this will make in daily usage. Also, the Twitter integration? Ridiculously slick and easy. Now, the really interesting part… iMessage. We haven't found anyone to use this with, so we'll report back, but it's tied to your Apple ID which is how your iPad and iPod touch can make use it of, since they obviously don't have cell phone numbers. Well, you know, the iPod touch doesn't. We'll be updating this post live as we keep toying with iOS 5 on the iPhone and iPad 2, and we'll keep updating the screenshots in the gallery below as well!
Preference to open pages in Safari in a new page or in background (amazing!).
More alert choices for emails, calendar, and the ability to buy more.
Ability to create keyboard shortcuts (autotext) to replace custom phrases. The default entry is "omw" which is replaced with, "On my way!"
Software update option in settings to check for the latest OS.
Sync now button to wireless sync to iTunes
Ability to customize how notifications in Notification Center look — you can customize how many recent ones to show, 1, 5 or 10, if it's showed in the lock screen, if it's in Notification Center, and also the alert style, banner or alert style.
Twitter installs directly from the settings page if it's not installed directly, you aren't even taken to the App Store.
FaceTime button in iMessage messages at the top now
Tweeting photos is, so so slick. It displays on Twitter as powered by Photobucket, and it's from iOS.
There's a new option to print out from the Maps app… hilarious.
You can make new albums right from the device itself in Photos.
You can move and add photos to albums.
Doesn't look iMessage is fully baked in here yet.
You can customize the default alert times. This is so needed — so now when you enter a calendar entry, you don't have to set the default alert time you like — I'm a 15 minute calendar alert type of guy.

Email flagging doesn't look to be enabled in this beta

, though S/MIME support is. Never mind, it is. You have to go into the message and tap "mark".
It seems that Reminders sync with Exchange (Tasks basically), but you can't set location-based reminders if you're on Exchange, just with iCloud. You can selectively choose where to sync the reminder though, it's just not streamlined if you use Exchange.
You can set the caller ID for FaceTime calls, so if you call someone, you can choose it to display your cellular number or email address.
In the weather app, there is a new pane for a current location which will show you weather for wherever you are.
When syncing with iTunes you can use the device normally ' no more syncing screen!
You can delete individual calls from the call list — I know a lot of people that just got super excited.