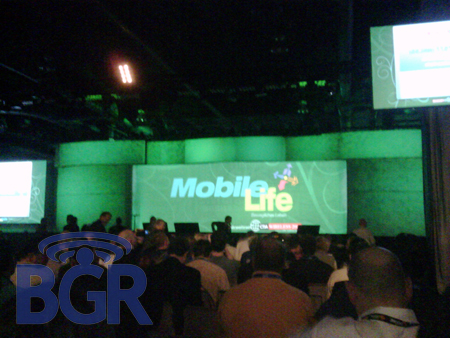 Global Warming? Please. Dude invented the Internet. And, since we're here, we thought it might be fun to give you guys an up-to-the-minute run down of what's happening on stage. Hit the jump for the liveblog!
9:20AM: We're currently sitting, and waiting.
9:23AM: They are definitely taping something… there's a huge video camera up front and it's pointed right. at. us.
9:28AM: Swear — the dude sitting right in front of us is using a Palm Pre and has BGR loaded up on it.
9:32AM: Steve Largent, the President of the CTIA is on stage now talking about the vitality of the industry, and, surprise surprise, the enviroment.
9:35AM: He's showing off a video about the wireless industries efforts to help the enviroment. Nokia, Motorola, LG are all featured and it's showing off LG's solar power effort.
9:36AM: Manufacturers are embracing renewable energy to power cell sites
9:37AM: The single greatest contribution from wireless companies is efficiency. Is it time to leave yet?
9:38AM: Showing off wireless parking sensors installed in downtown San Francisco. People can go online to find parking space, etc.
9:39AM: Video is over. Golf clap ensue.
9:39AM: CTIA Prez is back on stage. "Device recycling programs are emerging and succeeding."
9:40AM: "More efficient batteries and chargers are under development." He's introducing Al Gore now, really feeding his ego. Yeah dude, we know he was VP of the USA, ok? We know he won a Nobel Peace Prize.
9:41AM: Here comes Al! And, we wouldn't expect anything less — a huge standing ovation.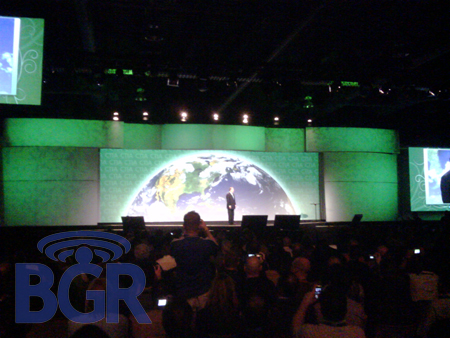 9:43AM: "Wireless is one of the great success stories in the United States."
9:44AM: He's telling a story about how after he left office, he was driving home with his wife one day, and there was no motorcade. He was "so happy." Went to a cheap restaurant and people whispered, "Wow, he's come down a long way." Mmm. Maybe the next story will actually be good…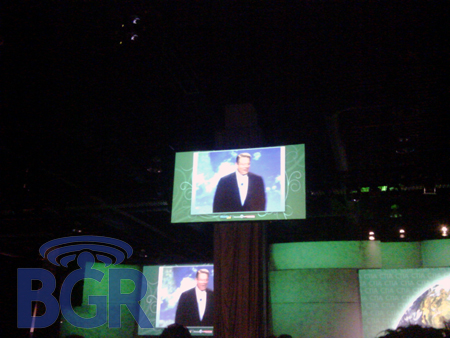 9:48AM: "The number of people using wireless devices has skyrocketed." But "we're still in the early days of the wireless revolution."
9:49AM: When he and Bill took office, there were only like 50 websites. Really? Damn…
9:50AM: Oooh, he's talking about Apple now. Commenters ATTACK!
9:51AM: Overall impact of the wireless industry on a global economy is great. The industry is stll growing despite the global downdraft. P.S. The dude next to us smells like ass.
9:52AM: Now he's going into talking about printing books, journals, newspapers, etc. It created an information environment. Much like the internet did, eh Al?
9:53AM: It made information a source of power, began revolution that lead to modern democracy.
9:55AM: Instead of blindly following leaders, people became informed and could make up their own decisions.
9:57AM: The Marconi company was displaying its new tech off in Manhattan when the Titanic hit and they found out right away because of their use of wireless radios. David Sarnoff was the gentleman who received the radio that received the Titanic transmissions.
10:00AM: When picture was added to wireless transmissions, sound TV was created and it "made people lazy."
10:02AM: Years later, and TV is now the dominant medium. It changed politricks. Campaigns pay for TV spots more than anything else and Al thinks it's a bad thing. Now… the internet!
10:03AM: He's repeating how there were roughly 50 sites online when he took office, and then, all of a sudden, it blew up. It revolutioned the communications enviroment. Al was moved and proud when Obama came into office. He was, first, proud of the country as a whole, and second, proud of how Obama did it — using the internet to raise money, spread the word, etc.
10:05AM: The United States has the "most competative wireless industry in the world."
10:06AM: Continued invesments in our wireless industry here because there is no upper limit to the ways it can be utilized. We can keep getting more and more out of the spectrum with increased creativity and innovation.
10:08AM: Information is the dominant strategic resource in the 21st century economy.
10:09AM: A guy in front of us is literally falling asleep. Literally. Like, head bobbing back before he catches hiself.
10:10AM: "We have tremendous challenges. There's a climate crisis and an economic crisis." And, to the dude next to us, don't answer your PHONE while you're sitting here.
10:11AM: Al is now talking about our reliance on foreign oil and how oil and coal prices are linked. When their prices rise, it shocks the economy and our interest in renewable energy goes up. But, that's changing now he said. People are realizing the importance of shedding our reliance on foreign oil.
10:13AM: There's a common thread in all the current crisis. Economy, security, enviroment. We need to change. No more carbon fuels (uh, give up your Gulfstream, Al, and you can preach that, brotha man). Need fuels that "are free forever." Wind, sun, etc. And if dude next to us elbows us one more TIME he is getting shanked.
10:17AM: He's talking about the fact that companies need to stop focusing on the short termas we shift to long term focus.
10:19AM: Back to climate change… 70 million tons of pollution goes into the atmosphere each day. 3,000 of the best scientists in the world believe that global warming is real and it's a "massive problem."
10:20AM: Ice is melting and the problem is already affecting regions all over the globe. The North Polar ice cap is melting. Been there for three million years and over 40% of it has melted in the last few decades. (Well, you know what they say… If you want a beach front house, but three rows back and wait ten years…) – BG.
10:22AM: Yeah, this relates to wireless industries…
10:23AM: Storms around the world are getting more and more severe. We need to act to solve this crisis. (Just elbowed the guy sitting next to us. He made a loud "ugh" sound.
10:25AM: Now he's talking about health care and making an analogy that the environment is broken in a similar way.
10:27AM: The government needs to stimulate the economy by facilitating the creation of infrastructure and it needs to be green infrastructure.
10:30AM: FML.
10:31AM: Wireless is going to be one of the tools to help us get out of the climate crisis we're in but businesses need to take the lead. "I like what I've seen so far here at the show."
10:32AM: The wireless industry is right at the hub of making change. New breakthroughs come when people realize they're part of something greater than profits and leaders make their first shifts because they want to be part of something larger than themselves. Future generations will either look around at devastation and wonder why we did nothing or they will see a world in renewal and ask how we found the courage to solve a crisis that many figured couldn't be solved.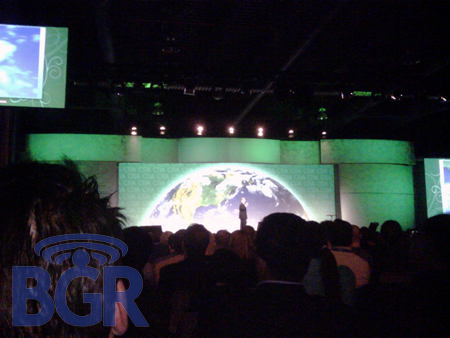 10:34AM: He's making a paralell with the moon landing. The young generation in this country want to be apart of the solution to the climate crisis.
10:38AM: Al Gore ends it with this African proverb… "if you want to go quickly, go alone. If you want to go far, go together. We need to go far… Quickly." And, it's over!