Following last week's The Walking Dead, I was surprised, again, at how silly stupid Rick and Co. can be sometimes. The Alexandria gang seemed utterly unprepared to deal with Negan's arrival, even though they all knew he was coming to collect his protection tax. That said, there was a moment in the episode almost everyone missed that might make Daryl great again. And with him, the entire season. Beware, spoilers follow below.
DON'T MISS: All the best pre-Black Friday deals you can buy right now at Walmart, Best Buy and Amazon
There's one scene in episode four where Daryl blinks strangely, and the camera focuses on him. The easiest interpretation for his blinking (see GIF below) is that he's readjusting to the sunlight, considering that he spends most of the time in darkness.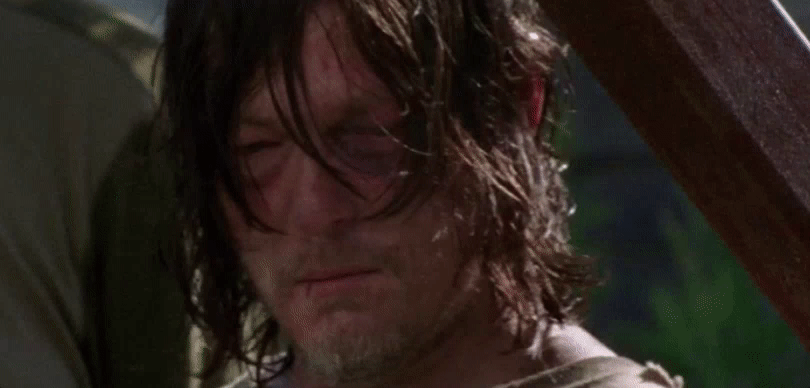 But, as Business Insider explains, Daryl might be communicating in Morse code with Rick. He might be telling him either "I East," or "HT" for Hilltop.
Aside from that blinking sequence, Daryl chooses not to speak, or he's not allowed to. Negan explicitly forbids Rick from talking to Daryl. But a tracker and hunter like Daryl might be able to find a way to communicate without Negan realizing. That "I East" indication would be enough for Rick & Co to know where to look for Negan's base, since the location of the Saviors' hometown isn't known yet.
The fact that Daryl would want to communicate with Rick in such a manner could show that he has not been broken. He may be riddled with guilt after causing Glenn's death, not to mention he now believes that Maggie may have died as well. But he did not give in.
We also know he's not willing to say his name is Negan now, as he refuses to take Dwight up on his offer at the end of the episode — just a word (Negan) is needed for Daryl to get his bike back.
A Daryl who wants to fight back and who wants to keep in contact with Rick is a dangerous Daryl. At least for Negan and his men.
Is this all wishful thinking? It might very well be. But then why is there a scene in the same episode that shows a Morse code alphabet hanging on a wall in Rick and Michonne's home? Surely, Rick and the gang may have figured out that such a means of communication might come in handy in dangerous situations such as the Negan crisis.
We'll have to wait for the next episodes of The Walking Dead to see whether Daryl was indeed talking to Rick.