I don't know about you, but I can already tell what I'm going to be spending most of November doing: Finding the time to stream this month's hottest new TV shows, of which there are many — everything from Season 6 of Netflix's The Crown to a new season of Fargo, Invincible on Prime Video, and much more. I had a feeling it was going to come to this — the streamers packing in all the good stuff as the year draws to a close.
The 5 most anticipated TV shows coming this month
The new TV shows coming this month run the gamut from prestige dramas to animated series, with so much more in between. In this post, we're taking a closer look at five of the most-anticipated titles (according to Rotten Tomatoes users), and you'll find story summaries as well as the release dates included with each title's listing below.
Season 2 of Prime Video's Invincible already has a perfect 100% score on Rotten Tomatoes ahead of its debut this week — a truncated debut though it is. Fans will get four new episodes, then the show will go on hiatus until early 2024.
Fortunately, though, the magic has returned for Season 2 and fans are in store for a captivating continuation of the story that's based on the groundbreaking comic book from Robert Kirkman, Cory Walker, and Ryan Ottley. Per Prime Video's Season 2 summary: "The story revolves around 18-year-old Mark Grayson, who's just like every other guy his age — except his father is (or was) the most powerful superhero on the planet.
Still reeling from Nolan's betrayal in Season 1, Mark struggles to rebuild his life as he faces a host of new threats, all while battling his greatest fear — that he might become his father without even knowing it."
Moving right along, Apple TV+'s new 10-episode series that features monsters like Godzilla himself tells the story of two siblings who investigate the Monarch organization. They uncover a story that spans generations and is dominated by lots of monsters.
From the official Apple synopsis: "Following the thunderous battle between Godzilla and the Titans that leveled San Francisco and the shocking revelation that monsters are real, Monarch: Legacy of Monsters tracks two siblings following in their father's footsteps to uncover their family's connection to the secretive organization known as Monarch.
"Clues lead them into the world of monsters and ultimately down the rabbit hole to Army officer Lee Shaw (played by Kurt Russell and Wyatt Russell), taking place in the 1950s and half a century later where Monarch is threatened by what Shaw knows. The dramatic saga — spanning three generations — reveals buried secrets and the ways that epic, earth-shattering events can reverberate through our lives."
Boy meets girl. Boy wins girl's heart. But before he earns the power of love, the video game-loving hero in Netflix's Scott Pilgrim Takes Off must defeat his new girl's seven evil exes (in combat!) — a truly consequential turn of events for young Pilgrim, a wannabe bass player and slacker extraordinaire.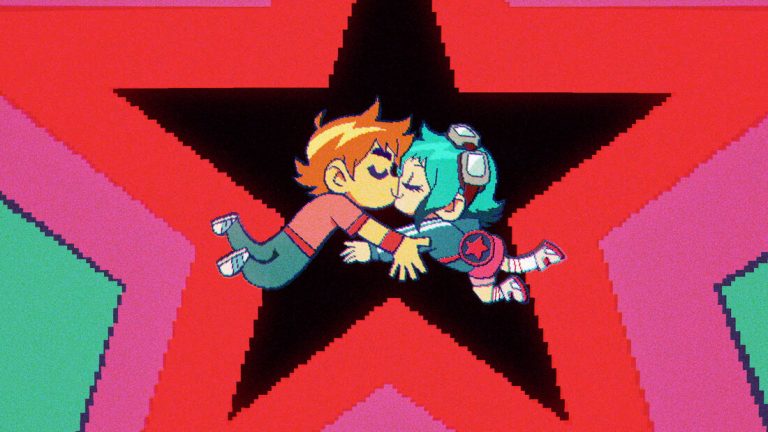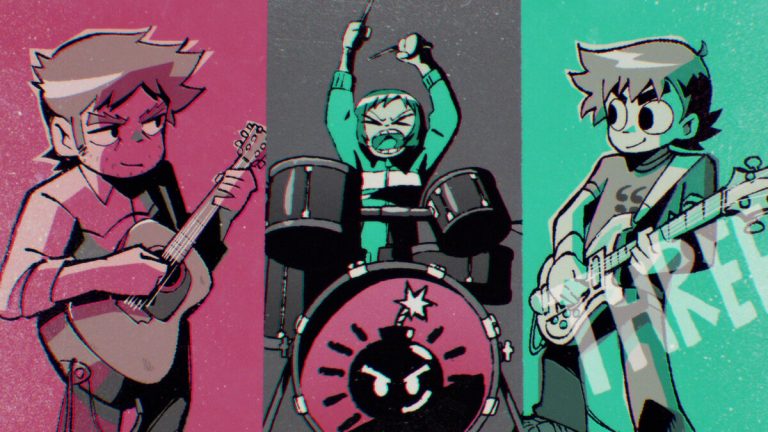 Of all the TV shows coming this month, this is the one I'm going out of my mind for. The Scott Pilgrim graphic novels are ridiculously delightful, and Netflix's anime adaptation of Bryan Lee O'Malley's story, in my opinion, considerably improves upon the 2010 feature film adaptation from Edgar Wright (which struggled a bit to translate the zany storyline and ka-POW! comic action to a live setting). I've been re-reading the novels, all six of them, in anticipation of the anime coming this month — and all I can say is if you've never been introduced to this story before, you're in for quite a treat.
Honestly, just thinking about it makes me want to move to Toronto, start a rock band, and call ourselves Sex-Bob-Omb. Postscript: My favorite Scott Pilgrim quote will forever and always be the following zinger delivered with devastating sarcasm by the lead singer of Crash and the Boys at one point during their set: "Ok this next song goes out to the guy who keeps yelling from the balcony. It's called 'We Hate You, Please Die.'"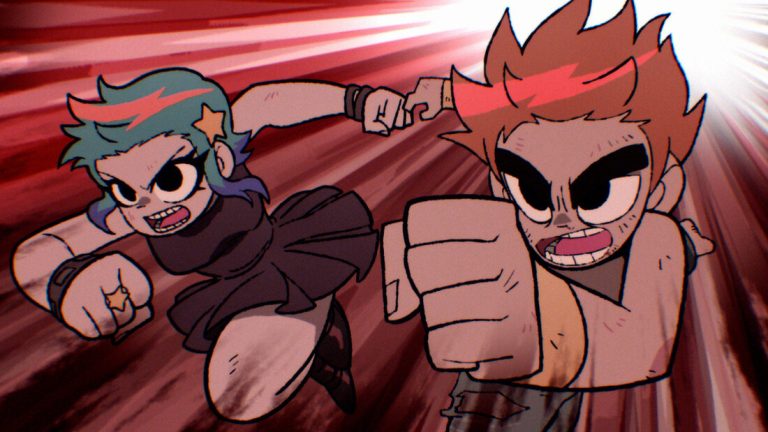 The fifth season of FX's Fargo is set in Minnesota and North Dakota, and its principal characters include Dot Lyon — a seemingly typical Midwestern housewife, played by Juno Temple, who gets in trouble with the authorities thanks to a life she'd thought was in the past.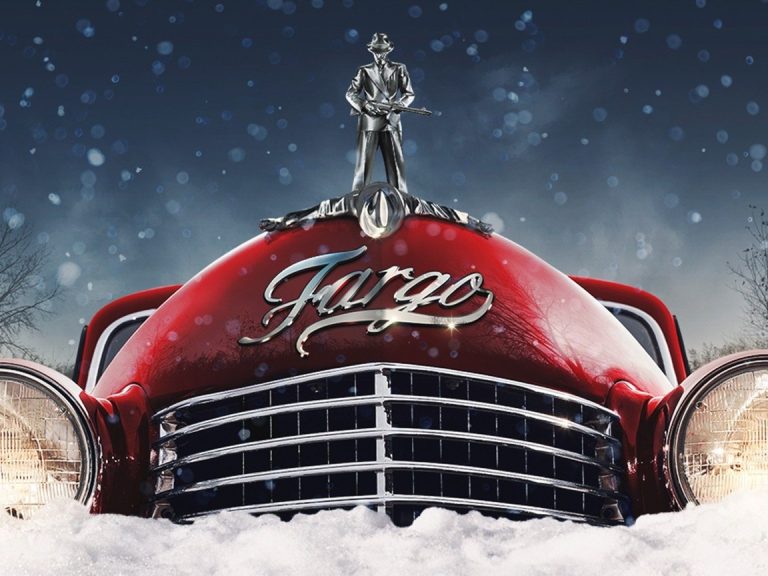 Rancher, preacher, and sheriff Roy Tillman (Jon Hamm), meanwhile, has been searching for her for years. Continues FX's official summary of the new season: "With her deepest secrets beginning to unravel, Dot attempts to shield her family from her past, but her doting, well-meaning husband Wayne (David Rysdahl) keeps running to his mother, Lorraine Lyon (Jennifer Jason Leigh), for help.
"CEO of the largest Debt Collection Agency in the country, the "Queen of Debt" is unimpressed with her son's choice in a wife and spares no opportunity to voice her disapproval. However, when Dot's unusual behavior catches the attention of Minnesota Police Deputy Indira Olmstead (Richa Moorjani) and North Dakota Deputy Witt Farr (Lamorne Morris), Lorraine appoints her in-house counsel and primary advisor, Danish Graves (Dave Foley), to aid her daughter-in-law."
As for this fifth title on November's list of the most-anticipated TV shows — again, as ranked by Rotten Tomatoes users — it should come as no surprise that viewers are seriously excited for the sixth and final season of The Crown, Netflix's drama that goes behind the scenes of Britan's Royal Family.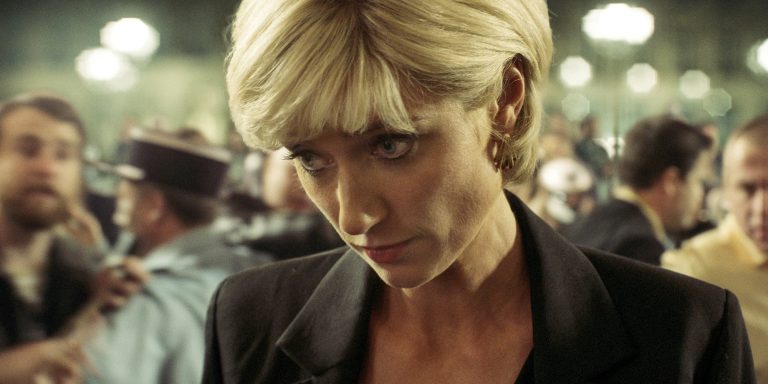 The show, one of the streamer's biggest of all time, is being split into two parts, thus squeezing every last bit of viewership out of this massive prestige drama from creator Peter Morgan that really helped put Netflix's original programming ambitions on the map. Four episodes are coming this month, while the final six will arrive in December.
In terms of the story, Season 6 picks up with Diana and Prince Charles spending their first summer apart following their divorce. "We're very much in the beginning of the Princess Diana and Dodi Fayed story," executive producer Suzanne Mackie told Netflix in a promotional interview. "From the second she steps onto that boat and [you begin to see] some of those iconic images of her on the yacht, it does take you immediately to the whirlwind that was the press speculation around that romance.