It's easy to forget that Brit Marling was an economics major and valedictorian at Georgetown University who went on to work for Goldman Sachs before switching gears in pursuit of a much more creative vocation. With her creative partner Zal Batmanglij, the pair have made some of the trippiest films and TV shows I've ever seen in my life (like Another Earth, The Sound of My Voice, Netflix's The OA, and now FX's A Murder at the End of the World), full of characters and perspectives that are so distinctive and original it reminds you that some people are born storytellers, whether they realize it or not.
Their newest project is the seven-episode A Murder at the End of the World, which debuts on Hulu on Tuesday and feels perfectly suited to this moment when tech is as ubiquitous as ever — and with things like AI poised to make our lives feel more dystopian than ever. The show stars Emma Corrin as Darby Hart, a tech-savvy, amateur sleuth with a high enough profile (thanks in part to a book she's written) that she's compared to a "Gen Z Sherlock Holmes."
Things start to pick up when the story moves to the "end of the world" reflected in the title. Okay, Iceland isn't exactly the end of the world, but it's a remote enough and perfectly stark setting for a retreat convened by a reclusive and Elon Musk-like billionaire named Andy Ronson (Clive Owen). The guests, handpicked by Ronson, include Darby along with eight other individuals with varying talents and areas of expertise.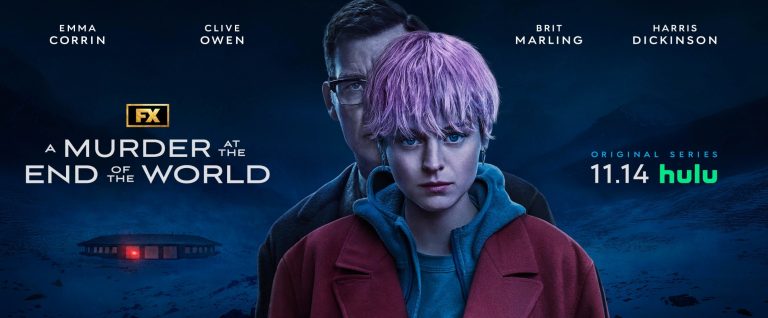 Continues FX: "When one of the other guests is found dead, Darby must use all of her skills to prove it was murder against a tide of competing interests and before the killer takes another life."
From what I've seen of the show so far, this is definitely another thoroughly engrossing and creepy puzzle box of a mystery from the creators — whose The OA, perhaps you'll recall, generated such cult fandom that when Netflix abruptly canceled it after two seasons, distraught fans picketed the streamer's Los Angeles headquarters with signs like "Algorithms don't tell stories. Human hearts do."
A Murder at the End of the World throws a lot of interesting ideas into the blender, including some refreshing skepticism about the algorithms that have so much influence over our lives. Eat your heart out, ChatGPT.
Check out the newest trailer for A Murder at the End of the World below: