There's arguably no other Apple TV Plus title coming to the iPhone maker's streaming service this year that's got as much anticipation attached to its as the long-awaited Season 3 of Apple's hit comedy Ted Lasso. Rumor and speculation about the new season's release date, for example, have been rife for months now — and, no surprise, they also dominated much of the chatter around Apple's day of panels, trailers, and reveals during the TCA Winter Press Tour on Wednesday.
No, we still don't have an official release date yet — but we at least did get confirmation that it's coming this "spring." Moreover, Season 3 of Ted Lasso is "f—–g awesome," raved co-creator Bill Lawrence on Wednesday, forced to answer a question about the third season of the show when he was actually on hand to promote a different upcoming Apple TV series (the comedy Shrinking, co-created with fellow Lasso alum Brett Goldstein, aka Roy Kent).
Ted Lasso Season 3 is coming … eventually
Lawrence elaborated juuuuuust slightly after promising that the Season 3 cuts he's seen are "awesome," adding that for this season, he essentially stepped away and turned the reins over fully to star Jason Sudeikis — and that the Lasso leading man "crushed it."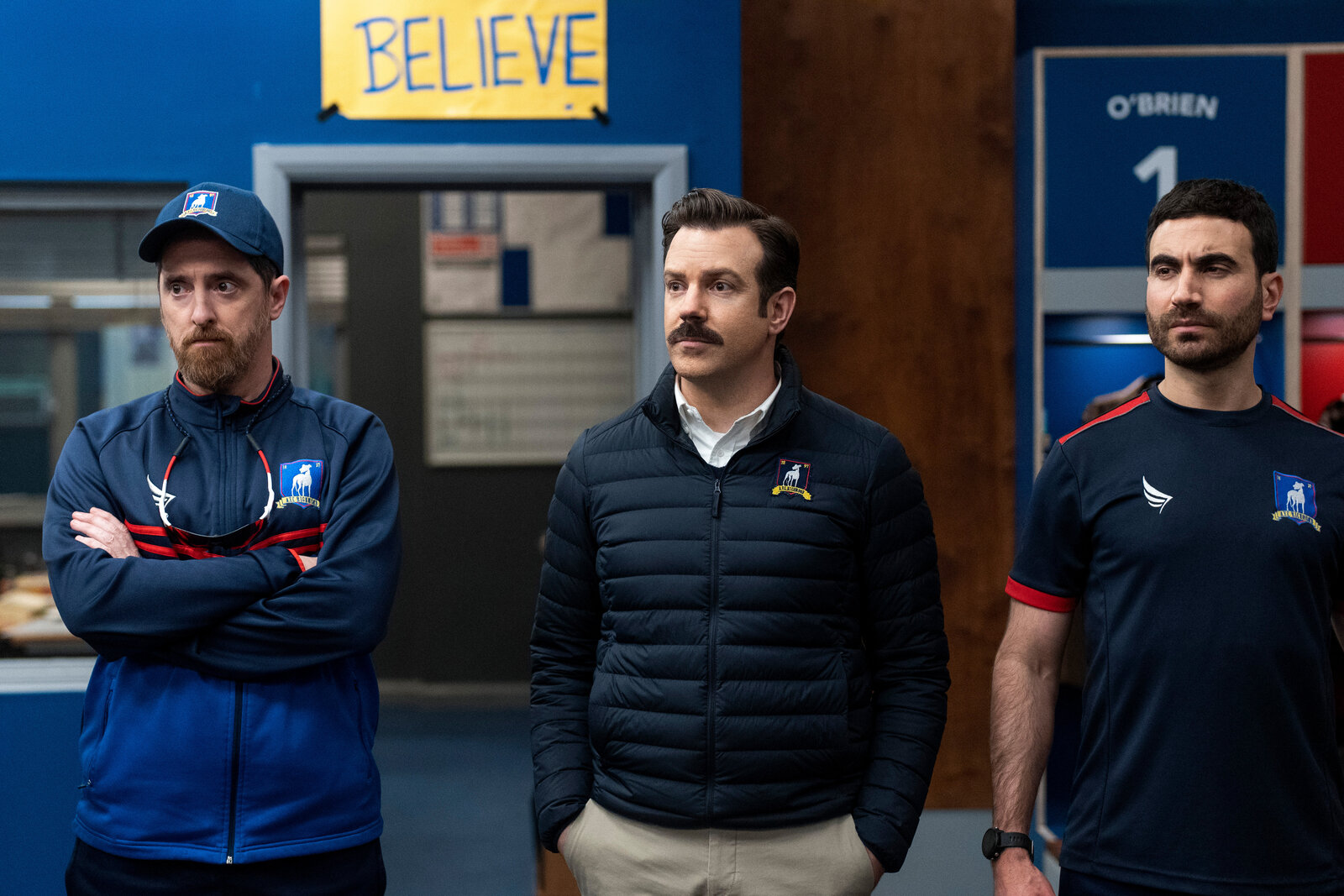 Predictably, though, fans of the series spent Wednesday practically losing their minds over a complete lack of any official Season 3 updates while also fawning over a single leaked photo from Ted Lasso's upcoming season that began to circulate online. "PR 101," one TV critic tweeted during Apple's TCA day. "If you have a show that's been AWOL for more than a year and you panel a new show with the creator of the AWOL show and you want the focus to be on new show, then give us 'something' on the AWOL show so we don't have to ask about AWOL show during the new show panel."
Wednesday was, instead, about giving everyone a full, detailed look at the non-Ted Lasso side of Apple's upcoming release slate, which includes everything from Masters of the Air (a sequel to HBO's Band of Brothers and The Pacific) to Lawrence's Shrinking, the cast for which includes Harrison Ford and Jason Segel.
As for Ted Lasso, it's been almost two years now since the release of its second season. The show is built around Sudeikis' titular Lasso, who's as inspirational an English Premier League coach as he is an improbable one, and the show also expanded on the feel-good, all-for-one team spirit of the first go-round with a new focus on mental health (via the arrival of a team therapist). The season ended on a cliffhanger, with assistant coach Nate Shelley essentially breaking bad and transforming into what will presumably be a Lasso (and AFC Richmond) antagonist in Season 3.
Apple's most award-winning original series
In many ways, Coach Lasso is to his AFC Richmond team what this show has proven to be for Apple's streaming ambitions. Regarding the latter, back in 2019, when Apple TV Plus launched, it was easier to imagine CEO Tim Cook's Apple as an also-ran in the slugfest of the streaming wars rather than a legitimate contender that could — well, if not give Netflix a run for its money, then at least get everyone to sit up and take notice.
And in response to Ted Lasso, that's precisely what everyone has done.
In addition to being hands-down the most quotable show in the Apple streaming wheelhouse (a la Coach Lasso's admonition to "be a goldfish"), Ted Lasso also cannot stop winning awards. At the 74th annual Emmy Awards alone, for example, the show scooped up another four wins (in addition to becoming the most Emmy-winning comedy for a second year in a row).