On Monday morning, millions of Super Mario Run players were greeted by a notification proclaiming that special items had been added to the shop in celebration of the app's release. The first of their kind, these festive items are only available for a limited time, which means players will have to act fast to obtain them.
From December 19th to January 5th, Super Mario Run players will be able to purchase a Poinsettia decoration from the shop for 500 coins, as well as a Sparkly Snow Globe for 2000 coins and a Sparkly Christmas Tree for 1500 coins. Once the event has ended, the items will no longer be available.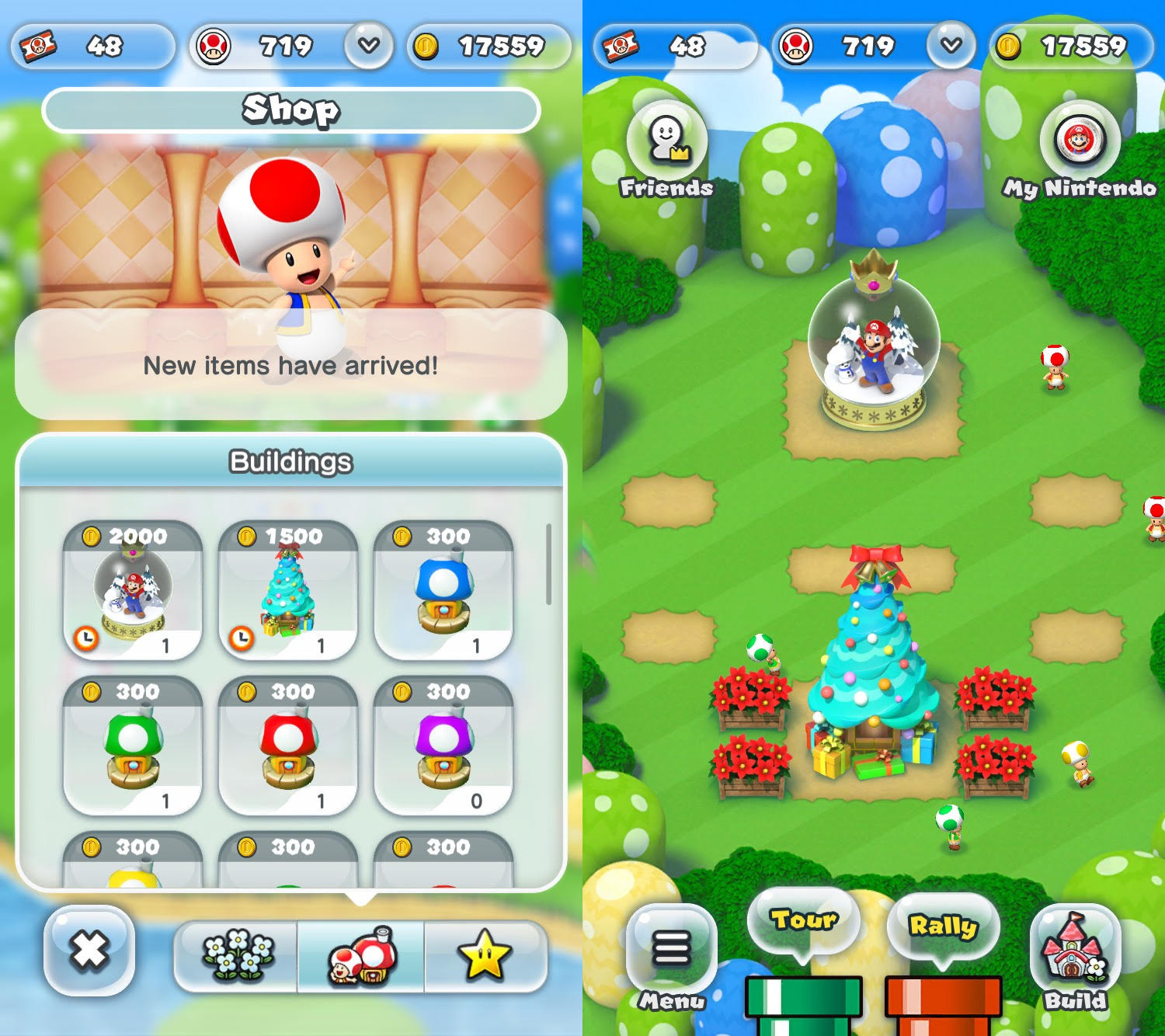 While this is certainly a cute way to celebrate both the app's release and the holiday season all at once, it's also a stark reminder of what Nintendo likely has in store for Super Mario Run. If you plan to groom your kingdom for months to come, you're in luck, but everyone else needs to temper their expectations.
Let's think about this logically and make a few comparisons in an attempt to project how Super Mario Run will evolve as it ages. Over the past six or eight weeks, we have seen Pokemon Go receive two or three times as many updates as it did in the four months previous. Niantic has an incentive to update the app, because Pokemon Go is a free-to-play game that survives on microtransactions. Keeping players engaged is vital.
Of course, Super Mario Run isn't a free-to-play game. Yes, you can play the first three levels of the World Tour mode without spending a dime, but the full experience is gated behind a one-time $9.99 fee.
So maybe Netflix is a better comparison. In order to access Netflix for a month, you have to pay at least $7.99. Once Netflix has your money, all it has to do is keep you satisfied enough to continue paying, which is why the company does its best to refresh its library with relevant, interesting content month after month. It's not a perfect system, but it hasn't stopped Netflix from becoming the king of streaming.
But wait, you say. Super Mario Run doesn't have a subscription fee. You're right. It doesn't. No subscription, no microtransactions — just a single charge to unlock all of the content. Unfortunately, there's just not all that much content to begin with. While Super Mario Run is a clever, compelling game, its 24 levels are over in the blink of an eye. At that point, your mileage may vary DRASTICALLY depending on whether or not you want to compete in Toad Rallies or spend time building out your personal kingdom.
For many, the lack of microtransactions will comes as a welcome reprieve from the trend that has completely dominated the mobile gaming industry over the past several years. That's all well and good, but without any method by which to continue generating revenue, Nintendo has no incentive to add new content.
That's not to say there won't be a new world added to World Tour or even a new mode to go along with World Tour and Toad Rally at some point down the line, but I have a feeling cosmetic items are going to be the bulk of the additions going forward. If you're listening, Nintendo, I'd love to be proven wrong.