Last month we gave you the complete list of new content that will be added to Netflix's catalog over the course of the month of April. In a separate post, we even broke out the list of 39 new Netflix originals that will premiere this month. But did you remember that Netflix's hotly anticipated Lost in Space revival was released this past Friday? Did you remember that a new Chef's Table debuted as well, or that Kevin James has a new Netflix exclusive comedy special that will be released next Tuesday? No, of course you didn't. There's simply too much new content being added to Netflix on a daily basis to remember it all.
Sure, you can add things to your queue, but that only works once the Netflix pages appear. Even then, Netflix queues tend to get overloaded quite quickly as unwatched shows and movies pile up. Then there's the "recently added" section in the Netflix app. It's helpful at times, but Netflix cherry picks the content shown in that section, so users often end up missing shows and movies they might have enjoyed. Don't worry though, because we found an awesome web app that makes it easy to find all of the new content Netflix adds to its catalog each and every day.
Pretty much everyone who subscribes to Netflix loves it, and the Netflix app provides a reasonably consistent experience across most platforms. While the app is generally consistent across platforms, however, the app itself isn't very consistent. By that we mean Netflix likes to play around with its sections, so your queue might be at the top of the app one day followed by new releases, and the next day you might not even be able to find either section because they've been replaced by trending shows and top Netflix originals.
On one hand, it's kind of neat sometimes because it encourages you to view sections you might not have otherwise. On the other hand, sometimes you just want to see what's new on Netflix, and it's aggravating when you can't even find the new section. Lucky for you, there's a very cool free web app that's appropriately named New On Netflix, and it shows you every single new addition to the service's catalog each day.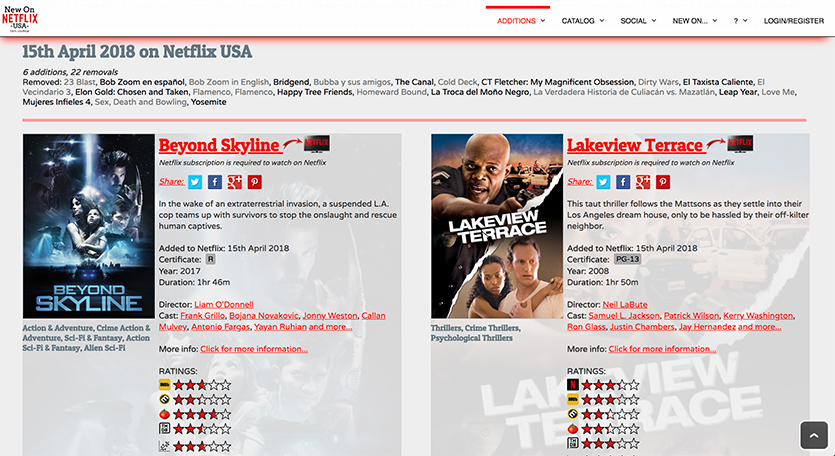 As you scroll through the site, each date is followed by a text summary of all the additions and removals on Netflix for that day. Beneath that, you'll find a large card for each new addition that gives key information like the title, description, genre information, director, cast, and even ratings across a number of popular sites like IMDB, Rotten Tomatoes, Metacritic, and of course Netflix. Click any title on the site and you'll head over to its corresponding Netflix page so you can watch it or add it to your queue.
New On Netflix also has a few other useful sections that are accessible through the menu at the top of the page. You can see popular shows and movies from the current week, only Netflix originals, a list of content that's leaving the site soon, and more.