You don't recast Thaddeus "Thunderbolt" Ross for Captain America: Brave New World if you don't have big plans for the character. And you don't bring in Harrison Ford for the role that the late William Hurt played if you don't want to make an immediate splash. What I'm getting at is that it makes perfect sense to expect Red Hulk to first appear in Captain America 4. It's not a spoiler, either. Having Ford play this character opposite Sam Wilson (Anthony Mackie) is a big deal.
Marvel won't confirm it, and we have no way of knowing whether Ford will hulk out in Brave New World or later on. But Marvel might have teased the actor's transformation with a detail we nearly missed. This is where I tell you that spoilers will follow.
A few days ago, Marvel confirmed a few Captain America 4 rumors at once. We saw Brave New World set photos revealing the new Captain America costume that Sam will wear in the movie, and we learned the old New World Order title has changed.
Marvel engineered the following image so Mackie could post it on his social media channels. Just like that, it dealt with those rumors with one swift blow.
The photo shows Harrison Ford and Anthony Mackie on the set of Captain America 4. The latter is wearing a blue uniform, and the two appear to be sharing a laugh during a break from shooting.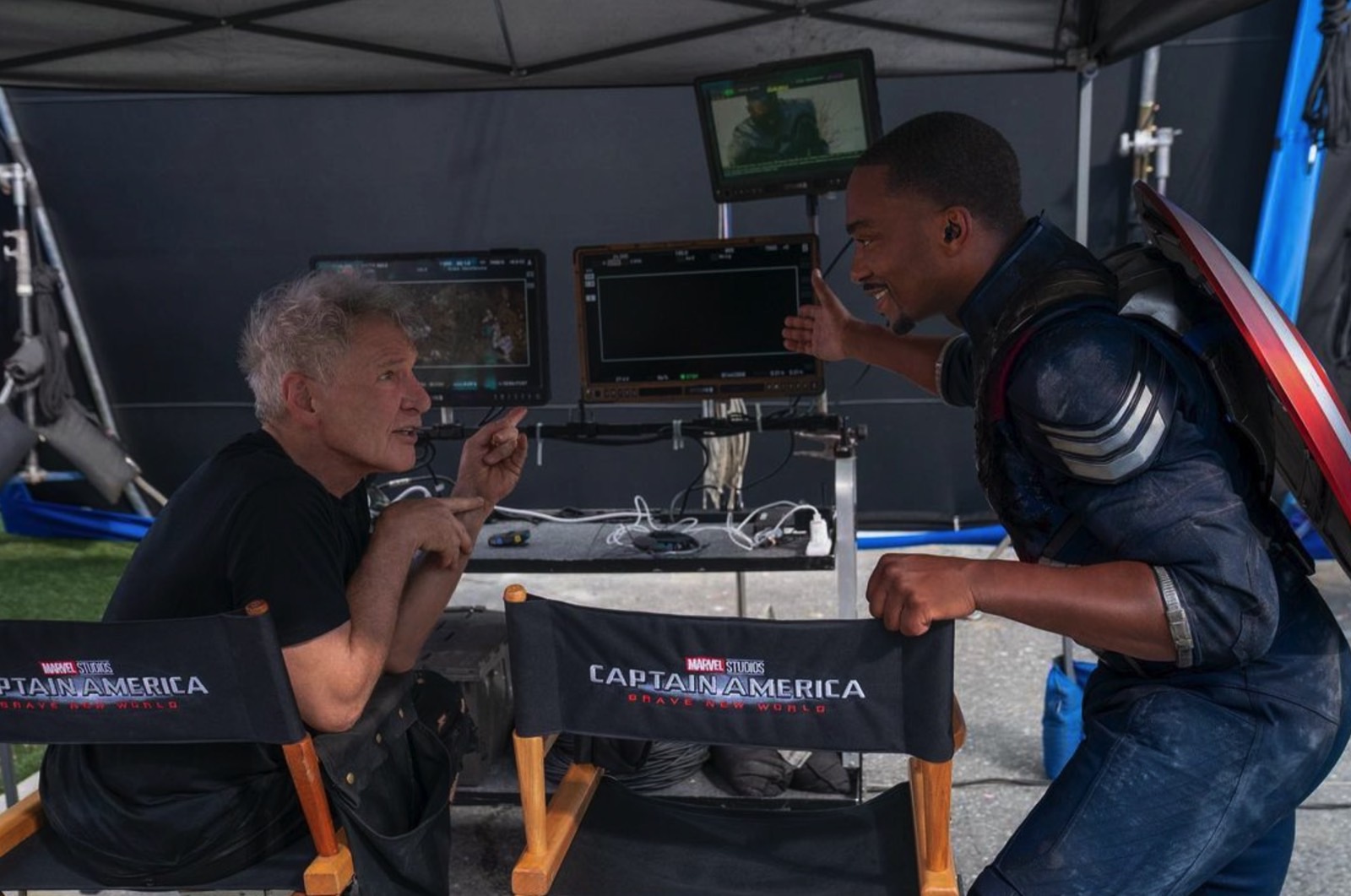 Mackie also confirmed the new title for Captain America 4 in the photo caption:
When Harrison Ford tells you how kicking ass should look, you listen! LoL… Thanks for the on set wisdom and laughs my friend!

Can't wait to do it again… Marvel Studios' Captain America: Brave New World in theaters May 3, 2024.
So where's Red Hulk in all of this? Well, he isn't there. Ford doesn't wear the motion capture suit that would indicate he'd been shooting scenes for Red Hulk. Not that anyone will wear that while taking a break from filming, especially during a photo op.
Red Hulk beyond Captain America 4
But look closely at Harrison Ford in that image. Zoom in if you have to. You'll notice the actor is wearing ripped pants that do not look anything like what the President of the United States would wear. It's a detail we nearly missed until The Direct pointed it out.
Yes, Marvel confirmed that Thunderbolt Ross is the new US president in Captain America 4. That will put him into direct conflict with Sam, especially if he becomes Red Hulk.
We saw Ford in previous set photos wearing a suit that would fit his official position. You wouldn't expect to see the character in damaged pants.
Also, consider that Mackie is wearing the new Captain America uniform. So it's likely that Ford would wear whatever costume his most recent scene would require of him. And since Mackie teased a kicking-ass scene, it's all coming together.
Finally, remember that we saw similar scenes with Hulk (Mark Ruffalo) before when he changed back into Bruce Banner. The hulks tend to rip through their clothes when they do their thing. That's why he's recommending certain attire to his cousin, Jennifer Walters (Tatiana Maslany), as he teaches here the way of the She-Hulk (image above).
Red Hulk wouldn't be any different. Again, that's not enough to confirm that Red Hulk will appear in Captain America 4. But it is an excellent teaser.
I'll also note that Red Hulk has plenty of opportunities to show up in the MCU again after his Brave New World reveal. Thunderbolts is one possibility. Then, we have the rumors about a World War Hulk movie coming in the future. And let's not forget that the MCU will need all the superheroes, villains, and antiheroes it has to beat Kang in future Avengers movies.