Steam isn't the only digital PC game store, but it has long been the dominant player in the industry. Many developers have attempted to break the Steam stranglehold with their own proprietary offerings — Origin, Uplay, Battle.net — but those stores are typically limited to games from the developers that run them.
There simply aren't any true competitors to Steam, but on Tuesday, a new platform was unveiled that will undoubtedly grab Steam developer Valve's attention. In a blog post on its website, Fortnite developer Epic Games announced that it will soon launch its own online store for digital distribution, one which will feature its own games as well as a wide variety of games from other developers. And it has one hugely important advantage over Steam.
"Developers receive 88% of revenue," said Epic Games founder Tim Sweeney in the post announcing the new store. "There are no tiers or thresholds. Epic takes 12%. And if you're using Unreal Engine, Epic will cover the 5% engine royalty for sales on the Epic Games store, out of Epic's 12%."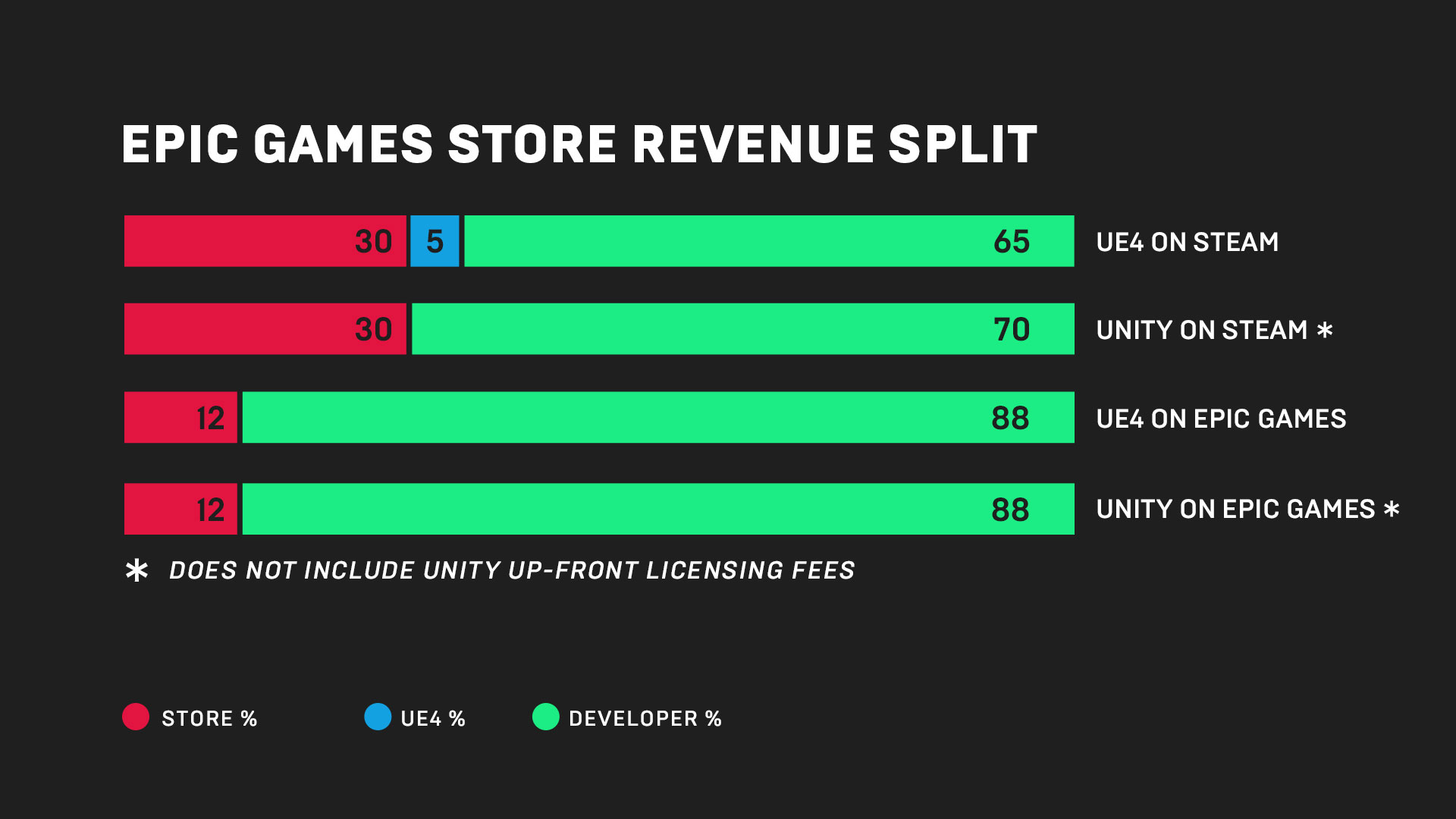 Just to put this number into perspective, Valve takes 30% of the revenue from game sales on Steam. That's a fairly massive amount of money developers would be saving by selling their games on the Epic Games store instead of on Steam. Valve just announced a new system that will allow developers to take home more of the revenue when they meet certain thresholds, but even the top threshold isn't as generous as Epic's split.
But that's just part of what makes the Epic Games store stand out. Epic also revealed that anyone who buys a game from a developer will be signed up for their newsfeed, and receive game updates and news about upcoming projects on the front page. Epic is also expanding its Support-A-Creator program beyond Fortnite. Now any developer can give a creator a cut of the sale when they when refer new players to buy the game.
Developers will get their own game pages, there won't be any paid ads in search results, all game engines are welcome on the store, and Epic even plans to add support for "Android and other open platforms" in 2019. That said, Epic wasn't ready to announce a release date for the Epic Games store quite yet.