Before Infinity War, there was Age of Ultron, the second movie in the Avengers franchise that brought us a bunch of new heroes and set the stage for Civil War, as well as the events that led to our current predicament. But you know what else Avengers 2 contains? A line of dialogue that has the rumored Avengers 4 title in it. That is, if a new fan theory is to be believed.
A few weeks ago, a report said Avengers: Annihilation is going to be the title of the Infinity War sequel, a leak that supposedly made waves at Marvel. Since then, we saw more circumstantial evidence that would support the claim, although Marvel has yet to release the first trailer for the upcoming Avengers picture. When that happens, we'll hopefully learn the title once and for all.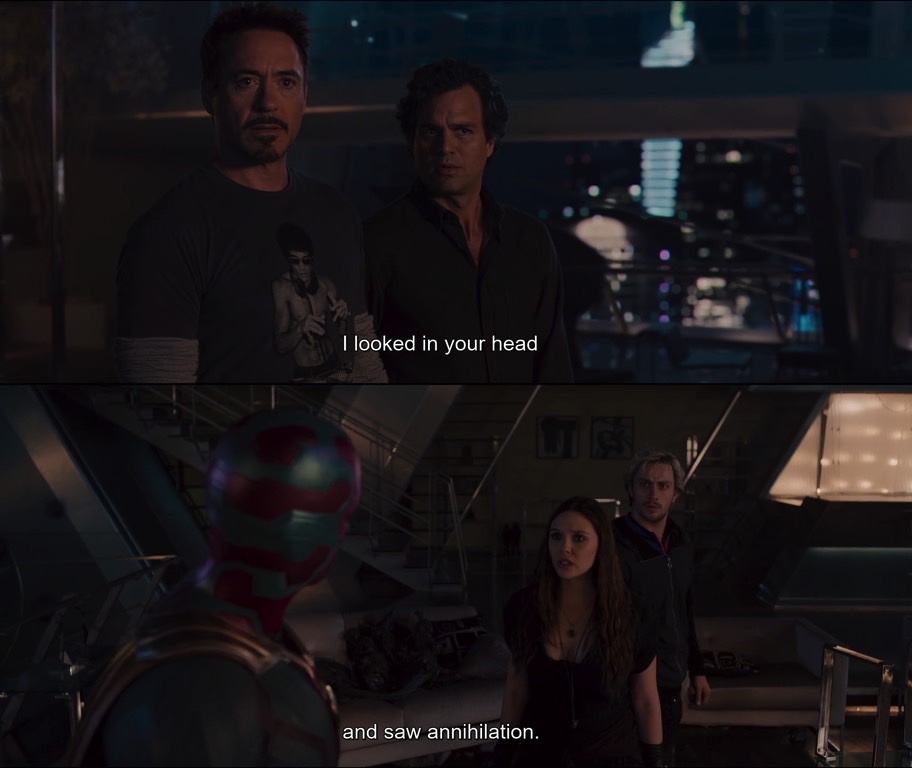 A Redditor posted the screenshots above from Age of Ultron, showing an exchange between Wanda and Vision. "I looked in your head," Wanda said, "and saw annihilation." Here's that scene:
Did Marvel plant that line in the film solely to tease a movie that wouldn't be released until least five years later? That may not seem likely at first. But over the last 10 years Marvel has created a bunch of distinct superhero stories and entangled them just the right way, so they'd all lead to this epic Infinity War and Avengers 4 "season finale" that provides closure to the first decade of the MCU. You can't do that without planning MCU events well in advance.
The fact that Wanda looked inside Vision's head is important for a variety of reasons. First of all, it tells the audience, again, that Wanda is an incredibly powerful Avenger and a great addition to the team. Secondly, we're being told that Vision isn't just AI and robotics. It has a mind of its own in that head. That's a combination of AI and the Mind Stone that Wanda detects, with plenty of emphasis on the latter, I suspect. We're also told that Vision isn't Ultron.
Of course, if it weren't for the Annihilation title rumor, we wouldn't even be talking about this scene.
What we do know about the Avengers 4 title is that it's not used anywhere in Infinity War. But as ComicBook says, there has been mention before of the title being spoken in other MCU movies. If that's the case, then previous Avengers films likely make the most sense.