Aimless. Backwards. Confused. These are just a few adjectives which, to a frustrating extent, seem to perfectly encapsulate Apple's glaring lack of vision in the TV space. Apple certainly understands that TV (and by extension, the living room) is important, but the more I see what Apple is doing with the Apple TV, and the more I hear Apple executives excitedly drone on about their comically boring TV strategy, the more I become convinced that the company has absolutely no idea what it's doing.
Broadly speaking, I don't believe that the higher-ups at Apple grasp, on an even basic level, what makes for a compelling TV viewing experience. And while the company, in my view, wasted its time exploring the feasibility of developing and manufacturing a car, it completely ignored the growing strategic importance of TV in the process.
This oversight — whether the cause be a lack of vision or a lack of execution — is particularly ironic given that it was Apple's keen appreciation of the strategic importance of music in the early 2000s that led to the iPod, the iTunes Music Store and, in turn, Apple's ascension back to the top of the tech heap. These days, however, power and leverage within the TV space is quickly being usurped by players like Netflix while Apple remains embarrassingly stuck on the sidelines.
DON'T MISS: We finally figured out why Google's Pixel looks so much like an iPhone
It's not about the interface
Two weeks ago, Apple's iTunes head Eddy Cue sat down for a joint interview with HBO CEO Richard Plepler as part of Vanity Fair's New Establishment Summit in San Francisco. During the course of the interview, Cue made a point to critique the current state of TV by focusing on, of all things, TV interfaces.
"I do think television needs to be reinvented. Cue said. "Today, you live with a glorified VCR and the problem is the interface. It's really hard to use [a cable box or satellite TV]. Setting something to record, if you didn't watch something last night, if you didn't set it to record, it's hard to find, it may not be available. There may be some rights issues."
"It's great to be able to tell your device, 'I wanna watch the Duke basketball game, I don't care what channel it's on,'" Cue continued. "I just want to watch the Duke basketball game. Today you got to bring in the TV, go through the guide, find which sports programs or whatever — it's just hard to do."
If Apple thinks coming up with some sort of next-gen interface is the solution to our TV woes, it's sorely mistaken. For starters, cable interfaces have improved by leaps and bounds over the past few years. The idea that we're now living in a world where cable provides us with hundreds of channels that are impossible to sift through is embarrassingly outdated. While some cable providers have a ways to go, DirecTV and Comcast, as two quick examples, have solid user interfaces that make searching for content a breeze. Bolstered by show recommendations and solid on-demand options, the scenario Cue describes is plainly incongruent with the reality that most cable viewers live with.
And yet, what did we witness last week at Apple's special media event? A whole lot of nothing. Just an app called TV that lets users browse through third-party apps from the likes of HBO, FX and others.
Yawn.
This is not the future of TV.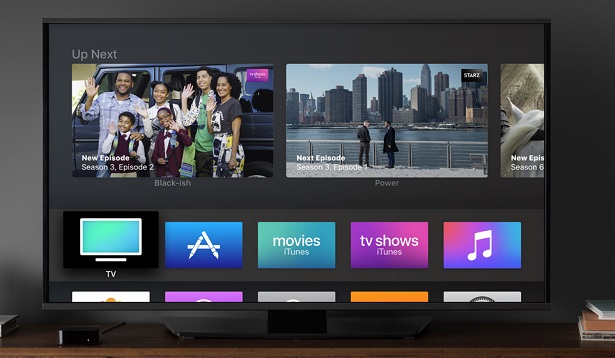 To this point, Joe Steel takes Apple to task for their underwhelming showing, which doesn't even include Netflix at this point:
So what is TV the app? It's a row of what you were watching, called Up Next, and then a series of recommendations based on the apps you have installed on your device. If that sounds familiar to you, it's because you might have used an Amazon Fire TV in the last few months when Amazon rolled out the ability to see content from Netflix and HBO listed in recommendations. So Apple made the Fire TV home screen, as an app, except they couldn't get Netflix onboard, while Amazon could.
And oh yes, Apple's single sign-on service where users can enter in their cable subscription credentials just once and receive "immediate access to all the apps in your pay TV package that support single sign-on" has been "Coming Soon" for months now.
Apple hasn't released a TV streaming service
Apple wants to get into the TV game, but it's still not quite sure how. For a while, it seemed that Apple was aiming to release a lightweight TV subscription service but those plans have reportedly been put on hold due to disputes over pricing and disagreements over what channels would be included in the bundle. Meanwhile, AT&T beat Apple to the punch, recently announcing an internet-only TV service that boasts more than 100 channels for just $35. Not to be outdone, Hulu earlier this week announced that its impending TV streaming service will include channels such as ABC, ESPN, the Disney Channel, Fox Sports, Fox News, National Geographic, FX, TNT, TBC, CNN the Cartoon Network and more.
In today's world, content is king while interfaces, truth be told, simply need to be good enough. Apple's TV strategy is focused on the wrong end-game and the company is completely letting other competitors pass them by. Netflix's interface could stand to be a bit better, but it's a point you never hear anyone make because the content is absolutely stellar. All the while, Apple is seemingly taking its sweet, sweet time getting into the original content business. Sure, Apple has rolled out some exclusive content for Apple Music already, but all of those offerings have been decidedly music-oriented. Apple does have some content in the works, one of which is a reality show about — wait for it — the app economy. There's also Vital Signs, an original drama starring Dr. Dre that genuinely seems intriguing. But even so, it's just one show, with no release date just yet, whose primary purpose is to advertise Apple Music.
To this point, Peter Kafka of Re/Code wrote the following earlier this year:
So, again: Is Apple really getting into the TV business? Yes. But also, not really.

The real answer is more modest: Apple has already been financing video content it uses to market Apple Music — "to extend Apple Music," in the words of an insider. And it's doing that with the Dre show. Full stop.

That's much less exciting than "Apple Is Getting Into TV," but it's more accurate.
Original content is king and Apple is laughably behind
The reality is that it's becoming increasingly harder to compete in the TV space without original content. How is it that Amazon, with roots as an online retailer, was able to grasp the strategic importance of original content while Apple has remained completely oblivious, focusing on interface redesigns instead? If you tally up how many original programs that Amazon has either aired or is planning to air, the count checks in at over 50. All the while, Apple is slowly slogging along hoping that it can make a splash with Planet of the Apps and Vital Signs.
Does Apple appreciate that the TV landscape today was forever changed by Netflix's obsession with churning out original content? It sure doesn't seem like it.
Part of the reason why Apple bought Beats was for its talent. From Jimmy Iovine to Trent Reznor, Apple was able to bring on board music bigwigs who truly understood the music industry from the inside out. Apple lacks the same type of expertise with respect to TV and it shows.
All the more perplexing is that Apple has, as of yesterday, more than $237 billion in the bank. It has more than enough money to bankroll a few quality TV programs. As an illustrative example, it would cost Apple $538 million to cumulatively produce one season of the following shows.
Game of Thrones
Breaking Bad
House of Cards
Orange is the new Black
Arrested Development
Mad Men
Marco Polo
The Wire
The Big Bang Theory
Sons of Anarchy
Even if Apple started out small with just two shows, an ambitious project like Game of Thrones costs $60 million per season while House of Cards costs $50 million. If Apple wants to get serious about TV, it doesn't necessarily need to purchase Netflix outright as some have suggested; it can go it alone as well. But instead, we can sit back and enjoy Planet of the Apps and be lured into an Apple Music subscription in the process.
The crazy thing is that it doesn't even take long to roll out original content and become a major player in the TV space. Netflix seemingly did it in a blink of an eye, with hits like House of Cards and Orange is the new Black not even debuting until 2013.
The Siri Remote is a joke
Content aside, the shamelessly horrible design of the Apple TV 4 remote is even more proof that the higher-ups at Apple simply don't get TV. Are we really supposed to believe that Apple understands the TV viewing experience when its remote is nothing short of a case study in backwards non-functional design?
Making an iPhone extremely thin might make for a good design, but the same doesn't apply for a TV remote. A good TV remote needs a little bit of heft and it needs to be ergonomically friendly. Say what you will about Comcast, but their standard X1 remote is extremely well designed to fit an actual human's hand. Additionally, given that a lot of TV is watched on couches, the Apple TV remote is frustratingly prone to getting misplaced or even lost. What's more, there's no backlighting on the Apple TV remote, making it downright frustrating to use in the dark. Compounding the problem is that its backwards industrial design all but makes it impossible, upon picking it up, to immediately discern which part of the remote is the top and which is the bottom simply by picking it up.
To this point, former Apple ad guru Ken Segall writes:
The Siri Remote is a gorgeously designed object — it's just a terribly designed remote.

It's a thin slab that feels like, well, a thin slab. Its shape doesn't contribute one iota to ease of use. There are a number of remotes out there that fit the human hand nicely, and put the most-used buttons at one's fingertips.

Lapses of this type make it difficult to defend Apple when it is accused of favoring design over function. It's hard to think of the Siri Remote as anything but design run amok. It's beautifully annoying.
It's bad design through and through, especially given Jony Ive's penchant of repeating Steve Jobs' famous quote that "design is not just what it looks like and feels like, design is how it works."
Apple's TV strategy, on the whole, is a muddled mess
All of this taken together, it's hard to have faith in any TV-oriented initiative from Apple. Almost depressingly, we haven't even covered everything that's amiss with Apple's TV strategy, a list which includes the Apple TV not supporting 4K video and Apple's seeming belief that people want to watch big sporting events with a scrolling Twitter feed on the side.
Joe Steel nails it when he writes:
Apple's incoherent strategy on the Apple TV, and tvOS as a platform, needs a dire revamp. Even the revamping they are trying to graft on to the products in the form of TV the app is so poorly integrated, and partnered, that it raises questions about why people would even open the software feature that they bill as a primary reason to get an Apple TV in their very own marketing materials.

There's a total lack of understanding about TV in homes, which has plagued the product since it shipped last year, and seems guaranteed to persist another year.
This is spot-on, but there's sadly no indication that Apple even has the right people to help bring about a revamp that would actually make the Apple TV compelling.