2023 has arguably gotten off to a bit of a slow start as far as Netflix releases go — beyond popular exceptions like Outer Banks' new season, for example, there's been a lot of non-English content, documentaries, and titles with little to no marketing that's served to make the first quarter one of slumping viewership (based, at least, on the Top 10 data that the streaming giant releases each week).
But that will change in a big way, starting this weekend. On the way is a new Chris Rock special (which is also Netflix's first-ever live global event), plus a Luther movie, the second half of a huge K-drama, and much more.
You: Season 4, Part 2
First up is Part 2 of the fourth season of You, coming on March 9 and one of Netflix's biggest hits in recent memory — in fact, this should give you a pretty good idea of how in-demand this show remains.
Regarding Part 1 of You: Season 4, which debuted on Netflix about a month ago, those five episodes managed to rack up more than 92 million hours viewed worldwide over a mere four days. Moreover, as of the time of this writing, You: Season 4 has been on Netflix's global Top 10 TV list for three consecutive weeks, and the series is currently a Top 10 Netflix show in 54 countries at the moment (per Netflix data).
In Season 4, murderous stalker Joe Goldberg is now living in London as a college professor named Jonathan Moore. Adds Netflix's promotional material:
"With this new life comes a new crew of posh friends (read: potential victims), including fiercely loyal art gallery director Kate (Charlotte Ritchie), outspoken literature major Nadia (Amy Leigh Hickman), irreverent author Rhys (Ed Speleers), wild aristocratic socialite Phoebe (Tilly Keeper) and her boyfriend Adam (Lukas Gage), entrepreneur Sophie (Niccy Lin) and her introverted author brother Simon (Aidan Cheng), uber-privileged Oxford grad Gemma (Eve Austin), potty-mouthed former sportsman Connie (Dario Coates) and Nigerian princess/cryptocurrency aficionado Blessing (Ozioma Whenu)."
Chris Rock: Selective Outrage + more new Netflix releases
Moving right along, we next come to one of the most important Netflix new releases in quite a long time.
Arriving on the streamer this weekend is Chris Rock's new standup special titled Selective Outrage, but as we noted in a separate post this one is unlike any of the many standup comedy specials on Netflix that have come before. The event gets going on Saturday, March 4, at 10 pm ET, with Netflix broadcasting the performance live once Rock takes the stage Saturday night at Baltimore's Hippodrome Theatre.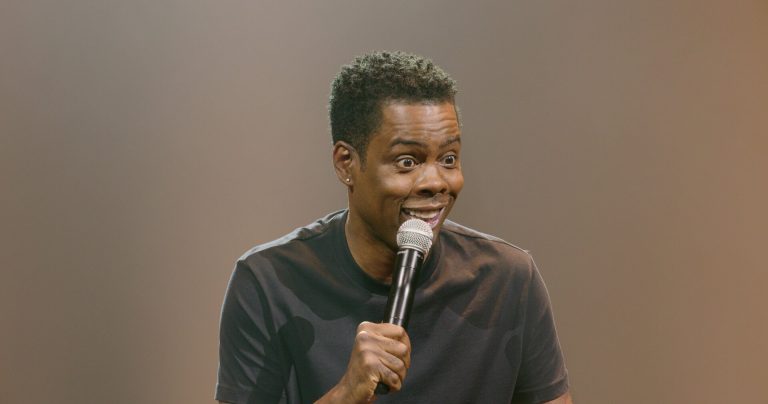 That's right, this will be the first live, global event to be broadcast on Netflix, and it's expected to attract significant viewership because of the novelty around the live aspect — but also because of Rock's material. He's been road-testing material related to the Will Smith slap from last year's Oscars (which will be incredibly timely, given that Rock's set is coming a week before this year's Oscars).
Some 40 minutes before the Netflix broadcast begins, you'll see a red "Watch Live" button in the app. Half an hour before Rock's show, there will be a star-studded pre-show broadcast from Los Angeles, and then a post-show once the set is done. Rock's set will be viewable afterward on Netflix, like any other piece of content — but the pre- and post-shows will only be viewable live on Netflix.
More new releases to check out
In terms of some of the other big new Netflix releases hitting the platform over the coming days, there are also big new Korean releases, an eye-opening docuseries, and much more.
MH370: The Plane That Disappeared: From Netflix's description of this 3-episode docuseries: "Malaysian Airlines Flight 370 was supposed to be a routine trip: A redeye from Kuala Lumpur to Beijing, with 239 passengers and crew on board. But shortly after takeoff on a calm 2014 night, MH370 vanished from radar screens for good. The shocking disappearance of a commercial airliner made headlines, sparked riots, plunged the passengers' next of kin into a nightmare, and generated a global search for answers that never came."
This docuseries unfolds across seven countries and reconstructs the night of the disappearance. It includes interviews with family members, journalists, and scientists, and it also "explores three of the most contentious theories about the plane's disappearance." Release date: March 8.
Divorce Attorney Shin: Netflix's Korean-language content like the new series Divorce Attorney Shin includes some of the biggest Netflix releases of all time. As an aside, no wonder the streamer this week decided to rename its Korean-focused social media channel "The Swoon" to the much more to-the-point "Netflix K-Content."
From the streamer's official description of this upcoming release: "Driven by a personal tragedy, a pianist-turned-lawyer navigates the complex world of divorce — fighting for his clients to win by any means necessary." Release date: March 4.
The Glory: Part 2: And on that note, an even bigger Netflix Korean release is also dropping next week, bringing to a close the revenge saga starring Song Hye-kyo that's electrified fans around the world.
As I've said before: If slow-burn Netflix revenge dramas are your thing, the vengeance doesn't get more all-encompassing than the sort that's carried out by Dong-eun, the character played by Song here. Now an adult, Dong-eun puts an elaborate revenge scheme into play in order to get back at her horrible high school bullies. Release date: March 10.
Luther: The Fallen Sun — a continuation of the TV saga
Finally, what Netflix has done with its upcoming Luther movie — starring Idris Elda, once again, as rule-breaking cop DCI John Luther — reminds me a little bit of (hear me out) the whole Glass Onion: A Knives Out Mystery situation.
Netflix made a deal to produce a sequel to the 2019 whodunnit Knives Out from Rian Johnson, despite the fact that the original is not available to stream on Netflix. In the case of Luther, it's the same thing.
You can't stream the five-season crime Luther on Netflix, but the streamer made a deal, all the same, to revive the show with Elba back in the title role. From the official logline for the movie, which hits Netflix on March 10:
"In Luther: The Fallen Sun — an epic continuation of the award-winning television saga reimagined for film — a gruesome serial killer is terrorizing London while brilliant but disgraced detective John Luther (Idris Elba) sits behind bars. Haunted by his failure to capture the cyber psychopath who now taunts him, Luther decides to break out of prison to finish the job by any means necessary. The film also stars Cynthia Erivo, Andy Serkis, and Dermot Crowley, who returns as Martin Schenk."