If you purchase an independently reviewed product or service through a link on our website, we may receive an affiliate commission.
Biting into a tender and juicy piece of steak is many people's idea of a dining treat. Whether you prefer it raw and "still mooing" or well done and tougher, steak is a unifying meal that is often enjoyed only a few times a year, if that. As you're sitting down to your ribeye, porterhouse, filet mignon, tips, frites, or any other cut of steak you may prefer, you better have the proper utensils to enjoy it with. Trying to cut a steak with a butter knife is one of life's great miserable experiences. If you're serving steak, you better have a set of steak knives. Steak knives will glide smoothly through your meat and will give you the right sizes of pieces to savor. If you've had to endure trying to cut a steak up with a blunt knife only to have to pick it up and basically eat it with your hands, we've got you covered. We've hand selected three of the best steak knives sets on the market, so you can make steakhouse quality steak right in your own home and eat it without any trouble. Let's take a look.
Sharpest Steak Knives Set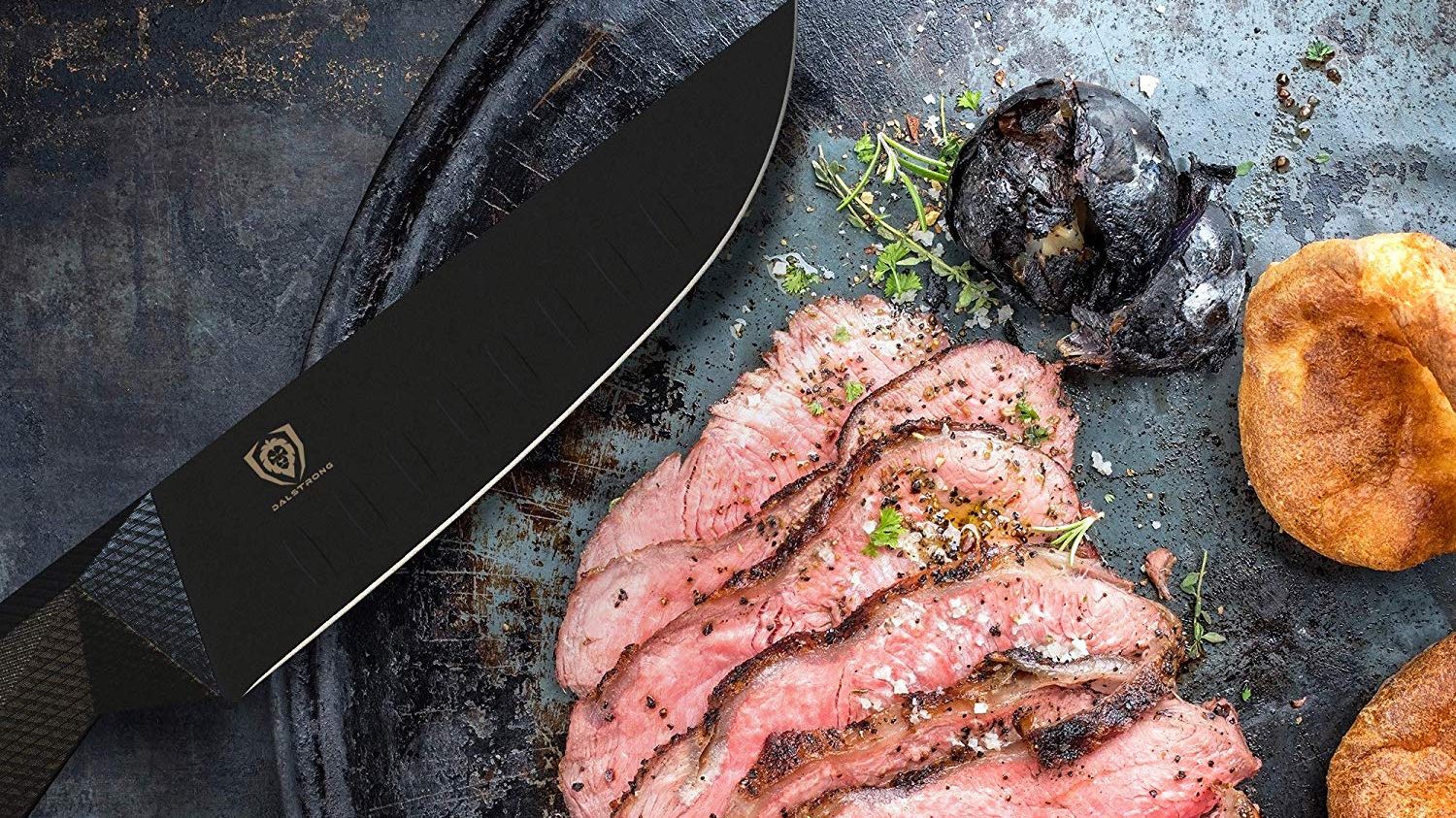 For those looking for a major upgrade when it comes to steak knives in their kitchen, look no further than the Dalstrong Shadow Black Steak Knife Set. This set is exceptionally crafted and looks sleek and muscular. These are cutting-edge, high performance tools that have a scalpel-like edge. Each one is hand finished by bladesmiths to 15° per side using a three-step Honbazuke method. They are then nitrogen cooled for enhanced harness and flexibility. The blades are covered with a titanium nitrate coating and each one is made from a single piece of steel. These have no-stick properties and are corrosion resistant. The sharp, midnight black look is striking and the ergonomic handle is military grade and impervious to heat. The hand polished spine is smooth to the touch and won't slip out of your hand, even when you're cutting through a well done steak. You'll receive four knives in this set and each one of them comes with a covering sheath that won't take up much room in your storage area. This entire set comes backed by a 100% satisfaction guarantee, or you'll get your money back. These knives are certified by the National Sanitation Foundation.
DALSTRONG Steak Knife Set - 4-Piece - 5" Blade - Shadow Black Series - Black Titanium Nitride C…
Price:
$130.00
Available from Amazon, BGR may receive a commission
Best Large Steak Knives Set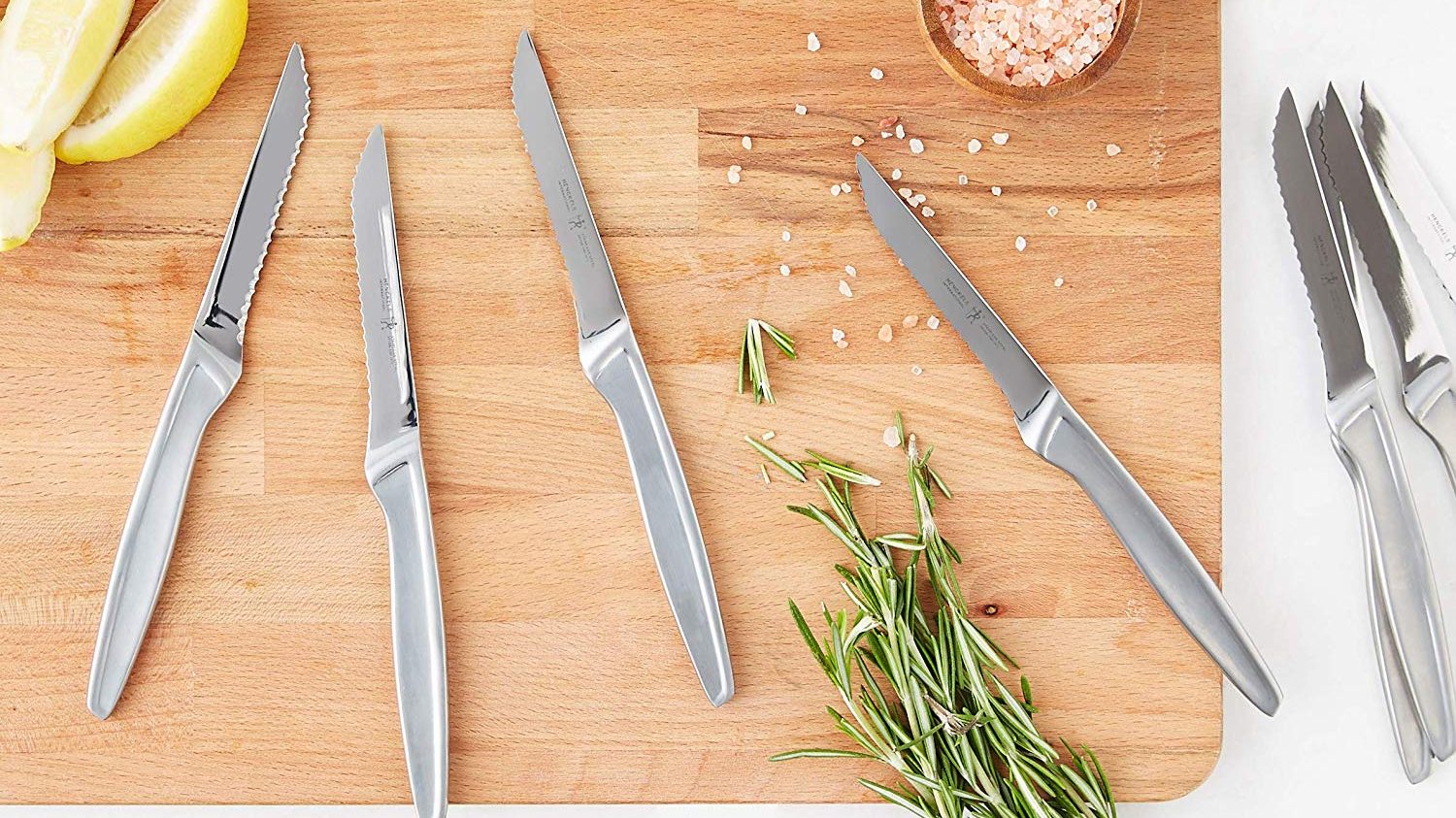 Rather than having to double up if you have more than four people in your family, get yourself a set of steak knives with more than four knives. The J. A. Henckels International Stainless Steel 8-Piece Steak Knife Set is a terrific choice and it is built to last. These knives are durable, as they are made from non-corroding stainless steel. The handles are also made from stainless steel, so they also are meant for the long haul. Each knife is a single piece of construction with full tang, giving you an easier time when it comes to cutting. The serrated blades make cutting into your meats and other items simple and they won't ever need to be sharpened. Unlike many knives, these are dishwasher safe, so you don't have to scrub the blade and possibly cut yourself while doing so. You can get them in silver, black, or original color and you can even get them custom engraved, if you want to give them as a gift. They have a lifetime warranty, so if something ever happens with one of them, you'll be able to get a replacement without any hassle.
HENCKELS Steak Knife Set of 8, Stainless Steel Knife Set, Silver
Price:
Available from Amazon, BGR may receive a commission
Best Value Steak Knives Set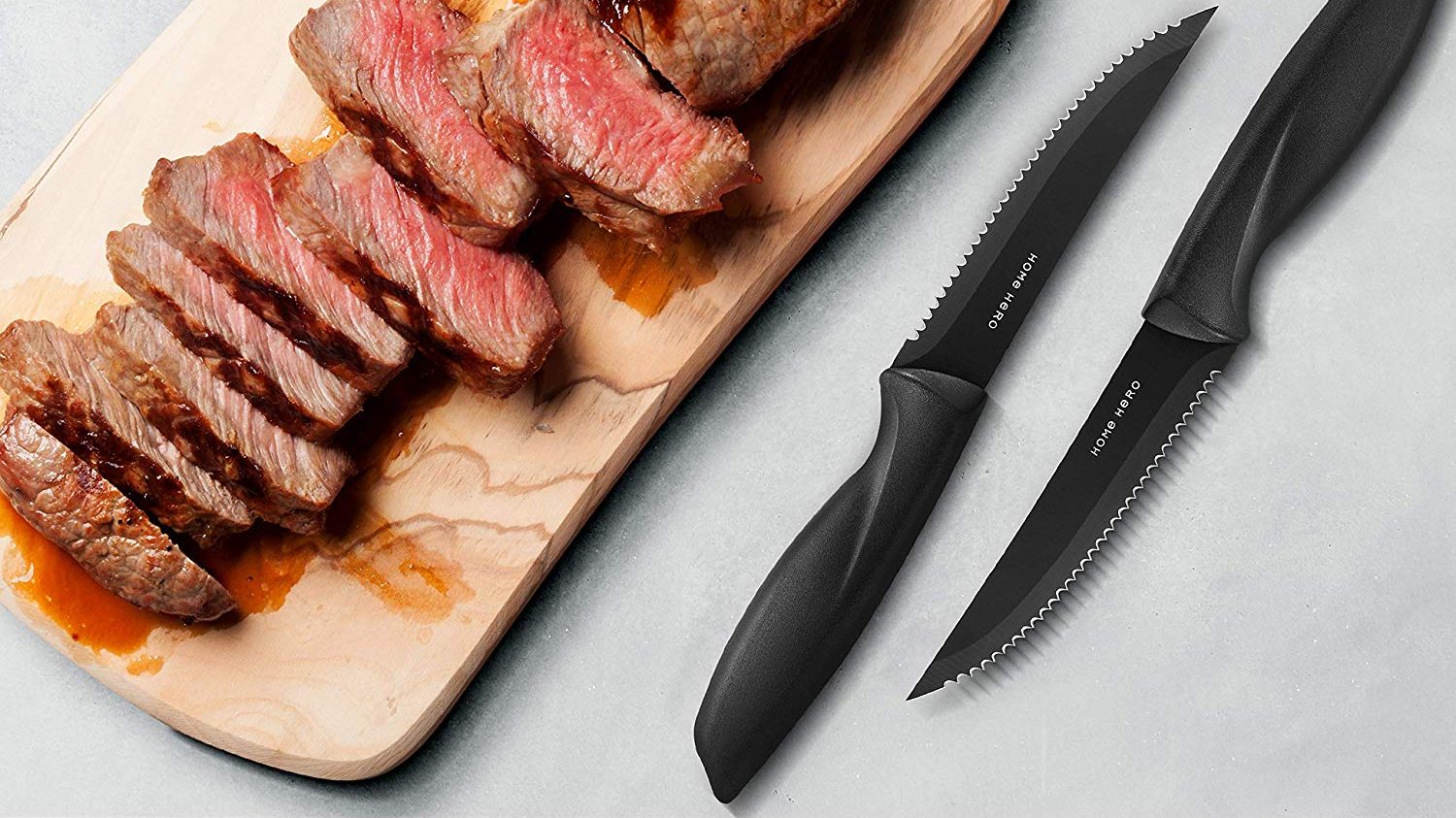 If you're not looking to shell out major bucks for a new steak knives set, the Home Hero Steak Knives Set of 8 is a solid option. These have sharp, fully serrated, stainless steel blades that will cut through your steak effortlessly. This cost-effective set offers a great bang for your buck. Each one is covered in a durable, non-stick coating that won't alter the taste of your meal. These are safe to put in the top rack of your dishwasher and won't develop rust spots after being washed. These have ergonomically designed handles with a protective TPR coating, so they won't slip out of your hand while you're using them. If anything happens to go wrong with them, you can get a replacement or a full refund, as they are backed by a 100% satisfaction guarantee.
Home Hero 8 pcs Stainless Steel Steak Knife Set - Serrated Steak Knives Set - Dishwasher Safe -…
List Price:
$24.99
Price:
$19.99
You Save:
$5.00 (20%)
Available from Amazon, BGR may receive a commission