If you purchase an independently reviewed product or service through a link on our website, we may receive an affiliate commission.
Decorating isn't easy. Finding the right pieces of furniture to fit your space or choosing a piece of art to hang on your wall that is both aesthetically pleasing and something that you won't get sick of looking at can be overwhelming. This doesn't even count the amount of personal photos you have to choose from. Being able to personalize your decor can be tricky and you don't want it to seem tacky either. Picture frames come in so many different shapes and sizes, so you shouldn't have any trouble finding the right ones for you. But for frames that make a statement that also allow you to add more of your creativity to them, you should check out shadow box frames. Shadow box frames are more three-dimensional and you can create your own bits of artwork or displays inside of them. You can turn them into memory boxes that you can show off. Adding more aesthetic to your home, any of these shadow box frames can kick up your decorations and skills.
Best Large Shadow Box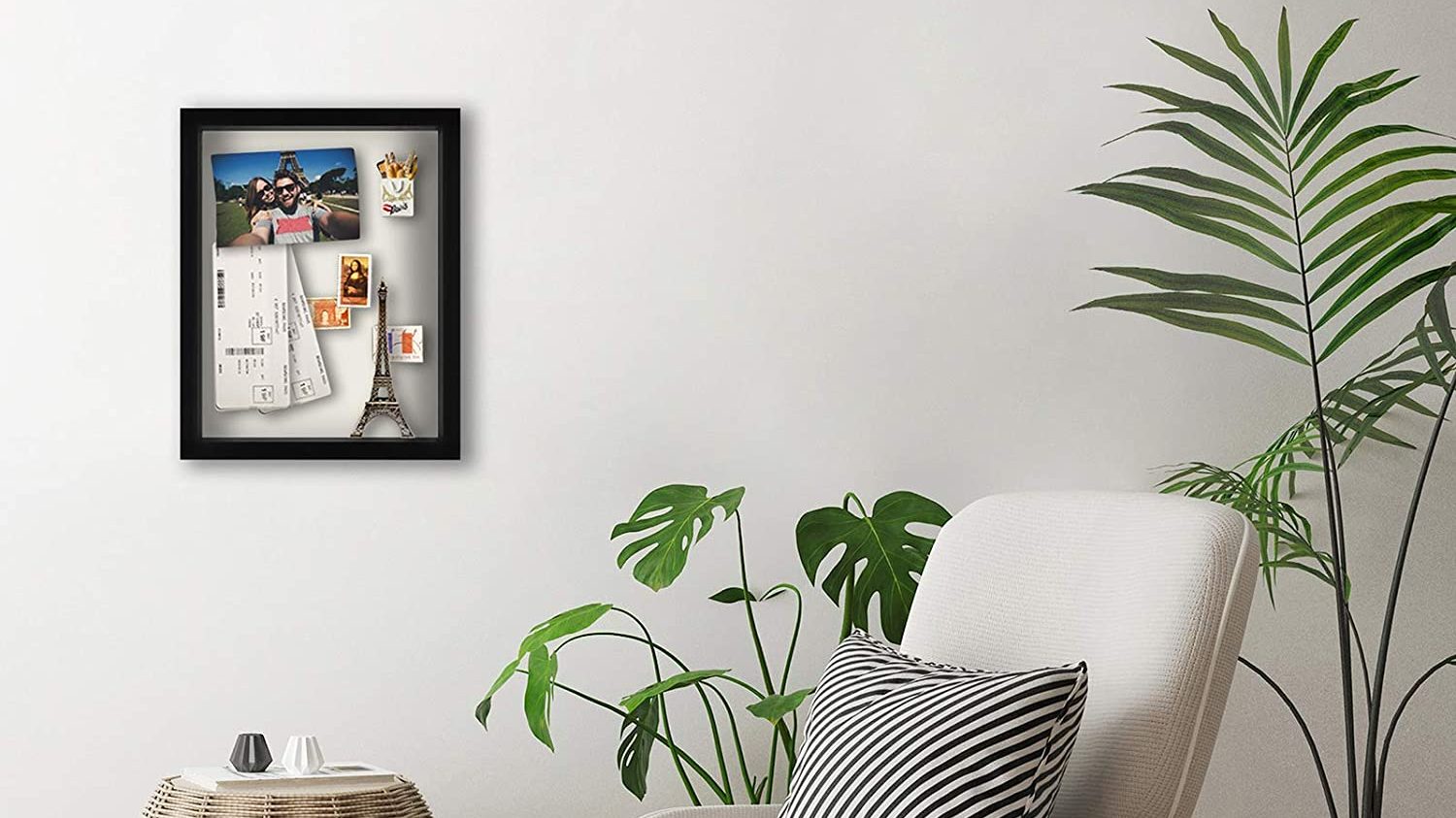 Whether you've kept tickets from concerts, movies, or sporting events, display them easily with the Americanflat Black Shadow Box Frame. The largest frame size offered by Americanflat for this is 11″ x 14″, so you'll have plenty of room to work with. This is perfect for presenting and protecting your memorabilia and it comes with hanging hardware to make it an easier experience. This can stand on its own, allowing you to place it on a table for another style of display. You can get it in black, white, or mahogany, offering you choices. It has a clear, shatterproof glass front, while the inner wood pieces are removable, giving you more customizing options. It comes wrapped in protective packaging, so you shouldn't have to deal with any damaged products upon arrival. The tabs are easy to open and inserting the photo or decoration is a breeze.
Americanflat 11x14 Shadow Box Frame in Black with Soft Linen Back - Composite Wood with Polishe…
Price:
$19.99
Available from Amazon, BGR may receive a commission
Best Size Options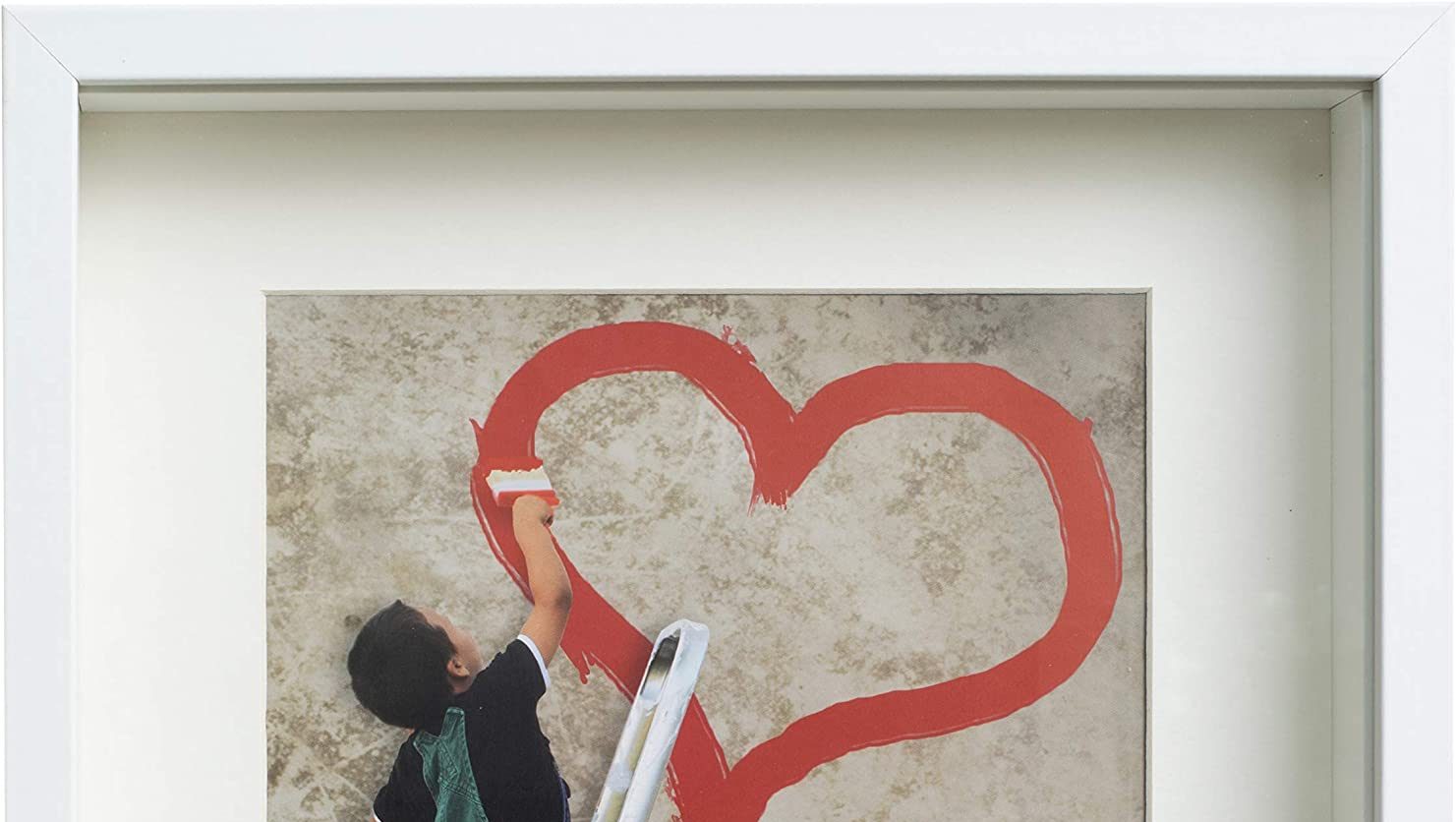 Different frames come with different openings and the BD ART line of Shadow Boxes gives you a few options. You can choose between a 7″ x 14″ one with three 4″ x 6″ openings for a vertical design, an 8″ x 10″ one with a 5″ x 7″ opening, a 9″ x 9″ one with a 5″ x 5″ opening, an 11″ x 11″ one with an 8″ x 8″opening, or an 11″ x 14″ one with an 8″ x 10″ opening. It comes in four different colors, also allowing more variations. This can be displayed on your tabletop, wall, or mount, continuing with the versatility trend. You can preserve things like baby shoes, matchboxes, children's toys, corks, bottle caps, tickets, and the ways of use are virtually limitless. The high quality, FSC-certified wood composite frame is fitted with two millimeters of lead-free glass.
BD ART 11x11 (28 x 28 x 4.7 cm) White Shadow Box 3D Square Picture Frame with Mat for 8x8 inch…
Price:
$20.95
Available from Amazon, BGR may receive a commission
Best Two-Pack of Shadow Boxes
Protect more of your memories when you buy a two pack of frames like the Tasse Verre Display Shadow Frames. These are easy to use and they come pre-installed, so you'll just have to fill them and them figure out where to display them. You can choose between 8″ x 8″, 12″ x 12″, or 12″ x 15″, as well as white or black for color. These also include eight push pins, allowing you to tack your items inside the box. These are backed by a 100% satisfaction guarantee, and the more you order, the better the deal is.
Tasse Verre 8"x8" White Display Shadow Box (2-Pack) Frame w/Linen Background and 16 Stick Pins…
Price:
Available from Amazon, BGR may receive a commission
Best Color Variety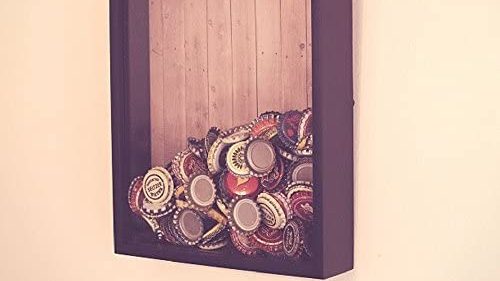 Fitting in with your color scheme is made easier when you choose any of the Shadow Box Display Cases from Upstreet. This will help you indulge in the past, as you can store many items like airline tickets, shells, ticket stubs, and bottle caps. You can either remove the tab from the back to insert items or drop them in from the top. You can choose between brown, charcoal, turquoise, white, and silver. Each one measures 10″ x 8″ and is backed by a one-year, hassle-free warranty.
Shadow Box Display Case – Black Wooden Shadow Box Frame - Showcase Bottle Caps, Shells, Ticket…
Price:
$19.95
Available from Amazon, BGR may receive a commission
Best Magnetic Frame
For an easier time opening and closing, there's the Love-KANKEI Shadow Box Frame. Inside the frame is a linen cloth with pins, allowing you to arrange the inside however you like. Making your personal collage is easier, because you can open the frame with the magnetic door. This allows you to update your displays quickly (and frequently if you want). You can choose between 8″ x 10″, 11″ x 11′, or 11″ x 14″. There's no assembly required and it comes with two sawtooth hooks for simpler hanging.
Love-KANKEI Shadow Box Frame 8x10 Shadow Box Display Case with Linen Back Memorabilia Awards Me…
Price:
$18.99
Available from Amazon, BGR may receive a commission