If you purchase an independently reviewed product or service through a link on our website, we may receive an affiliate commission. Learn more.
There's no telling whether or not indie smash hit Stardew Valley will ever hit smartphones, but the new game Blocky Farm might just tide you over if you're not ready to pick it up on PC or console just yet. Blocky Farm is one of six intriguing games that hit the App Store this week, and you can check out the rest below.
Blocky Farm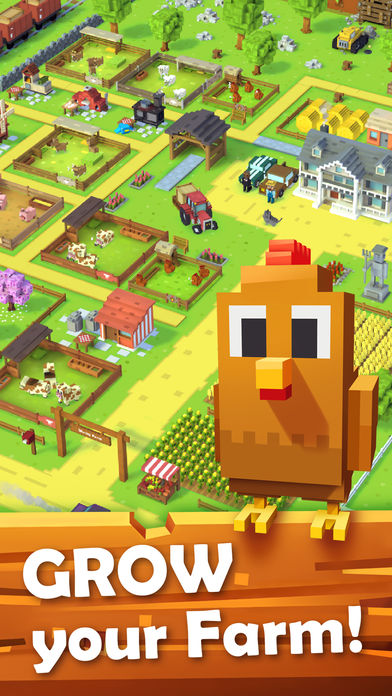 Enter the charming world of Blocky Farm where you can take care of cute pets and animals, style them with cool gadgets and get love in return. Manage your lands, deliver goods to the town with the tractor and create friendship with citizens. Start your farm life today!

Blocky Farm is vege-friendly. No animal is harmed during gameplay!

==============
GAME FEATURES
==============
* MANAGE your farm and supply neighboring town
* TAKE CARE OF PETS & LOVE ANIMALS – unique system of animals love and interactions
* DRIVE THE TRACTOR with physics-based drive system
* COMPETE with other farmers & take a part in global events
* BEAUTIFUL 3D GRAPHICS – immersive, interactive, living world
* OFFLINE MODE – play anytime & anywhere you want
* 60 FPS smooth gameplay
* iCloud SUPPORT – play on multiple devices without losing your farm progress!
---
Decap Attack Classic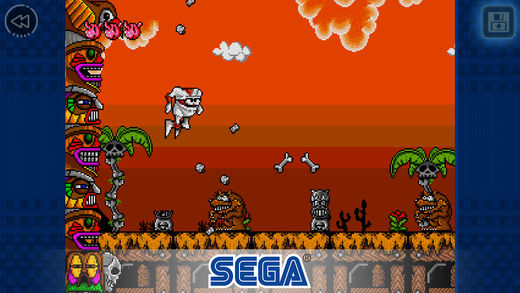 One of SEGA's zaniest platformers, Decap Attack is now available on mobile! Play free and rediscover SEGA's bonkers head-throwing gem.

Off with his head! Then back on! Then off again! You are Chuck. D. Head, a headless hero, sent on a quest to stop the hordes of Max D. Cap taking over the world. Lob your detachable skull at barmy bad guys, traverse weird and wonderful lands and use your head to bring peace to the world – literally!

Decap Attack joins the ever-increasing line-up of 'SEGA Forever', a treasure trove of free SEGA console classics brought to life on mobile for the first time!

FEATURES
– Seven islands to explore, all based on various parts of the body!
– Seven bosses, including giant toads, yetis, and cannibals!
– Throw your head like a boomerang!
– Collect potions for power-ups that include greater speed, more strength, and instant kills.

MOBILE GAME FEATURES
– PLAY FREE with ad-support or ad-free via In-App Purchase
– SAVE YOUR GAMES – save your progress at any point in the game.
– LEADERBOARDS – compete with the world for high scores
– CONTROLLER SUPPORT: MFi compatible controllers

RETRO REVIEWS
"It's well worth losing your head in Decap Attack." [4.6/5] – Abby Normal, GamePro Vol.3 Issue #10 (October 1991)
"Platform fans will love it." [Score 82%] – MegaTech #1 (Xmas 1991)

TRIVIA
– Decap Attack a reimagining of 1990's Japanese Mega Drive game Magical Hat
– The game is a spiritual sequel to Master System classic Psycho Fox
– Decap Attack received multiple comic runs in British publication Sonic the Comic back in the '90s
– There's a level select in Decap Attack – check the SEGAZINE to see how to unlock it!

HISTORY
– Decap Attack was originally released in the US and Europe in 1991
– Developed by: Vic Tokai
– Director: Toshihisa Hasegawa
– Lead Composer: Fumito Tamayama
---
Heroes Fally
Packed with heroes, packed with weapons and packed with puns, Heroes Fally is a beautifully ridiculous endless faller. Leap from rooftop to rooftop and avoid increasingly complex traps laid by your foes! You'll never quite reach the street below, but crime never stops so why should you?

Features:
30 unique Heroes
Each Hero comes with their own stat card
Each Hero features their own specialized Super effects
Multiple building variations, giving different characters different rooftops to plummet from.
100 billion possible level combinations, for endless fun and ever increasing difficulty
Document your fall to victory, and add commentary, with our in-game video recorder
Share your high score with friends…and the world
Are you a rebel? Turn off the tutorial and learn how to play the hard way
Crime doesn't pay, but it doesn't matter because Heroes Fally is free to play!
---
Lunar Battle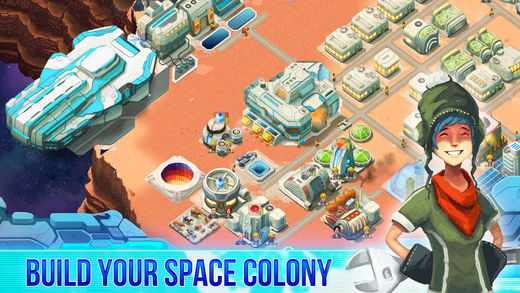 Conquer the skies and explore uncharted terrain with Lunar Battle™, a new action-packed mobile title from the developers of the hit game RollerCoaster Tycoon 4 Mobile™. Lunar Battle™ is a free-to-play game with an addictive mix of city building and space fighting simulation. Build your space colony, construct incredible world wonders, fight against other players, as well as aliens, space pirates, barbarians and many other enemies to become the ruler of the galaxy!

Having any problems? Any suggestions? We would love to hear from you! You can reach us at our support center by going to http://support.atari.com

Note: A network connection is required to use multiplayer features. Single player mode can be run without network connection.

• Build a Base – Create a thriving space colony by building out power, food, water, tech, and more. Customize building layouts to create the ultimate personalized galactic refuge.

• Explore the Planet and Harvest Resources – Unearth precious resources including space ores, ship parts and energy sources. Use the materials to keep the population growing and colony thriving.

• Take Flight and Fight – Participate in PVE and PVP dogfights as part of the thrilling arcade space shooter experience. Use materials crafted and salvaged on the surface to outfit and upgrade space fighters with a selection of powerful lasers, plasma cannons, shields and more to become the terror of the nebula!

• Conquer Campaigns – Beat 50 levels of pulse-pounding space action. Try to score three stars on each level to receive rewards and salvage for completing missions.

• Destroy the Enemy – Equip workers with blasters to fight off hordes of disgusting, deadly aliens and expand territory.
---
Over Space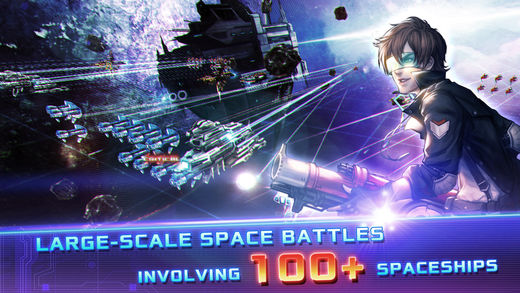 # # # Continue the journey of Galactic Phantasy Prelude yet with a whole new experience

From the creators of the award-winning Galactic Phantasy Prelude franchise, Over Space is a brand new massively multiplayer online space role playing & strategy game.

While serving as a continuation of the Galactic Phantasy Universe, Over Space has been completely designed from scratch and features a whole new story and gameplay system.

# # # Experience large-scale fleet-vs-fleet space battles featuring 100+ spacecrafts

Gone are the days you live your life in the cockpit engaging in dogfight combats like those in Galactic Phantasy Prelude and the Galaxy on Fire series. Now is the time to step up as Commander-in-Chief, look at the big picture, plan for your fleet formation and design your very own tactics to beat your enemies in enormous-scale space battles. In the world of Over Space it is not uncommon to get involved in massive space encounters featuring over 100 spaceships, a scale never before seen on any mobile games.

# # # Create your own fleet formations and tactics

Good reflexes might be what counts most in one-on-one space combats, but you certainly need a little more than that when it comes to massive fleet to fleet space battles.

Design your very own fleet formation that suits your style. Get the best out of the armory your Tank Frigates offer, send in some agile Speeder Destroyers here and there to roam around and distract the enemy spacecrafts, or rely on the long attack range of your Ranger Cruisers. Mix and match among different spaceship classes and grades. Align them into columns, squares, wedges, echelons, or even cluster groups of them to create your very own formation.

# # # Battle against fleets from real players online and offline

Who says you're alone in space? Put your best tactics to the try and see how they fare against fellow fleet commanders. It's no longer just about the raw power of the battleships. You might as well outclass your opponents with your unique formation and superior tactics. In fact, in Over Space you get even better rewarded when you deploy a relatively weaker fleet to defeat a stronger opponent by means of some outstanding strategies and tactics.

# # # Unlimited ship / crew combinations, endless tactical possibilities

Corvettes and frigates are good. Destroyers and cruisers are better. Yet nothing beats the battleships you build based on blueprints collected from various solar systems. Lasers, ion beams, missiles, energy shields just to name a few of the advanced attacking and defensive options these battleships provide. Some even offer support to allies nearby with a wide area of effect.

Your tactical options don't just stop there though. As you scout around and recruit some great talents they provide you with further opportunities to customize the way your battleships perform. Taking into account your very own taste and play style, it could be more of an art than a science to put them altogether and work out the one perfect setup for you, out of all those virtually unlimited possibilities.

# # # Game Features

– Massive space battles featuring 100+ spaceships, a scale never before seen on mobile games
– Create your own fleet formations & tactics
– Battle against fleets from real players online and offline
– Unlimited ship / crew combinations, endless tactical possibilities
– Ever-changing game world with dynamic planet environments
– Massively multiplayer online space strategy game
– Perfect mix of RPG + SLG on mobile
– Alliance gameplay coming soon
---
Wartide: Heroes of Atlantis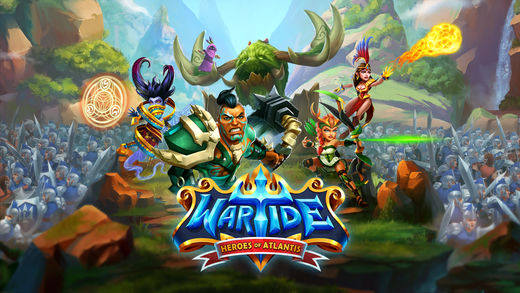 The ultimate strategy battling RPG you have been waiting for!

Wartide: Heroes of Atlantis introduces the unique and highly strategic deployment battle system. Arrange your armies to out-maneuver your opponents and then take control of your heroes in order to unleash powerful abilities to finish them off.

Summon your heroes, from legendary warriors to mystical sorcerers, assemble your armies, and reclaim the long-lost kingdom of Atlantis. Defend your Citadel from attacks, do battle online against leaders from around the world, and forge powerful Alliances to destroy your common enemies.

FEATURES
● Enter the unique fantasy setting of New Atlantis
● Harness powerful heroes and sorcery to crush your opponents
● Form armies from a roster of powerful heroes and troops
● Devise brilliant deployment strategies from countless combinations of teams
● Win battles to promote your heroes and unlock fantastic new abilities
● Battle with players worldwide and improve your reputation
● Join together with other players to form the ultimate alliance

Please Note: Wartide: Heroes of Atlantis is a free-to-play game, but some extra game items can be purchased for real money. You can disable in-app purchases in your device's settings.
Download Wartide: Heroes of Atlantis
---
Our deals and product reviews are picked by BGR's expert editors and team.

Follow @BGRDeals on Twitter to keep up with the latest and greatest deals we find around the web. Prices subject to change without notice and any coupons mentioned above may be available in limited supply.