Apple fans, we've got a great list of paid iPhone and iPad apps on sale for free for you today, and it's headlines by not one or two but three new sticker packs that help you make the most of Apple's new and improved Messages app. There are plenty more apps to be found as well, including a private web browser and some fun games, so definitely check them out.
DON'T MISS: A painful reminder of just how bad the iPhone 7's battery life is
These are paid iPhone and iPad apps that have been made available for free for a limited time by their developers. There is no way to tell how long they will be free. These sales could end an hour from now or a week from now — obviously, the only thing we can guarantee is that they were free at the time this post was written. If you click on a link and see a price listed next to an app instead of the word "get," it is no longer free. The sale has ended. If you download the app, you will be charged.
Black
Normally $0.99.
Private Internet Used by Over Million People!

Black is the safest and fastest private web browser.

1. All the data is erased from your device when you close Black.
2. It's at least fast as Safari.

Now really surf online without being bothered by anybody.

* Remind that If you log in to something with Black, the web site you've logged in might track your actions with your "id" within that web site.

Well, what can I do about that? :)

Of course, Black app doesn't remember anything.
Slow Motion Camera Extreme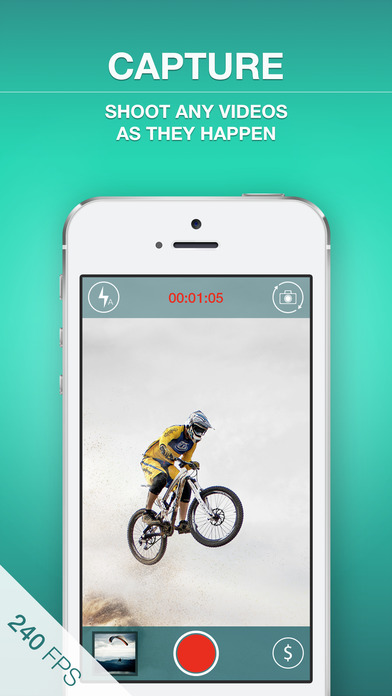 Normally $2.99.
Take high-quality slow motion videos using your iOS device.

No matter which device you own, Now you can easily capture and make an Amazing slow-motion video.

Features:
– Capture amazing quality videos with the app (recommended) or import any video from your camera roll
– Determine when the slow motion effect starts and when it ends
– Select between different speeds (slow/fast)
– Select multiple sections for slow motion
– Zoom the camera view
– Use the app as an extension to the native photo app (iOS 8.x only)
– Save to camera roll or share to your favorite social network. Yes, you can share slow motion video with the app!
– Not limited to the back camera! Works with all the cameras on your device so you can now take a cool slow-motion selfie video!
– Intuitive gallery layout to help you easily select the right video you want to edit or share
– Cool design and Intuitive UI

Download it now! You won't regret it. If you do, please tell us.

If you have any issues with this app please contact us from the app store link. That's the only way we can contact you to solve it. Leaving an issue as a review doesn't help us solve it. We promise to get back to you ASAP.

We are also on Facebook: https://www.facebook.com/SloMoCam
Download Slow Motion Camera Extreme
Dramatic Ellipsis…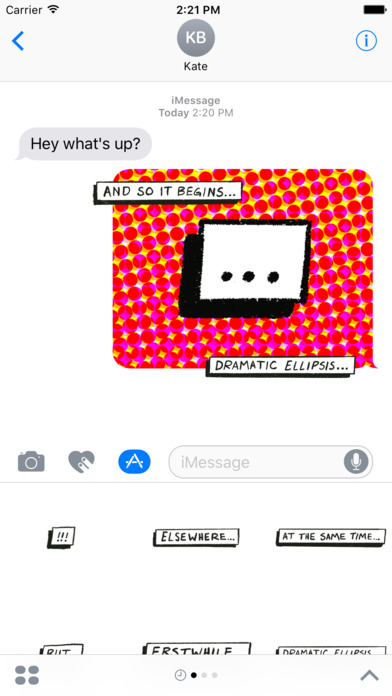 Normally $0.99.
Meanwhile…

Can Dramatic Ellipsis stickers add a touch of drama to your conversation?

Will your friends bye captivated by your tense storytelling?

Are you ready to apply ellipsis to anything and everything?

Find out now…

Dramatic Ellipsis…
Cute Pixel Pack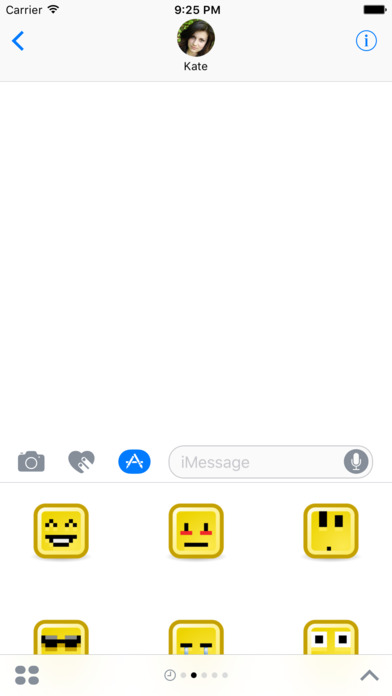 Normally $0.99.
Welcome to Cute Pixel an interactive social media tool. You can peel and place these stickers in your conversation(bubbles,images,or even other stickers). This app allows for hilarious conversations between you and your friends!
Go Check Out the Other Stickie Apps!
Crazy Mouth Stickers
Craft Stickers
Cal Stickers
Crazy Eye Stickers
Hair Sticker
Meme Stickers – Over 1,200 Stickers
GauGuai Cat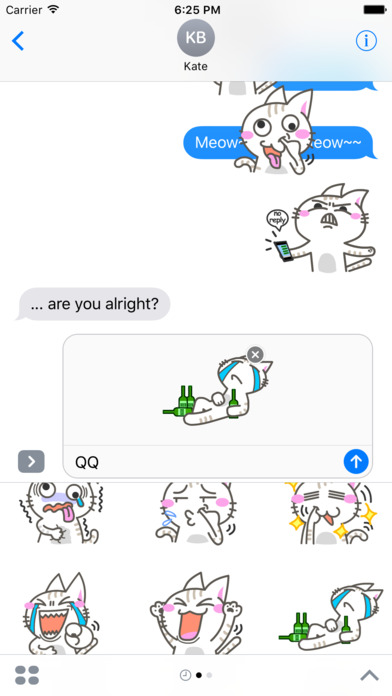 Normally $0.99.
He's a terribly naughty cat.
JustOneLine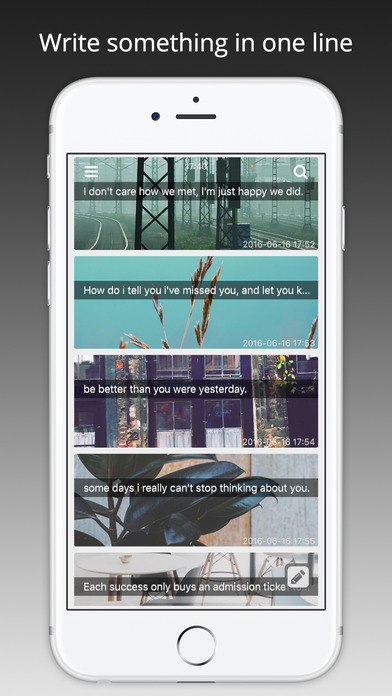 Normally $0.99.
JustOneLine is a memo pad you can only write one line.
Wouldn't you think that we are writing something too long?
Deeply moving stories of the life is just one sentence.
We can illustrate our life to one line.
Write your feeling, thinking and common moment!
your written one sentence is displayed with various photos and styles provided by JustOneLine.
Would you like to point all things to each band?
Life is not same as your thinking.
likewise, JustOneLine too.

● the simple type of list view
● you can check the contents with card type frame
● the various background and word type changing continuously
● you can set the range of changing word type
● support the download on image file
● you can easily share your contents with your sns friends
● searching
● iCloud backup
macro camera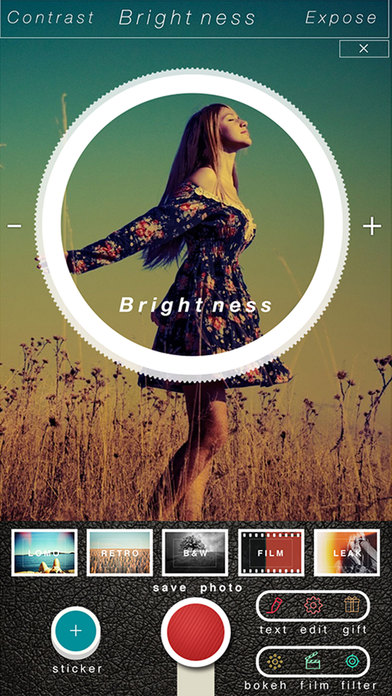 Normally $2.99.
Create charming Macro Photo style photographs with real-time Vintage effects. These effects work great on selfies and other portraits but also for many other subjects. For example, you can easily enhance your landscapes, cityscapes and nature pictures with filtering.
The filters mimic analog processes, vintage optics and wear and tear typical for traditional film photography. Many frame styles are available from classic white to sprocket holes.
Charge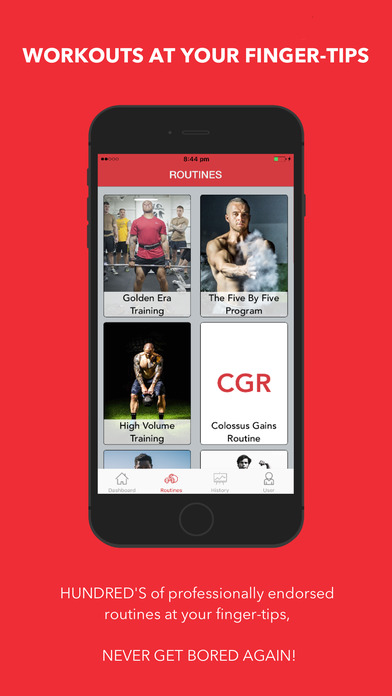 Normally $1.99.
Charge: Is the latest phenomenon to hit the scenes of the body building world tailored for all levels of the sport.
Charge will help you redefine your workout routine by providing PT endorsed workout routines / plans and will help you stick to your goals by keeping a detailed log of your activities.

Get On Board the Gains Train Now and Train Smarter With CHARGE!
10K Runner
Normally $3.99.
Go from Couch to 5K to 10K with the official and often imitated 10K Runner® program. This app has over 1.2 million success stories of people that are now running 10K's, and you can do it too.

10K Runner has won multiple awards, is the most effective, loved, & popular 10K program and is highly recommended by fitness experts & doctors.

FOR BEGINNERS & 5K RUNNERS
● Go from zero to 5K In 8 Weeks
● Go from 5K to 10K in another 6 Weeks

FEATURES
● Alternating walk / run intervals
● Run segments gradually increase over time
● Human coach voice through your headphones that tells you when to walk / run.
● Listen to your music and the coach will blend in
● Control music through the app or headphones
● Compatible with Nike+ and all other GPS apps
● Compatible with all music apps
● Giant community of our runners on Facebook
● Earn achievements & badges as you advance
● Integrated with Facebook & Twitter
● Outdoors or Treadmill

GPS & Apple Health
● Built in GPS & Distance Tracking, also when app is in background
● Integrated with Apple Health for Calorie calculation & saving workouts

NOTE: Continued use of GPS running in the background can dramatically decrease battery life.

SIMPLE, EASY, & GETS RESULTS
● Nothing to learn. Just press start
● Excellent for weight loss
● The best & most effective 10K training app
● Completely ad-free

TOP RATED, MOST LOVED
● 1.2 Million People successfully did it
● Awards: Best 5K Training App, Best Running App, Editor's Choice, Top fitness app, Best Beginner App, Top Quality App, Best fitness and nutrition apps.
● Featured on CBS, CNN, Fox, USA Today, Times, Fitness Channel, Apple's "New & Noteworthy", AppAdvice, AppCraver, Best10Apps, Appolicious, Daily Motion, AppOfTheDay, MakeUseOf, the iPhone App Review, Remix Your Health, AppShopper, Apple's Top Health & Fitness apps, and so many others.
● Recommended by doctors on healthTap.com
AudioBooks Pro
Normally $0.99.
Borrow eBooks, audiobooks, and streaming video from your library using OverDrive on your iPad, iPhone, and iPod touch. More than 30,000 libraries worldwide offer titles from OverDrive, so download the app and find your next book today!
Molecular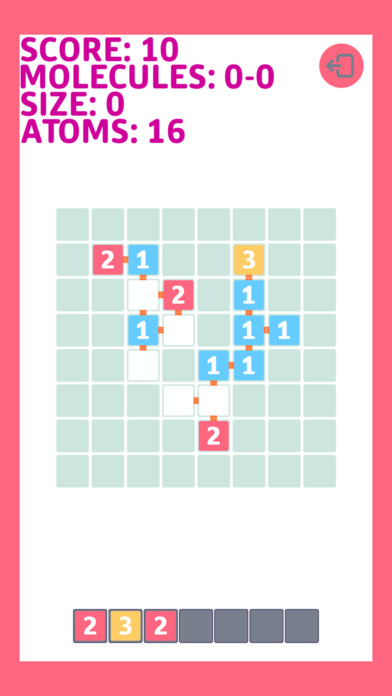 Normally $0.99.
1+2+2+2+2+1 = 6

Combines the atoms together to create molecules.

Molecular is a simple puzzle game, relaxing and immediate, with nice graphics and involving music.
No annoying advertising, didn't buy anything in order to continue playing; pay once and play forever.
And when you're tired you can also delete it; but I already know it won't be, because you'll love Molecular and won't be able to do without it.

Two game modes:

***BEST SCORE ***
-create ever larger molecules and tries to get as many points as you can. In this mode you can unlock 7 unique objectives.

***LEVEL UP ***
-solve 30 amazing different levels;

Features:
– leaderboards for each game mode;
– unlockable achievements in Best Score mode;
– global combined leaderboard

The rest find out for yourself.
Live 2 GIF
Normally $6.99.
Save and share your Live Photos as GIFs and videos!

We enable you to make GIF and Movie from Live Photos at ease. With Live 2 GIF, you can share your Live Photos with your friends on iMessage, Facebook, Instagram, Whatsapp, Email, and many more.

Live 2 GIF comes with a simple, powerful video editor that finally puts you in control. Beginner or expert – you'll be producing high quality videos in minutes.
– Choose from a wide range of custom filters to adjust the tone of your video
– Easily cut or crop to any size
– Change the video fit any aspect ratio (such as 4:3, 16:9, 3:2 etc)
– Have total control over the colours – adjust all the channels
– Tweak the contrast, brightness, temperature, saturation

What's even better, we don't charge you upfront or limit your usage. You can export as many times as you like. If you appreciate our effort, kindly do a single in-app purchase to remove ads and support our ongoing development.

**IMPORTANT: Live Photos can only be taken by iPhone 6s and iPhone 6s Plus.**