We've almost made it to the end of another long week, but we're not going to let you slip away into weekend mode just yet. Before you do, you have to check out one last roundup of the day's best paid iPhone and iPad apps on sale for free. There are plenty of apps and games to enjoy in today's post, and there are also a few more remaining freebies in yesterday's post if you want to go back and grab them while you can.
These are paid iPhone and iPad apps that have been made available for free for a limited time by their developers. There is no way to tell how long they will be free. These sales could end an hour from now or a week from now — obviously, the only thing we can guarantee is that they were free at the time this post was written. If you click on a link and see a price listed next to an app instead of the word "get," it is no longer free. The sale has ended. If you download the app, you will be charged.
Or2Web: Anonymous VPN Browser Tor-powered Internet
Normally $1.99.
Or2Web allows you to use Safari to connect to the Tor anonymization network directly. It proxies all HTTP/HTTPS traffic (includes video/audio) via TOR. Not only that all DNS request also go thru Tor, so no DNS leaks. No third-party VPN in between, No Subscription, No Account Setup. App connects directly to TOR.

ANONYMOUS
Use with any web browser including Chrome, Firefox, Safari to access any website, even if the website is normally blocked or monitored. You can even connect to the dark web (.onion sites).

FREEDOM
Bypass corporate/ISP/national/school internet filters and censors and access the entire Internet freely. Access websites like Facebook or Instagram from school or bypass your company firewall.

SIMPLE
One button "CONNECT", no special configuration needed. Use it right out of the box.

BRIDGES
Use the built in bridges configuration to bypass country level filtering by one-click bridge configuration

Important Notes:
– This product uses the Tor distributed networks is produced independently from the Tor(r) anonymity software and carries no guarantee from The Tor Project about quality, suitability or anything else.
Yuri
Normally $2.99.
"A delightful hand-drawn platformer, combined with an exceptional soundtrack. If you want to get lost in another world this weekend, Yuri is an excellent choice" – MacStories.net

"More than just a fun platformer, a game that radiates personality and charm coupled with skilled gameplay and fun" – Couch-games.com

Yuri is an artful platformer with fast-paced gameplay.

It's night. Yuri wakes up in a strange forest inhabited by enormous plants and mysterious creatures.

Travel with him and test your skills to overcome the many dangers of this fantastic and unexplored world.
Through 10 extensive levels, find secret passages and explore all the way to the center of the Earth.

Yuri offers you an entertaining gameplay spiced up with countless thrills, inviting to a full immersion in this delicate dreamlike world.

Features:
• Gorgeous hand-drawn design
• 10 long levels
• Intuitive controls
• Physics-based mechanics
• Game Center achievements
• Original music and sound effects
• Universal purchases (iOS & AppleTV)
• StickerPack included
GiftBuster: Wish List Registry & Shopping List App
$0.99 GifBuster provision for crowdfunding a gift to friends (in-app purchase) currently free.
The Instagram for gift-giving!

Giftbuster is the simplest and best way to get what you need. You friends and family will always know what you really want so no more disappointments, regifts or returns. Ever

Main Features:

WISH LIST
+Create your wish list. Add any item from any store or copy gift ideas from other users.
+Invite your friends and family to view your wish list. They can reserve gifts or send contributions.
+Receive birthday reminders

SHOPPING LIST
+Add items to your wish list without ever leaving the Safari browser
+Save images, description, price and a link to the product page.
+Mark your gifts private or share them only with certain people
+Use #hashtags in descriptions to easily organize and browse your list (no need for folders!)
+use @name to call your friends in comments and descriptions

FUNDRAISER
+Raise money for your dream gift or trip that you couldn't afford otherwise
+All contributions go directly to your PayPal account
+There is NO FEE for receiving funds
Phantasy Star II
Normally $2.99.
An era-defining RPG. SEGA's landmark sci-fi epic comes to mobile. Play for free and experience one of the most acclaimed games of its generation.

Team up with an unlikely ensemble of characters to thwart evil spreading across the once-peaceful Algo Star System. Combat mutants and robots, collect a plethora of equipment, and unravel the mystery behind one of the greatest RPGs of all time.

Phantasy Star II joins the SEGA Forever classic games collection, a treasure trove of free SEGA console classics brought to life on mobile for the first time!

GAME FEATURES
– An epic campaign lasting over 30 hours
– Classic 16-bit turn-based combat
– Battle against the mutants, robots, and other fierce creatures of Mota, Dezo, and Palm
– All manner of weapons to get to grips with, including laser swords, pulse cannons, and fire staves
– Eight playable characters, each with their own unique traits and skills

SEGA FOREVER FEATURES
– PLAY FREE
– SAVE YOUR GAME PROGRESS AT ANYTIME
– CONTROLLER SUPPORT – fully integrated wireless Bluetooth controller support
– OFFLINE PLAY
– GAMES RELEASED EVERY MONTH – download them all!
– INCLUDES iOS 10 STICKER PACKS

RETRO REVIEWS
– "An excellent game that will have you hooked from the first minute to the last – which will be weeks, if not months away." [94%] – SEGA Power #15 (February 1991)
– "A challenging quest packed with gameplay." [90%] – Paul Rigby, Raze Magazine #6 (April 1991)
– "If RPGs are your bag, you couldn't do better." [89%] – Zero #17 (March 1991)
– "There are few Mega Drive titles that can compete with Phantasy Star II in the lasting appeal department." [887/1000] – Eugene Lacey, ACE #37 (October 1990)
– "This is the game that set the standard that all further Mega Drive RPGs had to follow." [88%] – MEGA Gold Summer Special (1993)
– "It's big, it's lovely; it's varied, it's magic. It's Phantasy Star II." [88%] – MEGA #18 (March 1994)

TRIVIA
– A remake of the game was made for the PlayStation 2 in Japan, titled Phantasy Star Generation: 2
– Eight Phantasy Star II text adventures were broadcasted to players with a SEGA Meganet subscription in Japan
– The game shipped with a 110-page guide book and map in the US and UK to help guide players through

CLASSIC GAME FACTS
– Originally released in Japan in 1989, with US and European releases following in 1990 and 1991
– The first game to use a 16 Megabit cartridge
– The first 16-bit RPG released in the West
– Programmed by Yuji Naka, creator of Sonic the Hedgehog
Place Finder
Normally $0.99.
Place Finder – Search Places Around Me App is a special kind of app that searches ATM, Restaurants, Cafe, Bakery shops, Food Zones, Gym, Parks, Schools & Bar near by your location. The app provides side by side navigation to the selected destination place and also provide the detail of that place. It is providing the detail weather information about the current place wherever you are in the world. Very simple and easy to use application.

● NEARBY PLACES
– Place Finder app provide the option to choose the nearest Restaurant, ATM, Cafe, Bar, Doctor, Park, Museum, Night Club, School, Stadium, Shopping Mall, Taxi Stand, Subway Station, University and so many other places.
– Nearest places search result in List View along with the distance.
– The result list also provide the direction for each places with the distance in Km/Miles.
– Show direction of selected place from current location so it is also work like compass to find the places easily.

● SEARCH PLACES
– Search nearby places by adding search keyword.
– Get search result with name, distance and address along with the direction to the place.

● DETAIL INFORMATION
– The app gives every possible details of the places on your phone when you select any specific place category.
– Provide user ratings for the selected place.
– Display opening hours for selected location and also provide ratings for that.
– Option to get side by side navigation direction on Google Map or Apple Map.
– Remind Me feature to remind about the place when you pass near by the place and this works even though app is not in running mode.

● MAP
– Show nearest places search result in Map View.
– In Map provide options such as Standard, Satellite and Hybrid mode.
– Provide turn by turn navigation from current location to the selected place. You can open up the native iOS Map for navigation.

● LIVE PREVIEW
– Show nearest places search result in live Camera View.
– This is the advanced feature that show accurate direction and distance of places and showing in the app camera screen feeling like you are standing in front of that place.

● REMINDS
– Provide listing of the places for which user set the reminder when passing near by.
– User can easily delete the reminders.

● WEATHER
– Provides weather details such as temperature, cloud coverage, humidity, rain, snow and wind direction along with the current weather condition.
– Display sunrise and sunset time for the current place wherever you are in the world.
– It gives very accurate GPS location with latitude, longitude.

● SETTINGS
– User can select range to search the places near by your location.
– Setting to change temperature unit in Celsius(ºC) or Fahrenheit(ºF)
– Setting to change distance unit in Miles or Km based on user's choice.

● No Advertisements
Expensave
Normally $0.99.
With Expensave you can easily find in which store your favourite product are cheaper. You can easily save money because this app compares prices for you.

Different brands and packages vary their quantity and price. Now, the Expensave will do the math for you and indicate you the store where the product has the cheapest price.

The app is easy to use, you simply need to do the following:
• Create a product by specifying the type of packaging, quantity and price
• Linking the product to a store
• The Expensave does the rest for you :)

Features
• Fresh design
• Organisation of the products by categories
• Auto completion of the product names
• Unit system: Metric and US Standard
• Possibility to backup your data
Blink – Quick Memo
Normally $0.99.
Small memo, Huge change, Blink.

Do you have something to buy on your way home? Things must done today? Plan for dinner with good friends? Or something just comes to your mind?

Type down what you have to buy, to-do list, your dinner appointment with your friends and sparkling ideas on Blink and never forget! You can leave memo with a simple tap! No more complicated steps!

Blink has remarkably fast accessibility and intuitive usability. You can check everything at a glance with a unique and non-listing method. You can set priority markers and repeating notifications.
foody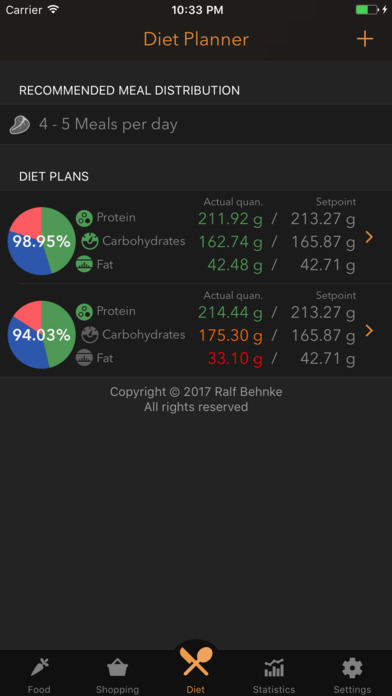 Normally $0.99.
What do you expect from a diet?
It should offer variety, do not restrict yourself too much and do not let you go hungry – but above all it should work!

Foody helps you get to your dream body. In addition to the classic goal of weight loss, the focus is also on a targeted muscle build-up and the resulting weight gain. With just a few details about your person and your goals, foody determines your energy conversion, the optimal nutrient distribution for you and the optimal number of meals per day. Your data is always stored on your device!

You are free to create food and recipes, create nutrition plans from it, and plan your week shopping in just a few steps using the shopping list function. In order to support your motivation, foody creates statistics that provide you with an accurate overview of the progress of your weight, body fat and your pure muscle mass.

Foody has emerged from the private endeavor to get to the next level in a sporty way.