If you purchase an independently reviewed product or service through a link on our website, we may receive an affiliate commission. Learn more.
We've gotten plenty of emails over the weeks and months asking us to include more games in our daily posts on paid iPhone and iPad apps that go on sale for free. Well, if you're on the hunt for new games but you don't want to pay big bucks, today is your lucky day. We've got several games on our list of freebies including Angry Birds and a bunch of great games you've never heard of, and there are also several non-game apps you'll want to check out.
MUST SEE: Leaked photos show a real iPhone 7 powered on for the first time ever
These are paid iPhone and iPad apps that have been made available for free for a limited time by their developers. There is no way to tell how long they will be free. These sales could end an hour from now or a week from now — obviously, the only thing we can guarantee is that they were free at the time this post was written. If you click on a link and see a price listed next to an app instead of the word "get," it is no longer free. The sale has ended. If you download the app, you will be charged.
Gif Maker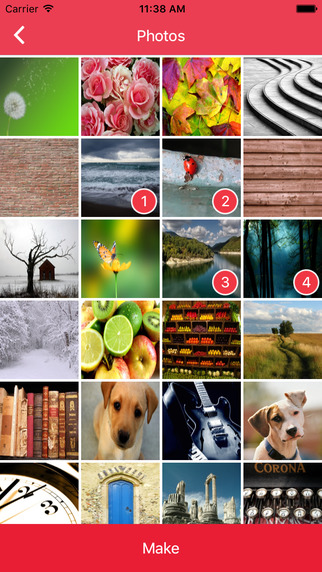 Normally $0.99.
Gif Maker can make GIFs or videos using LIVE Photos, photos, burst photos, and video at the easiest.Make and share GIFs with friends quickly.Make your own animated GIF, enjoy, and share with Gif Maker now! Features:
*Create GIF, animation
– with LIVE Photos. (iOS9 or better)
– with burst Photos.
– by Choosing Picture by Picture.
– Partially editing Video. (video to gif)
– by Recording Video
*Controlling frame playing speed
*Sharing quickly on different social network!
Angry Birds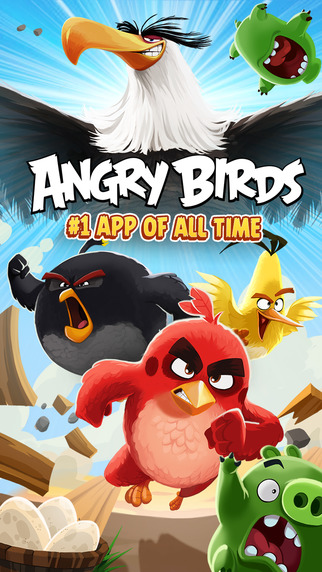 Normally $0.99.
Use the unique powers of the Angry Birds to destroy the greedy pigs' defenses!

The survival of the Angry Birds is at stake. Dish out revenge on the greedy pigs who stole their eggs. Use the unique powers of each bird to destroy the pigs' defenses. Angry Birds features challenging physics-based gameplay and hours of replay value. Each level requires logic, skill and force to solve.

If you get stuck in the game, you can purchase the Mighty Eagle! Mighty Eagle is a one-time in-app purchase in Angry Birds that gives unlimited use. This phenomenal creature will soar from the skies to wreak havoc and smash the pesky pigs into oblivion. There's just one catch: you can only use the aid of Mighty Eagle to pass a level once per hour. Mighty Eagle also includes all new gameplay goals and achievements!

In addition to the Mighty Eagle, Angry Birds now has power-ups! Boost your birds' abilities and three-star levels to unlock secret content! Angry Birds now has the following amazing power-ups: Sling Scope for laser targeting, King Sling for maximum flinging power, Super Seeds to supersize your birds, and Birdquake to shake pigs' defenses to the ground!
NodeBeat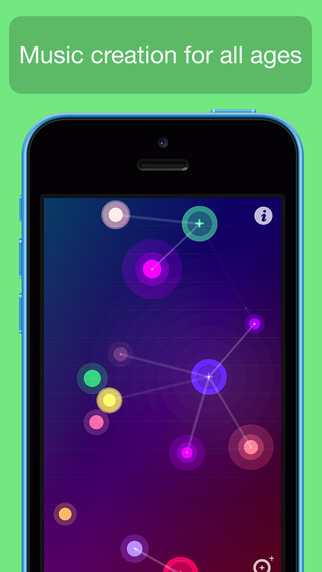 Normally $1.99.
◆ Join over 2 million others using NodeBeat! ◆

Make music with NodeBeat, the intuitive and fun visual music app for all ages. Whether you're 2 or 92, NodeBeat will make you sound like a pro. Create your own music in a matter of minutes or listen to NodeBeat generate its own. Easily share your creations with others or save them for later to show your friends. Discover your musical genius with NodeBeat!

=================

◆ New Features ◆
– Audiobus support: Now you can stream live audio directly to other Audiobus-compatible apps! See http://audiob.us for more information.

◆ Audio Features ◆
– 20 Musical Scales
– All 12 Musical Keys Signatures
– 7 Octave Range
– 3-finger Background Keyboard/Piano
– Audio Waveform Adjustment (Sine, Triangle, Sawtooth, Square)
– Creative Sound Sculpting (Echo, Attack, Decay, Release)
– Audiobus Support

◆ Rhythm Features ◆
– Adjustable Tempo (BPM) & Note Beat

◆ Sharing/Exporting Features ◆
– Record and save creations
– Create Ringtones from recording
– Share Recording on SoundCloud
– AudioCopy to Another Application
– Save/Load Creations

◆ MIDI Features ◆
– Send Node and/or Keyboard MIDI
– Assign unique MIDI Channels to Generators
– Adjust latency for perfect sequence timing

◆ General Features ◆
– Background Audio support
– Adjustable Node Physics (gravity, speed, proximity)
– Drum and Octave Sounds
– Start/Stop Nodes by double tapping
– Sleep Timer for falling asleep to NodeBeat
– Child-lock for children-friendly exploration
Never Gone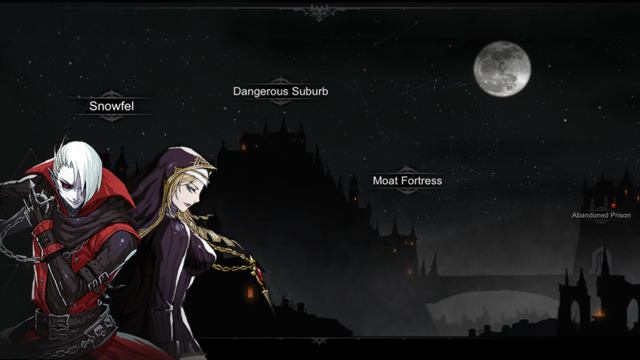 Normally $0.99.
"From Chinese developer HippieGame, this is the mighty slick gothic beat-'em-up Never Gone." – Pocket Gamer
"Never Gone è un picchiaduro a scorrimento affascinante e impegnativo, dotato di validi elementi RPG" – Multiplayer.it

#1 ranked game in China; Best Cocos Game Award – Cocoachina; Best Art Design Award – Indieplay; Best Indie Game Award – Tencent Game…

Join the thrilling fight against evil in Never Gone!
The award-winning action game with stylish gothic art designs and wonderful Therion music is available now on iOS!

ABOUT THE GAME
Never Gone is an old-school beat-em up 2D Action Game for gamers on iOS platform. It sets in a classic world where human, vampires and other demons co-exist and constantly waging war against one another. Play as Blood Knight or Dark Sister to face the incredible challenge and win glorious rewards. Discover, craft and upgrade over 200 weapons, equipments, items and even skills as you explore the war-torn game world.

KEY FEATURES
· Old-school Hardcore Action Game:
We gazed back to the very core of action games and aim to create a game we ourselves would love to play. Not tap to win, not pay to win! Jump, attack, dodge and link your own combos to fight! Win the fights, and win with style!
· A Great Deal of Game Content:
3 Chapters of story mode; 3 different challenge modes in endless Mist Tower; Special intel missions; Immerse yourself into dark but beautiful environments; Face the challenge of deadly monsters & bosses…
· World Class Rock Music by Therion:
The high quality of 'Never Gone' help us winning the favor of Therion , the world famous Swedish rock band. Not only that you will find Therion's classical songs in the game, some of the members of Therion will even become characters in the game to fight along or against the players!
· In-Game Community:
Find players all around the world in our in-game community. Share your videos and experiences with others, prove that you are the best! (* in-game video recording requires iOS 9 with Replay Kit)
· MFi controllers supported.
The control pad on your screen will disappear once a MFi controller is connected. Enjoy Never Gone as a real action game should be!
Go Pedometer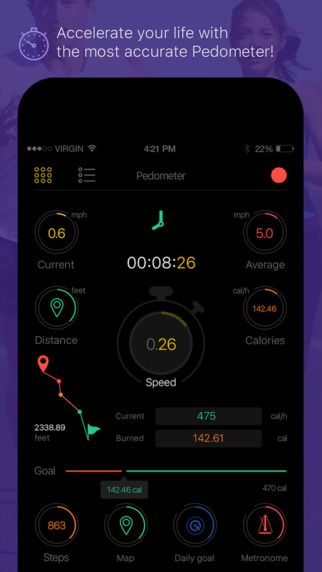 Normally $0.99.
Go Pedometer is the ultimate run app that tracks and keeps all valuable data of every activity you perform. Specially developed for runners, joggers and walkers of all ages to improve their performance level and provide accurate information about pace, distance and calories.

Features:

– Input your body parameters and desired body sizes.
– Track live all data for your walks, athletic walks and runs.
– Set your daily goal and turn on the metronome to boost your performance.
– Map your workouts in real-time with built-in GPS and monitor your progress.
– Automatic data saving in History which forms interactive performance graphs.
– Adjust application's accelerometer and GPS parameters to match your pace.
– Turn On/Off application's sounds and choose the measuring system: metric or imperial.
– Update your daily body achievements to track the evolution of your chest, waist, hips and weight.
– Integrated iPod, to listen to your music while you are training.

What value Go Pedometer brings to your workouts:

– The metronome balances your training pace.
– Live progress bar that shows how much more have left until you achieve one more daily goal.
– All your workout information like: pace, distance and calories is saved automatically in History.
– Thanks to performance graphs you can see the evolution of your results.
– By setting your daily body achievements you can see how much more you have until you reach your desired body sizes.
– With the built-in Music Player you will stay motivated during your trainings.

Compatibilities:

* Supports iOS 5 and later versions, up to 8.1
* Compatible with iPhone 3G/3GS/4/4S/5/5c/5s/6/6 plus, iPod Touch 2/3/4/5
* The application works anywhere: pants or jacket pocket, on hand or arm, in a bag or purse.
* Note: The application was specially developed with the assistance of professional runners, to ensure you with accurate data about your achievements.
* Continued use of GPS running in the background can dramatically decrease battery life.
* Go Pedometer is here to set a new life standard.
Zombie Town: Sniper
Normally $0.99.
Be a top sniper in this zombie defense war game!

Feel like a real sniper! A zombie group has occupied town. Your mission is to protect civilians while kill zombies!

Do you like killing zombies? Be a top sniper in the war against Zombies attack on town.

This is an exciting Sniper Shooting Game! Here you will become one of top sniper!
Features:

– Endless Mode
– EASY CONTROLS (Tap to shoot)
– Amazing cartoon 3D graphics.
– Difference action camera effects.
– Stunning visual effects.
– Head Shots of Snipers
– Close Camera Sniper Shooting View
– Smooth game control
– Optimized game control allows you to play the game smoothly even on minimal phone!

Kill all zombies! You are top sniper!
Bitmoji Keyboard Pro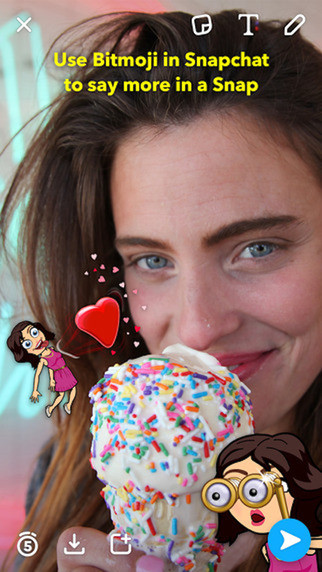 Normally $1.99.
Features Include:
Bitmoji is your own personal emoji.

• Create an expressive cartoon avatar
• Choose from a huge library of stickers – all featuring YOU
• Use Bitmoji in Snapchat, iMessage and wherever else you chat

Using Bitmoji in Snapchat unlocks friendmoji – 2-person bitmojis featuring you and your friends!

+ Awesome Keyboard Themes — choose a style (Tranquility, Smoothie, Neon, Blended, Elevate, Clear) and color you like;

+ Emojis Keyboard — all new, classic emojis and text emoticons in one place;

+ Сute Stickers — a diversity of fun and cool smiley faces and emoticons expressing different moods and feelings (love, joy, surprise, anger, boredom, sadness, etc) you can use when run out of words;

+ Emoji Combos — select exquisite emoji designs out of a bunch of categories. Each preset is crafted using dozens of emoji icons!
Turbo Wheels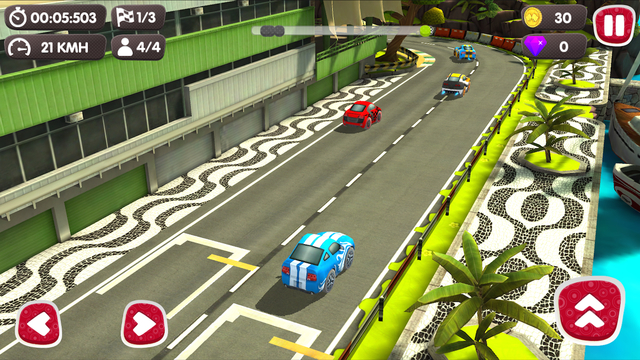 Normally $0.99.
Get ready for a winners race, because the second place is the first loser!

Turbo Wheels is the most exciting mini cars racing game where you don't need brakes, they just slow you down.

Choose your favourite car, they are plenty and fully upgradeable, each with their own unique handling and style!

Features:

* 25 unique mini cars in five different categories (Sport, SS, GT, Formula & Classic)
* 4 different countries (Brazil, Japan, Canada & UAE)
* Over unique 16 tracks
* 4 different race modes (Race, Time, Coins & 1 vs 1)
* Race against the opponent car 1 vs 1 to unlock his car
* Hours and days of exciting gameplay

Follow us!
twitter.com/chundosturbo

Facebook Fan Page
facebook.com/ChundosStudio

Youtube Video
youtube.com/watch?v=BKK8KY1ApHg

Support
Turbo Wheels is a graphically intensive 3D game, and although it runs well on many devices, we recommend iPad 3 & higher, iPad Mini 2 & higher, iPhone 5 & higher.
Smart Cycle Alarm PRO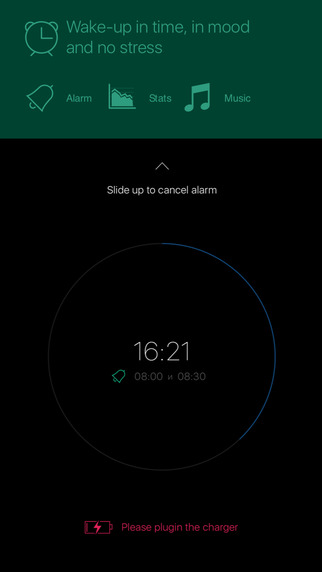 Normally $0.99.
Sleeping is one of the most important part of our life.
The sleep is responsible for our mental health, physical health and the quality of our life.

The damage from sleep deficiency can occur in an instant (such as a car crash), or it can harm you over time.
Sleep deficiency can raise your risk for some chronic health problems. It also can affect how well you think, react, work, learn, and get along with others.

Smart Cycle Alarm was specially developed to help you sleep smart.

When we sleep, we experience different sleep states, from deep sleep to light sleep.
The state you are in when your alarm clock goes off will decide how tired you feel.

The intelligent Smart Cycle Alarm monitors the signals received from your body, to wake you up softly, when you are in the lightest possible sleep state (natural waking phase), feeling refreshed and relaxed, instead of tired.

Features:

– Wakes you up in the lightest sleep state;
– Detailed graphs and statistics for every night;
– Special settings and options for your preferences;
– Pleasant selected sounds to wake you up;
– Wake up with your iPod music;
– Counts and tracks your heart rate;
– Customizable wake up phase, from 10 to 90 min;
– Customizable snooze;
– Use vibration as backup;
– Works in background;
– Sleep aid sound to help you fall a sleep, regular and intelligent, with 11 different sounds;
– Uses iPhone's proximity to save your battery;
– Export Database as a CSV file;
– Help information;
– Share your sleep data on Facebook, Twitter or via Email;

Note:
– The app uses HealthKit, in order to gather Sleep Analysis Data to Health app. When alarm rings and user wakes up, sleep data about current sleep or nap is saved to Health, Sleep Analysis. Also user can prevent saving data to Health app, by disabling this functionality in Settings
– Because Smart Cycle Alarm uses iPhone's accelerometer, you must be able to place the iPhone correctly next to you.
– To prevent your device to turn off during the night, make sure you can keep your device connected to the charger.
Download Smart Cycle Alarm PRO
Dialr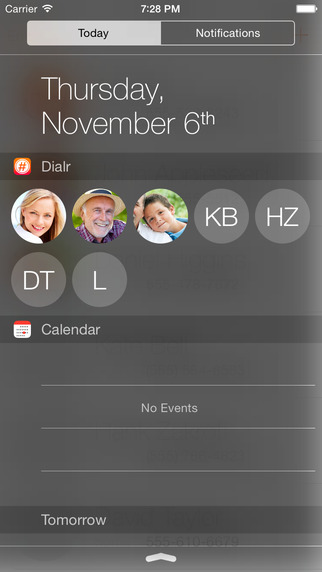 Normally $0.99.
With Dialr you can have quick access to the your closest friends and family right from Notification Center. Just set up up to 8 phone numbers in the app (up to 10 on the iPhone 6 and 6+) and make calls from everywhere by swiping down from the top of your screen. Designed for simplicity Dialr displays only the picture for your contact or their initials. No labels, no clutter. Just your dearest phone numbers, just a swipe away.

Additionally, you can now access your favorite contacts on your iPad and call them on your iPhone. Just connect your iPad to your iPhone with the new call forwarding feature from Apple and dial your favorite number right from Notification Center on your iPad. (Note, you can't make calls with your iPad alone. Being on the same Wi-Fi network is required during a phone call. See http://www.apple.com/ios/whats-new/continuity/ for more information about that feature)

Version 1.0 release notes:

– ability to create your favorite contacts for quick access in Notification Center
– sort your contacts any way you want
– contacts without profile pictures display the initials instead

for bug reports and feature requests please contact me on our website
Thanks for your support!

(For U.S. users it is important to know, that third party apps currently can't support vertical service codes. If you are using them (e.g. *82 before the phone number), Dialr won't be able to place that call. The numbers you want to dial generally can't have any symbols except numbers and +. This is due to security reasons on Apples side)
My Tiny Heroes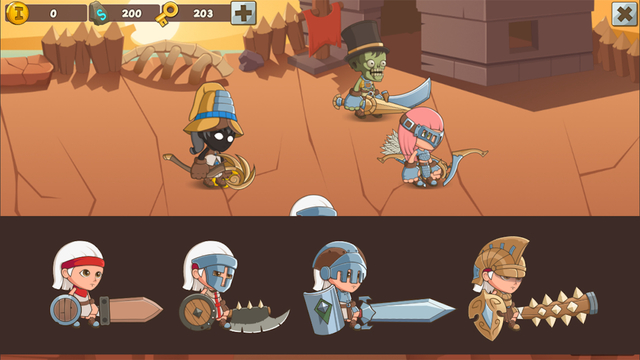 Normally $0.99.
Control your heroes and fight against the power of darkness in this innovative RPG!

Background:
This land has been ruled by orcs and other evil powers for long time. Human have been trodden down hoping for a better time, hoping for a saviour they just don't know who. Come and try! Who knows, maybe you are the one to liberate the humans from the tyranny of the orcs. Be A Hero!

Features:
•Fun yet clever.
•Grow your heroes by leveling up, getting gear and upgrading skills!
•Various equipments without level limitations!
•A collection of different monsters are awaiting you to take them on!
•Customizable heroes mean yours will always stand out from the crowd!
•Stunningly beautiful cartoon graphics will soothe your eyes!
•Great and varied selection of music!

What are you waiting for? Come experience Tiny Hero Legends now!
---
Our deals and product reviews are picked by BGR's expert editors and team.

Follow @BGRDeals on Twitter to keep up with the latest and greatest deals we find around the web. Prices subject to change without notice and any coupons mentioned above may be available in limited supply.