Yesterday's roundup of Wednesday's best paid iPhone and iPad apps on sale for free was a great one, and there are still several free downloads remaining in that post if you missed it. Of course, we've got a fresh new batch of limited-time sales for you to check out on Thursday, so you'll find 10 new apps below.
This post covers paid iPhone and iPad apps that have been made available for free for a limited time by their developers. BGR is not affiliated with any developers. There is no way to tell how long they will be free. These sales could end an hour from now or a week from now — obviously, the only thing we can guarantee is that they were free at the time this post was written. If you click on a link and see a price listed next to an app instead of the word "get," it is no longer free. The sale has ended. If you download the app anyway, you will be charged by Apple.
VectorPaper+
Normally $0.99.
VectorPaper + and LITE is a vector illustration app designed for IOS inspired by desktop class illustrator programs and powered by Metal 2, so Render times are up to 10x faster.

arguably the Best Free Vector Drawing
Import and Export directly to your iCloud Drive.

It supports paths, compound paths, text, images, groups, masks, gradient fills, and an unlimited number of layers and beautifully rendered text.

Design logos, posters, floor plans, technical drawings, fun fashions, web graphics, and much more.

VectorPapers Zero was designed with performance in mind – it can easily handle drawings with hundreds to thousands of shapes without bogging down.
Export your finished illustrations directly as SVG or PDF.

FEATURES

• Very high performance
• Create arbitrary bezier paths
• Create paths, masks and groups
• Create text and font objects
• Insert photos from your albums
• Boolean operators on paths (Unite, Intersect, Exclude, Subtract Front)
• Powerful scale and rotate tool
• Gradient fills
• Swatch Library
• Unlimited layers
• Rename, rearrange, delete, hide and lock layers
• Adjust the layer transparency
• Snap to grid, points, and path edges
• Isolate the active layer
• Send SVG, PDF, PNG, and JPEG

Localizations:
English, Arabic, French, Turkish, Spanish, Italian, German, Portuguese, Brazilian Portuguese, Chinese Simplified, Japanese.
Q-Chan : Meow Player
Normally $0.99.
"Q-Chan" is designed to help you catching your cat attention.

"Q-Chan" is very simple to use and cute.
Slide up and down to change the mode, tap to "meow".
We embed more than 250 high quality meow sounds.
And we'll continue adding more sounds.

"Q-Chan" has one more function.
You can set meow alarm.
Play meow sounds at specific time to wake you up and call your cats coming to your bed.

*Attention
Alarm need notification permission
Alarm not work under "Silent Mode" and "Do Not Disturb"

* If your cats displays signs of distress or aggression, discontinue use immediately.
Directoon
Normally $0.99.
Create your own Animated Cartoon!
Choose the characters; Select the animations; Record your voice; Save and share your video.

You can choose 1 or 2 characters, each character has up to 6 animations that you can select and determine their chronology. Each animation is 5 seconds long and can be deleted by double tapping.

Create different scenarios.
Each character has one or more silent animation so you can act as both characters.

During the voice recording, a timer indicates the number of seconds passed for this animation, when it turns red the next animation starts.

Unleash your creativity!

Save and share your cartoon scene.
QuickClip | Clipboard Manager
Normally $0.99.
Save copied text too easily and quickly.
QuickClip is very useful clipboard manager.
You can quickly and easy copy and paste.

App Features
– Simple UI
– You can access all clips from Widget
– iCloud Sync
– No Ads
– Folder

*This application is only supported iOS7 or higher.

– License
Designed by Freepik
http://www.freepik.com/free-vector/touch-screen-gesture-collection_843365.htm
Download QuickClip | Clipboard Manager
Easy Backup Pro
Normally $2.99.
Easy backup pro is free today with AppGratis

* Over 1,500,000 people love Easy Backup Pro :)

* Backup your contacts with one tap! *

MAIN FEATURES
○ Backup your contacts with one tap!
○ Send the backup to your email!
○ Export your address book to Excel!
○ Restore contacts easily from any iOS device!

Your contacts are the most important data in your phone which may be lost in seconds.
Easy Backup Pro keeps your contacts in a safe place.

BACKUP
○ One tap to backup your contacts!
○ Quickly export your backups to Dropbox, Google Drive, Excel, Email
○ Keep your contacts safe in the cloud!
○ Easily restore your contacts from any mobile device!
○ Move contacts between accounts (Exchange, iCloud, Local Address Book)

CLEANUP
○ Find & Merge duplicate contacts!
○ Remove contacts without name
○ Remove contacts without phone & email

Easy Backup Pro offers unlimited backups for your address book
To keep your contacts even more protected, turn on Easy Backup Pro to save every single change in your contact list, even when you are not using the app.
Easy Backup Pro allows you to restore your contacts from any mobile device for $9.99 a year through an auto-renewing subscription.
Subscriptions will be charged to your credit card through your iTunes account.
Your subscription will automatically renew unless cancelled at least 24 hours before the end of the current period
You will not be able to cancel a subscription during the active period. You can manage your subscriptions in the Account Settings after purchase.

Terms of use: http://www.simplercontacts.com/termsofuse
Privacy policy: http://www.simplercontacts.com/privacy

AVAILABLE IN 15 DIFFERENT LANGUAGES
English, Español, Français, Italiano, Deutsch, Português (Br.), 中文 (Simplified), 中文 (Traditional), 日本語, 한국어, Nederlands, Русский, Türkçe, العربية, עברית
Pocket Files Pro
Normally $2.99.
Pocket Files Pro is the ultimate tool to manage and keep your Photos, Videos and Documents safe and private. Easily capture or import your photos/videos from a device or computer, create new albums (including sub-folders), note files and access them from iMessage. Set a passcode for the app or folders and catch the intruder's picture (including GPS location) who attempt to break-in to your app.

Key Features
◉ Simple and elegant photo, video and file manager, create new folders/subfolders (or albums) and import photos/videos or any other documents

◉ Lock & password-protect any folder and its files by using password or Touch ID

◉ Easily access and send any of stored files from the Messages app

◉ Break-in report: catch photo and location of any intruder who tries to break-in to your app

◉ Decoy Mode: open a completely new screen with different folders/files by entering a decoy passcode (manageable by user)

◉ Import photos/videos from your device, iCloud Drive, Dropbox and more

◉ Take photo or record videos inside the app

◉ Easily import or export files from your computer wirelessly or iTunes

◉ View photos, videos, animated GIFs, PDF, ZIP, Microsoft Office documents or iWork files
Charles Dickens: Ghost Stories
Normally $1.99.
iClassics: Beyond Engrossing

iClassics unites the old and the new to create immersive experiences that inspire and move everyone.

Charles Dickens is perhaps the most canonical of all writers from the Western literary tradition.

iClassics Productions has become famous for its artistic and technological enhancements of great literature, and our collection of Immersive Entertainment apps would be woefully incomplete if it did not include the works of Charles Dickens.

Enter the iDickens Collection, which includes some of the most famous ghost stories penned by the master of Victorian literature, including A Madman's Manuscript, The Ivy Green, and The Lawyer and the Ghost.

In this innovative Immersive Entertainment app, these masterful and playfully chilling short stories are lovingly and artistically enhanced with interaction, illustration, animation, FX, and OST.

By casting a modern glare on these child-friendly ghost stories, the result is a spectacular and wholly original experience that utilizes every feature of modern mobile devices (gyro-perspective, flash, vibration).

TILT to see more

TOUCH to transform

TURN to discover what's in the shadows

Main features:

* Available in 4 languages: English, Spanish, Portuguese and French.
* Outstanding artwork by César Samaniego and a troubling original soundtrack by Miquel Tejada.
* The Charles Dickens's Biography.

With the lovingly constructed enhancements for which iClassics Productions has become famous, this creatively chilling Immersive Entertainment app makes Charles Dickens more readable and enjoyable than ever.

—————————————————————–

About the iClassics Collection:

The iClassics Collection is a revolutionary collection of book apps where you'll discover literary classics such as Edgar Allan Poe and Charles Dickens through a unique interactive and immersive experience.

Discover more at http://www.iclassicscollection.com
Download Charles Dickens: Ghost Stories
Alti
Normally $4.99.
Alti is a beautiful, feature-rich, minimalist altimeter and compass application for your iPhone and iPad. It sports a clean design, includes a wide selection of background colours, and provides a distraction-free experience. It includes an altitude indicator, a magnetic and true north compass, and coordinates for DMS and degrees.

—–

Features:

# Highest Accuracy GPS Altitude
# True/Magnetic North Compass
# Beautiful iOS9 Design
# Pastel & Natural Color Palettes
# Facebook, Instagram & Twitter Sharing
# Altitude in Meters or Feet
# Coordinates in DMS or Decimal
# Background Customisation

—–

Reviews:

"The UI captures the flat style of iOS perfectly. Simple and intuitive." Ko Olina Family

"We trek a lot and this altimeter app is our new favorite. Awesome app when we do our adventure treks. Kudos to the developer." Nadialutan

"Used it in the North Georgia mountains and it was spot on with the elevation markers." Marcus Aurelius Seneca

"Pleasure to use and look at!" Coopsdogger

"Just wanted something to track my current coordinates and it does just that. Very nice!" B3 Burner

"A friend of mine I go camping with has COPD and altitude affects him. It's nice to know where the high elevations are so we can avoid them or minimize our time there." Millennial2012

"Smart, simple and easy!" Yazeed Momani
Funnyfy 2
Normally $9.99.
Introducing the Simplest and fastest video editor ever!

Add timed titles to your videos and export to camera roll super fast.

Turn your videos hilarious stories within seconds.

Just tap anywhere in the video to add a title.

Point out idiots, geniuses, fails in your clips. Or add subtitles to what your cute pets say to camera.

Possibilities are endless. Just imagine and be creative.

FEATURES

+ Simply tap anywhere in the video to add titles
+ Unque editing interface to help you edit super fast
+ Edit color of the title
+ Adjust title timing to milliseconds
+ Save to camera roll in highest quality
+ Select, move and delete titles fast and easy.
+ Quick re-play previews of selected title
+ Seek through the video fast

Extra features:
+ Carefully crafted design and editing interface
+ No ads inside the app
+ Developer support – Contact for help within the app in 2 taps
+ Similar editing interface to our Beep App (Made for Censoring videos)

FEEDBACK FROM USERS:

"Exactly what I wanted, Quicker way to add titles and export without having to do all those tedious editing" – Kupi Cheholl

"With Funnyfy I can add titles just by tapping and holding on the video. I don't have to move or adjust timing of titles. That makes it so much easier to just turn my cat and dog videos to cute stories." – Rada Bright

"Loved the way this app help me make funny videos for all my fail vids IG and vine accounts. It's super fast and I usually edit and upload about 5 videos in 20 minutes." – Thiago Oliver
Mystery of Fortune 2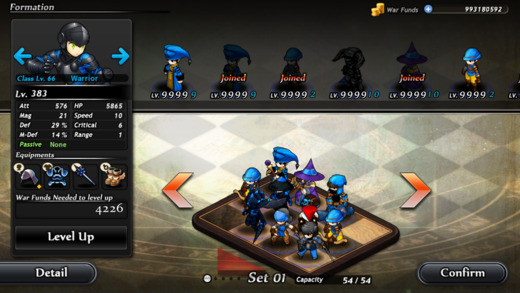 Normally $0.99.
Mystery of Fortune 2 is the eighth episode of Fortune Chronicle Episodes. This is the official sequel of SRPG Mystery of Fortune(2014).

Explore dungeons with your own army and try to make the most efficient corps.

You must charge your phone while playing!

Features

1. 25 available units and over 35 monsters.

2. Battle macro system that helps battles.

3. Changing class system lets you acquire various skills and strategies.

4. More gears and items to equip and collect.

5. Total 85 dungeons in 14 states to explore.

Rules of the game

1. Every battle are conducted automatically. The Player gat set up strategies and level up units for the battle, before the battles starts.

2. You need to set up a fighting AI called battle macro to units before the battle starts. For example, you could set up the best strategy for battles by assembling condition and run sentence like – "Use skill when encounters enemy in close range" and "Heal yourself when you lost 50% HP".

3. In the Pub you visit before you enter the dungeon, you can get some hints for your strategy, hire new units, purchase items and battle macro to prepare for the next battle.

4. Once the battle starts, the Player spectates the battle. You can use items to heal your units or fill Ether when you need.

5. When your units clear enemies in the current wave, they automatically proceed to the next wave. If you lost every unit in the battle, exploration ends.

6. When the exploration ends, you receive gold and items that you can use to upgrade your units.

How to use iCloud data save

Caution: iCloud saving overwrite data to your phone, so your existing data might be deleted. Using when you transfer data after changing device only is recommended.

If your data is deleted during using cloud-saving, it cannot be recovered. Please pay close attention.

1. Click 'Game Center' button on your existing device.

2. Sync saved data by clicking "Save Data" button. Don't close application or break the internet connection. Data might be lost. Provided that the process is stuck at 0% too much time, close application and restart.

3. Click 'Game Center' button on your changed device.

4. Click "Load Data" button and sync saved data from servers. Don't close application or break the internet connection as same above.

5. When you start app, previous saved data would be loaded. Now you can play the game.

Please sync saved data by clicking "Save Data" button to keep losing your data.

Please use "Load Data" when you newly change your cell phone or lose saved data only. Company doesn't take responsible for rollback data by running "Load Data" in usual condition.