They say April shower bring May flowers, so hopefully all the snow that hit the Northeast on Monday morning will make way for the most beautiful May we've ever seen. In the meantime, stay bundled up inside and enjoy our roundup of the nine best premium iPhone and iPad apps on sale for free today. One app in particular — FlockEye — is among the most novel apps we've seen in a long time, so definitely grab it while it's free.
This post covers paid iPhone and iPad apps that have been made available for free for a limited time by their developers. BGR is not affiliated with any developers. There is no way to tell how long they will be free. These sales could end an hour from now or a week from now — obviously, the only thing we can guarantee is that they were free at the time this post was written. If you click on a link and see a price listed next to an app instead of the word "get," it is no longer free. The sale has ended. If you download the app anyway, you will be charged by Apple. Subscribe to our feed to be notified as soon as these posts are published, and you'll avoid missing the sales we cover.
Rooster: Calendar & Tasks
All in-app purchases are currently free.
Features:

– See your Calendar and To-Do List together
– Add appointments faster than ever with the QuickCal Keyboard™
– Pin important tasks up top, and never miss a thing
– Quickly scan your daily headlines, using the unique Summary View
– Jump dates fast using the Rooster Navigator

Did we mention there's no sign-in required? Ohhh yeah

– Automagically sync with your existing calendars (iPhone/Google/Outlook/Yahoo) and reminders
– Keep shared calendars with family and friends*
– Enjoy an intuitive design (like you've been here before and you know exactly where to go!)

Rooster's unique features and ridiculously handsome design will make conquering a crazy life, easy, speedy and breezy.

Give it a crow!

(Have feedback, comments or questions? We're egg-cited to hear from you. Reach us at hello@rooster.am)

*Set up calendar sharing in your iOS calendar app
Download Rooster: Calendar & Tasks
Photo Scanner Premium
Normally $1.99.
This magical app lets you experience all the features of our famous app Pic Scanner Gold at a LOW price. Scan, automatically crop multiple photos at a time. Enhance pictures. Convert photos into albums, greeting cards, slideshows. Save in iCloud, Dropbox or other cloud services. Freely share with friends and family. Try 36 scans and ALL these fun features. Once you're 100% happy, get UNLIMITED use with a one-time purchase.

PACKED WITH FEATURES: Photo Scanner Premium has everything you'd want in a picture scanner. And more:

+ Digitize, auto-crop multiple pictures at a time
+ High-resolution scanning mode included
+ Scan from albums without taking photos out
+ 19-tool editor: amazingly powerful yet intuitive
+ Add when, where, who information for scans
+ Filters to enhance and unfade old pictures
+ View photos as View Master-style slideshows
+ Create e-Greeting cards and photo crafts
+ Import pics from Photos app, pool with scans
+ Create albums; reorganize with drag-&-drop
+ Fun tools: selective recoloring, meme maker
+ 'Like' photos to auto-create 'Favorites' album
+ Save scanned photos in ANY free cloud service
+ Free automatic back-ups to iCloud or iTunes
+ Bluetooth remote-friendly (Avoid camera shake)
+ No ads, watermarks or personal info tracking
+ Personalized, fast customer service

Parents' wedding photos? Childhood pics? Vacation snaps? Scan, pool and share your and your family members' collections, so everyone gets to have the complete set. Bring legacy albums into the digital age, in a snap!

PICTURE SCANNER THAT GOES EVERYWHERE WITH YOU: Photo Scanner Premium converts your iPhone or iPad into a portable photo scanner. Scan anywhere – no Internet needed. Digitize your entire photo collection in hours, not days. High quality scans, fast and easy.

DO MORE WITH MEMORIES: Photo Scanner Premium will transform how you enjoy and share memories. Heirloom photos lying forgotten in dusty albums or an old shoe box? Convert them into beautiful slideshows or personalized greeting cards. Re-live nostalgic old moments, refresh fading memories. Create shareable mini-albums – with captions and music!

SHARE PRICELESS MOMENTS: Photo Scanner Premium offers many ways to share & archive photos. Save pictures to Photos or computer. Share by email, Messages or iCloud Photo Sharing. Post TBT pics on Facebook or Instagram. Archive in Dropbox. Save to Google Photos, Flickr or ANY other cloud service.

PROMPT SUPPORT: We want you to love Photo Scanner Premium. Contact us for fast help. We reply to emails within 12 hours. Visit our website, blog and Facebook page for great tips, FAQs and other how-to articles.

BUY WITH CONFIDENCE: Photo Scanner Premium has been meticulously crafted so you can enjoy your memories to the fullest. If you have trouble with any feature, email us for personalized support. If you are not fully satisfied with our app, you can get 100% refund within 90 days.

Made for iOS devices running iOS 9.3 or later. Not recommended for old devices like iPhone 4s or iPad 2.
Download Photo Scanner Premium
WalkTrack
Normally $0.99.
WalkTrack is the newest on Appstore but powerful to track your route and make sure you get your right way!

Let check your route and review all list of your record in history!

Very helpful and simple for every people to use!
InsTuner – Instrument Tuner
Normally $0.99.
Just appeared on Appstore for this year!
Instruments Tuner is the useful tool to tune your musical instrument.
Let's try it, don't forget to leave your feedback so we can improve!
Download InsTuner – Instrument Tuner
Ibbleobble Food Stickers
Normally $0.99.
Ibbleobble food stickers are here! Spice up your iMessage with these super cool food stickers. Also includes animated stickers!

Remember a picture can tell a thousand words!

This sticker pack includes 79 bright fun-packed images from fruit and vegetables (such as a strawberry, watermelon and an avocado) if you're feeling healthy or burgers, donuts and hotdogs if you're in a mood for a treat!

No more sending boring messages!

Have fun and go share!
Download Ibbleobble Food Stickers
FlockEye
Normally $0.99.
FlockEye makes several iOS devices to take picture at the same time, then it collects those pictures and make an image to be shared.

Open FlockEye on the devices you would like to take picture with. Make sure bluetooth and Wifi is active on those devices. Choose one of devices as master and wait for the connections were established. When you saw red dot touch it to take pictures. But you might want to wait till all the slaves are connected. Now, wait while all the pictures are being received by master and that is it.

You can send the constructed image to photo library or can share it on Facebook or on Twitter. Just touch sharing symbol.
iFile-file manager & browser
Normally $2.99.
iFile is a file system management software that is based on iOS system ,You can look over and manage all kinds of files and folders real-time, and also transfer the files to users who use iFile nearby too(don't need WiFi ,don't need Bluetooth),It is powerful and simple to use, According to the following steps of use:

1. Connected the iOS system device to the computer;

2.Open iTunes; see"equipment" in the iTunes sidebar and select the iOS system equipment you has connected below; then select the "application" menu item, slide down the page to the "file sharing"menu;

3.Select the "iFile" application, you can click the "add…" button or drag a file or folder to add the files or folders to the iOS system device, you can also click to the "storage…" button or drag the files or folders in the iFile from your iOS system equipment to copy them to your computer;

4.Open "iFile" software to manage files

You can operate as follows:

1.View the classified files real-time, such as pictures, music, video, documents;

2. Manage the files and folders, such as the create a folder, file sorting function, real-time search, file and folder to move, copy, delete ,send and function to send mail; (mail does not support folder)

3. View pictures real-time and share them with your friends;

4.Music play and lyrics synchronized display (the name of lyrics and songs must be corresponding, and in the same directory)

5.View documents real-time;

6.Play video real time;

7.skin replacement, password protection function;

8. File transfer function: face to face rapid transmission (no flow), no need to open the WiFi, no need to open the Bluetooth you can implement the file transmission
Download iFile-file manager & browser
Docky – Color Gradient Bars for wallpapers
Normally $1.99.
Docky is a fun new way to update and customize your phone even further! An easy to use tool, lets you choose from a wide variety of beautiful designs that personalizes your device unlike any ordinary wallpaper can.

Docky works by mixing the design you like into your wallpaper. This gives your device a much more streamlined appearance, making your phone more stylish than anyone else's.

It is the only app of its kind that is compatible with the iOS7 Parallax effect ON!

Pick some out now and enjoy the new updated look of your phone.
Download Docky – Color Gradient Bars for wallpapers
QuickClip | Clipboard Manager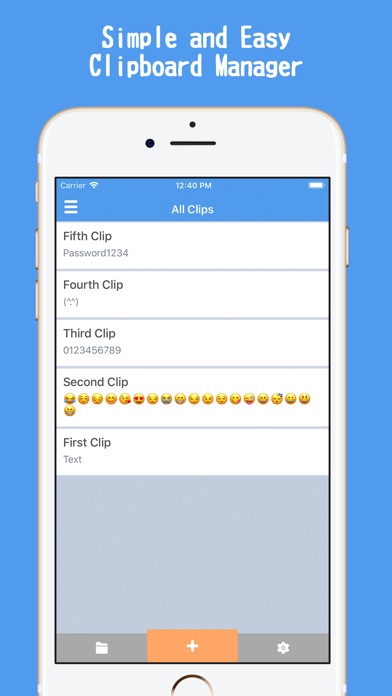 Normally $0.99.
Save copied text too easily and quickly.
QuickClip is very useful clipboard manager.
You can quickly and easy copy and paste.

App Features
– Simple UI
– You can access all clips from Widget
– iCloud Sync
– No Ads
– Folder

*This application is only supported iOS10 or higher.

– License
Designed by Freepik
Download QuickClip | Clipboard Manager