We weren't sure we were going to be able to top yesterday's list of paid iPhone and iPad apps that went on sale for free for a limited time, but by golly we've done it. Headlined by Goat Simulator, which is perhaps the greatest iPhone game ever, is a tremendous list of 9 paid iOS apps that are all on sale for free. These sales could end at any moment though, so be sure to check out the apps right away.
These are paid iPhone and iPad apps that have been made available for free for a limited time by their developers. There is no way to tell how long they will be free. These sales could end an hour from now or a week from now — obviously, the only thing we can guarantee is that they were free at the time this post was written. If you click on a link and see a price listed next to an app instead of the word "get," it is no longer free. The sale has ended. If you download the app, you will be charged.
Goat Simulator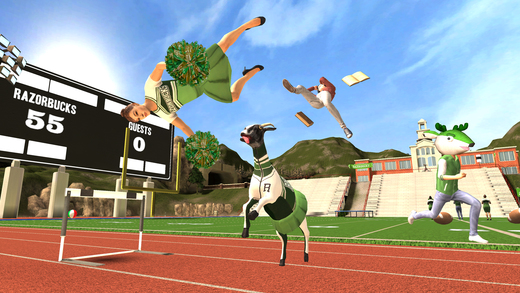 Normally $4.99.
Goat Simulator is the latest in goat simulation technology, bringing next-gen goat simulation to YOU. You no longer have to fantasize about being a goat, your mobile dreams have finally come true!

Gameplay-wise, Goat Simulator is all about causing as much destruction as you possibly can as a goat. It has been compared to an old-school skating game, except instead of being a skater, you're a goat, and instead of doing tricks, you wreck stuff. more! When it comes to goats, not even the sky is the limit, as you can probably just bug through it and crash the game.

DISCLAIMER
Goat Simulator is a completely stupid game and, to be honest, you should probably spend your money on something else, such as a hula hoop, a pile of bricks, or maybe pool your money together with your friends and buy a real goat.

KEY FEATURES
* You can be a goat
* Get points for wrecking stuff – brag to your friends that you're the alpha goat
* MILLIONS OF BUGS! We're only eliminating the crash-bugs, everything else is hilarious and we're keeping it
* In-game physics that bug out all the time
* Seriously look at that goat's neck
* You can be a goat
MyTopFans S
Normally $1.99.
Analyzing your Facebook profile, this app reveals the identity of your fans and their level of interest in you.
***** FEATURES *****

• RANKING CHARTS: look at the chart with pictures, rank position and quick details about each of your top 20 fans, kept up-to-date with the latest info from Facebook.

• FILTERS: filter your fans by such categories as new, climbing and falling.

• POSITION TRACKER: track the movement of your fans in the Top 20.

• FANBAR: see how much your fans care about you.

• FANMATRIX: generate an awesome collage with the pics of your top 20 fans, your biggest fans will have the biggest pics.

• FANSMARTDIARY: discover what binds you and your fans together.
Red Clock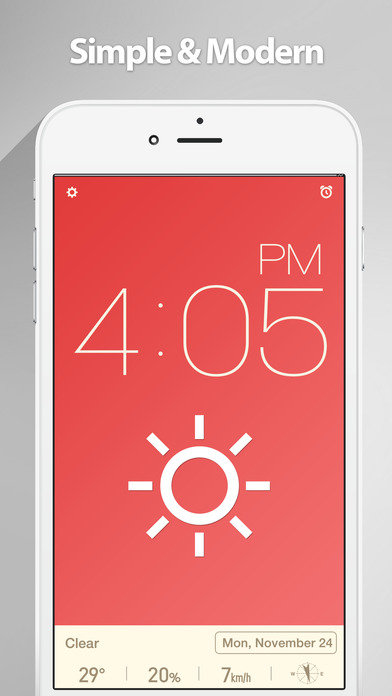 Normally $1.99.
Best minimalist alarm clock app, introduces the red clock.

* 1000K+ users Download

Red clock is simply designed alarm clock app. You can use the easy and simple at the same time clock, weather, alarm.

CLOCK
• Very Big digital Clock for legibility
• A variety of themes
• Simple & Modern Design
• Highly customizable
• Analog Mode
• Analog Kit and Additional Theme packs (In App Purchase)

WEATHER
• Location-based weather service with more than 30 Weather Icons.
• Display Temperature, Humidity, Wind Speed, Wind Direction, Feels Like, UV Index, Pressure
• Weather Underground API
• Weather information is automatically updated in 5-30 minutes.

ALARM
• Easy setting, easy alarm
• Snooze (5min/10min/15min)
• Repeat days of week
• Smooth shake alarm animation
• Fade-in Sound
• Alarm Label
• Alarm sound quality of professional artists

NIGHT MODE
• Night mode switching as lamp switch
• Auto night mode switching by current brightness

OTHER
• Landscape mode for greater legibility
• The battery status bar to notice at a glance
• Support for iOS9.
• Support for larger displays on iPhone 6s and iPhone 6s Plus.
Hype Machine
Normally $3.99.
Discover the most talked-about music from blogs around the world. Hype Machine in your pocket.

Every day, thousands of people around the world write about music they love — and it all ends up on Hype Machine. We watch for new posts on over 800 of the most interesting blogs and make it easy to follow this chaotic world.

You can listen to the newest tracks posted just minutes ago, the most popular tracks of the day, and check out what your friends have discovered on the service. Each week, we also hand-pick an album that you can stream in its entirety before you can buy it.

All this, without ads or monthly fees.
——————
Hype Machine lets you navigate the vibrant world of blogs in a few ways:

• LATEST: Music being discussed right now, constantly updated
• POPULAR: Tracks that are getting the most love on the Hype Machine
• FAVORITES: Your favorite tracks on the Hype Machine. A simple offline view lets you see your recently played favorites when you are in air or underground.
• FEED: Customized new posts from your favorite blogs, and friends
• FRIENDS: Music your friends are loving right now
• GENRES: Newest tracks posted on blogs organized by genre
• BLOG DIRECTORY: Every blog we track at http://hypem.com/blogs
• ALBUM PREMIERE: Preview a new album, in full, every week

Oh yeah, and the app scrobbles to Last.fm. Just enable it in your Hype Machine settings at http://hypem.com
——————
We've been introducing people to breaking new artists and influential music blogs since 2005 (before there were iPhones :Þ), and have been featured in Wired, The Guardian, Washington Post, Billboard, Popular Science, Rolling Stone, Esquire and more.

"No other app I've tested recently introduced me to as much new music that I've liked yet never heard before as Hype Radio — and I've been looking."
-Eliot Van Buskirk (Wired, Evolver.fm)
Implosion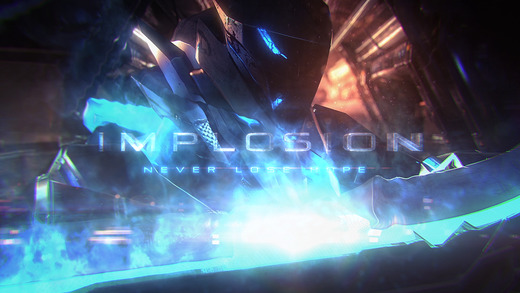 Normally $9.99.
Merry Rayark X'mas
12/13(Tue)00:00~12/14(Wed)23:59 (GMT+8)
《Cytus》limited free
《DEEMO》limited free
《Implosion》limited free
———————————————–
Bringing AAA console gaming experience to mobile devices.

Twenty years after the fall of Earth, the remnants of the Human race are once again faced with extinction. The time has come to justify our existence. A mysterious life form known as the XADA squares off against humanity's last weapon – the War-Mech series III battle suit.

Features: Stunning console-quality graphics, first-class voice acting and Hollywood-grade audio production. Full orchestral scores masterfully mixed by Grammy Award winner and "The Lord of the Rings" trilogy engineer, John Kurlander.

The most intuitive touch user-interface seen on the platform.

A vast arsenal of super-tech weaponry at your disposal, upgradable via the streamlined ARK Kernel system. Become the ultimate fusion of Man and Machine. Ensure the survival of the species.

– Using iCloud save after login Game Center at Options menu
ReliCam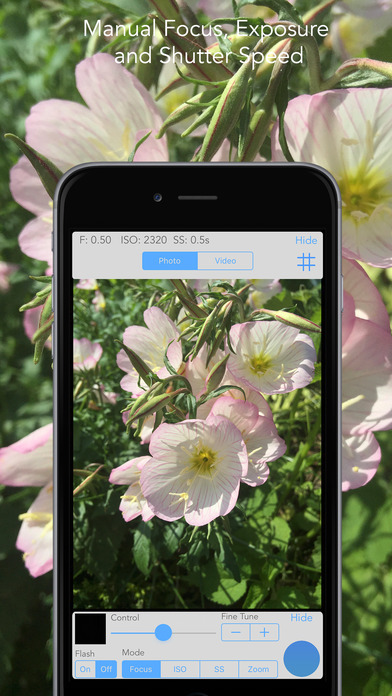 Normally $0.99.
Focus. You Control.
ReliCam, the Manual Photo & Video Camera App made with photographers in mind.

ReliCam gives you Manual Controls to take advantage of your device's camera for Photos and Video including:

Focus | ISO | Shutter Speed | Zoom*

Other features include:
RAW Support*
Grid Lines
Heads-Up Display
Fine Tuning Control
Sharing
Auto Focus
Hi and Low Resolution option

ReliCam Remote for Apple Watch lets you use your Apple Watch as your device's camera trigger.

* (Zoom available for iPhone).
* (RAW Available on supporting devices)

We'd love to hear from you to help make ReliCam better, please give us feedback by writing a review and rating ReliCam here on the App Store.

Thank you to those who have already given us feedback.
Cytus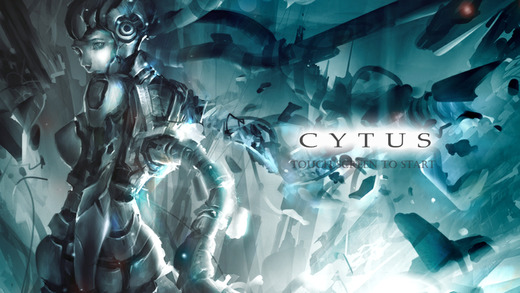 Normally $1.99.
Merry Rayark X'mas
12/13(Tue)00:00~12/14(Wed)23:59 (GMT+8)
《Cytus》limited free
《DEEMO》limited free
《Implosion》limited free
——————————————————
No. 1 IPHONE MUSIC GAME in Japan, Netherlands, Korea, Taiwan, Thailand, Hong Kong, Macau, Singapore

No. 1 IPAD MUSIC GAME in Japan, Netherlands, Korea, Taiwan, Thailand, Hong Kong, Macau, China

No. 2 in the US App Store for both IPHONE and IPAD MUSIC GAME categories

A huge thanks to everyone and your amazing support!

——————————————————
**Welcome to the Musical World of Cytus**

LET'S EXPERIENCE MUSIC 'N ART, BEAT 'N REBOUND!

Check the screenshots and you will see the most AWESOME iOS music game ever!
Just PLAY and ENJOY!

*FEATURES*

– 200 songs and 400 variations, including many from famous composers around the world

– Beautiful hand-drawn art style (as illustrated in the screenshots)

– Easy, intuitive Active Scan Line system and 3 types of notes

– Different display modes allow player-friendly previewing of notes

– Strong beat and rhythms provide satisfying feedback for taps

– More than 9 difficulty levels for more fun and challenges

– Various music genres: POP, JAZZ, TRANCE, HARDCORE, DRUM 'N BASS and many more

– Game Center Leaderboards integration: Challenge fingers from all over the world!

– Connect to Facebook and show off your Cytus skills

*HOW TO PLAY*

– Follow along the Active Scan Line
– Tap each note as the line passes through
– Time your taps as the line is at the center of the note for a higher score!

*STORY*

In the distant future, the only sentient beings in the world are robots.

They are the last remnant of the human spirit.

However, mankind is not dead.

Technology exists that is capable of transferring memories to these robots.

But with limited space, new memories will gradually overwrite the old.

To prevent the emotions in human memories from fading away, the robots resorted to converting the emotions to music, and storing them in a place called Cytus.

The robots use these songs to experience human emotion and dream that souls exists in each of them…
Rock(s) Rider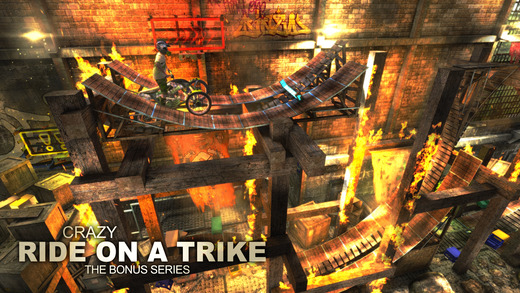 Normally $2.99.
Quotes from the review with 4/5 stars rating on TouchArcade:

"Rock(s) Rider – HD Edition is absolutely gorgeous, but it's also a fun Trials-like motorbike racer."

"You know how many developers brag about their game's "console-quality" visuals? Well, Rock(s) Rider HD's visuals can definitely be called console-quality."

"Fortunately for us, Rock(s) Rider HD is very fun to play, the kind of game that's all about glorious, repeated failures on the way to a satisfying victory."

——————————————————

Do you dare? Do you want to overcome your limits? Test yourself and face the boss and his gang!

Kick-start your bike, turn on the hard hitting rock music, throw yourself into the underground race and pull the impossible off! Mastering obstacles and risky traps wait for you on the hot tracks. Everybody will see you doing incredibly mad tricks! Grab the all bonus rewards. Race the boss or bet him on a trophy. Slide with the motorbike on dangerous constructions, go through adrenaline on a trike and show to everybody how far you can get with the Hill Climbing motorcycle. Or slow down the reality as in a movie… Show off, get respect among your friends and on the Global Leaderboards… Just enjoy unexpectedly REALISTIC and POWERFUL experience!

8 EXCEPTIONAL features which DIFFERS Rock(s) Rider – HD Edition in its category:
• EXTRAORDINARILY UNIQUE GRAPHICS on the same level as CONSOLE games
• SLIDING with the motorcycle on metal constructions thanks to steel bars welded on wheels or handlebars of the motorbike
• CRAZY ride on a TRIKE
• EXTREME rising with the HILL CLIMBING motorcycle to the top of the factory chimney
• INCOMPARABLY SENSITIVE physics of the motorbike on iOS
• ROCK SOUNDTRACK including 17 full tracks ideal for headphones
• Slowing down the reality thanks to SLOW MOTION ZONES (In-App Purchases)
• Better protection against crashes with help of SAFETY CAGE SYSTEM (In-App Purchases)

Other features:
• 64 levels in 5 industrial environments
• More than 150 challenges
• RACES SIDE BY SIDE WITH THE BOSS
• RAGDOLL PHYSICS of a rider
• 56 Achievements
• 65 Global Leaderboards
• UP TO 9 CONTROL VARIANTS for perfect gameplay
• BET THE BOSS and get the better position on the Leaderboards
• Catapults, lifts, ramps and other movable traps
• Hunting fiery flames, falling traverses and car wrecks
• Nitro Oxide System for the higher performance (In-App Purchases)
• 15 graphic skins for a bike
• 15 outfits for a rider
• More than 200,000 objects on the tracks
• You do not need to be on-line to play the game!
• ReplayKit support

The Rock(s) Rider – HD Edition in contrast with its forerunner, the Rock(s) Rider, is based on HIGHLY DETAILED 3D MODELS and BRAND NEW TEXTURES in double size resolution! We have granted funs' wishes of our former game and have brought RAGDOLL PHYSICS of a rider and PERFECTLY REFINED PHYSICS of the motorcycle! Many WONDERFUL EFFECTS have been added and more than 80,000 NEW OBJECTS have been placed to the all environments!

Do not forget we are interested in your game evaluation and want to know your opinion. If you identify with our enthusiasm, we will really appreciate your 5-stars rating on the AppStore!
Context Camera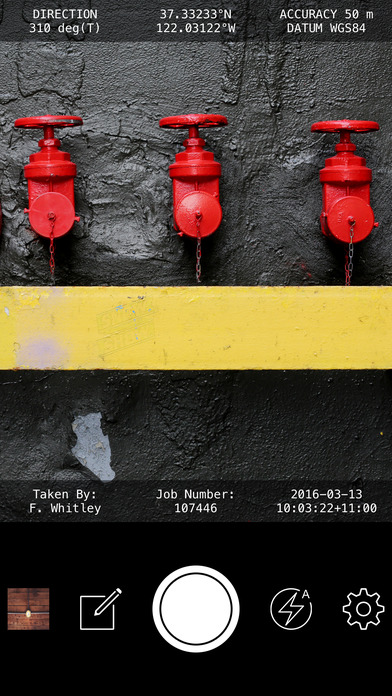 Normally $4.99.
Context Camera helps you to collect critical information by stamping your photos with direction, location, time and address information, as well as user comments. Never question where/when/why a photo was taken again.

HOW IT WORKS:
Open the app and take a photo – it's that simple. The overlay shown on screen is exactly what will appear in the photo itself.

STAMP PHOTOS WITH CRITICAL INFO:
– Capture photos using the built in camera of your device.
– Focus, zoom and flash settings are supported on compatible devices.
– Variety of photo overlays available, photos can be stamped with:
* location (latitude/longitude, UTM or MGRS)
* direction (degrees or mils)
* user comments
* date and time (variety of formats)
* address
– Information is also written to the image file as metadata.

ANNOTATE PHOTOS FOR A CLEARER MESSAGE:
– View photos taken with the app in the built in gallery
– Draw arrows, rectangles, ellipses and lines on your photos

SHARE PHOTOS QUICKLY AND EFFICIENTLY:
– Share photos via email/SMS/social media
– Share multiple photos as zip files
– Quick email feature lets you define email recipients for your photos in advance. When you choose a quick email option from the sharing menu, the recipients are automatically filled in.

WHAT IT DOESN'T DO:
– Anything other than the above. Please get in touch by email if you have questions.