If you purchase an independently reviewed product or service through a link on our website, we may receive an affiliate commission.
Visit your local butcher and pick up your favorite cuts of meat, poultry, or pork for the next feast you have to plan. Making meats is something that's rarely going to go over poorly, as plenty of people enjoy biting into mouthwatering morsels. But before you are getting ready to put it on the grill, in the oven, or in a pan on the stove top, you're going to want to take as much of the meat off the bone as possible. With a boning knife, that's made easier. Similar to a fillet knife, a boning knife has a thin blade that's slightly stiff. They are typically straight, which makes them better for larger and tougher cuts of meats and pork. You're not really using this to remove skin from your food. But you will be able to handle thicker pieces and if you're getting ready to serve them, you should first check out our picks for the best boning knives on the market.
Best Overall Boning Knife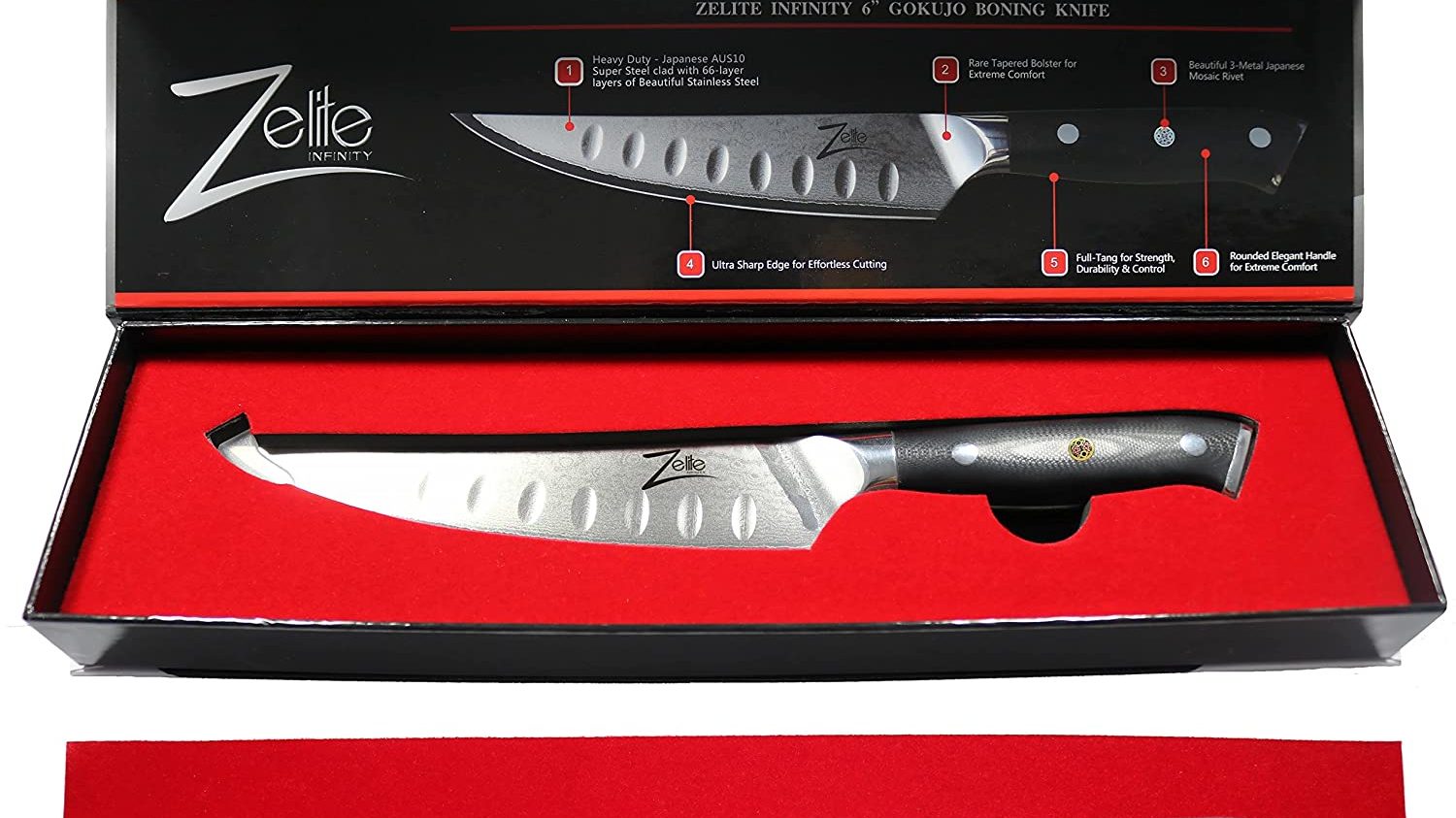 Allowing you to process your meat down to the best parts, the Zelite Infinity Boning Knife measures six inches in length. You'll be able to break down a whole chicken, trim the fat off a brisket, or process venison with this knife. You can prepare your fish easier and separate ribs in a pork loin quickly. This even will slice through butter efficiently and smoothly. Built from premium Japanese steel with 67-layer, high carbon, stainless steel, it features a tsunami rose Damascus pattern. This has a hardness rating of HRC 61. The sharpness and edge retention are matched by the rust resistance for the quality of the knife. The handle is triple riveted to the forged full tang for increased durability. This is backed by a 100% satisfaction guarantee, so you can use it for a time and if it's not for you, you can send it back for a full refund.
Zelite Infinity Boning Knife 6 Inch - Alpha-Royal Series - Japanese AUS-10 Super Steel 67-Layer…
List Price:
$78.99
Price:
$59.99
You Save:
$19.00 (24%)
Available from Amazon, BGR may receive a commission
Best Long Boning Knife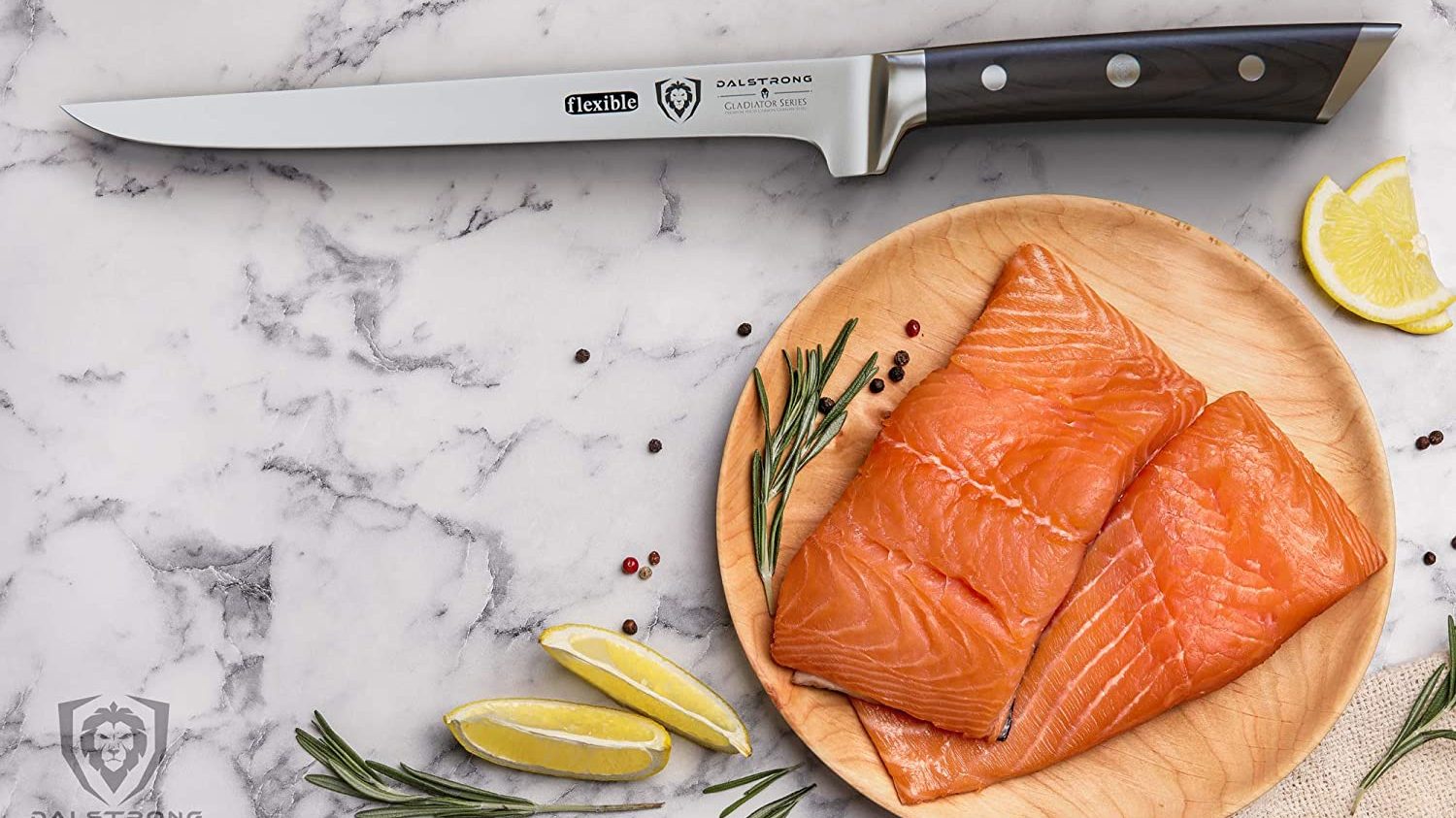 Give yourself some extra reach with the DALSTRONG Gladiator Series Boning Knife. This boning knife is 8″ long, adding some additional inches to most boning knives. Made with outstanding craftsmanship, cutting-edge technology, stunning design elements and premium materials, this is an exquisite knife. This is an incredibly sharp knife with full tang and made from imported high-carbon German steel. The knife features satisfying heft and a quality feel. It is laminated and polished for a sanitary build, so this is great to use even in the busiest of kitchens. This has a 56+ Rockwell hardness rating and is carefully tapered for improved hardness and flexibility.
DALSTRONG Boning Knife - 8" - Gladiator Series - Forged German High-Carbon Steel - w/Sheath - N…
Price:
Available from Amazon, BGR may receive a commission
Best Value Boning Knife

Providing excellent value and a stiff blade, the Victorinox Swiss Army Cutlery Fibrox Pro Extra-Wide Boning Knife is a versatile tool. This de-boning knife helps you trim and remove from the bone with ease. The pointed tip easily pierces meat while the straight edge glides through it for clean cuts. It's ideal for thicker cuts of meat and is a solid, bang-for-your-buck option. There is an ergonomic Fibro Pro handle with a non-slip grip, even when it's wet. It's made from trusted Swiss engineering and it comes with a lifetime guarantee.
Victorinox Fibrox Pro 6-inch Curved Boning Knife with Semi-Stiff Blade, Black
List Price:
$31.00
Price:
$27.78
You Save:
$3.22 (10%)
Available from Amazon, BGR may receive a commission
Best Ergonomic Boning Knife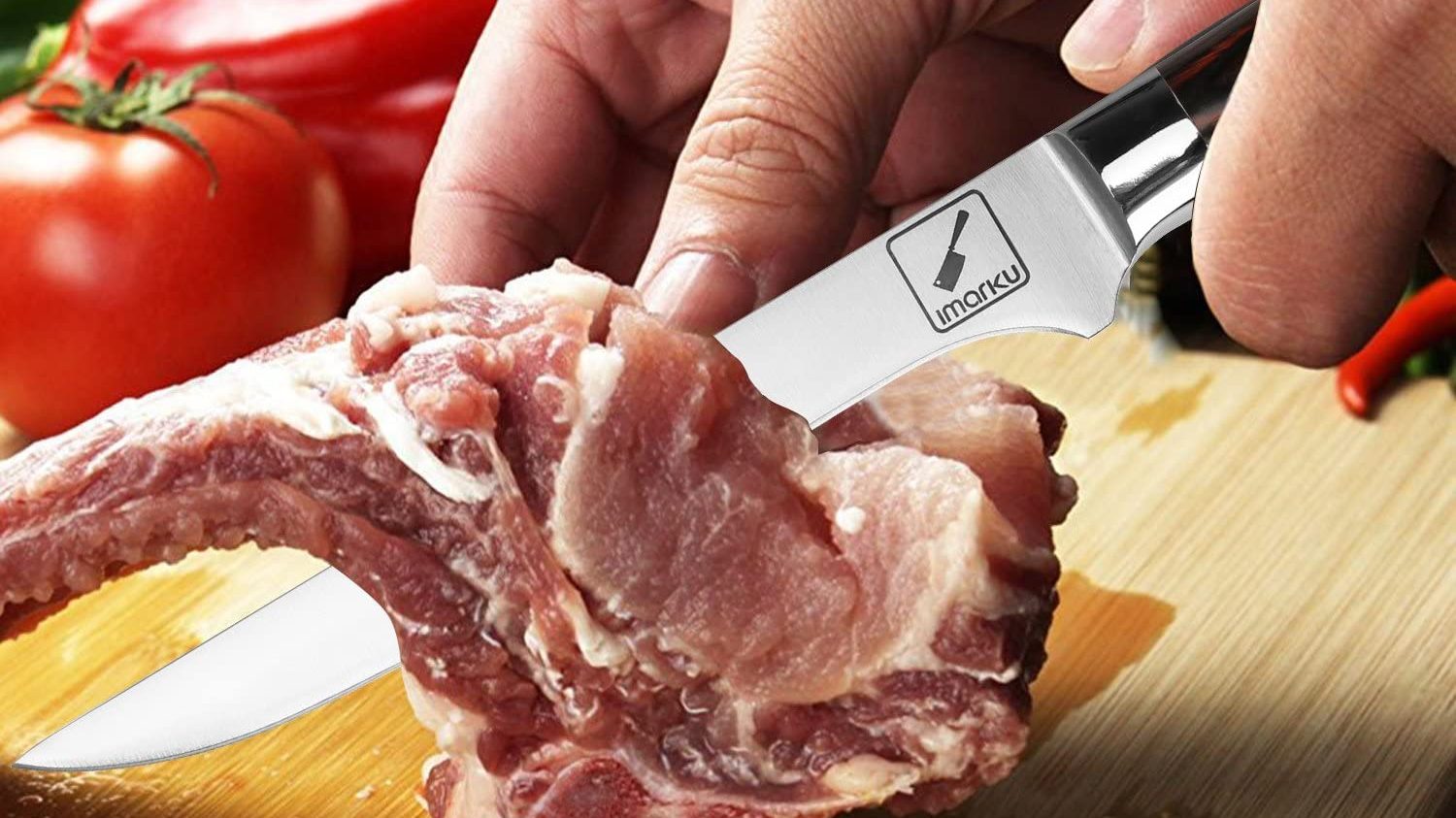 Easy to hold and use, you'll enjoy using the imarku Boning Knife. This is made from high-carbon German stainless steel to provide superior sharpness. It is properly balanced to allow precise close-to-bone slicing. You'll be able to butterfly, trim, fillet, prepare, and de-bone with this knife. This has an ergonomically designed and polished Pakkawood handle that is durable and non-slip. It's easy to clean and comfortable, providing a beautiful sheen. It has a 56+ Rockwell hardness rating and has edge retention and corrosion resistance. This should be washed by hand and it is backed by a lifetime guarantee.
Boning Knife, imarku German High Carbon Stainless Steel Professional Grade Boning Fillet Knife,…
Price:
$29.99
Available from Amazon, BGR may receive a commission
Best Narrow Boning Knife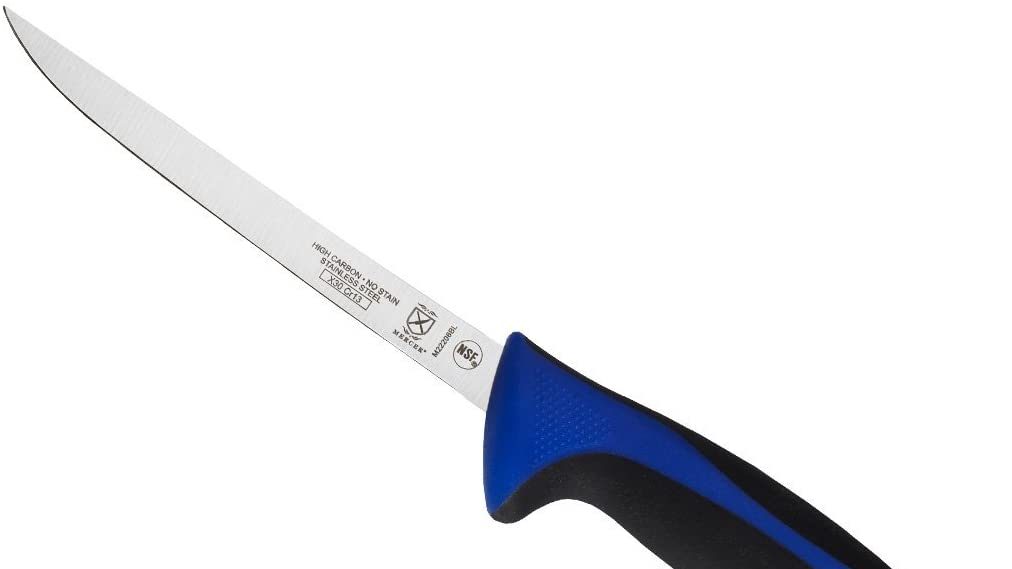 Adding a slight and narrow area for cutting, the Mercer Culinary Millennia 6-Inch Narrow Boning Knife is made from high quality Japanese steel. This features an ergonomic handle that is made with combined Santoprene and polypropylene. The textured finger points provide slip resistance and extended grip. The blade is easy to maintain and is razor sharp and will remain that way. It is made from one piece of high-carbon, stain-resistant steel. You should wash this by hand in order to maintain it longer. You can pick between 10 different colors or styles.
Mercer Culinary Millennia Colors Blue Handle, 6-Inch Narrow, Boning Knife
List Price:
$18.00
Price:
$11.99
You Save:
$6.01 (33%)
Available from Amazon, BGR may receive a commission