If you purchase an independently reviewed product or service through a link on our website, we may receive an affiliate commission.
Searing, sizzling, and charring are just a few of the verbs that describe what you can accomplish on a grill. Grilling is a pastime enjoyed by many as there is just something different about food cooked over an open flame. But if you're cooking multiple kinds of meats or vegetables that will need to be turned as you're cooking them, your hands are in danger of being exposed to those flames. You won't be worrying about injuring yourself if you have a pair of barbecue grilling gloves on. These are flame-retardant and allow you to move around an open grill cover more easily. Keep your food on the grates for longer to make sure everything is cooked to perfection. We've done our homework and found five of the best barbecue grill glove sets on the market to highlight for you. Get ready for your next backyard barbecue with any of these.
Pick your favorite style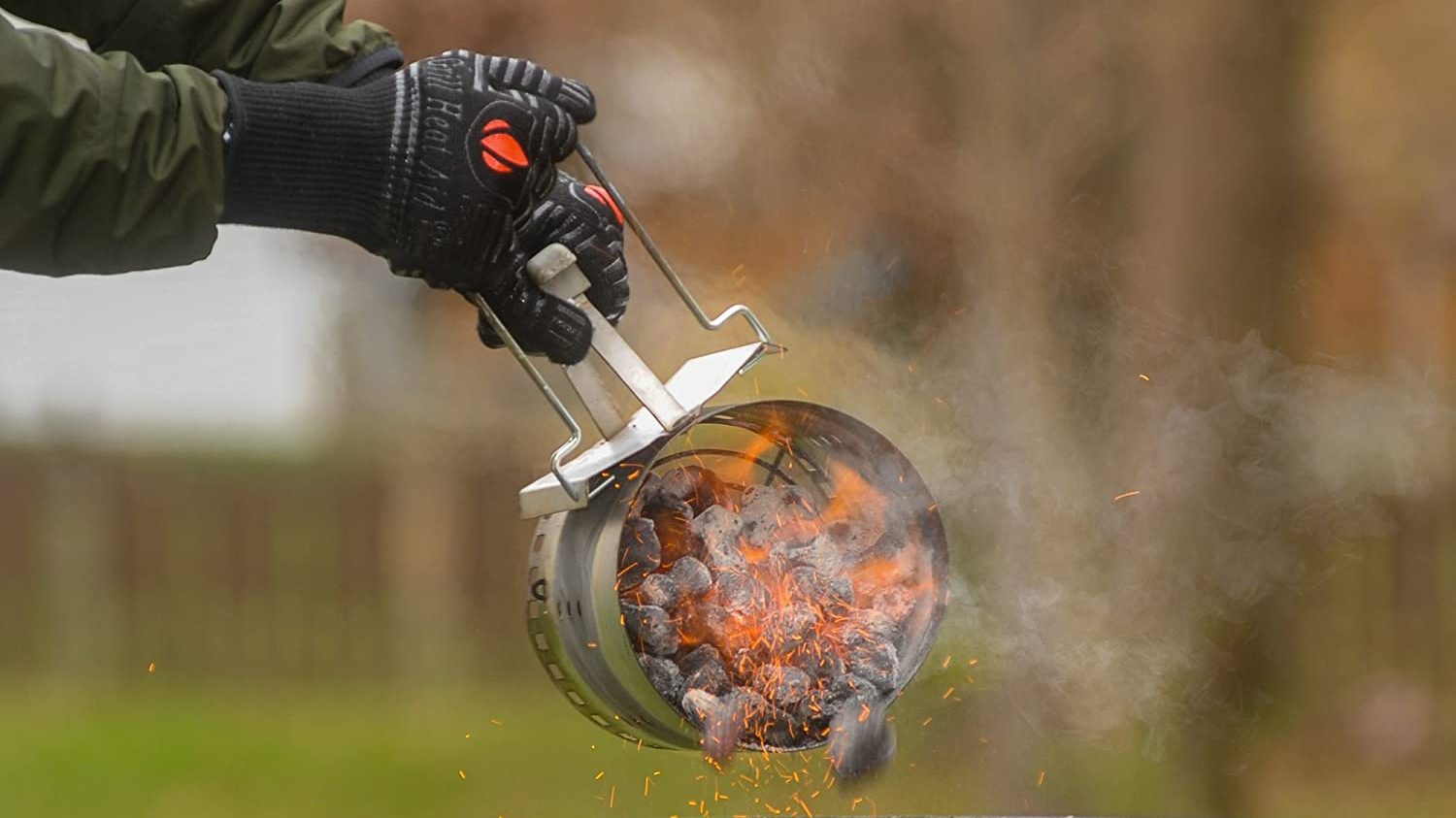 Why stick with boring patterns and styles when you can have you pick of awesome ones with the Grill Heat Aid Extreme Heat Resistant BBQ Gloves. These come in four different sizes, so you can choose between X-Small, Small, One Size Fits All, and One Size with Longer Cuffs. They also are offered in black, full black, blue, red, cool grey, and Spider-Man, allowing you to choose your favorite. They are EN4O7-certified and can withstand temperatures up to 932°F. They can be used indoors or outdoors and you can focus on cooking rather than burning yourself. You'll receive maximum protection and you'll be able to handle the heat when you're turning your kebabs or skewers or flipping burgers. Each mitt is made from aramid fabric, which is known for its ability to resist heat.
Key Features:
Comes in four different sizes
Choose between six patterns
EN4O7-certified
GRILL HEAT AID BBQ Gloves Heat Resistant 1,472℉ Extreme. Dexterity in Kitchen to Handle Cooking…
List Price:
$49.97
Price:
$35.99
You Save:
$13.98 (28%)
Available from Amazon, BGR may receive a commission
Clean your gloves afterwards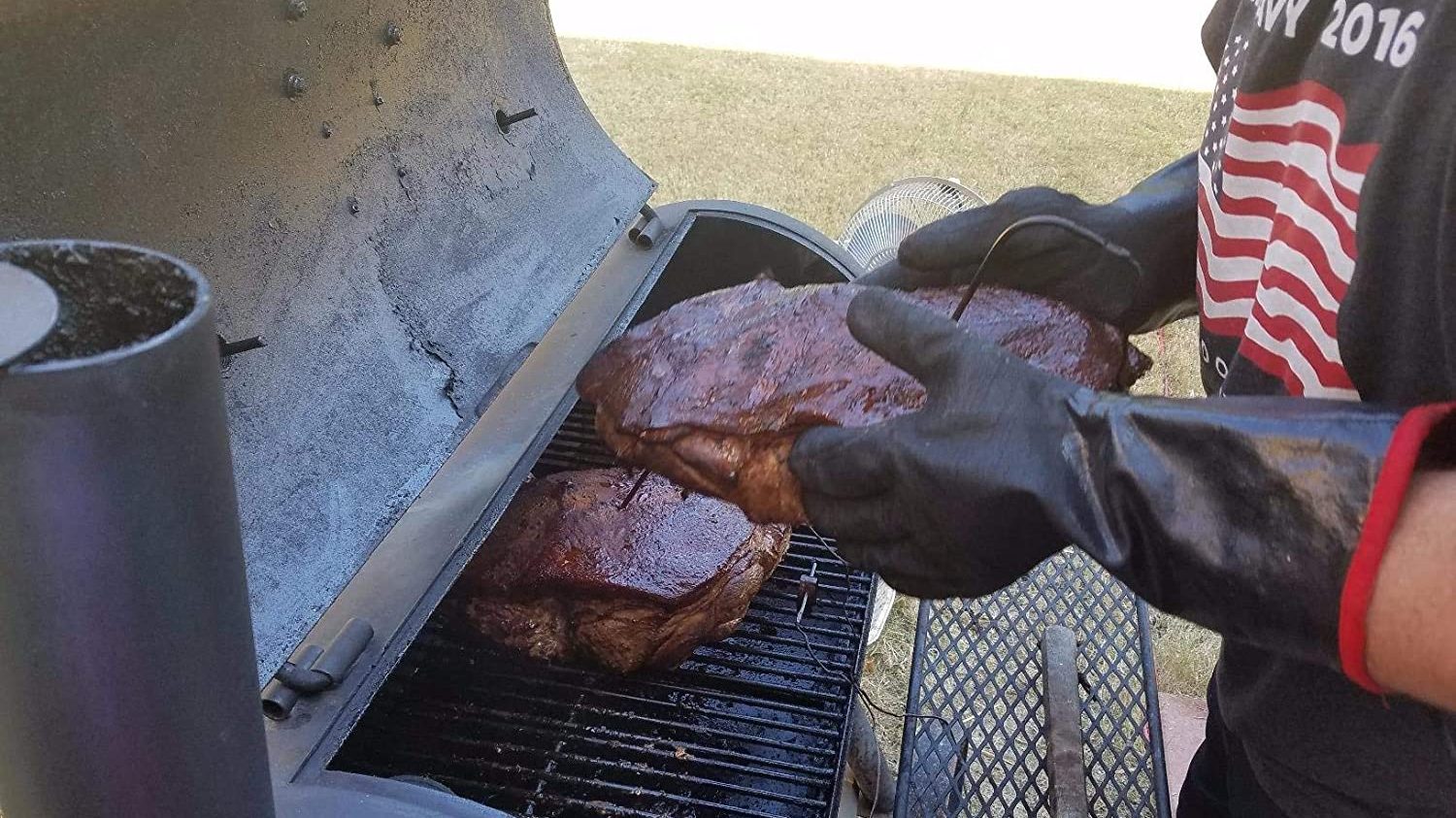 The RAPICCA BBQ Gloves are a great option to use. Made from food-grade neoprene rubber, they are waterproof, fireproof, and stain-resistant, allowing you to use them both indoors and outdoors. The insulated textured palm goes along with the five finger design that won't slip. The double layer soft cotton liner not only provides maximum comfort but also good insulation from the heat. They are resistant to grease, oil, and stains and can even handle hot or boiling water. You can hand wash them with a little soap and hang them to dry. These are also ideal for camping.
Key Features:
Waterproof, fireproof, and stain-resistant
Double layer soft cotton liner
Insulated textured palm
RAPICCA BBQ Grill Oven Gloves 14 Inches,932℉,Heat Resistant-Smoker, Cooking Barbecue Gloves, fo…
List Price:
$38.99
Price:
$25.99
You Save:
$13.00 (33%)
Available from Amazon, BGR may receive a commission
Don't slip as you're handling hot foods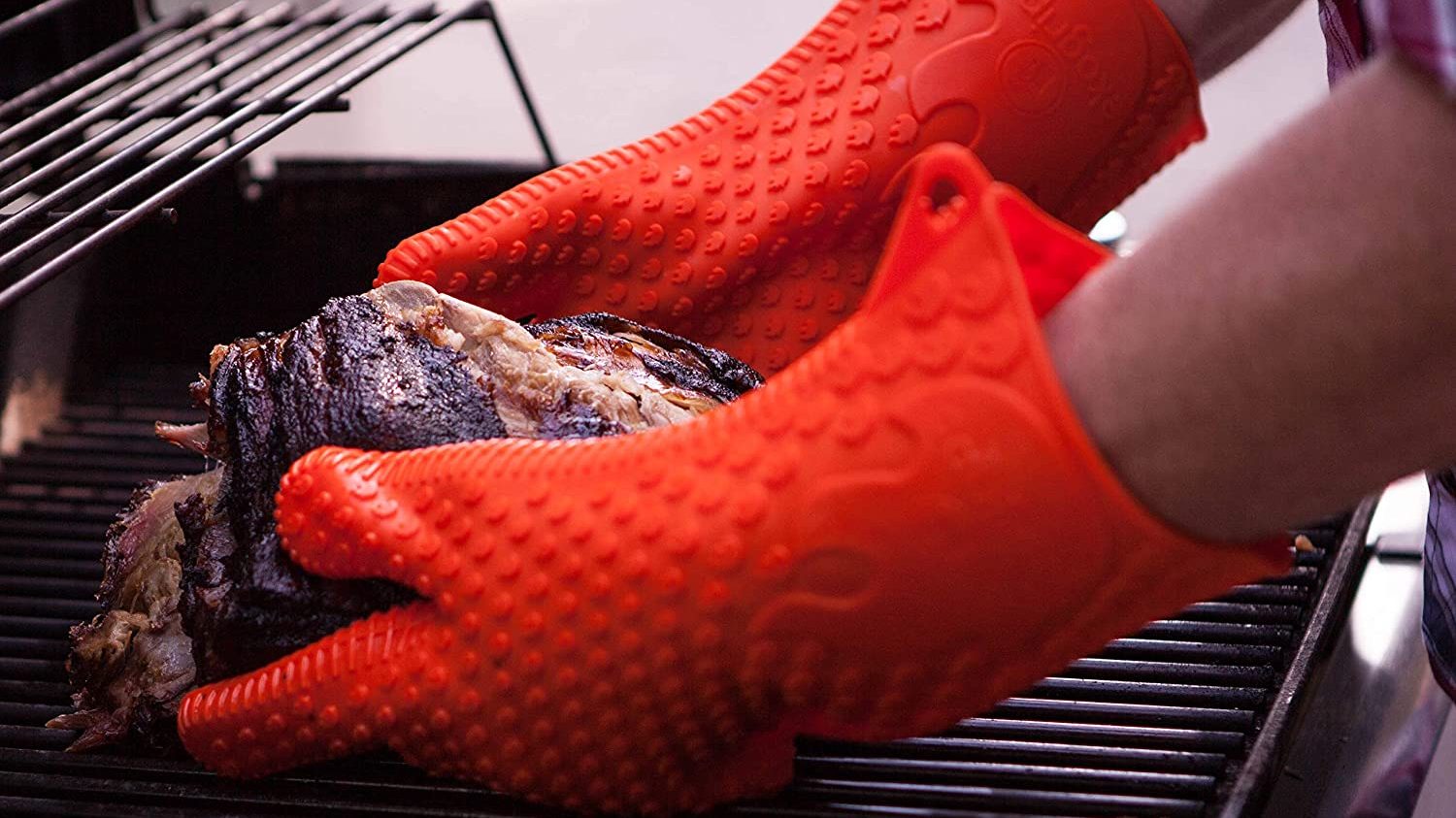 Thanks to the design of the Jolly Green Products Ekogrips Premium BBQ Oven Gloves, you'll have a firm grip on your items. This comes in three different sizes: one size fits most, L/XL, and XXL. These silicone gloves are heat-resistant up to 425°F and will fully protect both your hands and wrists. You'll maintain your full dexterity with the non-slip material, allowing you to do everything from open up your grill to changing a light bulb. They won't stain or smell and are 100% waterproof. The reinforced finger webbing prevents rips and tears.
Key Features:
Maintains full dexterity with the non-slip material
Won't stain or smell
Reinforced finger webbing
Jolly Green Products Ekogrips Premium Heat-Resistant BBQ Gloves for Cooking and Meat Handling,…
Price:
$28.55 ($28.55 / Count)
Available from Amazon, BGR may receive a commission
Handle the heat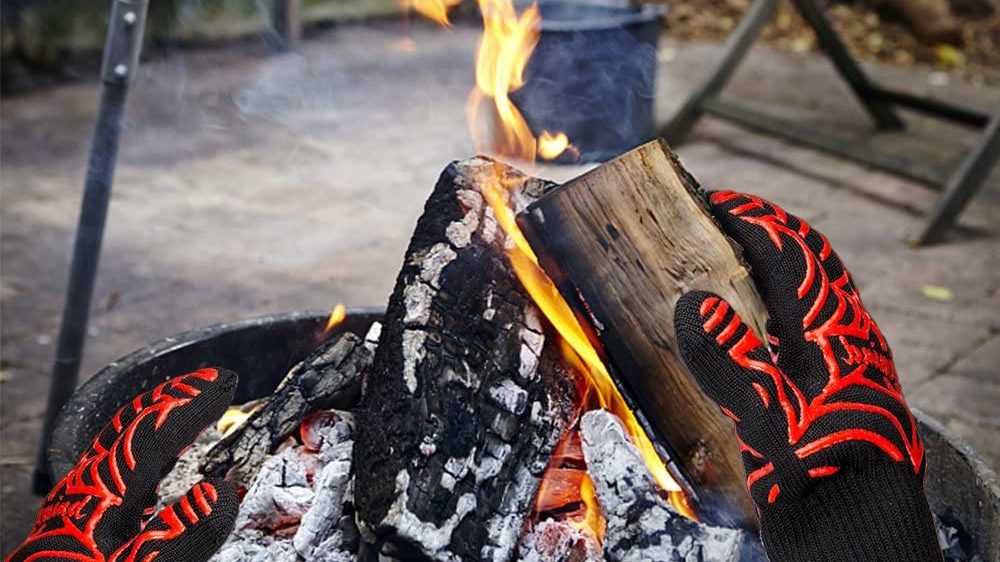 Using the Acmind BBQ Grilling Gloves will keep you safer wherever you're cooking. Wearing these will help with multipurpose cooking, as they can withstand temperatures up to 1472°F. Great to be used with the microwave, oven, grill, or stove, these will allow you to handle hot items without much problem. Each mitt is crafted from aramid fabric and they feature a 5″ cuff to keep your wrists and lower forearms covered. These are equipped with food-grade silicone grips.
Key Features:
Crafted from aramid fabric
Withstand temperatures up to 1472 degrees Fahrenheit
Equipped with food-grade silicone grips
Acmind BBQ Gloves, Grill Gloves 1472°F Extreme Heat Resistant, Grilling Barbecue Gloves for Smo…
Price:
$10.99
Available from Amazon, BGR may receive a commission
Cover more of your arms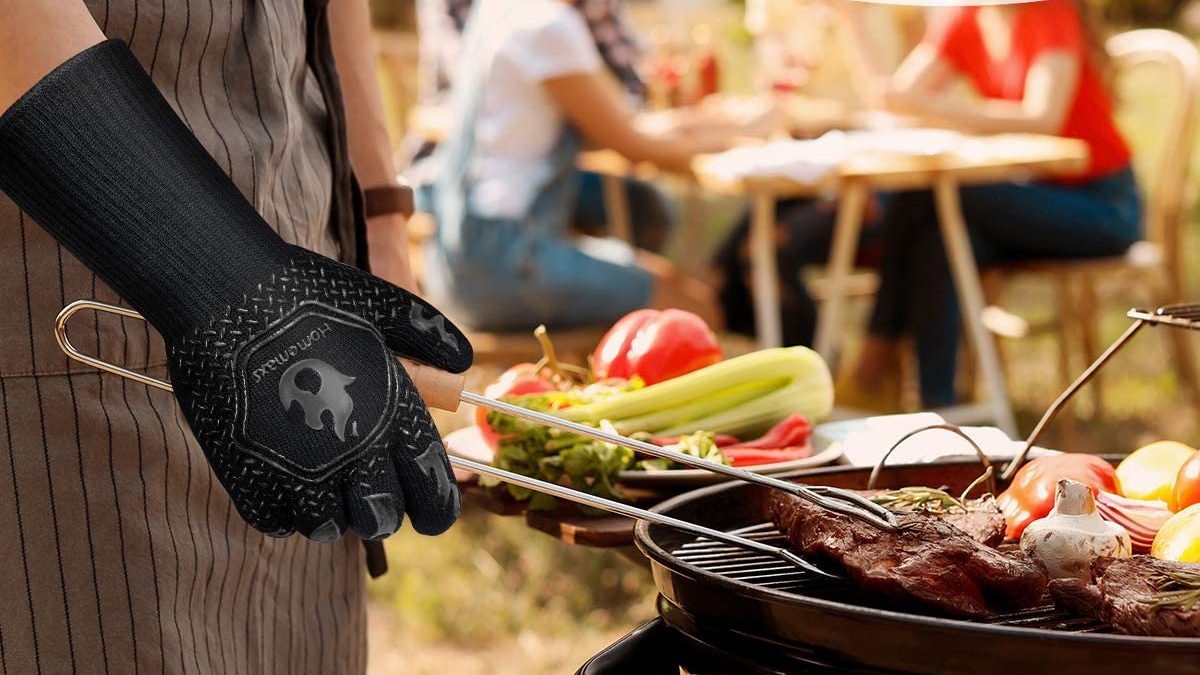 Reaching 14″ along your hands and arms, the Homemaxs BBQ Gloves are a smart investment. These come in either black or red and they consist of three layers of different materials and functions. They are four times stronger than leather and work to be flexible. The anti-slip, food-grade silicone they are covered in allows for safer handling of foods. They are breathable, so your hands won't be sweating while you're using them.
Key Features:
Four times stronger than leather
Reach 14″
Breathable
Price:
Available from Amazon, BGR may receive a commission