The Apple Watch SE is the most affordable Apple Watch model in the company's current lineup. Despite how cheap it is at full retail, however, there's an Apple Watch SE sale right now on Amazon that drops it to the lowest price yet.
While it's on sale, you can pick up the Apple Watch SE for just $219 in several different colorways. Or, if you want to get the best of the best, Apple's flagship Apple Watch Ultra is $69 off thanks to an extra discount applied at checkout. That drops it to $729.99, matching the lowest price ever for this model.
Our extensive guide on the best Apple Watch deals includes so many deep discounts on Apple Watch models. As a matter of fact, every different smartwatch that Apple makes is currently on sale at the lowest price ever.
That includes Apple Watch Series 8 discounts that drop as much as $70 off the retail price. Or, if you're willing to get the previous-generation model that's almost the same, you'll save up to $340 on the Apple Watch Series 7.
But today, I want to focus on two other Apple Watch models.
First up, we have Apple's cheapest smartwatch model. The Apple Watch SE is perfect for people who want all the core features of an Apple Watch, but who don't want to spend $300 or more to get it. Even at full retail, the Apple Watch SE starts at just $249 for the 40mm model or $279 for the 44mm version.
But right now, while it's on sale, the Apple Watch SE starts at just $219. That matches the lowest price ever for Apple's 2nd-generation Apple Watch SE. Also of note, several different colorways are available for $219 right now, so you can pick your favorite.
On the other hand, some people want it all, and they don't mind spending a bit more money to get it. If you fall into that category, you're probably eyeing the Apple Watch Ultra.
I personally love the Apple Watch Ultra, and I would definitely get one for myself despite the $799 retail price. The only thing stopping me is the huge 49mm case that's way too big for my wrist. If you like a larger watch, however, the Ultra is easily the cream of the crop.
The Apple Watch Ultra has a completely new design and a gorgeous titanium case that's scratch and dent resistant. It also has an extra Action Button on the left side and several features that are exclusive to the Ultra model. That means you won't find them on the Series 8 or the SE.
All of that comes at a price, of course, and in this case, it's $799. While the Apple Watch Ultra is on sale at Amazon, however, you'll pay as little as $729.99. That's a $69 discount, and it matches the lowest price ever for this model.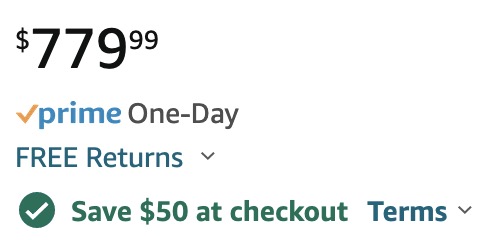 Note that the price shown on the product page is $779.99, but then an extra $50 is taken off at checkout. The extra $50 discount is only available on a few different SKUs though, so you'll have to dig around to see which models have the added discount.