If you purchase an independently reviewed product or service through a link on our website, we may receive an affiliate commission. Learn more.
Let's be honest: anybody can make poached eggs. Whether or not they can make them well is up to interpretation, but pretty much anybody can put an egg in a pan and cook it for a certain amount of time, or use a microwave egg poacher.
Depending on how you like your eggs cooked though is where the real culinary skills start to come out. Over easy, over medium, or over hard mostly just have to do with how long you cook the egg. But when you're doing something like poaching an egg, there's a mastery to it.
If you want to become good at poaching eggs, you should use an egg poacher pan or tool. This will give you that water bath approach to this method and will get your breakfast the exact right consistency. Using any of the egg poachers we've handpicked below will help you achieve the perfect poached eggs for the Eggs Benedict you're making for your next brunch. Let's take a look at our picks for the best egg poachers. We even found a microwave egg poacher!
Hold more poached eggs in a non-stick poacher
---
Making up to half a dozen eggs at once, you'll be hard-pressed to find a better egg poacher for a family than the ExcelSteel 522 Non Stick Cooktop Egg Poacher pan. This is easy to use and it is completely rust-resistant, so it will last a long time. The stainless steel construction is built for durability purposes and it has a handle that stays cool, no matter how long its on the induction stove top. It's safe to wash in the dishwasher, so you don't have to worry about scrubbing. Plus, the non-stick coating makes it easier to clean and get the eggs out of their cups. You won't struggle extracting the six eggs, as they are delicate. You don't want that delicious runny yolk to not be on your sandwich or plate when it starts running.
Key Features:
Stainless steel construction
Non-stick coating
Can cook six eggs at once
EXCELSTEEL Non Stick Easy Use Rust Resistant Home Kitchen Breakfast Brunch Induction Cooktop Eg…
Price:
$28.99
Available from Amazon, BGR may receive a commission
Microwave egg poacher? Use this silicone cup
---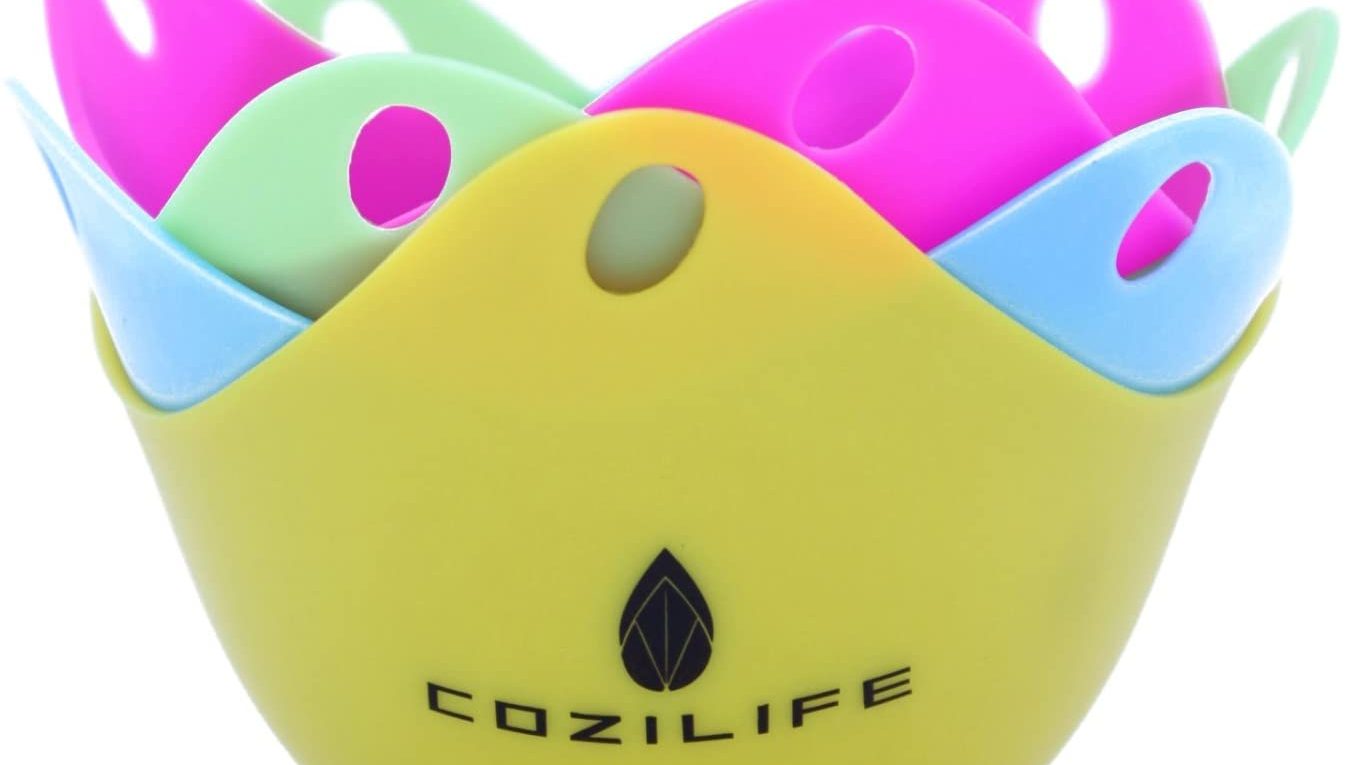 While the COZILIFE Silicone Egg Poaching Cups are great for poaching eggs, there's a lot more that these can do. These can also be used for cakes, desserts, and Jell-O molds or to melt chocolate in. You can also heat pasta sauce or steam vegetables right in the cups as well. This comes in a pack of four and they are different colors, so you can keep track of different tasks that way. These have built-in ring standers, so they'll stay upright in the pot when you're poaching. The eggs will evenly cook and won't move around, even as the water is boiling. You can either toss them in the dishwasher or you can hand wash them to clean them. This microwave egg poacher makes it easy to make breakfast and can also withstand temperatures up to 405°F.
Key Features:
Used for cakes, dessert, and Jell-O molds
Built-in ring standers
Suitable for microwave use
Egg Poacher – COZILIFE Silicone Egg Poaching Cups with Ring Standers, For Microwave or Stovetop…
List Price:
$14.97
Price:
$10.97
You Save:
$4.00 (27%)
Available from Amazon, BGR may receive a commission
Take your eggs out more easily with an anti-stick egg poacher pan
---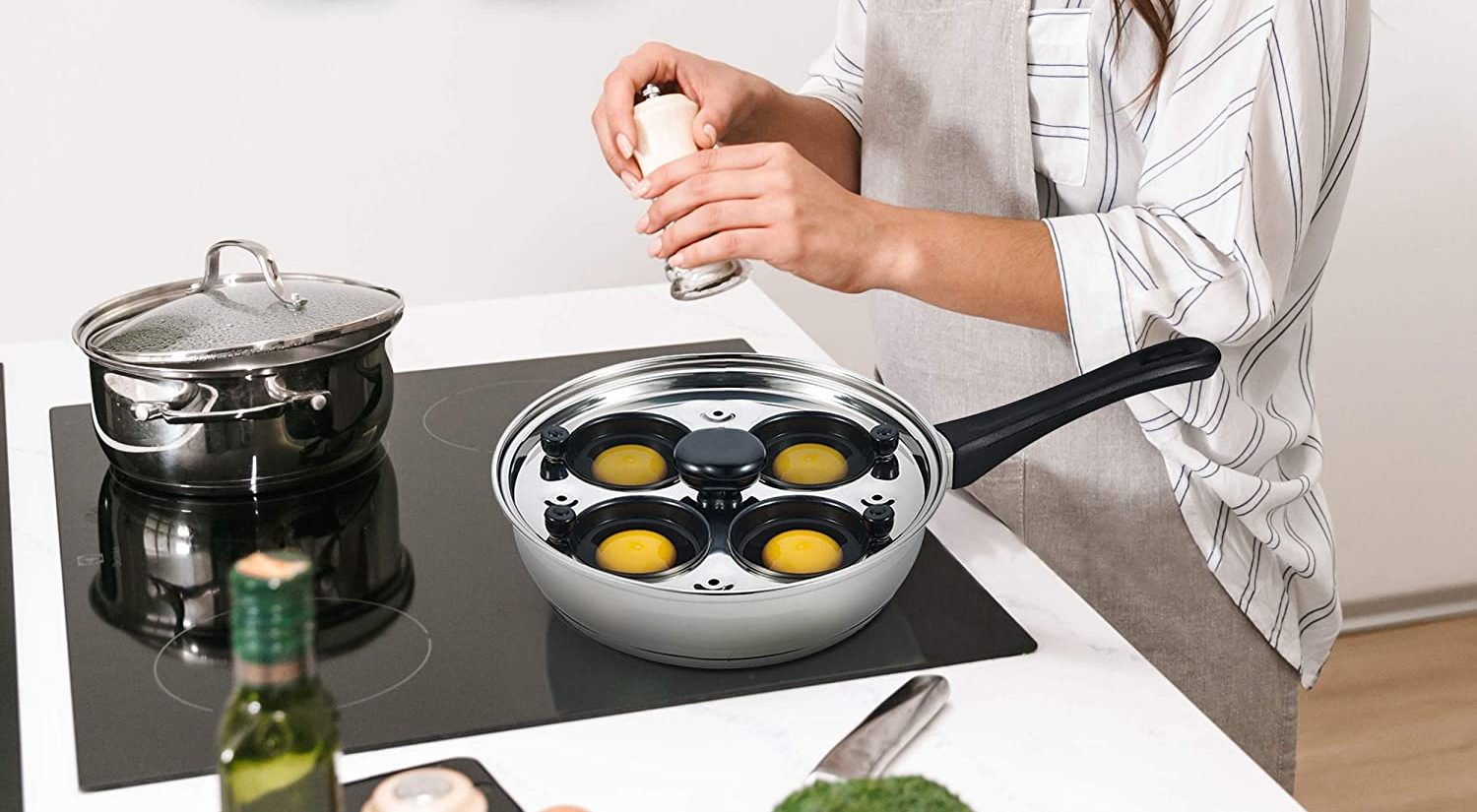 Having to scoop your eggs out of the poacher can be difficult and for the clumsiest of us, you can see your poaching work undone really quickly. But that is less likely if you have the Eggssentials Poached Egg Maker. This features new and improved 75ml cups with PFOA anti-stick coating so you can prepare four extra large eggs at once. It also includes a granite, non-stick frying pan with a lid. After you put an egg into the cup, it will cook on your stove top. Once you're ready to take it out, rather than having to lift up the entire maker, you can take out the individual cup, thanks to the cool-to-the-touch knob. That way, you can bring it directly to your plate rather than having to scoop it out with a spatula. This has a tempered glass lid, so you can keep an eye on your eggs and it can all be thrown in the dishwasher for quicker cleanup. There aren't hot spots because of the three-ply aluminum encapsulation on the bottom of the maker.
Key Features:
No hot spots
Prepare four eggs at once
Granite, non-stick egg poacher pan frying pan with a lid
Eggssentials Egg Poacher Pan Nonstick Poached Egg Maker, Stainless Steel Egg Poaching Pan, Poac…
List Price:
$37.97
Price:
$34.97
You Save:
$3.00 (8%)
Available from Amazon, BGR may receive a commission
OXO Good Grips Egg Poachers for 2
---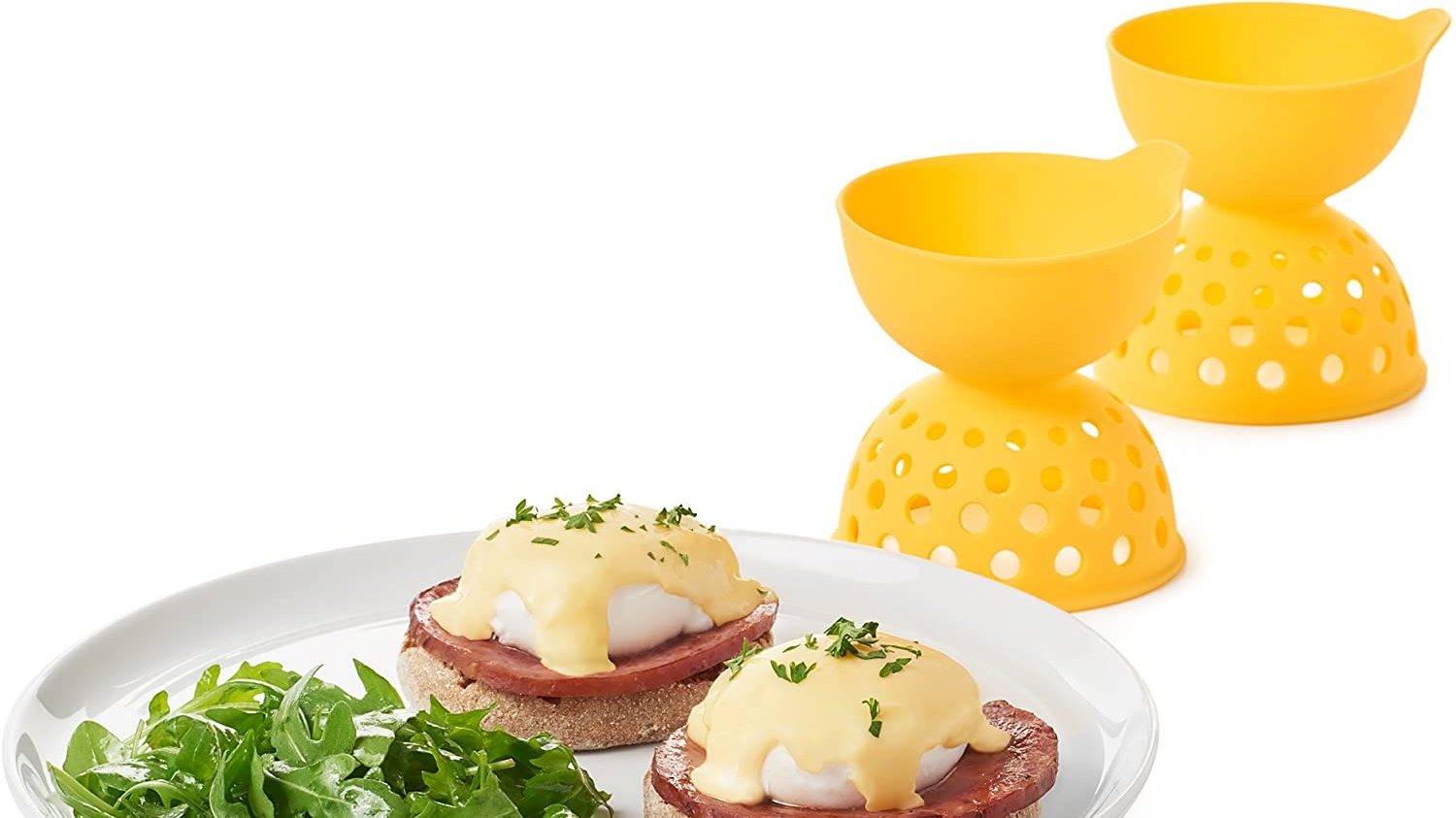 If you only need two eggs poached at a time usually, check out the OXO Good Grips Silicone Egg Poachers Set of 2. You'll be making your breakfast quickly and easily, thanks to the shape of these poacher cups. They are funnel-shaped that can guide the egg into the water and prevent the yolk from breaking. The hole pattern optimizes water flow to help your eggs cook more evenly when they are in the pot. These are made from heat-resistant silicone and are BPA-free.
Key Features:
Funnel-shaped
Hole pattern optimizes water flow
Made from heat-resistant silicone
OXO Good Grips Silicone Egg Poachers (Set of 2),Yellow
Price:
$11.95
Available from Amazon, BGR may receive a commission
Save some money on this pan that you can fit 4
---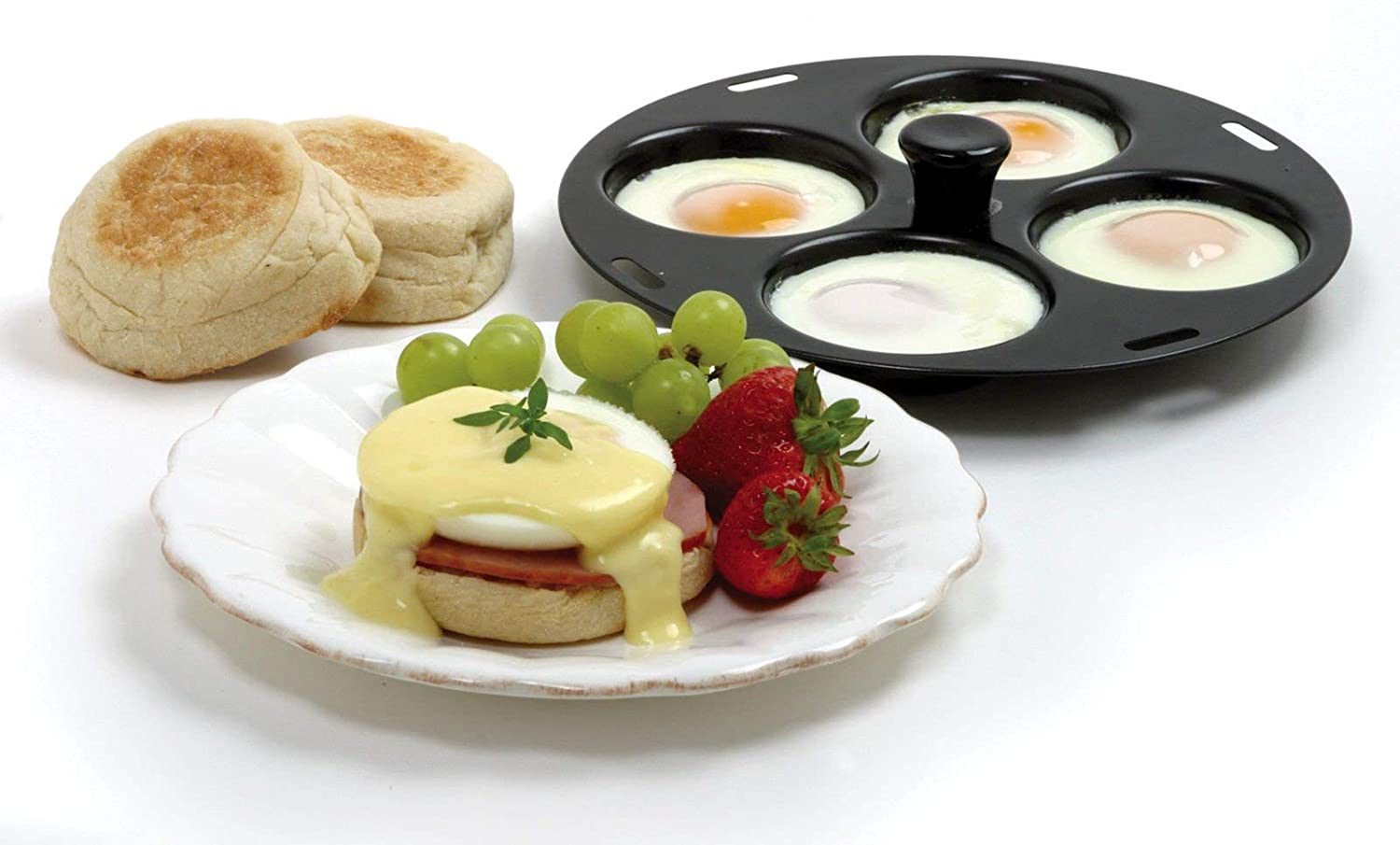 Perfect for us in a skillet or pan, the Norpro Nonstick 4-Egg Poacher is a great bang-for-your-buck purchase. You can do one to four at a time and this can be used in a cooking vessel that's nine inches or wider. These have a non-stick coating that makes taking the eggs out of the poacher easy. The stay cool knob in the middle protects you from burns and makes it easy to transport it in and out of the pan.
Key Features:
Made to be put in a skillet or pan
Poaches one to four eggs at a time
Stay cool knob in the middle
Norpro 992 Nonstick 4-Egg Poacher, 8.5 inch, Black
Price:
$12.62
Available from Amazon, BGR may receive a commission
You can also find the best egg ring for fried eggs here!
---
Our deals and product reviews are picked by BGR's expert editors and team.

Follow @BGRDeals on Twitter to keep up with the latest and greatest deals we find around the web. Prices subject to change without notice and any coupons mentioned above may be available in limited supply.