As radical as the iPhone X may look when compared to Apple's other recent smartphone releases, it's still a fairly standard-looking handset. Save for its edge-to-edge display and the camera housing notch, the iPhone X isn't really breaking any new ground. In fact, neither is Samsung, or really any other smartphone vendor for that matter. Which is exactly why ZTE's new Axon M smartphone, — which comes from way out of left field — is so intriguing.
When I was first introduced to the Axon M a few weeks ago, I was tempted to write the dual screen phone off as little more than a gimmick. After all, what would anyone possibly need two displays for, much less two display that could be folded together? But after being given a walkthrough of the potential use cases, I began to understand how and why someone might prefer to own a compact device with two distinct displays instead of just one.
When you first lay eyes on the Axon M, it looks like just another unspectacular Android smartphone. Measuring in at 5.2 inches, the display is smaller than that of many other flagship Android devices, and its massive bezels go against the trend of the all-screen phones that have begun to take over. But when you flip the phone over, you'll see a second display the same size as the first. This is where the Axon M takes on a life of its own.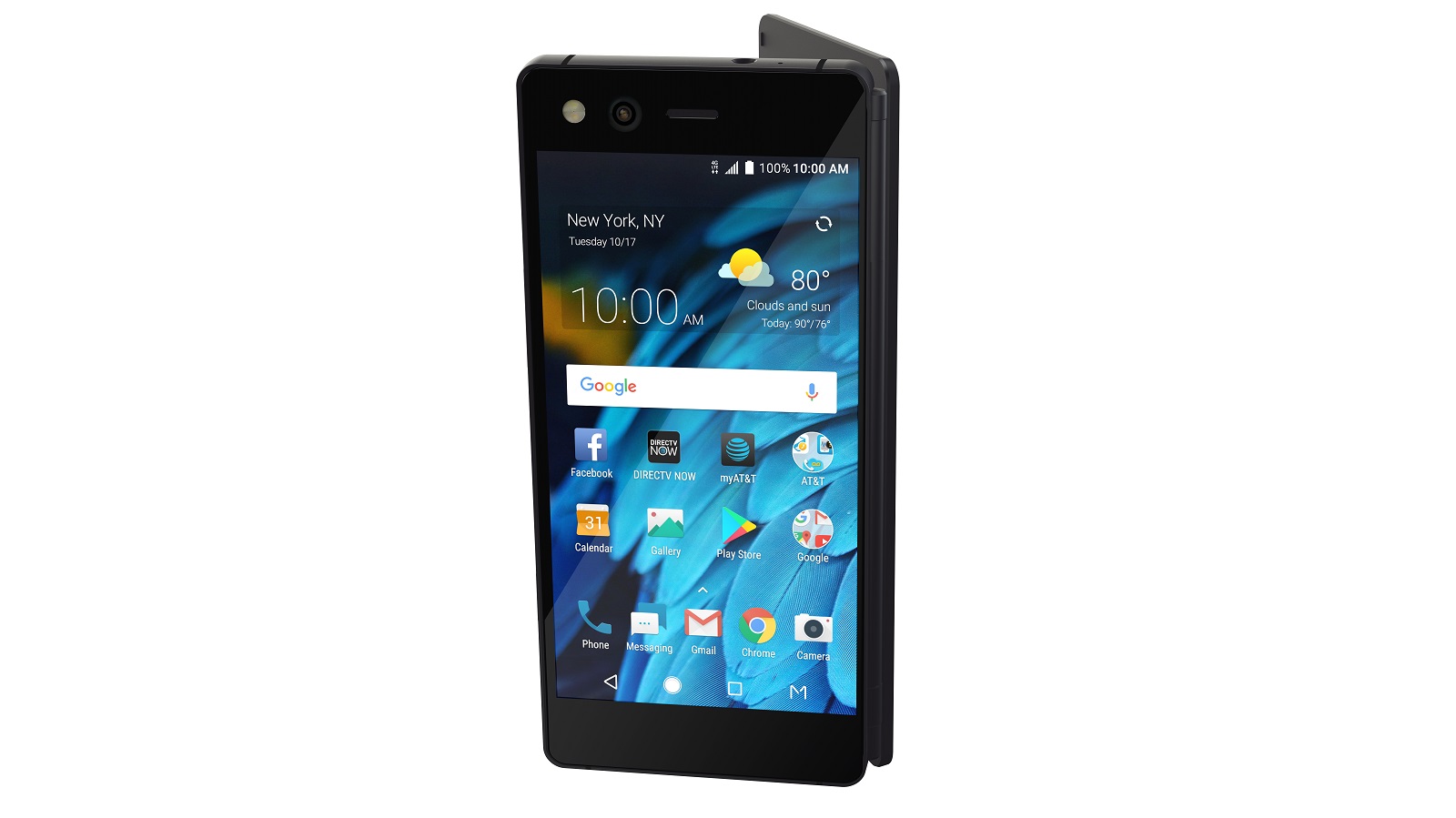 The display on the rear stays turned off until you begin to fold it forward, where it will eventually click into place alongside the other display. At this point, you have several ways you can choose to interact with the phone. When you press the "M" button at the bottom of the display (which you can see in the image above), a series of icons will appear in place of the standard Android buttons. Each of these icons will change the mode of the phone. There is an option to use both displays as if they were each distinct devices, an option to extend the display so that it stretches between both screens and an option to mirror the content on the first screen to the second.
In an extensive demo, I was shown a wide variety of ways that each of the display modes could be employed. With each display operating as its own phone, it's possible to run two apps side by side, so you could have an email open on one screen and then open the calendar on the second screen to pencil in the date and time of a meeting. ZTE also explained that social media was a major consideration when building the Axon M. With two displays, a user can watch Game of Thrones on the top screen and tweet about it on the bottom.
Because of the noticeable crease running through the center of the displays when the phone is folded out, the extended display isn't quite as seamless as I'd hoped it would be. That said, it's still quite a neat trick to be able to turn your phone into a tablet with the press of a button. As a device aimed at those who consume a lot of media on mobile, being able to watch YouTube, Netflix or DirecTV Now in full screen across two displays will be a major selling point. And finally, mirroring the display of the first screen on to the second seemed to be the least useful of the mode at first glance, but after playing Battleship with a ZTE executive across the table and watching as he conducted a deskside presentation from one display while I watched on the other, I understood why it was included.
Beyond the foldable dual screens, the Axon M is a capable Android smartphone. It features two 5.2-inch LCD FHQ displays, 2.15 GHz quad-core Qualcomm Snapdragon 821 chipset, 4GB of RAM, 64GB of storage (+ microSD card support), 20-megapixel camera with dual LED flash and dual image stabilization and runs on Android 7.1.2.
ZTE's Axon M will be available to purchase exclusively from AT&T this holiday in the United States for under $700. The phone will also be available in Japan, China, Italy, Russia and other markets to be revealed in the future. Every Axon M comes with a free Axon Passport 2.0 warranty and protection plan, good for two years.