If you prefer an AI chatbot to go off the rails, Microsoft has a setting for you!
Today, Microsoft rolled out another update to Bing chat, the company's new AI chatbot powered by OpenAI's ChatGPT technology. Today's update, rather than being a change to how long a conversation you can have with the chatbot or what devices it is available on, is more focused on the type of conversation you might prefer to have with it.
Now, those who have been invited to use the new version of Bing will be able to choose the conversation style that they want to have with the AI chatbot. Microsoft says that you can now set the tone of the responses by choosing between three options: Creative, Balanced, and Precise.
Creative, according to the company, makes the responses "original and imaginative, creating surprise and entertainment for you." Precise, on the other hand, make responses "factual and concise, prioritizing accuracy and relevancy for you." The last is Balanced, which Microsoft says is "reasonable and coherent, balancing accuracy and creativity in conversation."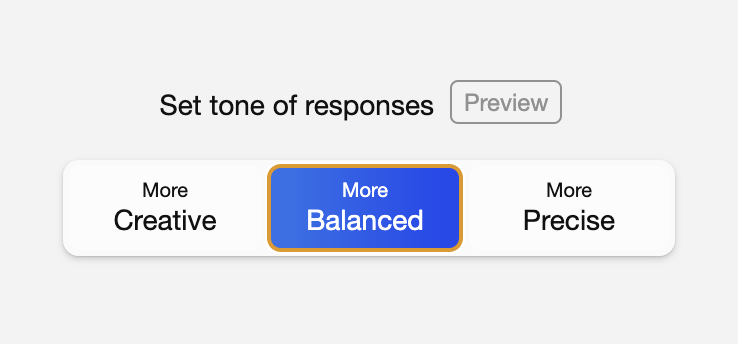 The company says that the conversational style feature is currently a preview, but it does appear to be available to all users that have gotten access to the new Bing AI chatbot. So, feel free to ask the same question with each style and see what you get!
The rollout of conversational styles comes in the same week that Microsoft rolled out a big update for Windows 11 that included bringing the new AI-powered version of Bing right into the taskbar. The company also recently rolled out the new version of Bing on its iPhone app. OpenAI, the company behind ChatGPT and the AI technology that helps power the new version of Bing, also announced this week that developers can now integrate the language model into their apps with a new API.