WhatsApp is the most popular smartphone chat app, an excellent alternative to iMessage that can bridge the gap between iPhone and Android when it comes to private texting. Like other instant messengers, WhatsApp also lets you send audio voice messages to friends and family, which can come in handy in various situations. And a new finding shows that Meta is looking to improve this WhatsApp feature by adding a transcription feature to audio messages.
Sending a voice message via WhatsApp is a lot more convenient than a typical voicemail. You press the button, record what you have to say, and send it away. The recipient can then listen to it whenever they want. But there are plenty of reasons why a voice message can be more annoying than a text exchange.
You might receive a critical message at a time when it's inconvenient to listen to it. Or the voice message might contain private information you don't want others to hear. That's where the WhatsApp voice message transcription feature would come in handy.
Not to mention the WhatsApp users who might be hearing impaired and can't benefit from the convenience of voice messages.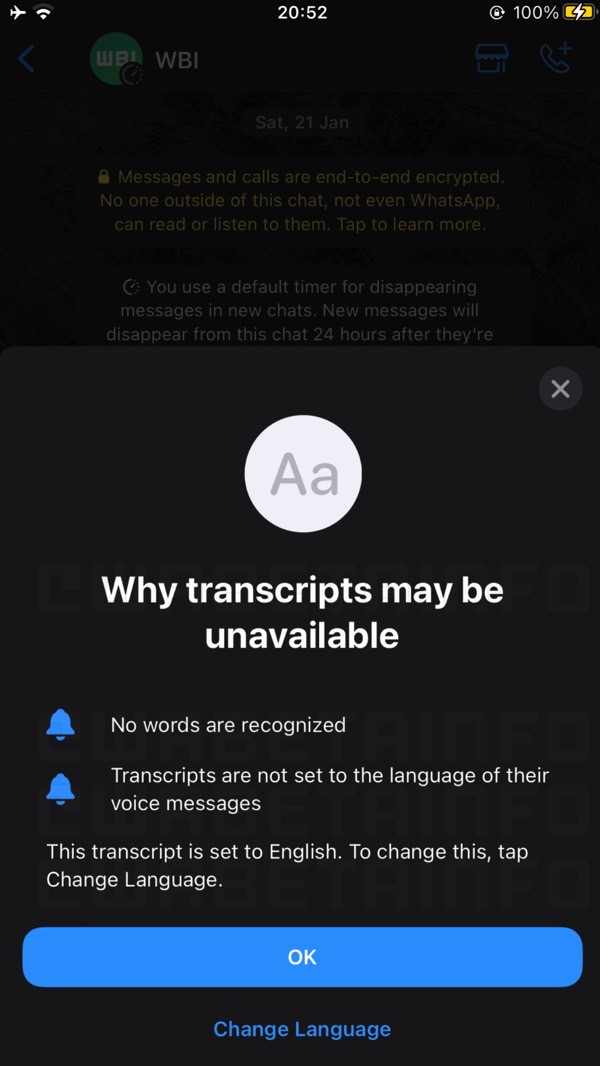 According to WaBetaInfo, Meta has resumed the development of the WhatsApp audio transcription feature. The same blog reported the feature was in development in September 2021. But then Meta stopped working on it.
However, it appears that Meta has resumed work on transcription support for WhatsApp audio messages. The blog found a new introduction screen in the latest WhatsApp beta app for iPhone.
The splash screen above explains the cases where voice message transcription will not be available to users. For example, the prompt informs the user that transcripts are unavailable when words are not recognized or when the voice note is set to a different language.
As for the privacy of WhatsApp voice messages, WaBetaInfo explains that transcription always happens locally on the device. The app downloads the relevant language packs to perform the transcription. The resulting text isn't available outside of WhatsApp, which is what we would expect in terms of privacy.
After all, Meta keeps reminding users that WhatsApp protects all chat and call contents with end-to-end encryption. The same layer of privacy is expected from a transcription service built into the app.
The prompt comes from an iPhone, but WhatsApp for Android should also let users transcribe voice messages once the feature is ready to be released. It's unclear, however, when Meta will launch the WhatsApp voice transcription feature.
Meanwhile, the latest WhatsApp update should fix errors with sending documents, so you should update the app as soon as possible.