Those virtual bedrooms in the second episode of Season 1 of Black Mirror — the rooms with different projections on the walls that the occupants could interact with and which surrounded them — are about to be a real thing, thanks to a Barcelona-based startup.
After a few years of work, Broomx has begun releasing the first versions of its MK Player360 VR projection system in Spain. Once it's set up, the user can control it via a smartphone app and have their entire field of vision inside a room covered by projections. The company wants to basically give users a headset-free VR experience. And Broomx chief communications officer Ignasi Capella says the company has big ambitions — making the projector units eventually available across Europe as well as in the U.S., where Broomx says it's already garnered interest from places in California and elsewhere.
For now, the company is starting with B2B customers. Rather than some geeky vanity project, the company is positioning the units as perfect for use in industries from real estate to health care.
"One of the features our projector gives you is the possibility to connect anything that can be connected in a room, like lights," Capella tells BGR. "We can synchronize those elements with the projection, with the scene you're watching. So, like, underwater — we have one experience where you can see waves, and the lights of the room, they turn blue. And the bed is moving like the waves. When you go underwater and there are no waves, the bed stops moving."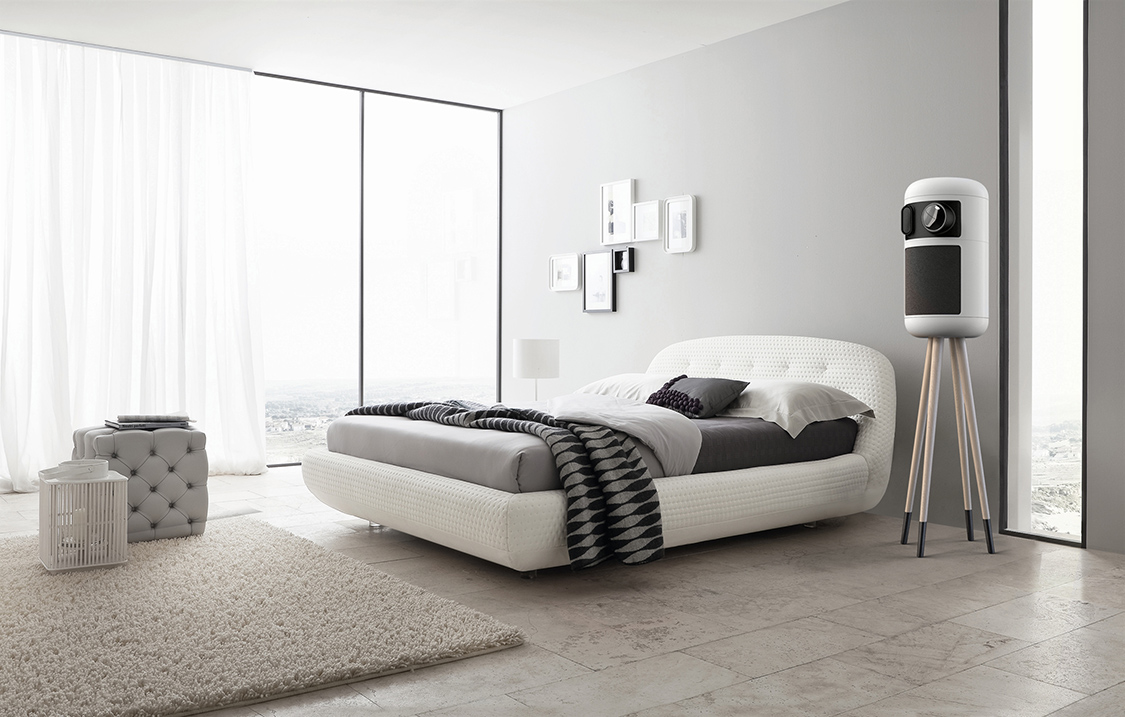 Broomx can also connect the projection units to services like Google Maps and Google Street View to give users a virtual tour of their cities, which could be useful in a real estate setting. For things like events and promotional campaigns, the units can project virtual social walls with content like photos from Twitter and Instagram that can be constantly refreshing on the walls.
Repositioning the content, like dragging it around a room, can be controlled through a smartphone app.
The Broomx team includes a mix of interior, product, front-end and graphic designers, as well as hardware and software engineers, video artists, 360-degree content creators and more. The company had a presence earlier this year at CES 2017, with Capella writing a summary of his experience this year in Vegas at the Barcelona tech news website Barcinno.
The company, he wrote, is a "technology-based startup from Barcelona with a creative soul, and we have created a unique home-projection system to enjoy VR & 360° media content without the need of VR headsets or other devices called MK Player360."
With its system, he continued, Broomx can create immersive 4D experiences in any room or corner with projections that cover a user's entire field of view. Some examples of its work are available via its YouTube channel:
The company had a presence at CES partly to meet potential partners to support the development of its technology. And it most certainly wasn't the only one.
A recent report from research firm SuperData estimated the worldwide VR market hitting $38 billion by the close of the decade, some 20 times above where it stood in 2016.
This year, according to the report, the market will grow to almost $5 billion, up from 2016's $1.8 billion. The report goes on to put North America as the fastest-growing market for VR, growing to $403 million from $97 million in 2016.
Broomx, for now, sees abundant opportunity in those numbers.
"We're launching in our first phase here in Spain, and we're working to come to the U.S. by next year," Capella said.