Verizon, a company that said last year that unlimited plans are "unnecessary" and "do not work," just released details of a brand-new unlimited data plan. It's now the third wireless carrier in the past year to go big on unlimited data plans, cementing the notion that unlimited is the new normal.
So with Verizon, T-Mobile and Sprint all now offering very similar plans at remarkably similar price points, how should you choose which carrier to go with?
To help you decide, we've broken down the different unlimited plans from Verizon, T-Mobile and Sprint into a few categories, and gratuitously ranked them for your decision-making pleasure. AT&T isn't included, because it only offers an unlimited plan to customers who also bundle cable TV and internet packages. That isn't an option for many subscribers, and even if it were, forced bundling of services probably constitutes cruel and unusual punishment.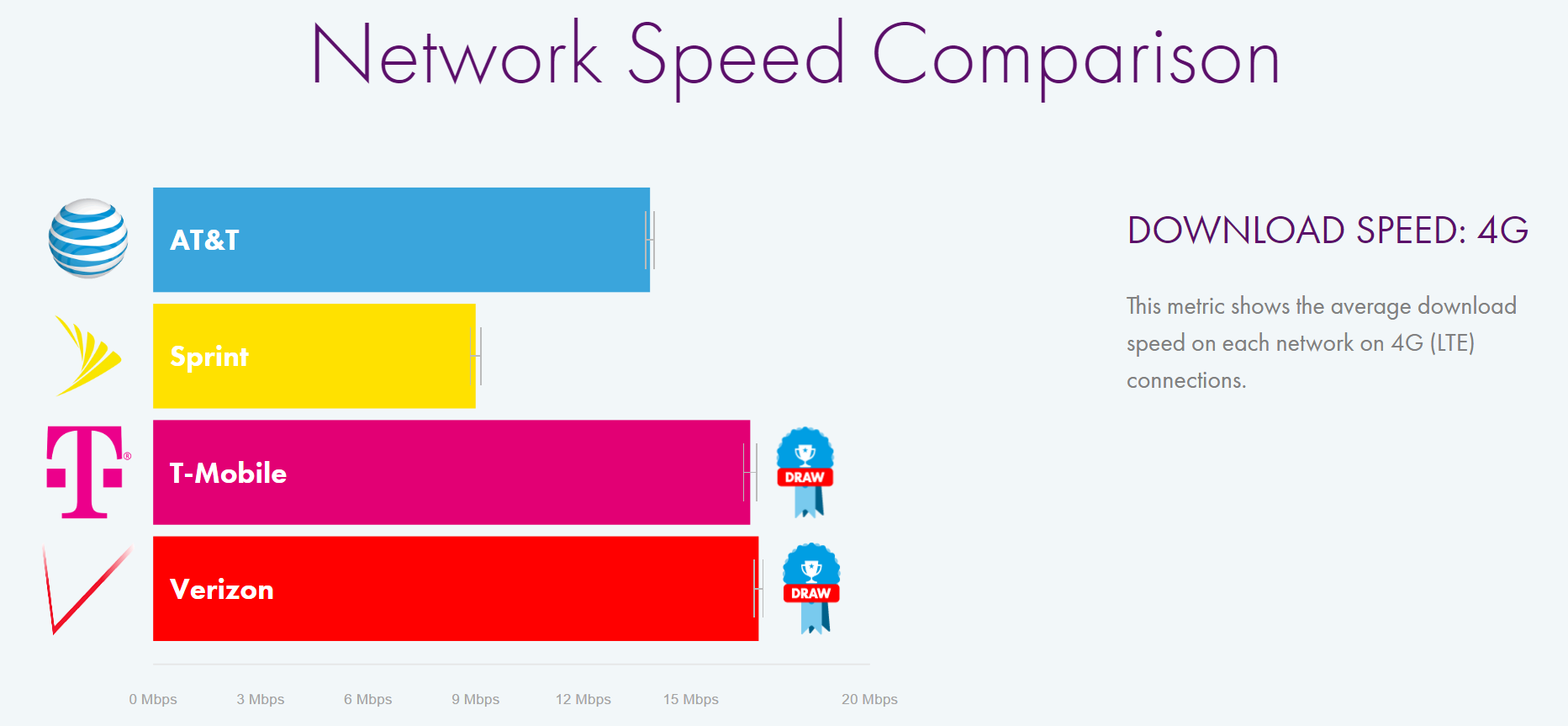 Network quality
Before we delve into how much you should pay to whom, take some time to work out exactly what you're paying for. Verizon has a reputation for having the most extensive (and fastest) wireless network, which appears to be deserved. In the recently-released OpenSignal State of the Networks report, which uses hundreds of thousands of customers to test network speed and signal, Verizon came in tied first place overall with T-Mobile.
The report found that T-Mobile and Verizon customers had identical average download speeds, about 14Mbps. Verizon customers could get a signal slightly more often, 88% of the time vs 86% for T-Mobile customers. Sprint, during all this, languishes in last place for network speed and availability.
Other methods of testing networks, like PC Mag's annual drive-test, do tell a slightly different story. Verizon is still in first place, but for download speed and availability, Sprint was right up there with T-Mobile.
More important than any of the national awards is going to be your own personal experience. You probably don't care what network performance is like in Boise, Idaho if you live and work in NYC, so the most important thing is to use a tool like OpenSignal's crowdsourced coverage map to check what performance is like in your neighbourhood. Even better, talk to colleagues or friends, or even pick up a prepaid SIM from different networks to check coverage for a few days.
Winner: Verizon
Most generous unlimited plan
I know what you're thinking: I thought unlimited meant no restrictions on data? If only.
All the unlimited plans offered by T-Mobile, Verizon and Sprint aren't actually unlimited. They all offer unlimited 4G data up to a point, but if you go over the generous data limit in a given month, your data speed will be throttled. In addition, there are limitations on the quality of video or music you can stream, and a specific restriction on the use of your phone's Mobile Hotspot function.
It's meant to stop people abusing a cellular data connection as an alternative to home broadband, as the data caps are tough to burn through with typical mobile device usage. But if you're always streaming video or music on the go, or you tether your laptop to your phone frequently, you'll want to dig into the fine print.
The T-Mobile One plan gives unlimited LTE data up to around 28GB per month, after which T-Mobile says you "may" be throttled depending on network congestion. Video streams are limited to 480p, and tethering is limited to 512Kbps, which is 2007-era broadband slow. For an extra $25 per month per line, you can unlock HD video streaming and unlimited 4G tethering, along with other benefits like overseas calling.
Verizon's new plan has fewer limitations, but a lower data cap. You'll be throttled at peak times after using 22GB of data per month. You can stream videos in HD, and you get up to 10GB of tethering data at 4G speeds, after which you'll be throttled (just for tethering) to 3G speeds.
Sprint's plan also throttles after 23GB of usage. In addition, you only get SD video streams, and 3GB of mobile hotspot data, after which you're tethered to 2GB speeds, better known as unusably slow.
Looking at all this, Verizon's base plan is the best for heavy data users. It offers far more mobile hotspot data and HD video streams, although depending on the price (which we'll come to in a second), T-Mobile's extra $25 upgrade for HD video and unlimited 4G tethering might be better value for some people.
Winner: Verizon/T-Mobile tie
Roaming
All the plans offer some kind of roaming options. Verizon's is the harshest, charging you $10 per day to use your device while overseas, with an upper limit of 500MB per day. Sprint includes roaming, but only free texts and 2G data in most countries. You do, however, get free unlimited calling and texting in Mexico, Canada and Latin America, and 1GB of data to use in those countries.
T-Mobile offers unlimited texting and 2G data in 140 countries, including most of the ones you'd want to visit. You can upgrade that to actually usable data by buying the extra $25 plan, which also gets unlimited HD video streaming and mobile hotspot.
Winner: T-Mobile, Sprint close second
Price
Probably the thing you care about most is how much a plan is going to cost you. Unfortunately, the math varies greatly depending on how many lines you have. In true mobile carrier fashion, there's also taxes and fees to consider.
The taxes and fees charged by carriers vary by state, and carriers also make this information obscenely hard to find. Having spent most of my morning on hold with sales reps from various carriers, I made an estimate of how much your bill would be for one to four lines from the three carriers.
Based on the rough estimate, Verizon is the most expensive, thanks to a $20 per-line access fee that's applied on top of the plan cost. On top of that, I estimated 15% of state fees, which is on the higher end of what you'd expect in New York. Other states get as low as 6%. T-Mobile's plan includes all applicable taxes and fees for the data plan, although if you subscribe to an insurance plan or a device upgrade plan, you'll see taxes and fees for that as well.
From the numbers, it's clear that T-Mobile provides the best value for money, provided that you don't tether data all too often. If you do, add $25 to each line to get unlimited tethering, which changes the economics a little.
Finally, it's worth noting that all the carriers have frequent promotions for free lines or discounts, so if you're switching a bunch of lines, it's probably worth waiting for a deal.