The latest Counterpoint Research study shows that US Android phone shipments plummeted 38% in Q2 while Apple's iPhones fell 6%. Even though smartphone shipments declined 24% YoY, Apple has a larger share comparing Q2 2022 (45%) to Q2 2023 (55%).
This is the third consecutive quarter of YoY declines; Counterpoint Research analyst Matthew Orf said, "Consumer demand for smartphones was tepid in Q2 2023, with the summer slump in sales coming early. Despite inflation numbers falling through the quarter and ongoing strength in the job market, consumers hesitated to upgrade their devices amid market uncertainty. We expect this trend to continue through Q3 2023, but the expectations from the upcoming iPhone 15 remain bullish."
That said, this is not only bad news for Android manufacturers, as the foldable market has reached important milestones in the quarter, according to senior research analyst Maurice Klaehne. "Motorola launched the Razr+, its first foldable device in the US since 2021, and Google launched its first-ever foldable, the Pixel Fold, providing alternatives to the Samsung Galaxy foldables. With new Galaxy Z Flip and Z Fold devices coming from Samsung in Q3 2023, foldable shipments could reach their highest level ever in the US in Q3 2023."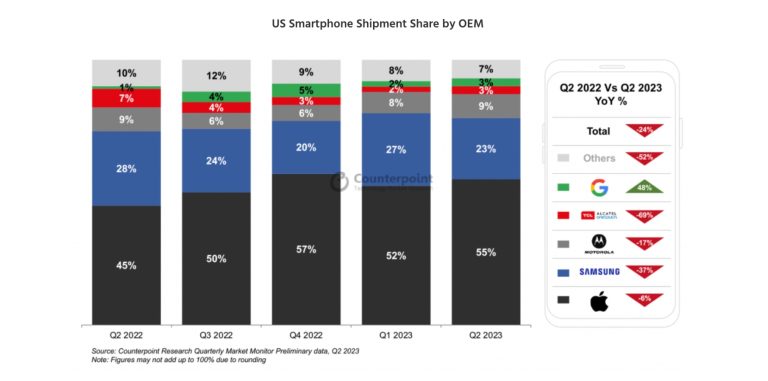 Despite overall fewer shipments, Apple had a strong position in Q2 shipments. The associate research director Hanish Bhatia explains that "strong promotions across postpaid and prepaid" plans helped keep momentum as the carriers continued to offer $800+ promo credits for the iPhone 14.
With that in mind, Counterpoint Research expects that a stronger iPhone 15 demand could offset weakness across Android in Q3 as Apple will likely announce its new flagship phones in about a month.
This new series will bring a Dynamic Island design to all four iPhone 15 models. Recent rumors show Apple is planning to add a 48MP main camera to all models, even though the Pro versions will get a few extra features, such as a periscope lens on the iPhone 15 Pro Max.
Even though Apple might not ship as many iPhone models as analysts first expected, a higher price-point for the iPhone 15 Pro models can help the company improve revenue. At the same time, the regular phones will continue to grow over the life cycle and benefit from discounts and carrier promotions.