Honor unveiled the Magic V2 foldable a few weeks before Samsung launched its 2023 foldables. And Honor's new device is incredibly thin. It's about the same size as the iPhone 14 Pro when folded. I said the Magic V2 seemed too good to be true when Honor unveiled it. Since then, BGR actually managed to test the foldable and see how amazingly thin it is: Here's our Honor Magic V2 review.
Unfolded, the Magic V2 measures just 4.7mm thick. Inside each half, there's a battery that's just 2.7mm thick. And thanks to an Honor Magic V2 assembly video, we now know that these special crazy-thin batteries are the key ingredient that makes the Magic V2 possible.
What are silicon-carbon batteries?
We discussed silicon-carbon batteries earlier this year when looking at a different Honor flagship phone. We learned at the time that the Honor Magic 5 Pro is the world's first handset to use a silicon-carbon battery. But that battery tech was restricted to China, we learned later from the company.
The silicon-carbon designation refers to the anode. It's still a Litium-ion battery, as you still use lithium ions to generate electricity. Silicon-carbon replaces graphite inside the battery pack.
The advantage of silicon-carbon batteries is that they're denser than graphite batteries. That means you can increase the battery capacity without increasing its size. And this is a key development for foldable phones. Silicon-carbon batteries can also recharge faster.
To better understand why silicon anodes represent such a crucial innovation for battery tech, you should check out CNBS's video above before we look at the Magic V2 battery tech. It focuses on electric vehicles, but everything in it also applies to smartphone battery tech.
Shrinking down foldables is all about the battery
Any smartphone vendor can create an incredibly thin foldable. The tech exists for durable, foldable displays. The same goes for the hinge, which has seen several improvements over the years. As for making a thin metal chassis, that's also doable.
Battery life is the real problem here. You need a decent battery for a phone with a display that large, and with a secondary display on the back. The internal components also have to be high-end, as foldables have to be flagship devices.
Therefore, you need a big battery pack inside the phone to ensure decent battery life. Put differently; you can't shrink the foldable phone without ensuring the much thinner battery packs inside it can deliver great battery life.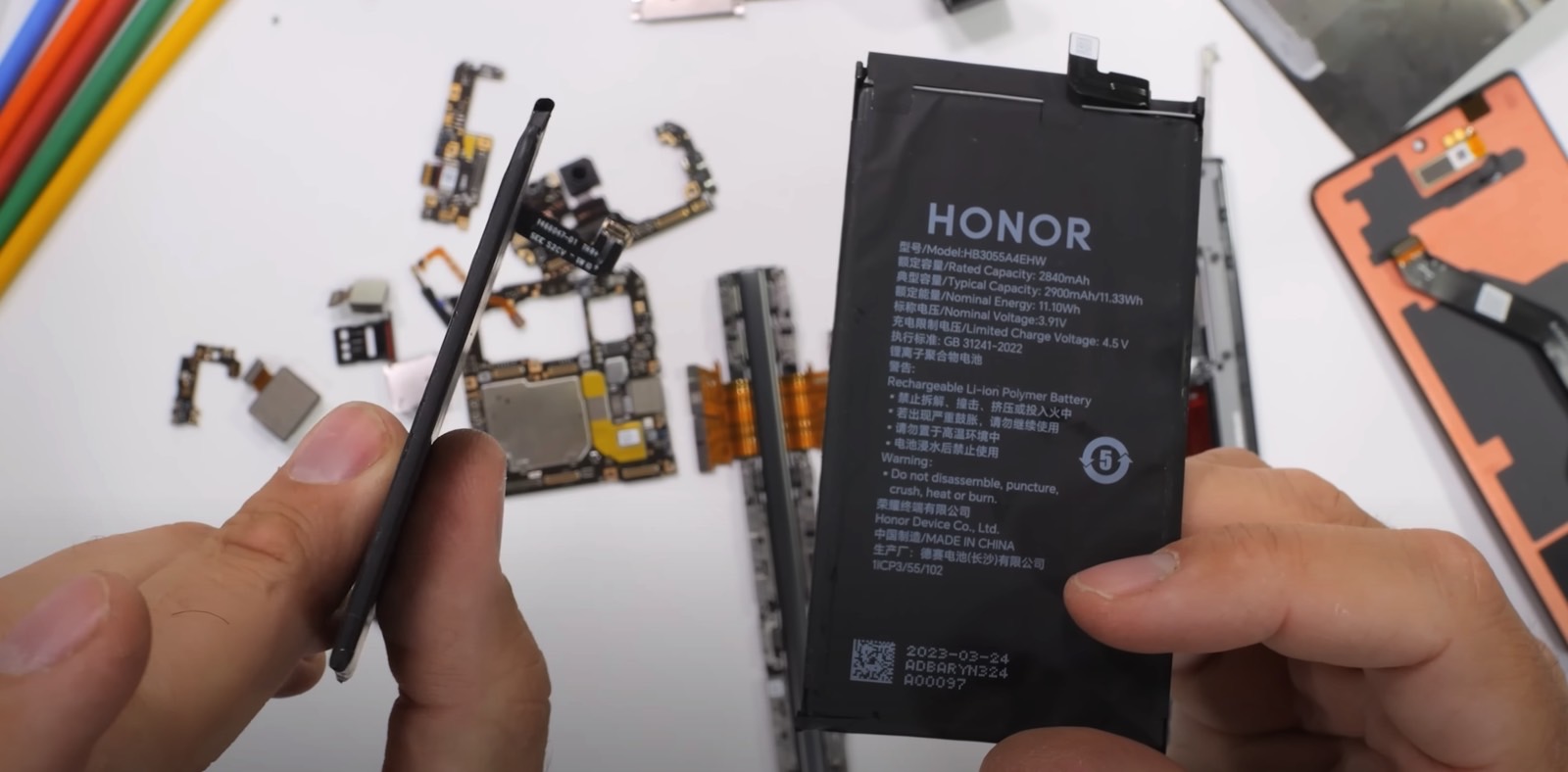 Honor Magic V2 batteries
That's where silicon-carbon tech comes in. And the Honor Magic V2 features silicon-carbon batteries. That detail came out of YouTuber JerryRigEverything's new clip, where he assembles a Magic V2 foldable.
"The batteries are probably next," the YouTuber says as he goes on to fit in the two batteries inside the Magic V2 chassis. "Again, with such a thin phone, the batteries need to be extra flat."
"Each of these two batteries is just 2.7mm thick, and since they are made from an energy-dense silicon-carbon, we still get 5,000 mAh worth of juice while still being the thinnest battery in any foldable so far."
You can see how incredibly thin these batteries are. You wouldn't expect much of them, considering their overall footprint. Also, I'll notice that the batteries have Li-ion inscriptions because they still move Lithium ions to store and generate electricity.
That's the key battery detail I was talking about. Honor could have probably created the Magic V2 with graphite batteries. But it would have had to compromise on battery life, as battery capacity would have likely shrunk.
This battery tech is bigger than thin foldables
All of this begs the obvious question: what can we expect regarding battery life from the Honor Magic V2? From our review:
That said, I was expecting to have more issues with the battery than I did. I found that the battery was still able to get me through the day the majority of the time, and while I wouldn't expect to get more than a day, I think most should have a similar experience to me. Sometimes, you will have to charge before the end of the day, but for the thinness and performance on offer here, the battery life is quite good.

You are a little limited in how you charge the battery, though. The Magic V2 doesn't support wireless charging at all, which is a little frustrating in 2023. Thankfully, it can charge through a wire relatively quickly, at 66W.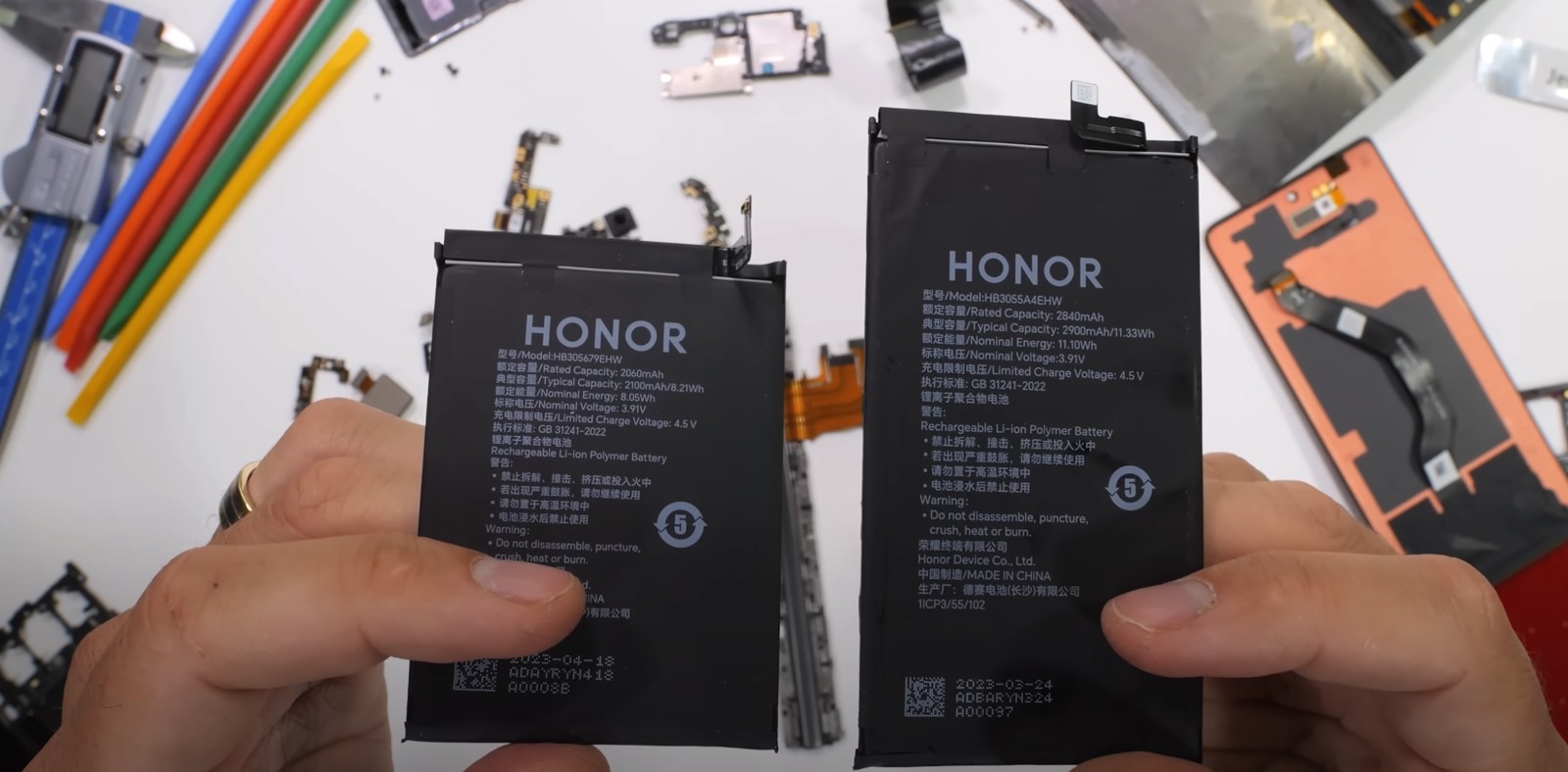 Honor will take the stage at IFA 2023 in a few weeks, where it might announce the global availability of the Magic V2. If that's the case, and Honor uses silicon-carbon batteries across the board, we might be on the verge of something big here. More smartphone vendors might employ similar battery technology.
I'll also point out rumors that Apple and Samsung want to adopt stacked battery tech. The technology is used for making EV batteries. And given what Honor is doing with its phones, I wonder whether those stacked batteries will have silicon-carbon anodes.
The combination of stacked battery design and silicon-carbon tech might be the only way to increase battery size while potentially improving battery health and speeding up charging rates.