The Honor Magic V2 proves the concept for thinner foldables. But does it do enough in other areas, or is it just thin?
Pros
Super thin build
Great-looking displays
Solid camera
Good performance
Battery life isn't bad
Cons
Limited availability for now
Foldable phones certainly have their advantages. They're more versatile than traditional slab phones in that they're essentially portable tablets, and as a phone reviewer, they've certainly breathed new life into a somewhat stagnant world. But they also have their disadvantages — like the fact that they're thicker than traditional phones.
But the era of ultra-thick foldable devices may be coming to a close. Honor has launched the Honor Magic V2, which is one of the thinnest foldable devices to date, and when folded closed, it's actually a similar thickness to many of the slab phones out there.
But simply being thin isn't necessarily enough. Does the Honor Magic V2 do enough in other areas? I've been using it to find out.
Honor Magic V2 specs
Dimensions
Folded: 156.7 x 74.1 x 9.9 mm
Unfolded: 156.7 x 145.4 x 4.7 mm
IP rating
None
Display resolution
Cover: 1,060 x 2,376
Internal: 2,156 x 2,344
Display size
Cover: 6.43 inches
Internal: 7.92 inches
Display type
LTPO OLED
Display refresh rate
120Hz
Display brightness
Cover: 2,500 nits (peak)
Internal: 1,600 nits (peak)
Chipset
Qualcomm Snapdragon 8 Gen 2
Memory
16GB
Storage
256GB, 512GB, 1TB
Rear cameras
Wide: 50MP, f/1.9, OIS
Ultrawide: 50MP, f/1.0
Telephoto: 20MP, f/2.4
Video
4K 60fps, 1080p 60fps
Front camera
16MP, f/2.2
Ports
USB-C 3.1
Battery size
5,000mAh
Charging
66W wired, 5W reverse wired
Connectivity
Bluetooth 5.3, WiFi 6E, 5G
Colors
Black, Silk Black, Silk Purple, Gold
Price
$1,248
Honor Magic V2 design
There's one major aspect that sets the Magic V2 apart from other foldable phones — the fact that it's thin. Really thin. Folded up, the Magic V2 is still thicker than most slab phones, but not much thicker, and when unfolded, the device is astonishingly thin. How thin is it? A pretty incredible 4.7mm.
I certainly hope device manufacturers experiment more with making foldables thinner. They need it.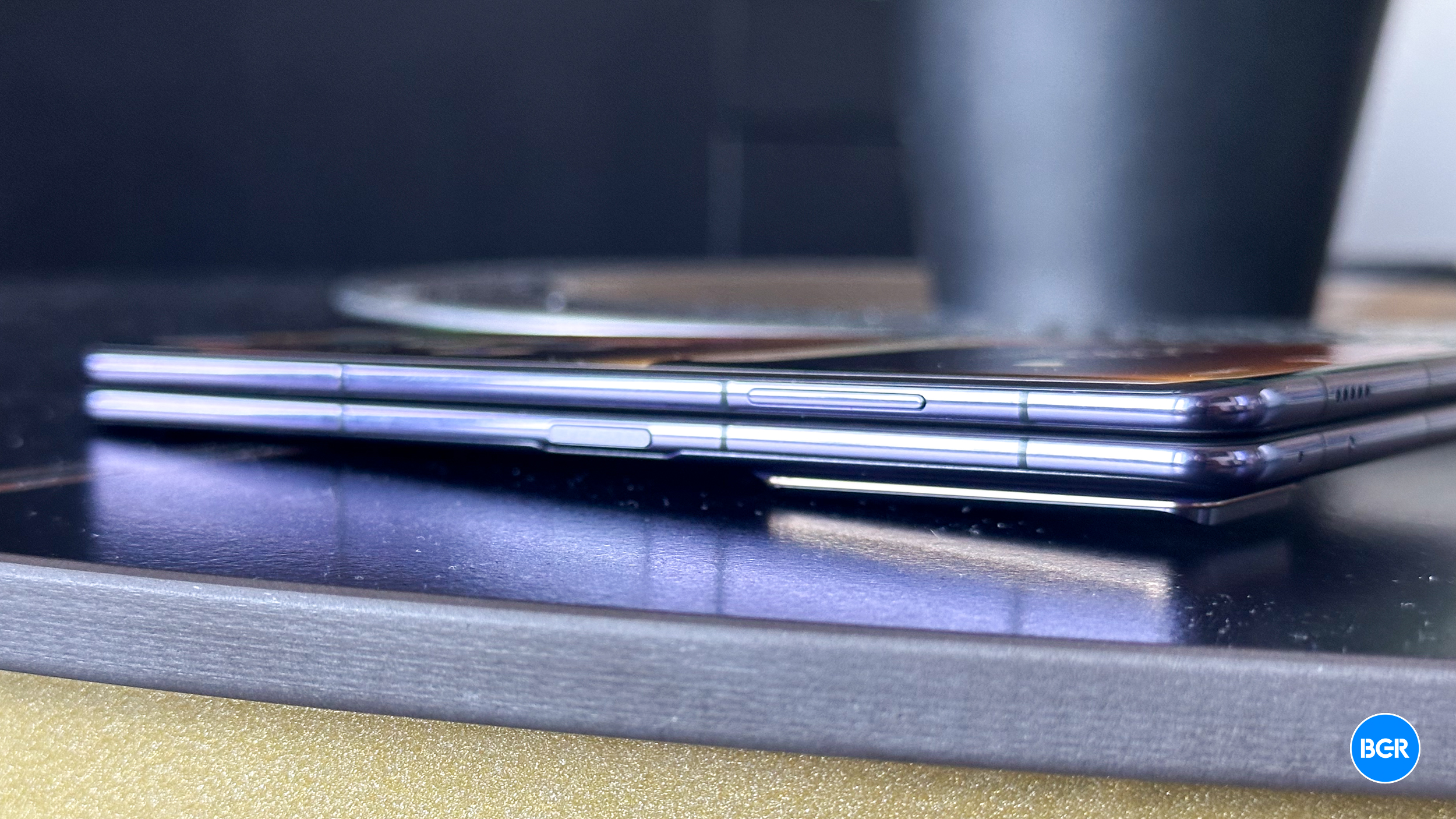 When folded, the Magic V2 doesn't quite have the same width as the likes of the Pixel Fold, but it's also not as skinny as the Galaxy Z Fold 4. I quite like the overall form factor — I still found the front display to be usable for most basic tasks, like texting and scrolling social media. Others may have trouble typing on the smaller keyboard, but I have yet to have trouble with it.
Pre-Magic V2, I argued that I prefer the wider Pixel Fold to the skinnier Galaxy Z Fold 4, in terms of how usable the front display is. But that was in a world of fewer options — and after using the Magic V2, I may have changed my mind a little. I think the Magic V2 strikes a great balance.
On the front, in the middle of the top of the screen, there's a hole-punch cutout for the front-facing camera, with another hole-punch on the right side of the interior display. When unfolded, you'll find the volume controls on the left side and the power button on the right side. The USB-C port is on the bottom of the right side.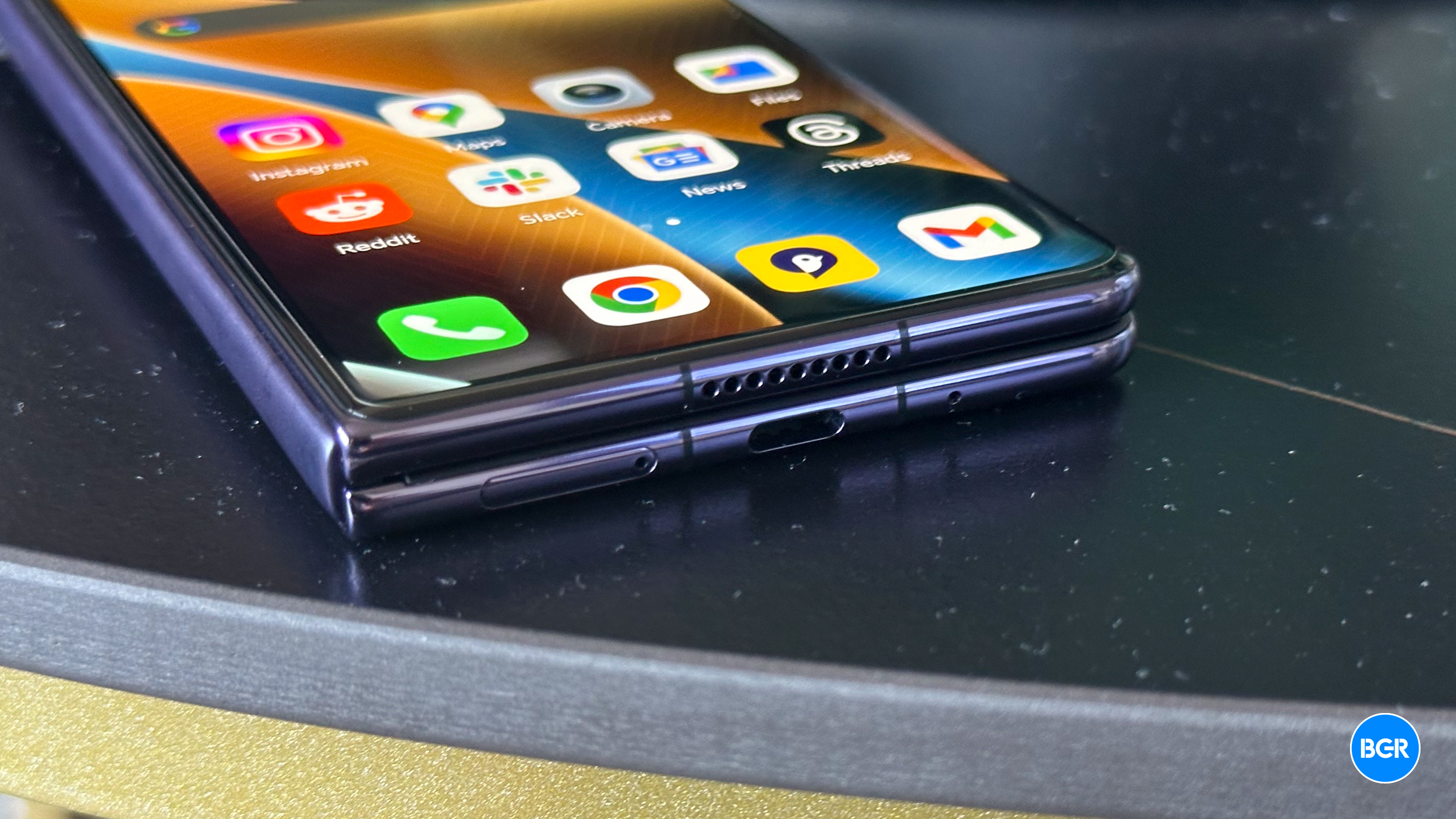 There is one thing that Honor has yet to perfect, though. The hinge design isn't bad, but it isn't truly infinitely adjustable. After a certain level, the screen snaps open. It isn't a huge deal, as it's pretty good at remaining in place for most angles that you'll actually use it at. But it's also not quite as good as the Pixel Fold, which is excellent at remaining in place no matter what the angle.
Still, I generally like the overall design of the Magic V2, and think it serves as a great example of what a modern foldable design can be.
Honor Magic V2 display
Like other foldables, the Honor Magic V2 offers two displays. The cover display is a 6.43-inch LTPO OLED display with a 1060 x 2376 resolution and a 120Hz refresh rate. It's a great looking screen, with vibrant colors and good contrast.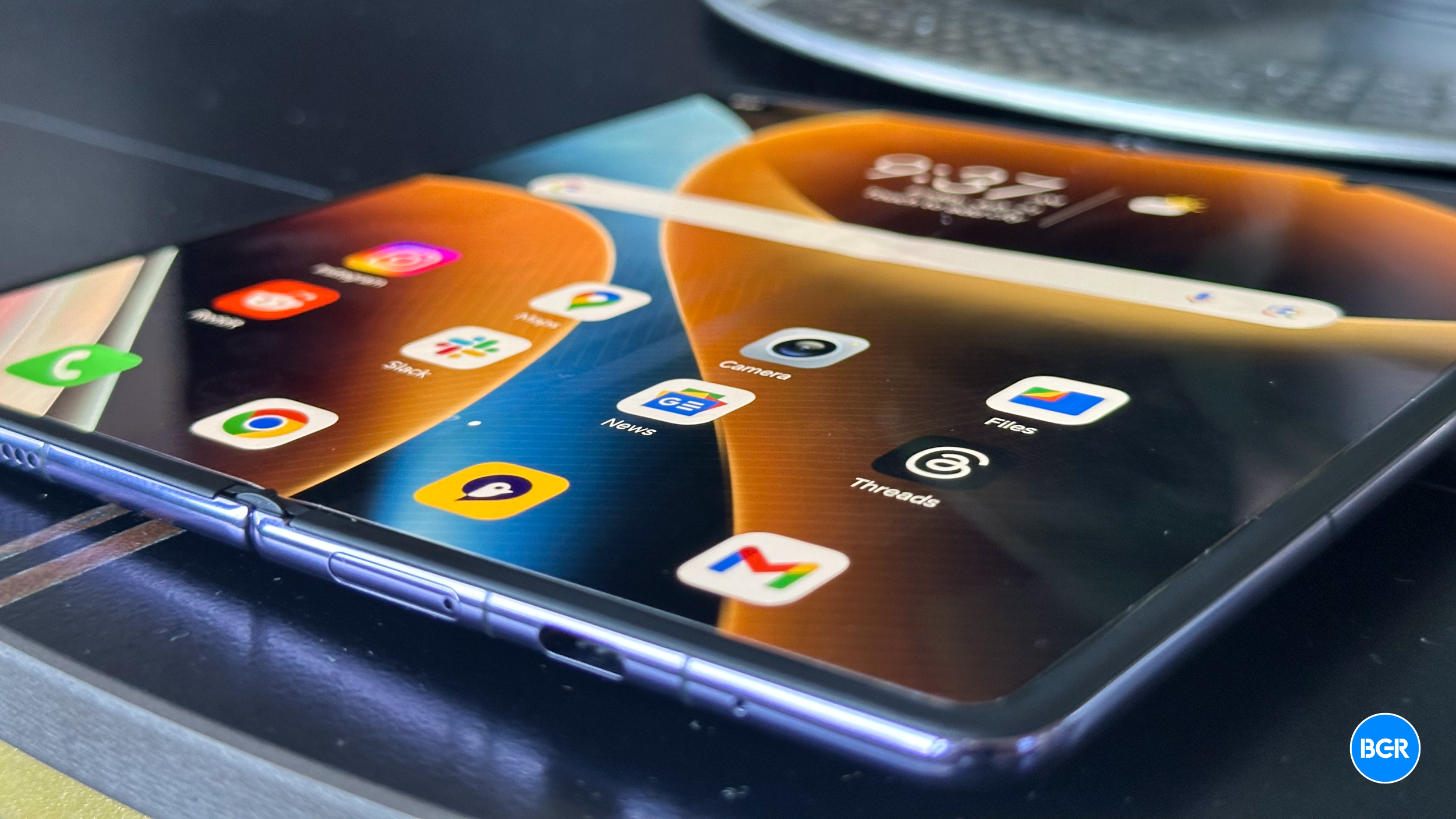 On the inside, you'll get a larger 7.92-inch LTPO OLED screen with a 2156 x 2354 resolution and a 120Hz refresh rate. Again, it looks great.
One thing that really stood out to me was the fact that the displays are able to get very bright, and are easy to see even in direct sunlight. That's true of both the cover and inside displays, though the peak brightness is higher on the cover screen.
Honor Magic V2 performance
Under the hood, the Magic V2 comes with a Qualcomm Snapdragon 8 Gen 2 processor, coupled with 16GB of RAM, and as you would expect, it's a great-performing phone.
In day-to-day use, the device was able to handle multitasking with ease, load games nice and quick, and so on. I never found the device to lag or stutter, and for most, it'll easily handle everything you can throw at it in 2023.
It's helpful that the device has solid performance too. After all, with the extra screen real estate, you might be more inclined to work or play higher-performance games than you would a non-foldable phone.
Honor Magic V2 battery and charging
Powering the Magic V2 is a 5,000mAh battery, which isn't tiny, but also not huge, especially for a phone like this.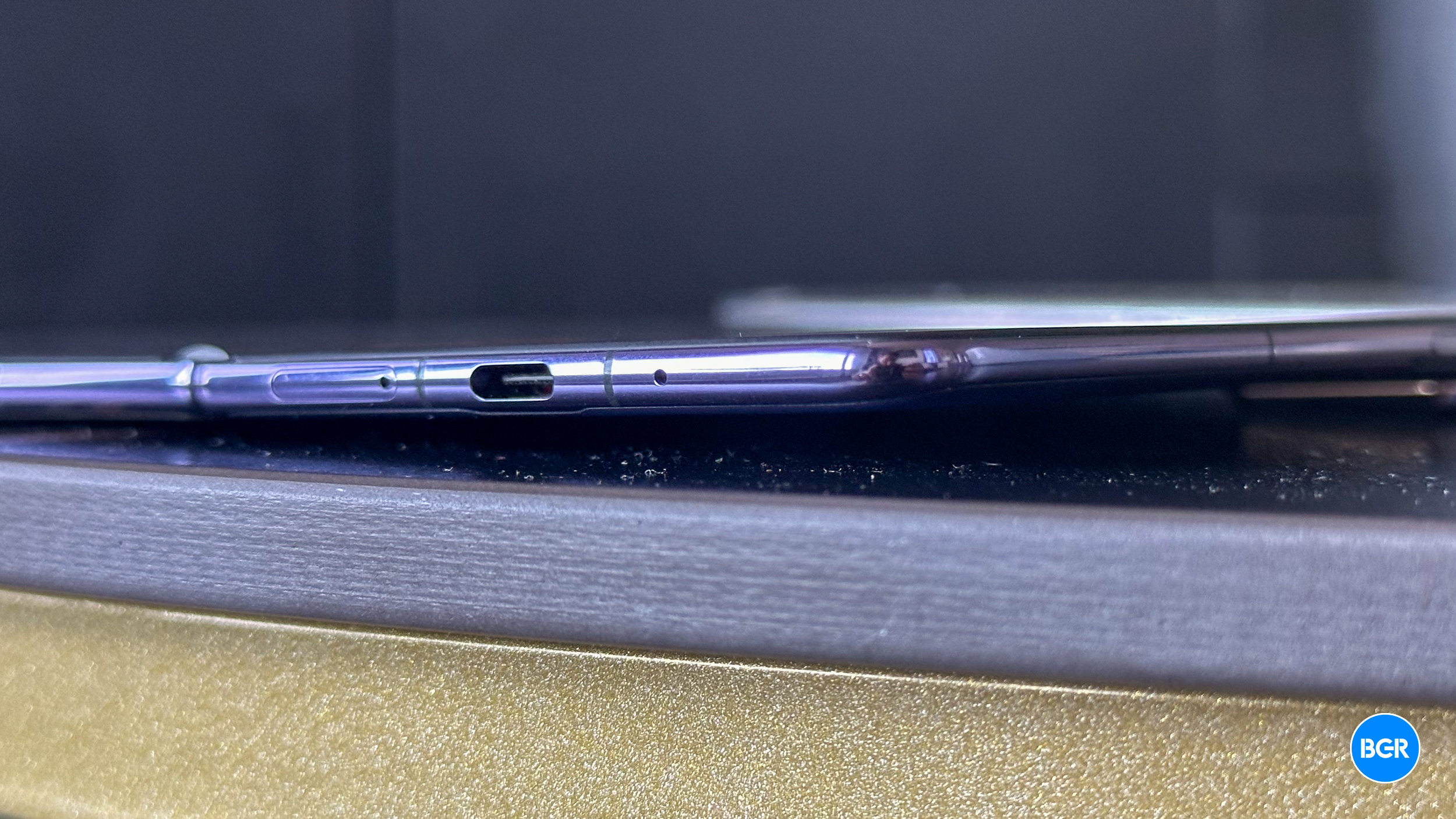 That said, I was expecting to have more issues with the battery than I did. I found that the battery was still able to get me through the day the majority of the time, and while I wouldn't expect to get more than a day, I think most should have a similar experience to me. Sometimes, you will have to charge before the end of the day, but for the thinness and performance on offer here, the battery life is quite good.
You are a little limited in how you charge the battery, though. The Magic V2 doesn't support wireless charging at all, which is a little frustrating in 2023. Thankfully, it can charge through a wire relatively quickly, at 66W.
Honor Magic V2 camera
On the back of the device can be found a triple camera array. You'll get a 50-megapixel main camera with an f/1.9 aperture, along with a 50-megapixel ultrawide camera and a 20-megapixel telephoto camera with a 2.5x optical zoom.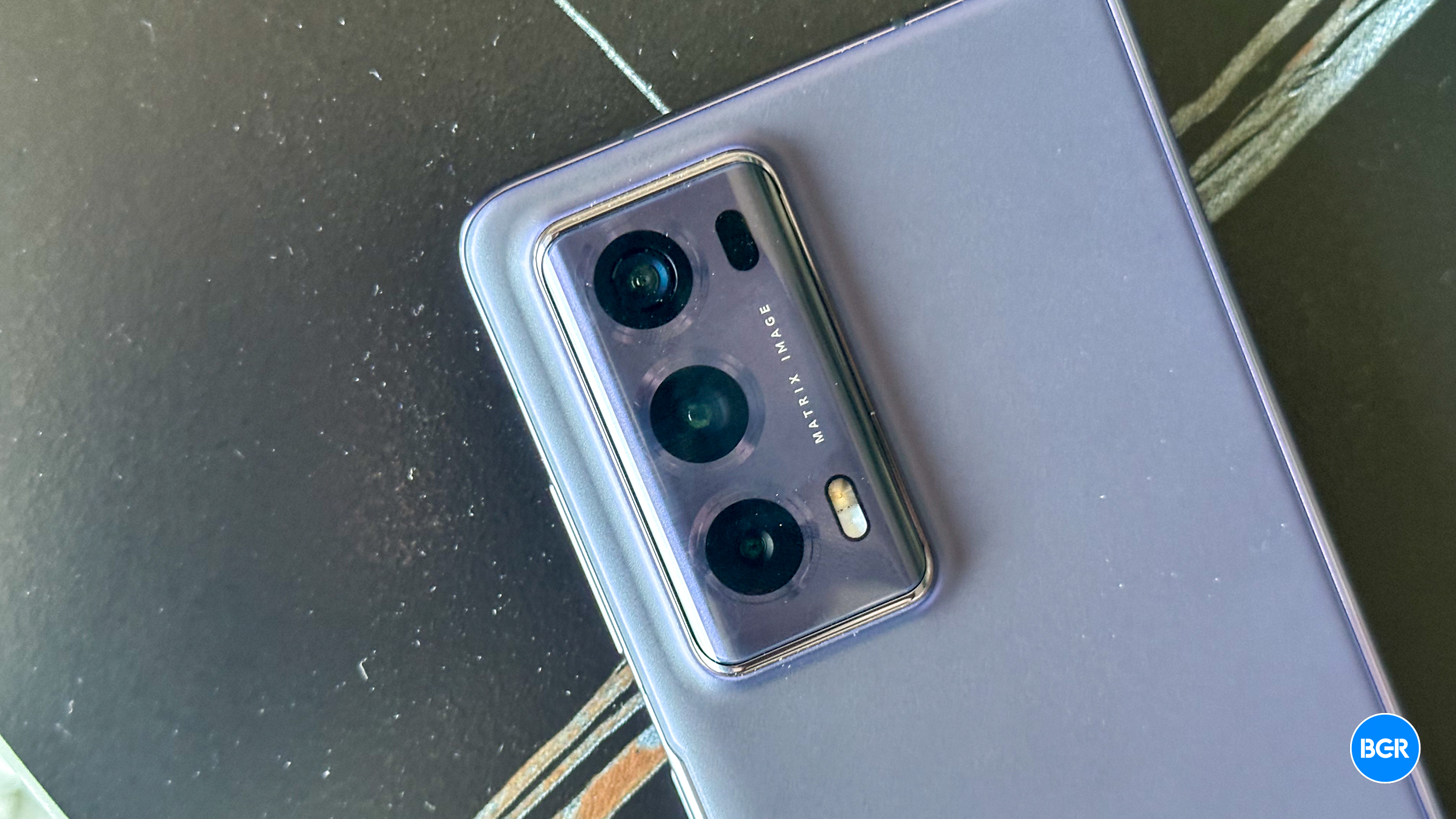 It's a good selection of cameras overall, and makes for a relatively versatile camera experience. That said, I can't help but wish the telephoto camera had a slightly better zoom.
In well-lit environments, the camera was mostly able to capture vibrant, detailed photos, using all three cameras. As you would expect, images start to deteriorate the more you zoom, but zoom at up to around 5x still looked quite good. The phone captured pretty good low-light photos, too, though not quite as impressive as the Pixel Fold.
The camera wasn't perfect, though. I found that it struggled a little with lighting around the edges, and the cameras weren't as consistent as I might have liked. But for the most part, the camera quality is great on the Magic V2.
Honor Magic V2 software
I'm reviewing a version of the Magic V2 with pre-release global software. I'll update this article when the MagicOS software is finalized.
Conclusions
The Honor Magic V2 is an excellent example of pushing the boundaries for foldable phones. It takes the already-solid Magic Vs, and foldables in general, and adds a thinness and portability that I hope other manufacturers adopt. The phone has yet to launch outside of China, but a global version is expected soon, and if you have it available and want a foldable phone, it's absolutely worth considering.
The competition
The competition in the foldable space has been heating up. Google has finally launched the Pixel Fold, and it offers what I think is the best software experience you can get on a foldable right now. But the Magic V2 is a little more refined and more powerful than the Pixel Fold.
The other major competitor is the Galaxy Z Fold 4, and it's also worth considering. I, however, prefer the Magic V2 for its wider front screen, which I find to be more useful.
Should I buy the Honor Magic V2?
Yes. If it's available to you, it's a great foldable device.