Last year, LG tried to do something completely different. It launched a modular flagship handset, something no other company did. The LG G5 got plenty of attention, but when it comes to sales, it lost badly to the Galaxy S7, which was announced on the same day the G5 came out.
Luckily, LG learned a thing or two from that experience. This year it's coming out with a flagship device that'll be more like the iPhone and the Galaxy S. It'll be so much better than the G5 too, at least when it comes to overall design; just check out the following leaked photo.
Found on Weibo by TechTastic, the photo shows LG's 2016 and 2017 flagships sitting side-by-side — we're almost certain that's the G6 next to G5 that is.
The leak indicates the LG G6 will be available in a white option and highlights some of the phone's expected features. We have a large display dominating the front side of the handset, with minimal side and top bezels. The top lip incorporates the selfie camera, speaker, and front-facing sensors, and the display has rounded corner, just as expected.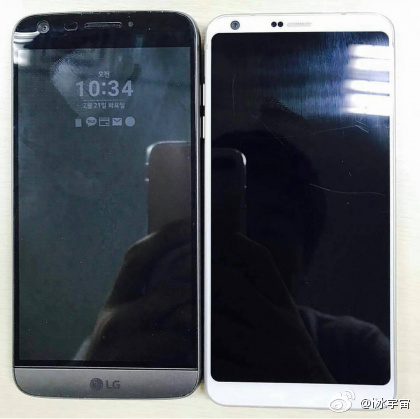 The lower bezel doesn't have any distinct elements. There's no logo and no home button, but it's not like we'd expect an LG flagship to actually have a physical home button.
That said, the G6 already looks a lot better than last year's modular contraption. If you avoided the G6 last year, it looks like it's time to give LG one more chance.
The same TechTastic obtained a second image showing the G6 from the rear. The dual-lens camera and fingerprint sensor are clearly visible, as is the G6 branding near the bottom. What's interesting is that the phone appears to have a Jet Black-like color, complete with what appears to be some mild scuffing around the bottom right corner.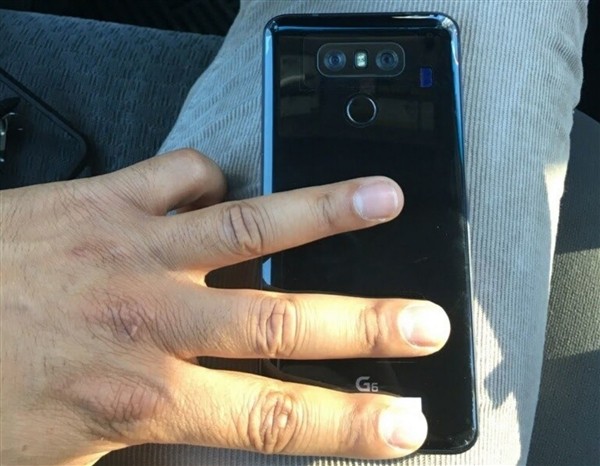 LG will unveil the G6 on Monday in Barcelona, Spain. And this time around, it won't have to fend off a brand new Galaxy S handset.