An Autopiloted Tesla that fatally crashed in Florida in May was being driven at 74 in a 65 zone, according to a preliminary report from the National Transportation Safety Board. The crash has caused all sorts of debates, with some parties calling for Tesla to deactivate its Autopilot program, and the SEC investigating Tesla for securities fraud surrounding the crash.
The NTSB report is a little short on most details. But one thing it does confirm is that the car was speeding, doing nine miles an hour over the posted speed limit. Given that the crash occurred on a straight section of road, with no restrictions on visibility, and the Tesla was travelling at a very reasonable speed for the road, we can virtually rule out "speeding" as the root cause of this accident.
DON'T MISS: Samsung S7 Active review: I can't kill this indestructible smartphone
As initially reported by Tesla, and now confirmed by the NTSB, the accident occurred when the Tesla, travelling along the highway, hit a semitrailer that was turning left across the Tesla's direction of travel. The photo below shows the location of the crash. Presumably, the semitrailer was turning into the gas station visible on the right-hand side of the photo.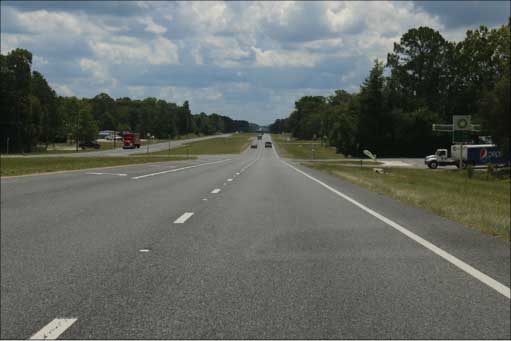 The NTSB report confirms that it's an "uncontrolled" intersection, so cars travelling along the highway (i.e. the Tesla) have the right of way.
We won't know for sure what happened until the NTSB releases its full report. But even now, with the limited data at hand, it's hard to see how the mild speeding highlighted by the NTSB could be at fault. The difference in stopping distance between 65mpg and 74mph is about 60 feet in a typical car, and presumably much less in a high-performance Tesla. That's not a lot.
The problem doesn't appear to have been that the Tesla saw the truck, but was travelling too fast to take evasive action. It's that an obstacle suddenly appeared on the highway in front of the Tesla, and neither the car nor the driver saw it in time to take action. It doesn't really matter if the car was travelling at 60 or 80 miles per hour — the difference in stopping distance (including reaction time) is negligible, and a crash at both speeds is likely to be equally fatal.
Now, it may well be that the driver wasn't paying as much attention as he should be, since Autopilot was engaged and he wasn't actively involved in the driving process. According to Tesla, the Autopilot system also performed sub-optimally, mistakenly identifying the semitrailer as an overhead gantry, rather than an obstacle on the road. But none of those things have anything to do with speed, so let's take a moment before using this preliminary NTSB report to brand the driver of the Tesla as irresponsible.