Buying a new iPhone 7 or iPhone 7 Plus this week? Then you should know T-Mobile already has a hot deal for customers looking to preorder the handset ahead of its release next Friday. The carrier is offering you a free* iPhone 7 — and yes, there's an asterisk because the phone isn't actually free at all.
DON'T MISS: The 12 best new features of Apple's iPhone 7
First of all, you have to trade in an iPhone 6 or newer device to get "up to $650" in monthly bill credits that will be applied over the course of 24 months. The newer the device, the more credit you'll receive… but you're not getting all that money upfront.
Assuming you qualify for the full $650, you'll get a free 32GB iPhone 7 model. But 32GB of storage, while better than 16GB, might still not be enough.
The offer doesn't apply only to the 32GB iPhone 7, though. You can select any iPhone 7 and iPhone 7 Plus in Apple's lineup, but you'll have to pay "a little more" upfront, as T-Mobile puts it.
T-Mobile nearly mirrors the iPhone 7 prices Apple announced on Wednesday. That means you'll have to pay $120 for the 32GB iPhone 7 Plus. Again, this price is valid if you qualify for the full $650 credit. Add $100 for each of the next storage tiers if you need more space – both the iPhone 7 and iPhone 7 Plus are available in 128GB and 256GB sizes.
T-Mobile will kick off its iPhone 7 preorder on September 9th at 12:01 AM PST, so you have plenty of time to decide if this offer fits your needs. Alternatively, you could choose to sell your old iPhone yourself and use the money towards an iPhone 7 purchase.
UPDATE: T-Mobile reached out to explain its free iPhone 7 offer better. The carrier says that the 32GB iPhone 7 is indeed free of charge as long as you've paid off your existing iPhone and trade it in.
T-Mobile explained that the free iPhone 7 trade-up offer is made of two parts including the value of your iPhone 6/6s trade-in and a monthly bill credit to your new iPhone 7 monthly equipment installment payment. After 24 months, the iPhone 7 would cost $0.
To qualify, you need to trade in an iPhone 6/6s or Plus versions that you own. The device has to work properly — that means no water damage or shattered display.
You also need a 24-month no cost finance agreement with T-Mobile at the end of which you'll get the iPhone 7 for $0. If you want to leave before your two years are up, you'll have to either pay the outstanding balance to own the iPhone or turn it in.
A trade-in price chart follows below.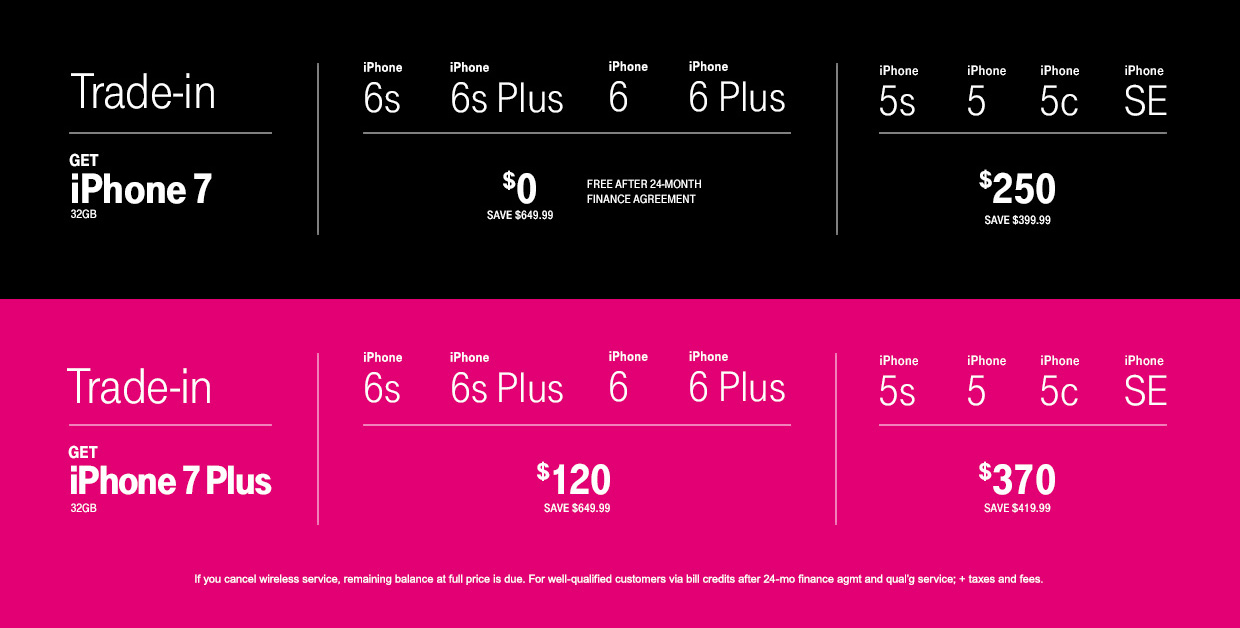 UPDATE 2: Sprint has a similar offer as well. The broad overview is as follows:
Visit your local Sprint store and turn in an old iPhone 6, iPhone 6s, Samsung Galaxy S7 or Samsung Galaxy S7 edge.
Sign up for any of Sprint's rate plans including Unlimited Freedom or 50% off the price of most Verizon, AT&T and T-Mobile standard rate plans, with savings until May 31, 2018.
Walk out with your new iPhone 7 (32GB) and enjoy the savings!
More details can be found here.