While demoing the Galaxy Note 9 during the Unpacked event in New York, Samsung on Thursday took a break from talking about the phone to unveil a brand new product.
Meet the LTE-enabled Galaxy Watch.
The new Galaxy Watch presentation came right after Samsung demoed the all-new S Pen stylus that features Bluetooth LE connectivity and a bunch of smart features built on that, just as rumored.
Samsung told us that the new S Pen isn't the only device that can connect to the new Note, and then introduced the brand new Galaxy Watch.
However, the new smartwatch doesn't need to be tethered to a smartphone to work, as the device comes with built-in LTE connectivity, just like the latest Apple Watch model.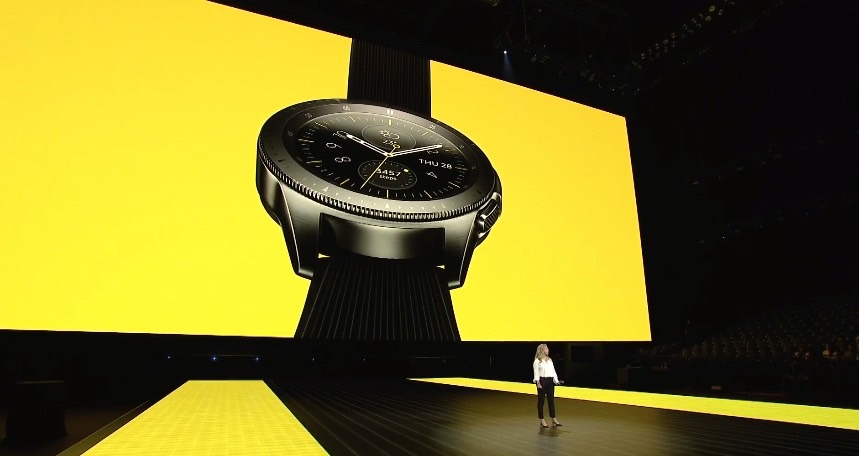 Just like other smartwatches, the new Samsung device packs a bunch of health and fitness features. The Galaxy Watch will support a bunch of activities and automatically detect some exercises. Furthermore, the Galaxy Watch is going to track your heart rate and detect anomalies, Samsung said on stage.
Other smart features include Bixby support, Samsung's voice assistant, which is available on the Galaxy Note 9 and other devices.
Other specs include 1.5GB of RAM (768MB for the Bluetooth-only version), 4GB of internal memory, and 30mm or 33mm circular display (for the 42mm and 46mm versions, respectively) protected by Gorilla DX+ glass, Bluetooth 4.2, and Wi-Fi b/g/n. The watch runs Tizen-based Wearable OS 4.0, and it's compatible with smartphones running Android 5.0 later or iPhone 5 and later.
One interesting Galaxy Watch detail Samsung shared on stage is that the device will work for several days on a single battery charge, thanks to a brand new chip, designed entirely for wearable devices.
The 42mm version of the Galaxy Watch will cost $329.99, while the 46mm model will cost $349.99 — both are Bluetooth-only version. They'll be available from a bunch of providers, including Amazon, Best Buy, and Samsung, on August 24th.
The LTE models, sold at AT&T, Samsung.com, T-Mobile, Sprint, and Verizon, will be available later in 2018, but the price was not disclosed yet. Preorders begin on August 10th, and there's a free watch band if you get one by September 8th.