Taking over the world isn't easy, but Google is well on its way. The company's Android platform is still in its infancy in the grand scheme of things, and yet smart thinking on Google's part caused adoption to skyrocket in no time at all. By making Android open source and offering it to hardware vendors for free (with important strings attached), Google made the decision all too easy for companies like Samsung, HTC and Motorola, which all needed a fresh new platform to enter the smartphone market. After all, it was becoming increasingly obvious that industry leaders like Nokia and BlackBerry were doomed. And why build your own platform when you can use Android for free?
The goal for Google, of course, is to put its various products and services in front of as many eyeballs as possible, and to make it as easy as possible to access and use them. The more often people use Google services, the more data Google can collect and the more ads Google can display. The company is doing great things, of that there is no question, but Google is a business and selling ads is how it stays in business.
With the smartphone market covered, Google has expanded its presence in other key markets. Android TV, Android Wear, and Google's work with IoT devices are all examples of the company's efforts to widen its reach. And then there's Chrome, which continues to be dismissed by some industry watchers despite having made tremendous gains in recent years; despite the overall decline in the PC market last year, Chromebook shipments climbed 20%.
The majority of Chromebook gains have come in the education and low-end consumer markets, where cost among the biggest factors that contribute to purchase decisions. But Google and its partners will have to address other markets as well if Chrome is to become a major player in the market.
It's easy to dismiss Chrome OS. Windows is massive! Windows is too big to fail! Windows will be the world's go-to desktop computing for decades to come! Of course, those of us who have been covering consumer tech for as long as I have can remember when the exact same things were said about Symbian, Windows Mobile and BlackBerry OS. In fact, Nokia executives used to laugh at me in 2007 and 2008 when I asked them how they planned to adapt to the shifting smartphone market.
I don't imagine any of those executives are laughing anymore.
Now, this isn't to say that Windows is a doomed platform — at least, not anytime soon. But to state things mildly, the future does not look terribly bright for Windows at the moment.
Market research firm IDC estimates that 428.5 million smartphones shipped in the fourth quarter alone last year, with the overwhelming majority of those phones having been powered by Android. Meanwhile, IDC says that a total of 260.2 million PCs shipped in all of 2016. Even though Microsoft currently owns more than 90% of the PC market according to Net Applications, Android user numbers have continued to grow while PC shipments decline.
So, what happens years from now when all these Android users have the option to buy a new Windows PC, or a new Chrome OS computer that gives them tighter integration with their phones and access to all the same apps and services they enjoy on other devices, in addition to desktop-grade apps? Of course, Android apps themselves will likely be "desktop-grade" by then, but the point is Microsoft's advantages with Windows have been dwindling slowly over the past decade, and it looks like the pace may soon accelerate.
Especially when you add Chrome devices like the new Samsung Chromebook Pro into the mix.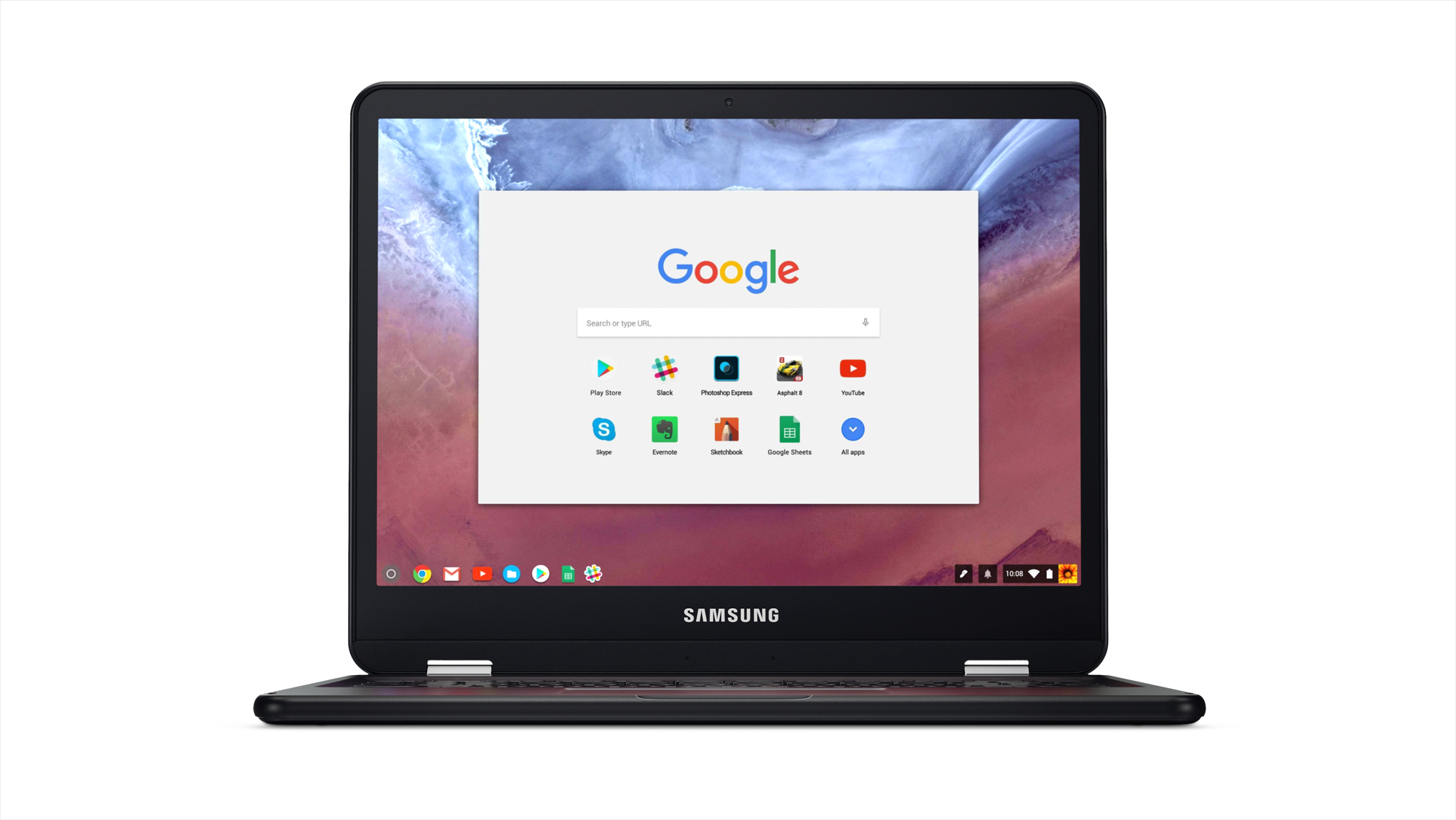 First, a few thoughts on Chrome OS, which shares a name with Google's wildly popular cross-platform web browser. This is apropos, as anyone who has used a Chrome computer will tell you, because the operating system itself looks and feels very similar to Chrome for Windows or Mac, and the Chrome browser is the focal point of Chrome OS.
The best way to describe Chrome OS may be to call it something of a hybrid between the Chrome desktop browser and the Android platform. The user interface will feel quite familiar to anyone with an Android smartphone, because it utilizes the same Material Design elements as Android. Out of the box, however, most functions happen in the browser (even in offline mode).
Upon powering up a Chrome device for the first time, users will be greeted with a familiar desktop view similar to what you might find on a Windows or Mac PC. A "Launcher" button in the bottom-left corner replaces the Start button you'd find on a Windows machine, and a series of app icons are found in the menu bar beside it. Clicking those app icons doesn't open individual apps, however. Instead, they open associated web pages.
So, for example, clicking the Gmail icon will take you to gmail.com, and clicking the Docs icon will open the Google Docs website. You can still save files and work on them offline, and you can also download new "apps" from Google's Chrome Web Store. Those apps all live within the Chrome browser, however — on a Chrome OS device, the browser is a portal into nearly every function.
At least, it used to be.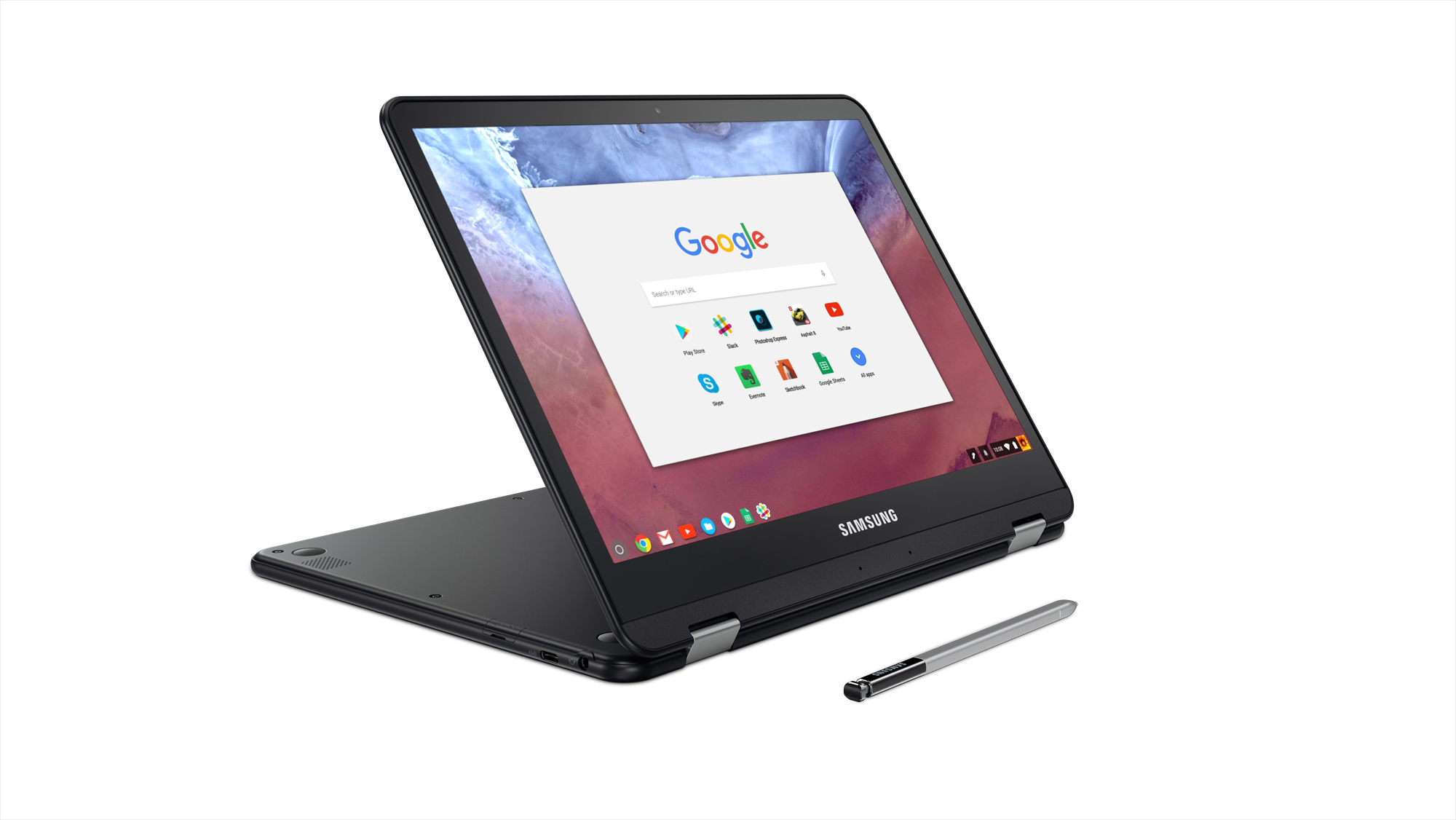 On newer Chromebooks like Samsung's Chromebook Pro, users also have access to the Google Play store along with all the Android apps within. While some apps work better than others on Chrome OS, new users will be surprised at how well Android apps function on their Chrome devices. As just one example, Newton — my go-to email app on iOS and macOS devices — is far faster on the Chromebook Pro than on my MacBook Air. In fact, the Android version is better designed as well, and is ironically better suited to a desktop environment than the macOS version.
In fact, it feels like everything is faster on the Chromebook Pro than it is on a conventional computer.
Samsung's Chromebook Pro is powered by a 2.2GHz Intel Core m3 processor along with Intel HD graphics and 4GB of LPDDR3 RAM. Those specs would seem underpowered on a Windows or Mac machine, but Chrome OS strips out the complexities that most consumers likely don't need anyway. It feels like a mobile OS, and it flies like a mobile OS. Websites load just as fast as they would on any Windows or Apple PC, and apps open even faster since they're so much more streamlined.
Samsung's less expensive Chromebook Plus is powered by a 2GHz hexa-core OP1 ARM chipset, which offers a bit less power and lesser graphics performance while shaving $100 from the device's price tag. The two models are otherwise nearly identical.
In its current state, the Chrome OS platform is more than capable enough to handle both work and play for the vast majority of users. Chrome is not yet ready for people who need to use custom enterprise software or complex software like professional video editing apps. But for everyone else, it's a serious contender.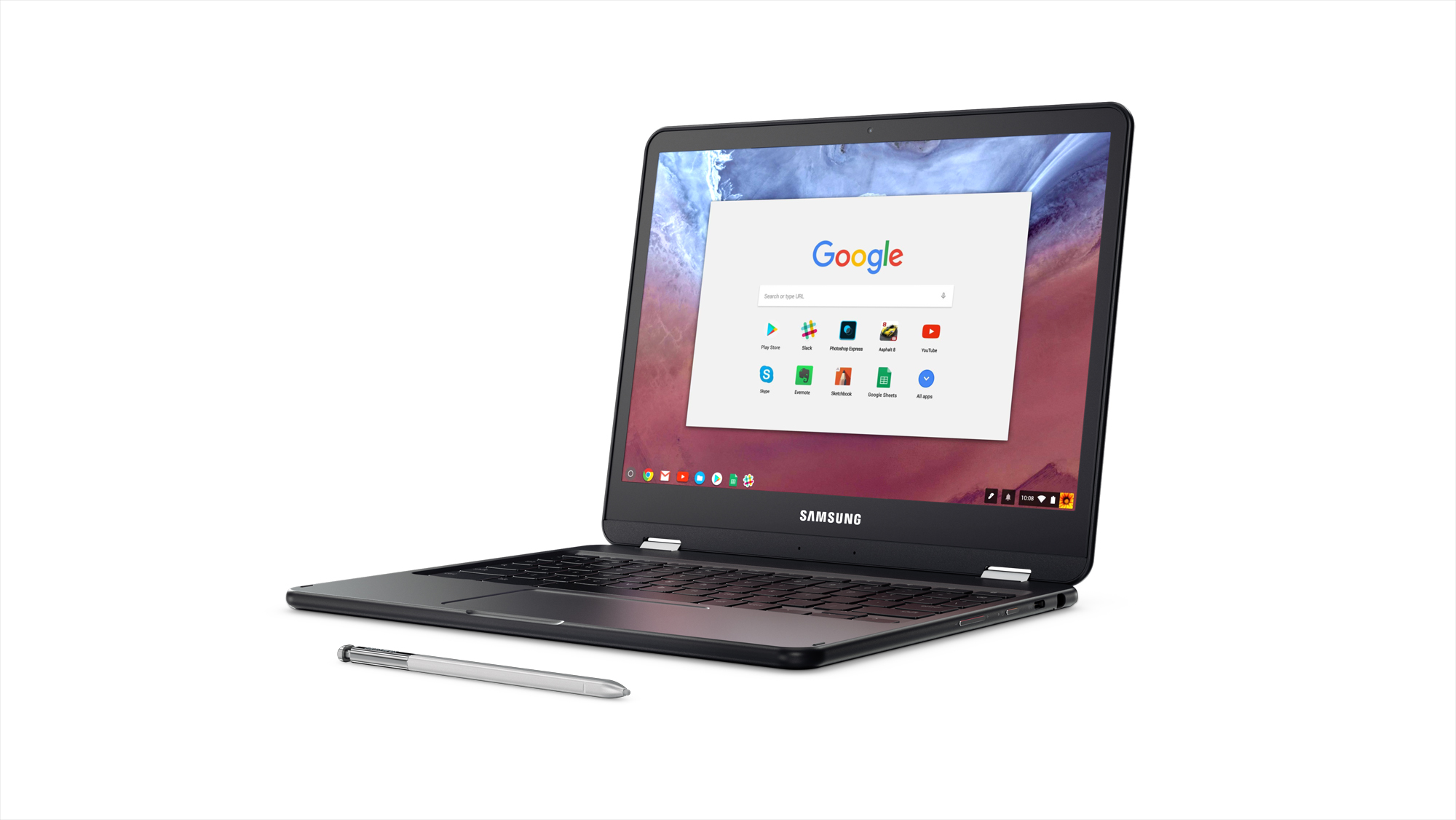 As you might expect on a Samsung device, the 12.3-inch LED display on the Chromebook Pro is stunning. It features 2400×1600 Quad HD resolution and brightness is rated at 400nit. Streaming videos look fantastic on the bright screen, and the 3:2 aspect ratio offers plenty of room to position multiple apps around the screen and multitask.
The Chromebook Pro also ships with a stylus that can be popped out from an edge just like a Note-series smartphone or tablet. It's not quite as feature rich as the S Pen and it's certainly not integrated as deeply into the operating system, but it's great for taking notes. For drawing or painting, Samsung's new notebook will ship with an app called Art Canvas, though it wasn't available in the pre-release software running on my test unit. The stylus can also be used to capture portions of the screen, or as a virtual magnifying glass to help users read small print.
Samsung put a great deal of effort into the writing experience on the Chromebook Pro, and it shows. The feel is fantastic — as close to "pen on paper" as Samsung's Note smartphones — and a special algorithm developed by Google helps lower latency by predicting where each stroke will go as you write. There is still noticeable latency on the device when you write quickly, but I don't find it to be bothersome at all. Also of note, the screen on the Chromebook Pro can fold all the way open so the device can be used comfortably in tablet mode.
I only wish as much attention had been paid to the keyboard, which is one of my least favorite things about this laptop. The plastic keys on the device feel cheap and they require too much pressure to depress. I also wish the keyboard had wider delete and tab keys, though I do like the dedicated Search button in place of the Caps Lock. This key opens the Launcher window, which is a home base of sorts in Chrome OS, giving users access to a search bar and to apps.
The trackpad is nice and big on the Chromebook Pro, and it's also quite responsive. The device includes two USB Type-C ports, either of which can be used to charge the notebook, as well as a 3.5mm audio jack and a microSD card slot. The Chromebook Pro ships with just 32GB of onboard storage since Chrome OS is a cloud-first platform, but microSDXC support adds an inexpensive and easy option for expansion.
The device itself weighs just 2.38 pounds and measures 11.04 x 8.72 x 0.55 inches. That makes it thinner and lighter than Apple's new 13-inch MacBook Pro, which measures 0.59 inches thick and weighs a hair over 3 pounds. The light weight can be attributed in part to the plastic housing, but the Chromebook Pro also only has a 39-watt-hour battery compared to up to 54.5-watt-hours in the 13-inch MacBook Pro. The Chromebook still manages to offer an estimated 8-10 hours of battery life per charge though, thanks largely to its efficient Core m3 chipset and the lightweight Chrome OS.
In the end, the Chromebook Pro is a device that redefines the Chromebook category. It's the first Chromebook to include an integrated stylus and pen support, but the laptop's power plays a bigger role in this area. Samsung's Chromebook Pro and devices like it offer performance that hasn't been seen before on a Chrome OS device, extending the addressable market to include power users who otherwise wouldn't look twice at a Chromebook.
As for pricing and availability, the Samsung Chromebook Pro will be released sometime in late April for $549. Of note, the Google Play store for Chrome will exit beta around the same time. Samsung's more affordable ARM-powered Chromebook Plus can be preordered right now for $449 on Amazon or on Samsung's website, and it will start shipping this Sunday, February 12th.
Here's a quick video that shows of the Chromebook Plus model that will be released this weekend: