Apple on Tuesday unveiled the first Retina MacBook Air, just as we expected, a redesigned machine that should be better in almost every way than its predecessor — the new Air only has USB-C ports and the MagSafe charging port is gone, aligning the Air design to the MacBook and Pro series. But what Apple didn't tell us on stage is that the new MacBook Air has a processor that's not available on any other laptop, at least not for the time being.
Apple said the new notebook packs an Intel Core i5 chip clocked at 1.6GHz, and ready to go up to 3.6GHz with Turbo Boost. There's no other option for the MacBook Air right now. You can upgrade the RAM up to 16GB and storage up to 1.5TB SSD, but the processor is always the same.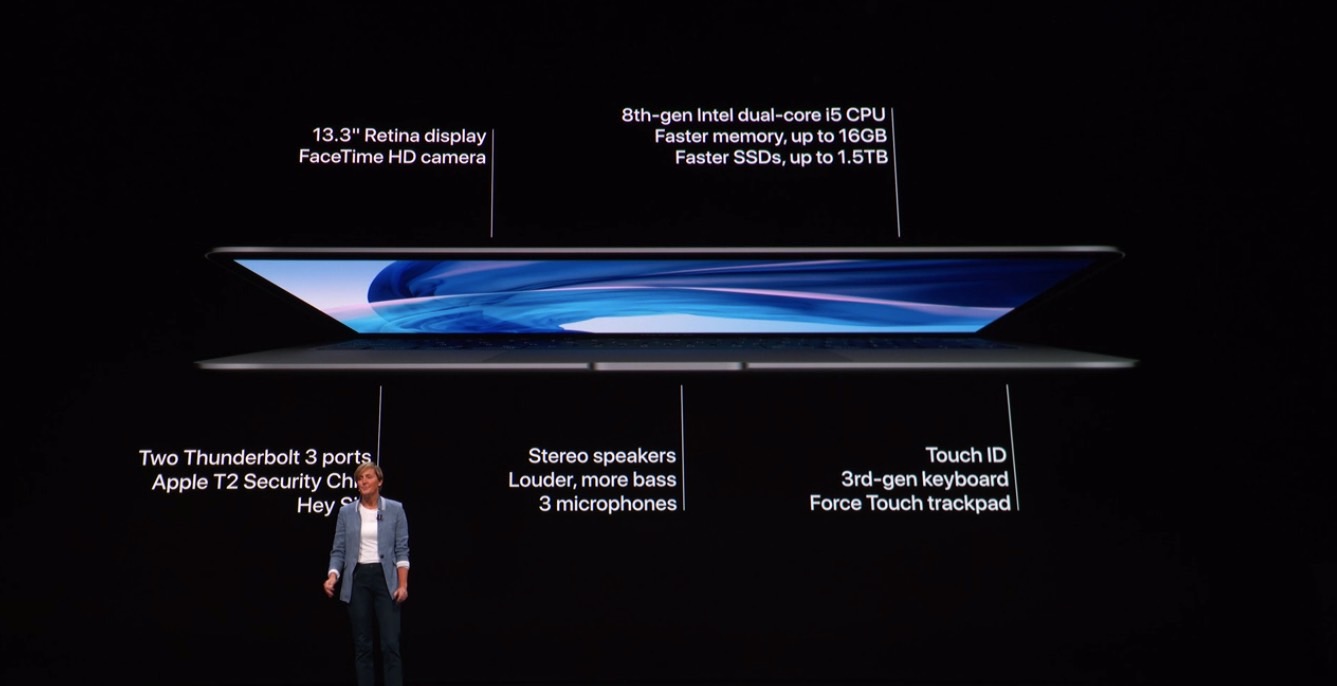 It was AnandTech that first observed the new Air features a chip that was nowhere to be found at Intel:
Under the hood details are a little harder to come by. Curiously, Apple is only offering a single CPU option here, an Intel Core i5. And while the company never names the specific processor models they use, the specifications here – 3.6GHz turbo with Intel UHD Graphics 617 – do not match any known Intel chip, even when factoring in various cTDP options. We've heard rumors of Intel putting together a Core i5-8210Y, and we've reached out to Intel to try to confirm.
AnandTech speculated that the chip is one of Intel's 5 Watt Y-series chips part of the recently announced Amber Lake family. In addition to offering notable performance gains, the new chip is what helped Apple increase battery life on the new Air:
Compared to the Broadwell (5th Gen Core) chips in the previous MacBook Air, these chips represent a big step up in capabilities and performance, incorporating a newer CPU core design as well as a newer GPU design. However it's also notable that the new chips, even in cTDP up mode, are also much lower power than the older 15W U-series chips Apple used, which means that processor power consumption should be significantly reduced – and the chips thinner as well – though the total performance gain won't be quite as much as if Apple had stuck with U-series chips.
Intel has since updated its ARK database to include the new processor, MacRumors reports, which happens to be a 7W Core i5-8210Y Amber Lake Y processor, not 5W.
The Retina MacBook Air's battery should last up to 12 hours (web browsing) and up to 13 hours (video playback), which is longer than any other MacBook in Apple's lineup.