We have a long way to go until Apple unveils the iPhone 15 series. But we already think we know almost everything there is to know about the four new smartphones. Leaks from various sources tell the same design and specs stories. And we've started seeing iPhone 15 renders based on CAD design files. The most recent leak might be the most exciting one yet, if it's accurate. That's because the first iPhone 15 Pro benchmark scores might have leaked, teasing big performance gains for the A17 Bionic chip.
The scores seem to contradict reports from trusted sources that claim Apple's focus for the A17 processor is efficiency.
Well-known Samsung leaker Ice Universe shared the purported A17 Bionic Geekbench 6 scores on Twitter. The figures come from a different source who found them on social media from a person that reportedly leaked the yellow iPhone 14 about a month ago. Since the source doesn't have a long track record, the Geekbench 6 leak that follows below might not be accurate.
A previous leak teased even better A17 Bionic scores, which reached almost 4000 and 9000 points for single and multi-core performance. That leaked benchmark is believed to be fake, however.
If the new leak is accurate, the iPhone 15 Pro and 15 Pro Max might top 3000 points in single-core tests and almost reach 8000 points in the Geekbench 6 multi-core test. As a reminder, only the iPhone 15 Pro and 15 Pro Max will feature the brand-new A17 Bionic chip built on TSMC 3nm process.
What's puzzling about this leak is that it's contradicting previous reports about Apple's intentions with the A17 Bionic. The new processor is expected to improve efficiency and battery life rather than offering massive speed gains. That's what Bloomberg said in late December.
That's already an exciting prospect, as the iPhone 14 Pro and 14 Pro Max provide excellent battery life, especially the latter. But that report did not specify how much faster the A17 Bionic will be.
We expect the A17 to be speedier than the A16, thanks to the move to a 3nm process. But these purported Geekbench scores tease tremendous performance gains compared to the A16 Bionic.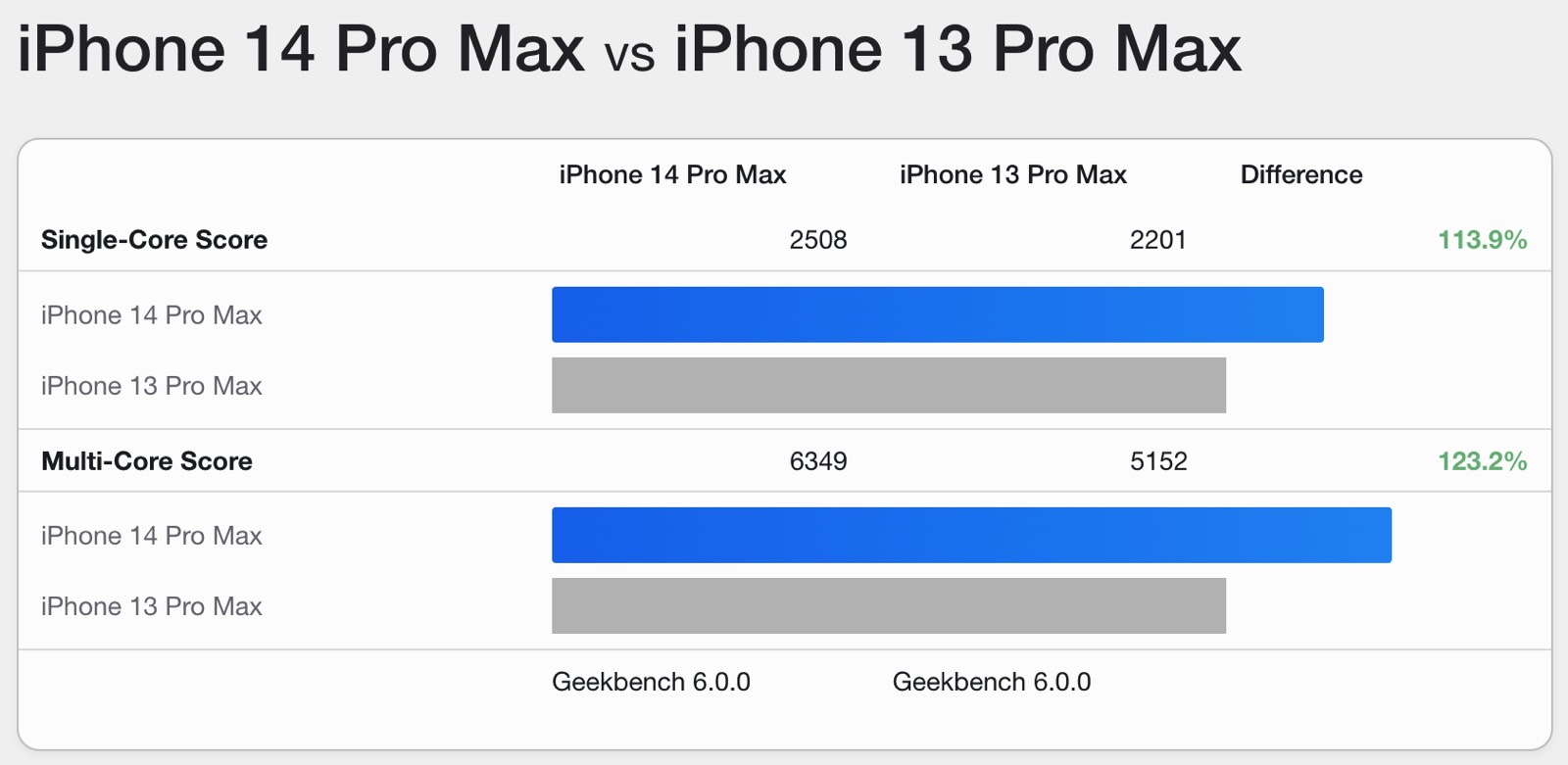 The iPhone 14 Pro Max scores 2508 and 6349 in the same Geekbench 6 tests. The iPhone 13 Pro Max tops out at around 2200 and 5150. The A16 Bionic and A15 Bionic chips that power the two phones are built on TSMC's 5nm nodes.
Then again, we might be looking at scores for A17 Bionic prototypes here. Also, as is often the case with early benchmarks for unreleased Apple products, we couldn't find the Geekbench 6 listing for this purported iPhone 15 Pro test.
If the iPhone 15 Pro's benchmark scores above are accurate, the A17 Bionic will give the new iPhones an even bigger performance bump over their predecessors.