Earlier this week, a Chinese online retailer listed the unreleased Google Pixel 3, complete with press renders showing both the Pixel 3 and the Pixel 3 XL, as well as prices for the region. Google's Pixel 3 event is still more than two weeks out, which means we shouldn't see any Pixel 3 mention in stores until then. So someone better warn Walmart that selling Pixel 3 XL accessories now might not be something that Google is OK with.
A listing for a 2-pack of Supershieldz screen protectors for the Google Pixel 3 XL was spotted on Walmart.com, and it was still available at the time of this writing. Walmart may have published it by mistake, but you can still order it right now. For $10.99, you'd get it by October 2nd, a full week before Google's joint New York and Paris Pixel launch events.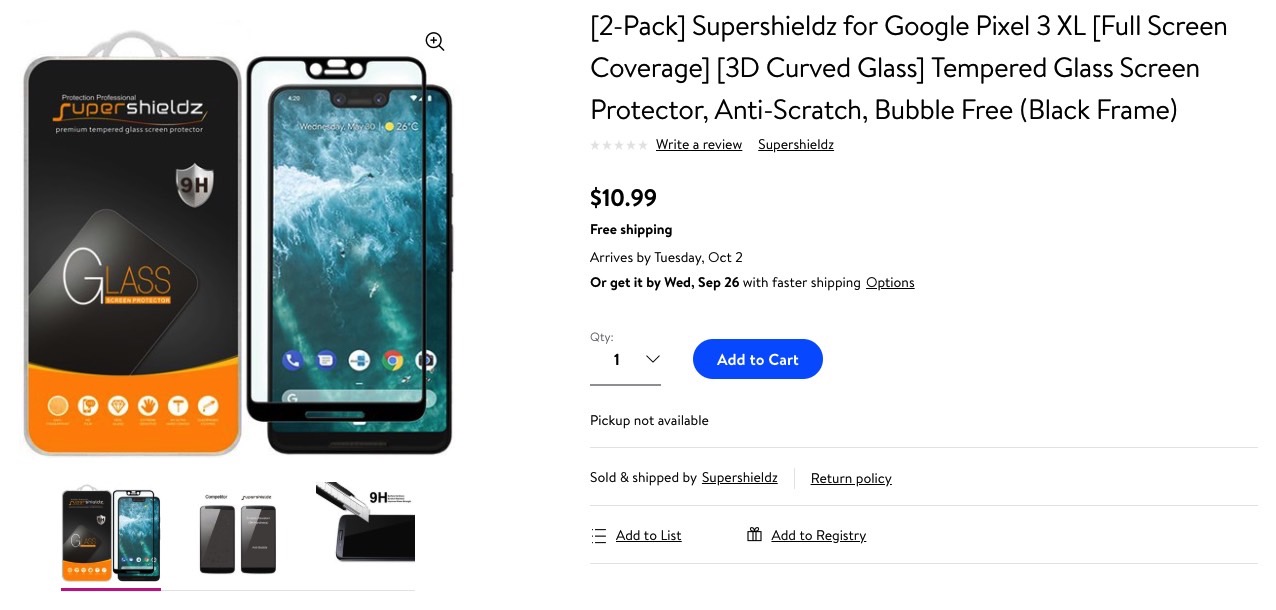 As you can see in the screenshot above, the listing features precisely the kind of Pixel 3 XL imagery you might expect. The phone has a significant notch at the top that houses two front-facing cameras, a speaker and other sensors. On the bottom, we have a large chin bezel that features a second front-facing speaker.
In other words, the screen protector hints that the Pixel 3 XL will have the exact design we've seen leak dozens of times already. A few weeks ago, the Pixel 3 XL appeared in a bunch of reports, including plenty of hands-on videos and even in-depth reviews. A batch of prototypes was allegedly stolen and sold on the black markets in Eastern Europe.
Soon after that, a Pixel 3 conspiracy theory seemingly fueled by Google's actions emerged, suggesting the Pixel 3 XL leaks may be an elaborate marketing hoax meant to keep the real phone a secret. Yes, that sounds too good to be true. What's clear based on Walmart's listing is that accessory makers have manufactured and are ready to sell Pixel 3 XL accessories that confirm the leaked Pixel 3 XL design.