We saw a ton of high-quality Pixel 3 leaks for the past few days, far more than we'd have expected at this time. It's not like Google can keep Pixel phones secret, but the sheer number and quality of the leaks were surprising. With nearly two months to go until the phone is unveiled, we know everything about it. We saw camera samples, we know wireless charging works, and we even saw ample hands-on reviews.
It turns out it's not Google trying to build up Pixel 3 hype just as the Note 9 is hitting stores, and before the 2018 iPhone models launch. The leaks and reviews come from people who had access to stolen Pixel 3 XL units, which were selling on the black market for as high as $2,000.
All the new Pixel 3 XL leaks that we reported on had one thing in common. Russian or Ukrainian bloggers were responsible for posting details about the unreleased hardware. 9to5Google has learned that it's actually a Ukrainian seller at fault, who's been charging $2.000 per Pixel 3 XL unit.
It's unclear where the Pixel units come from, but you'd have to get on Telegram to get in touch with the seller and order one. The seller also has Pixel 2 XL units in stock, as shown in these images: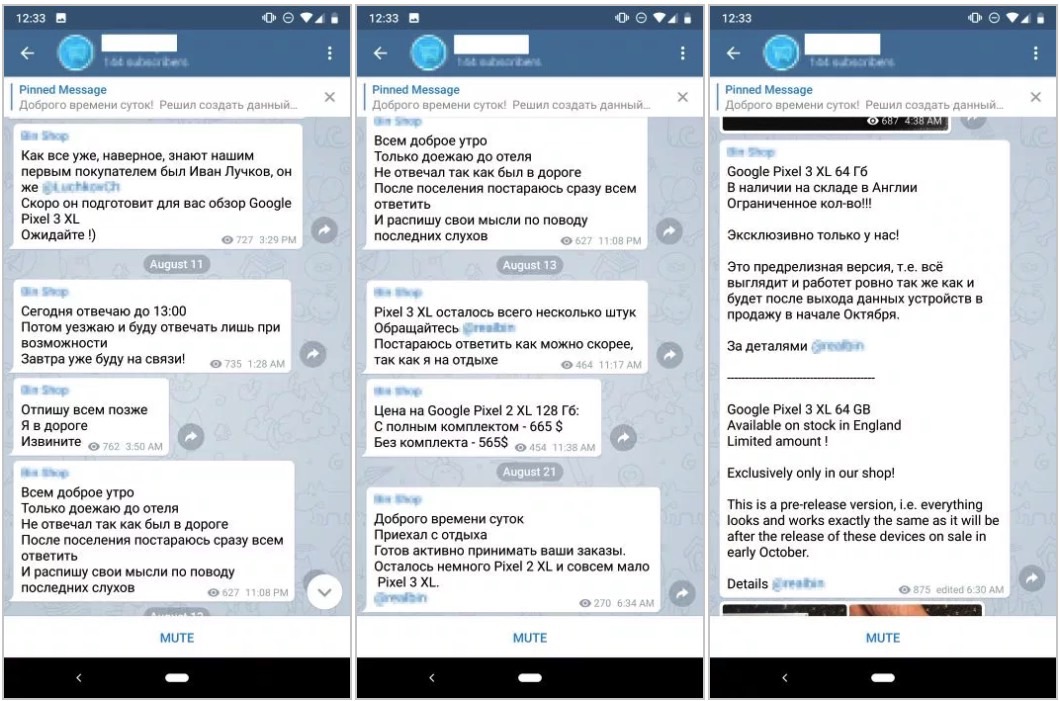 Here's a message translated from Telegram that said the other day that there were 3 Pixel 3 XL units left in stock:
Remains only 3 pcs. Google Pixel 3 XL I answer immediately to the most popular questions: • The price is 2000 $ • Payment is possible via PayPal or Bitcoin. The second is preferable because PayPal has a horse commission for international transfers. • Dispatch is made from London via DHL or FedEx. Regarding the purchase, please contact [removed] Also I remind you that there is a large amount of Google Pixel 2 XL at a good price. Please!
What's interesting about these devices is that Google can't remotely deactivate them. We did see at least one set of pictures showing a Pixel 3 XL unit which was wiped remotely by Google. But that was well before the leaks from Ukraine came out.
The only logical explanation for Pixel 3 XL being sold months before its launch involves theft. Someone must have gotten their hands on a large batch of Pixel 3 XL units and then sold them on the black market. The report notes that all the recent leaks proved all the sources had access to the same type of Pixel, a white Pixel 3 XL. That suggests the models come from the same batch/transport.
In an update to the story, 9to5Google said that a source revealed that Google legal and security teams, as well as Foxconn's team, are involved in internal discussions about the leaks.
What seems to be sure at this point is that Google's launch event will be utterly ruined. The Pixel 3 series will be the main star of the show, but it'll have no surprises left, as these early buyers will likely reveal everything about the phones well before that. This is Google's own iPhone 4 moment but at a much bigger scale.