The iPhone X may be a highly coveted device, but its price is still prohibitive. Even if there are plenty of deals to take advantage of, the fact remains the iPhone X still costs at least $1,000, no matter how you slice it.
And yet, despite the fact that it costs nearly as much, Google's Pixel 2 handsets actually managed to top the iPhone in terms of activations over the holiday weekend, which is an unexpected turn of events to say the least.
Analytics company Localytics, who provided iPhone launch sales estimates for years, has new data concerning smartphone activations over the Christmas weekend:
In what might be a surprise given the iPhone X's performance over Thanksgiving weekend, it was Google's Pixel 2 and Pixel 2XL that showed the largest lift in new activations. The iPhone X came in at number three, while the iPhone 8 and 8 Plus rounded out the top five.
The following graphic shows the Pixel 2 and Pixel 2 XL's domination over the Christmas weekend. The two Google devices beat out six Apple gadgets, three of which were iPads. The Galaxy Note 8 and S8 brought up the rear.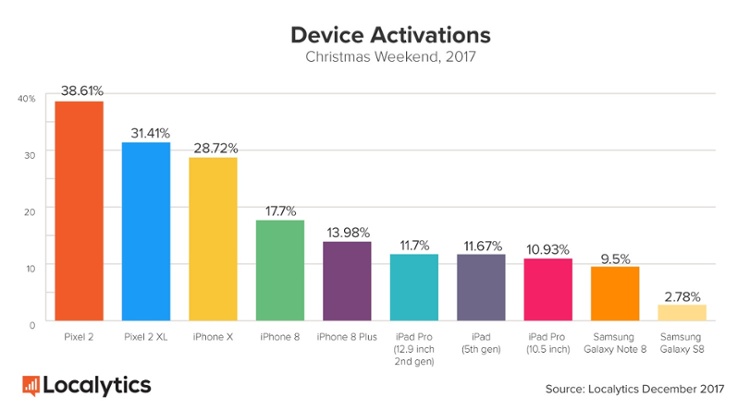 Pixel 2 promos are believed to be responsible for the massive uptick in activations, in spite of the various issues that affected the phones. Christmas shoppers just couldn't let a good deal pass them by.
Looking at Apple's performance, Localytics concluded that the iPhone X and iPhone 8 combo helped Apple beat its 2016 performance when it comes to iPhone activations over the Christmas weekend. The iPhone 6s and iPhone 6 combined did better, however, two years ago.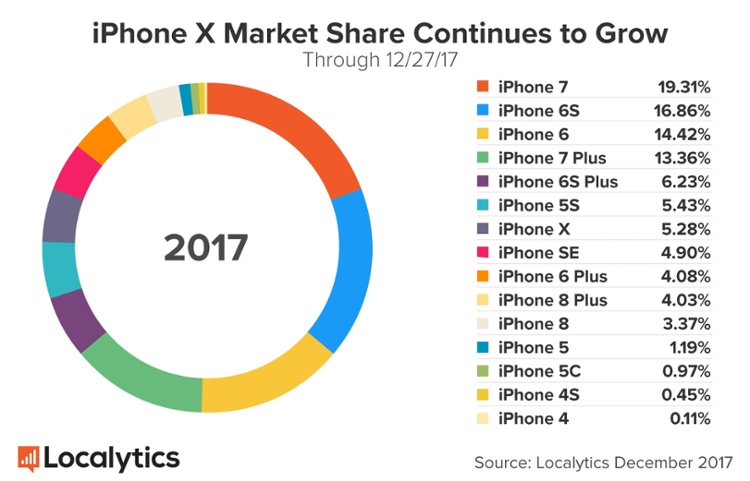 The final Localytics graph, seen above, shows the iPhone X and iPhone 8 gaining market share at the expense of all other models. In other words (as usual), the older iPhones are going out of commission as consumers upgrade to the latest model. This trend will undoubtedly continue throughout 2018.