The Google Pixel isn't the most popular Android phone out there. Google hasn't sold millions of units like big-name phone vendors do. The Pixel also isn't the most powerful smartphone on the market, and it's not best looking phone either. What the Pixel is, however, is a terrific flagship phone that also happens to be the only Android phone that runs pure Android and gets software updates the instant they become available.
Hardcore Android fans absolutely adore the Pixel and Pixel XL, and they're eagerly anticipating the phones' sequels. Google is expected to release two new flagship smartphones sometime in the late summer or early fall, and we really don't know much about them at all just yet. Of course, that didn't stop one Android fan from dreaming up what Google's second-generation Pixel might look like.
With the Galaxy S8, OnePlus 5, U11, and G6 behind us, there are only a handful of smartphones left to be unveiled in 2017 that people are buzzing about. The iPhone 8, 7s, 7s Plus, and Galaxy Note 8 are obviously at the top of the list, but Google's Pixel 2 and Pixel XL successor are definitely on there as well. Google's first in-house Android phones made a serious splash with Android fans who loved the Nexus line but were looking for something a bit more high-end.
Google has already confirmed that it will launch new Pixel phones in 2017, and it said the phones will launch this year around the same time as they did last year. In other words, we can expect them to be released sometime this fall. There's precious little we know about the new Pixel 2 phones for the time being, though it looks like they'll be powered by Qualcomm's Snapdragon 835 chipset. And they'll be powerful. Very powerful.
Still, we have no idea what they'll look like, so one Android fan took to Reddit to share his vision of Google's next-generation Pixel.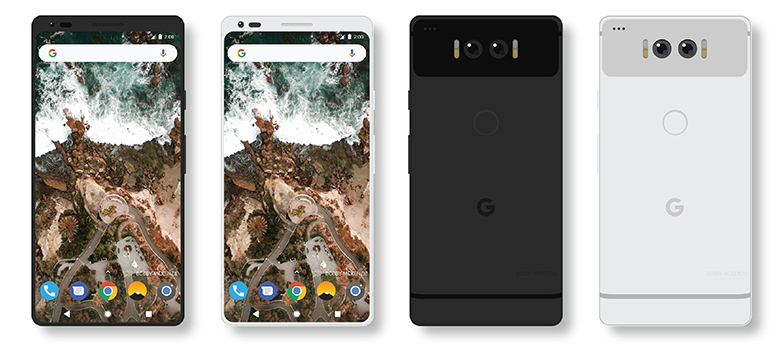 The overall shape is a bit too rectangular for our taste, but there are a few things we really like about this design. First, it doesn't look like an HTC-designed iPhone copy anymore. Second, the glass portion on the back is far less offensive. Third, it has a terrific all-screen design with narrow bezels on three of the display's four sides. Fourth, it leaves space at the top for the speaker, cameras, and sensors, rather than having a hideous cutout.
There's no telling at this point if the actual Google Pixel 2 will resemble this design at all, but we can still hope.