Once upon a time, buying a Google phone with a "pure Android" experience meant sacrificing power and performance. The company's Nexus branded phones weren't slouches, per se, but they could never truly compete with the cream of the crop like Samsung and Apple flagship phones. In 2016, however, that all changed. Google's Pixel and Pixel XL were true flagship phones inside and out, featuring a sleek aluminum design and top-of-the-line specs.
We all expect Google to continue the trend in 2017 when it launches the new Pixel 2 and Pixel 2 XL, and now we have our first real indication that will indeed be the case.
We have known for some time now that Google's next-generation Pixel 2 smartphone is codenamed "Taimen," and now the device has been referenced online yet again. This time around, however, the source of the reference is Primate Labs. If you recognize the name, you know exactly where we're heading with this: Geekbench 4 benchmark test results for the Pixel 2 have been spied on the Primate Labs website.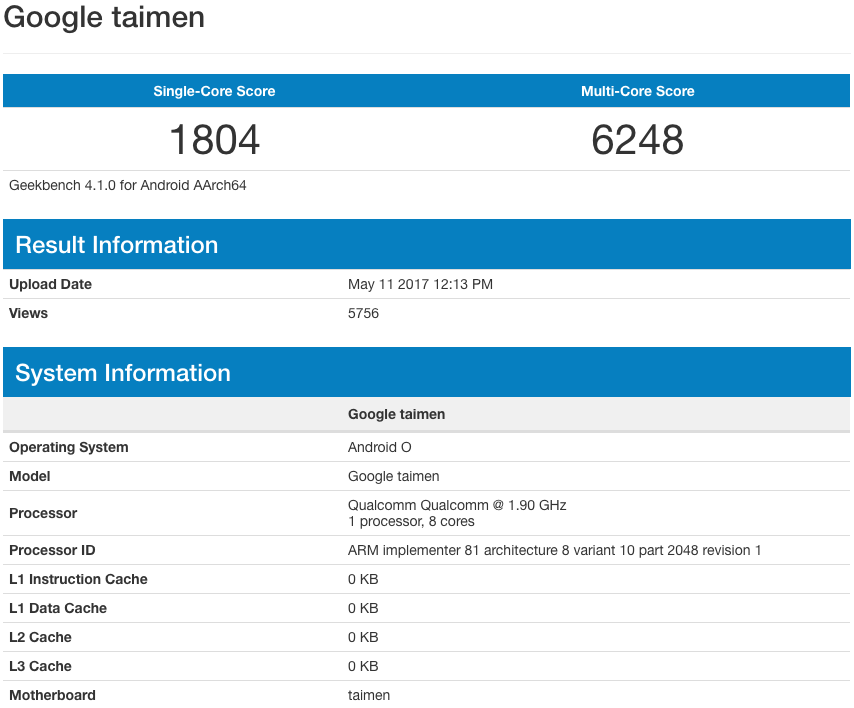 As you can see above, the Pixel 2 prototype responsible for these test results was running Android O. The phone itself is powered by Qualcomm's latest octa-core Snapdragon 835 chipset, just like the US version of Samsung's Galaxy S8 and Galaxy S8+. Also just like the S8 and S8+, the Pixel 2 appears to be a powerhouse.
The phone's single-core score of 1804 is well shy of the iPhone 7 Plus' record, but it's about inline with what we've seen from the Galaxy S8. The multi-core score is also nearly as impressive as Samsung's Galaxy S8 scores, and we'll remind you that the Galaxy S8 is the most powerful Android phone the world has ever seen.
These benchmark scores were achieved by a Pixel 2 prototype, but it's obviously quite likely that the phone's performance will be roughly the same at launch. And now for the bad news: That launch isn't expected until much later this year.